Learn to use Access Groups to create a robust, engaging Community.
---
In this article:
---
Kajabi Communities
Engage and encourage your customers with the power of Kajabi Communities. 
Your Kajabi Community can be delivered as an add-on to your other services, as a standalone offering, or as a subscription by combining Kajabi's Offers and Community Access Groups.
Learn more about Kajabi Communities.
By creating a Community and developing your Access Groups, you can offer your customers immense value and transform your business.
With each Access Group, you can build out a structure for your Community that works best for your business and your customers. 
So, what exactly is an Access Group? 
---
Access Groups
Access Groups are sub-sections within your Community. 
Community: The overarching space where everything is held. You are limited to one Community per site.
Access Group: The sub-sections within your Community. Designed so that you can give or restrict access to certain content depending on the Access Group. Each Access Group counts as one Product. Your Kajabi Plan will determine the number of Products you can create on your account.
Your Access Groups can feature the following:
Refer to the image below for an example Community Structure: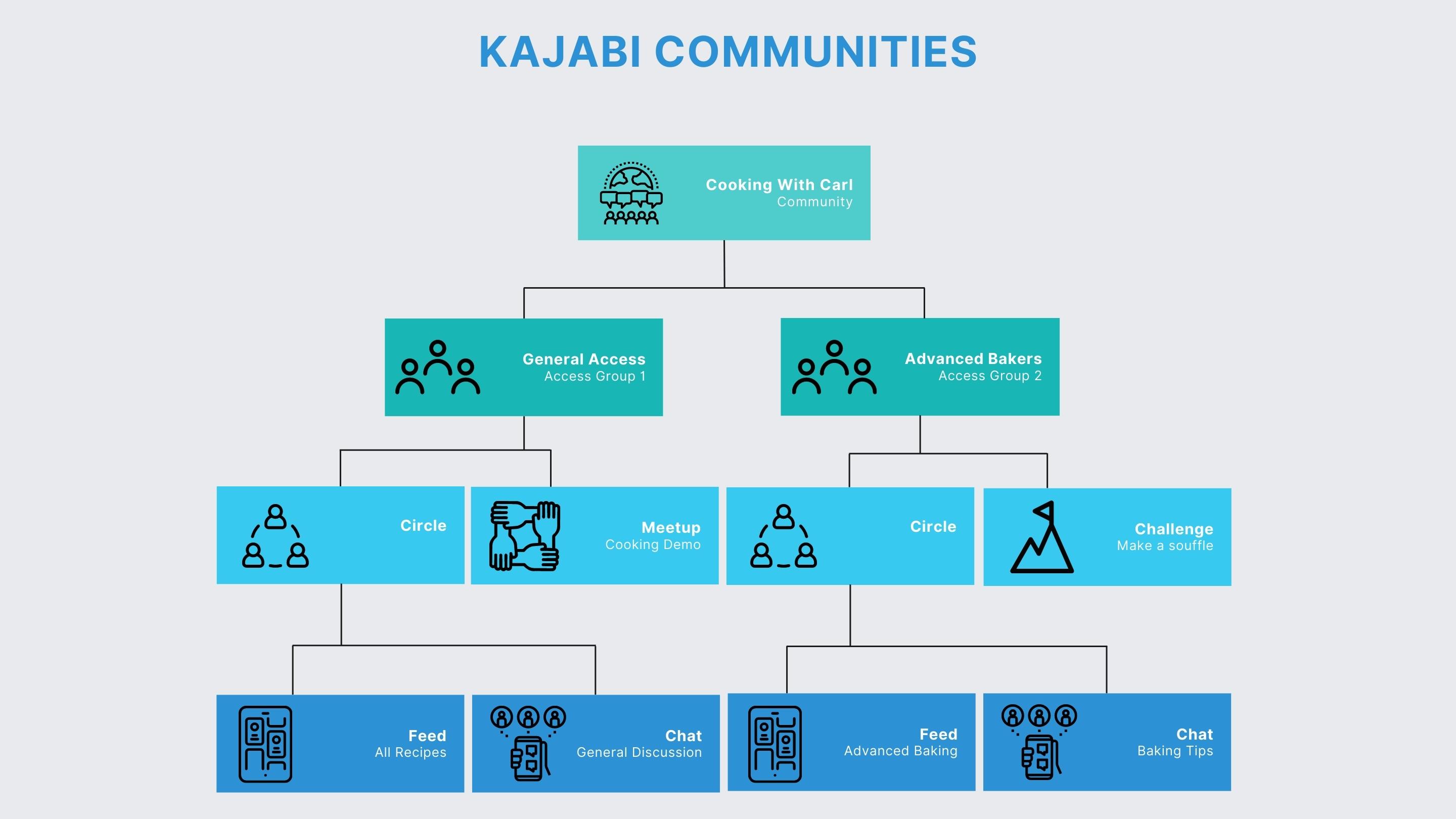 Note:
Your Plan (i.e., Basic, Growth, Pro) will determine the number of Access Groups you can create on your account. One Access Group = One Product. Check out
kajabi.com/pricing
to see the features available for each Plan.
By utilizing Access Groups, you can structure your Community in a way that makes sense for your customers and can help you scale your business.
Take a physical Community Center, for example. Within the Community Center, there may be multiple rooms. Depending on your interests or level, each group will meet in separate rooms within the Community Center.
In the same way, Access Groups are the rooms in your Kajabi Community "Center," and Circles are the topics discussed within that Group.
With Kajabi, you are always in control of your business. 
By using Access Groups, you are in charge of the access your customers have within your Community. Build exclusive groups or open them to everyone. The choice is yours.
So, your customers can access your Community through their Access Group. But how do they do that?
This is accomplished with Offers. 
---
Connect Groups to Offers
Remember, Offers are the price tags and payment vehicles for your Products. Learn more about Offers.
Creating an Access Group will require you to connect your Group to an Offer. With your connected Offer, you can determine the cost (if any) for gaining access to the Group.
The Access Groups that you create will be considered individual Products in your Product Limit determined by your Kajabi Plan (e.g., Basic, Growth, or Pro).
How does this help you?
Because each Access Group is connected to its own Offer, you have the flexibility and the control to create and structure your Community as you see fit.
Build free Access Groups (with free Offers), design tiered access (e.g., general and paid tiers) only available at your set price points, develop paid groups for your more specialized Products (like Coaching or Advanced Courses), or any combination that best fits your business.
With this kind of flexibility, your customers can engage in your open or exclusive groups. They can decide to participate in a single group or engage in multiple.
And the best part is, this is all determined by how you choose to structure your Community and how involved your customers want to be.
---
Create an Access Group
Creating your first Kajabi Community will require you to create an Access Group to connect to an Offer. 
Learn to create a new Access Group from within your Kajabi Community.
To create an Access Group:
Open the Products tab from your Kajabi Dashboard.
Navigate to the Community tab.
Click + New access group.
Make sure that "Community" is selected. Click Get Started.
Enter the name of your Access Group (this can be edited later).
Complete the prompt to price your Access Group (this will create your connected Offer).
Click Save and Finish to generate your Access Group:
Note:
Create circles for each Access Group to begin building engaging spaces within your Access Groups.
Learn to create your first circle
. Circles are needed to view your Access Group in your Community sidebar.
---
How to Give Content Access to Multiple Access Groups
If you want multiple access groups to participate in the same challenges, circles, or meetups you need to take one extra step. 
You will need to create Offers that contain the Access Groups that you want to have access to the content. 
For example, If you would like AG1 & AG2 to both participate in a challenge you will create an offer that contains both Access Groups. You will then assign the challenge to the Access Group that all members have in common.
---
And that's how you can use Access Groups to structure your Kajabi Community! Please vote below and let us know if you found this article helpful. We value your feedback. Thanks for being the best part of Kajabi!