BETA:
This feature is currently in beta. During the beta period, users will receive free access to Creator Studio. Access and usage limits are subject to change during and after the beta.
Learn to generate your Creator Studio Clips with manual highlights or Kajabi's AI auto-highlighting feature.
---
In this article:
---
What is Creator Studio?
With Creator Studio, we think your content can do more for you and your business.
Repurpose any video into clips, transcripts, emails, blogs, social posts, and more in just a few clicks. Within minutes, you can have marketing content to share on any channel.
Learn more about Creator Studio.
---
Highlighting
When you open a Creator Studio project, you will have direct access to the transcript from your course video. 
With Creator Studio, you are in full control of what you want to use for your video clip by highlighting the parts of the script you want to include in your final clip.
Manual highlighting
Select specific sentences in your transcript to control the highlights used in your final video clip.
To manually highlight: Click a sentence in the transcript to add a highlight.
To remove a highlight: Click the highlighted sentence in the transcript.
As you manually highlight sentences in your transcript, they will appear in the Highlights panel to the right of the editor. 
A duration counter in the highlights panel can help you keep track of how long your video clip will be.
For long transcripts, you can click on the highlight in a panel to find where it was originally spoken in line with the script.
Selecting a sentence to create a highlight will be auto-saved to the Kajabi app. If you leave for any reason, any highlights you have added will be waiting for you when you return to Creator Studio.
Auto-highlighting
Creator Studio offers an AI Auto-Highlight if you need inspiration on what parts of your video you should use.
Kajabi's AI can make up to 3 recommendations based on the length of your video:
Short: Great for Instagram Reels and TikTok videos.
Medium: Ideal for Facebook and LinkedIn posts.
Long: Recommended for posting to a YouTube channel.
When you select an Auto-Highlight recommendation, Kajabi's AI will highlight the portions of your transcript that will add up to the target duration.
From here, you can add remove highlights that the AI made or add your own to the list:
Note:
Click on any highlight in the right panel to see where the highlighted sentence was said in context in the Transcript.
If you have manually selected any highlights before using an Auto-Highlight, we will clear all of your existing highlights before applying the Auto-Highlights to avoid any conflict.
Things to keep in mind with AI Auto-Highlight:
The AI is trained to use only complete sentences from the transcript and to cover most (if not all) the topics in the video.
This can lead to the AI making a suggested Auto-Highlight longer than the targeted duration. You may have to remove highlights to achieve your desired duration.
The AI can only make 3 suggestions based on the duration selected for each course video. If you reapply a set of highlights, you will see the same sentences highlighted for each selected duration.
Reset highlights
Need to start over? Click Clear all to remove all of your highlights in a single action:
---
Generate your video clip
When you are satisfied with your highlights, click Save and close:
Creator Studio will create a video clip based on the sentences you highlighted.
Generating your video clip will take place in the background to allow you to safely work on other video projects or navigate to different areas of Kajabi.
You will receive an email notification when your clip is ready to be downloaded and shared. Learn to update your email notifications. 
---
Preview your video clip
Watch video
Preview your video clip by following along with the transcript. You can view the video in the upper right corner if you need a reminder of what was on screen during each section.
As you watch the video, the bolded timestamp on the transcript will follow along with your progress in the video. 
Click on the transcript's timestamp if you want to quickly jump to a specific part of the video.
Highlights
With Highlights, you can see how much of your video you have highlighted from the transcript panel's scrollbar. As you select more highlights, the scrollbar will fill in based on the part of the video where the highlight came from.
This is a quick way to see if you're highlighting from the beginning or end part of your video.
Preview highlights
View a rough draft preview of your creator studio clip before committing to generating it.
To preview, click the Preview button to open a modal with your rough draft clip ready to view.
Here you can play or pause and skip forward to the next highlight or skip backward to the previous highlight.
Additionally, you can restart your video from the beginning to review your entire video.
Common errors
Some accounts may see the error screen pictured below when viewing a Creator Studio project where the project's original course video was deleted.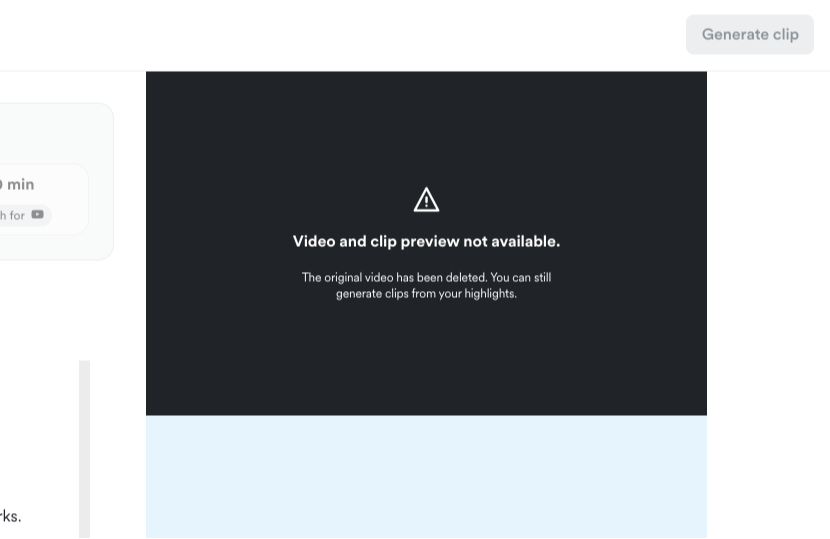 Your other course videos and your ability to generate a clip have not been impacted.
If you would like to be able to preview your video, adhere to the following:
Make sure the video you want to work with is uploaded to a course module,
Create a new project using your intended video.
The video and clip previews will be working when it finishes transcribing.
---
Share your video clip
After your video clip has finished generating, you can preview your video clip, customize your clip, rename your clip, download the clip transcript and subtitles, download your clip, and share it on your social media platforms.
Learn to manage your Creator Studio Projects.
---
Beta limitations
Currently, in the Beta, you can only highlight complete sentences. In a future version, you will be able to highlight word-to-word, letting you only highlight a part of a sentence.
---
Need help?
Need help with the Creator Studio? Contact Support for additional assistance.