Learn to customize your feed posts and comments within your Kajabi Communities with bolded text, italics, ordered lists, and more.
---
In this article:
---
What formatting can I apply to my Kajabi Communities?
With Kajabi Communities, you can apply the following formatting options:
Bold
Italics
Underline
Ordered Lists (i.e., numbered lists)
Unordered Lists (i.e., bullet points)
Headings 1 & 2 (Note: Only available in posts, not in comments.)
Links (i.e., add a hyperlink to your text)
Strikethrough
Note:
Text formatting in your Kajabi Communities is currently available on the web. If you attempt to edit a formatted post on mobile, the formatting will disappear. Be sure to apply your text formatting with the web application.
---
How to apply text formatting
To apply text formatting to your Kajabi Communities:
Add a feed post or comment to your Kajabi Community.
Highlight the text you wish to customize.
Select your desired text formatting option. 
Then, click Post to publish your post or comment: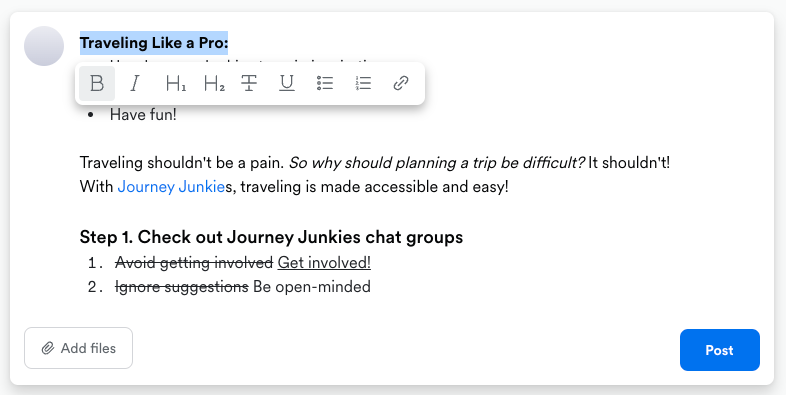 ---
And that's how you can apply text formatting with Kajabi Communities! Please vote below and let us know if you found this article helpful. We value your feedback. Thanks for being the best part of Kajabi!