Learn to link your Course and Community by adding a Circle widget to your Course template.
---
In this article:
---
Embedding a Circle
Allow your customers to easily navigate between your Course and Community products by embedding a Community Circle in your Course. No need to open a new browser tab! Students can now conveniently view and create Circle posts from inside your Course.
Note:
Only Public Circles can be embedded into Courses at this time. It is not currently possible to embed a Private Circle.
Choose to embed either a chat-style or feed-style Circle. The embedded Circle will appear in the main body of your Course page: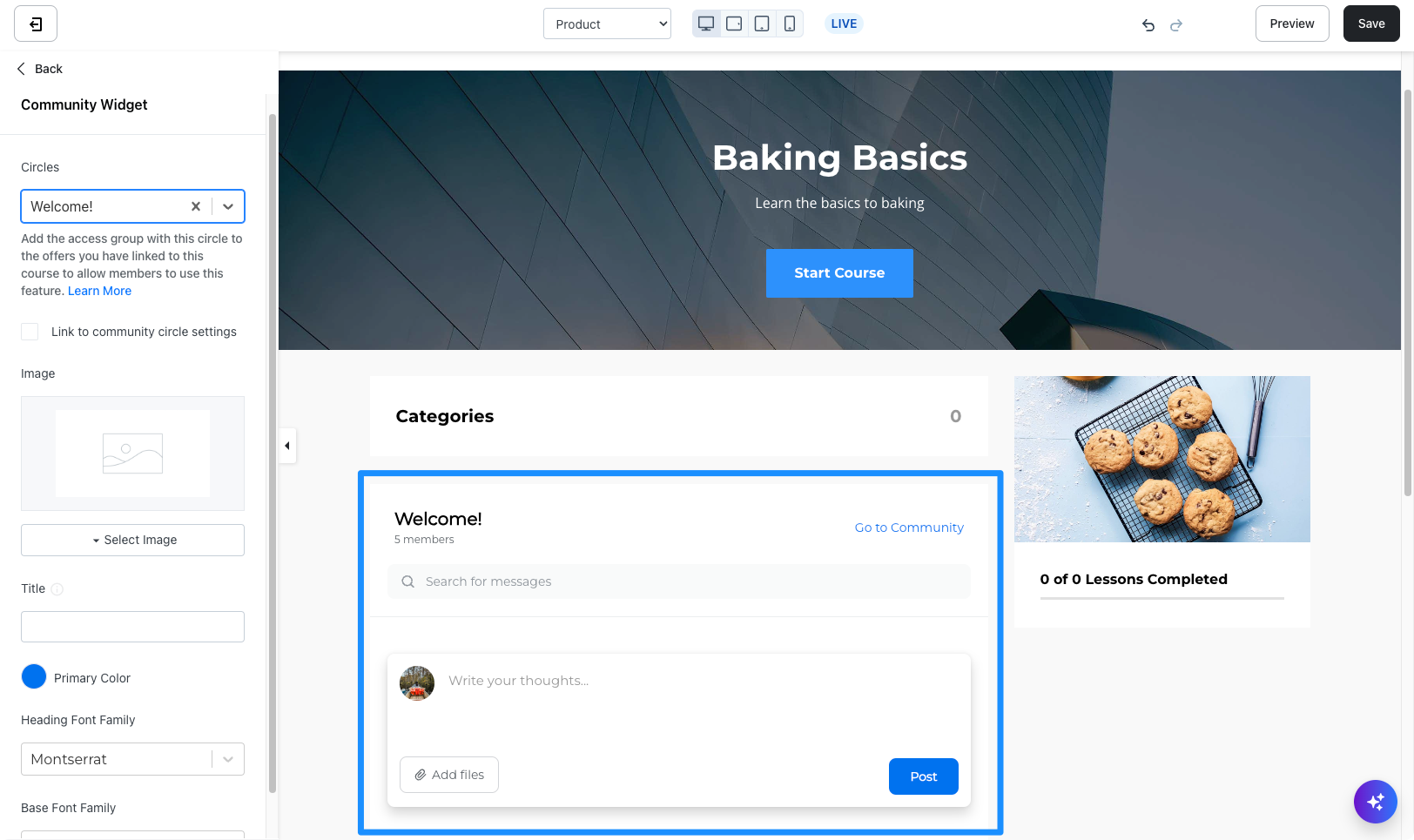 Note:
The Circle widget is currently only available for the updated Premier and Momentum templates. If you're using a different Course template, or an older template version, you'll need to switch to the latest version of either Premier or Momentum before you can embed a Circle in your Course. If you embed a Circle and later change your Course template, you'll need to manually add the Circle widget to your new template.
Learn to install and activate a new Course template
.
Use the search bar at the top of the Circle widget to search the Circle feed for a specific post: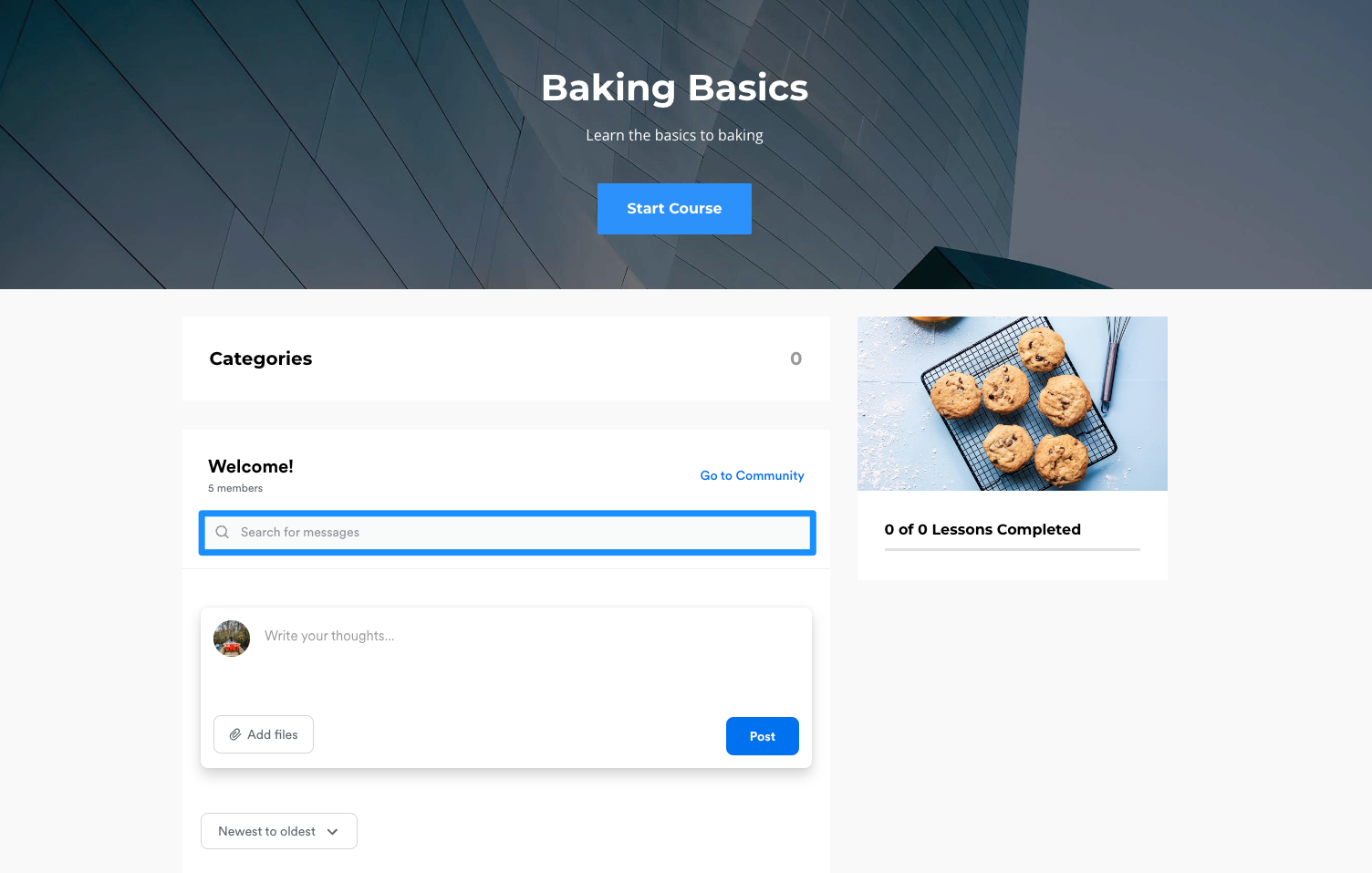 Click the link at the top right of the Circle widget to easily access the full Community product: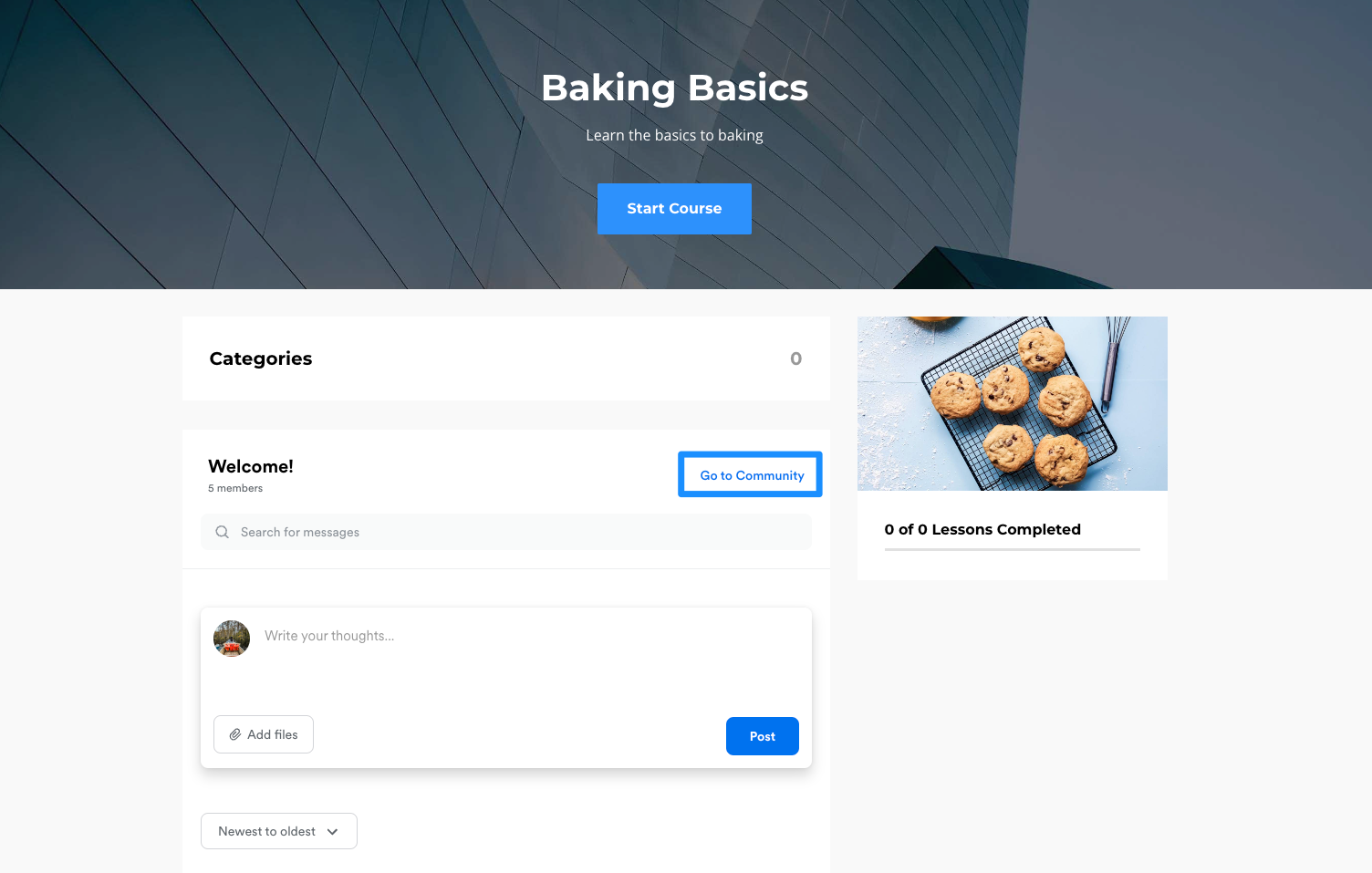 Note:
Embedded Circles in Courses will only appear on the web at this time. This feature is not currently available for the Kajabi mobile app.
---
Step 1. Link an Access Group to your Course
To embed a Circle, first link the Circle's Access Group in your Course settings, and make sure the Access Group is added to your Course Offer(s).
Note:
There are two requirements for linking to an Access Group from your Course Product: (1) Your Course Product Theme must be Momentum 6.3.0, Premier 7.3.0, or newer and (2) There must be a Kajabi Community Product created on the same site as your Course Product.
To set up the link:
From your dashboard, select Products.
Open the Course product where you want to link your Community.
Click the Settings tab.
Navigate to the Community settings.
Click to toggle on "Enable community for this course."
Then, select your Community Access Group from the drop-down menu.
Click Save:
Next, check if your Community Access Group is included in all of your Course Offers. If not, you'll need to add it to the Offer(s) or else your students won't be able to view the Circle you embed in your Course. Learn to add an additional product to an Offer.
---
Step 2. Add a Circle Widget to your Course template
Once you've linked your Course to a Community Access Group, embed a Circle by adding the Community widget in your Course template.
Warning:
Publishing a post to the Community Widget in Preview Mode will post directly to your Community.
Before you proceed, make sure you've updated to the latest version of the Premier or Momentum template. 
To update your template:
From inside your Course product, click the Customize tab.
Click … on your active Course template to open the options menu.
Select Update template:
To add a Circle widget:
From inside your Course product, click the Customize tab. 
Place your cursor over your active Course template and click Customize.
Navigate to the left sidebar editor Sections tab and select Community widget.
Then, choose the Circle you want to embed from the Circles drop-down menu:
---
Step 3. Choose your Circle branding
Finally, choose to either apply the branding settings from your Community to your Circle widget or manually select your branding choices.
To choose your branding:
Option 1: Check the Link to community circle settings checkbox to import your Community branding settings.
Option 2: Select an image, title, primary color, base font family, and heading font family from your template settings.
Click Preview to view your changes. (Important note: If you submit a Circle post on the Preview page, your post will appear in your live Community Circle).
Once you're satisfied with your branding, click Save:
---
And that's how you can embed a Community Circle in your Course! Please vote below and let us know if you found this article helpful. We value your feedback. Thanks for being the best part of Kajabi!