Email Marketing is an essential tool for online businesses that build relationships and inform prospects, leads, current customers, and even past customers. Learn to create and use Email Broadcasts and Sequences to advance your online business.
---
In this article:
Email Broadcast
An Email Broadcast is a single email sent to your subscribers from your People tab. Use an Email Broadcast to send an announcement, showcase a product, share a newsletter, and more. Learn how to create, customize, and send email broadcasts with our video tutorial.
To create, customize, and send an email broadcast:
Step 1. Create an Email Broadcast
Open the Marketing tab from the Dashboard.
Click Email Campaigns from the sidebar.
Click + New Email Campaign on the Email Campaigns dashboard.
Select Email Broadcast.
Click Continue.
Step 2. Choose a template
The Email Visual Editor Templates are built and designed to fit your needs whether that means Showcasing a Product, sending a Newsletter, or enhancing your User Experience with highly customizable, graphically enhanced designs. Select from over 15 templates to begin designing your Email Broadcast.
Once you have chosen a Template, give your Email Broadcast an Internal Title. Don't worry about this too much, you can always go back and change it!
Step 3. Edit your Recipients
Choose who will receive this Email broadcast between all of your People, your Members, and a Segment. Preview your Recipients to make sure you are sending the Email Broadcast to the desired list. Once you have chosen who will receive the broadcast, click Save & Continue.
Step 4. Edit the Content
Once you have chosen who will receive your broadcast, Enter in a Subject Line and the Preview Text. Now its time to add and edit the content of your broadcast.
To add and edit the content in your Email Broadcast:
Click Launch Email Editor.
Click to edit the content inside of your Email, or select the content from the Sidebar Editor on the left.

To learn more about customizing your emails with the Email Editor, follow along with our step by step guide: Email Visual Editor Overview.
Step 5. Add an Automation
Choose between a list of If-Then Automations that will be triggered by your recipients opening or clicking a link inside of the Email.
Step 6. Schedule when your broadcast is sent
Choose to send your Email immediately or at a scheduled date and time. Then, click Confirm to send.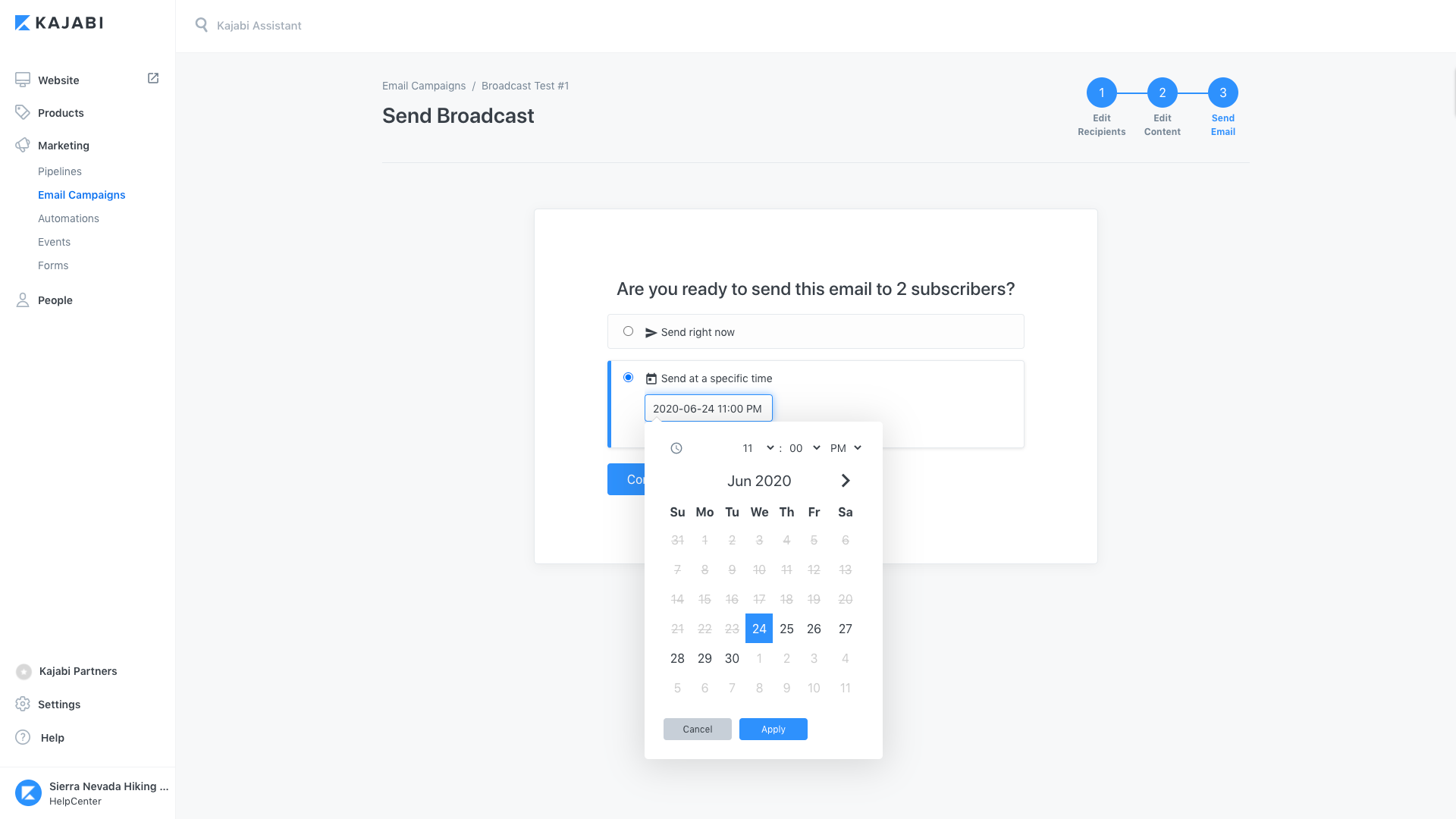 ---
Email Sequence
An Email Sequence is an email or a list of emails that can be automatically set to send to contacts after an action has been completed, such as; filling out a form, purchasing a course, completing a course, etc. Learn how to create, customize, and send email sequences with our video tutorial.
Step 1. Create an Email Sequence
To create a new Email Sequence:
Open the Marketing tab from the Dashboard.
Click Email Campaigns

Then, click

+ New Email Campaign

on the

Email Campaigns

dashboard.

Select Email Sequence and enter your Internal Title in the text box.
Click Continue.
Add subscribers, emails, and preview how these sequences will look:
Tip:
Set the Day to 0 in order to have the first email in the sequence send out immediately after a user is subscribed. Keep in mind, Email Broadcasts can be scheduled for a specific date, but Email sequences cannot be sent out on specific days of the week. They can only be sent out a specified number of days after your contact subscribes.
Step 2: Select an Add Trigger, an Action, or Unsubscribe Automation
In Kajabi, an Add Trigger is an action performed that will in return automatically subscribe the member to and start the sequence. For instance, If the selected trigger is "Form is submitted" then when the selected form is submitted, the email sequence will automatically start for that Member.
You can also add an Action to each individual email in the Sequence. An Action is automatically performed when the email has been sent, opened, or clicked.
Use the Unsubscribe trigger to automatically unsubscribe a member from the Email Sequence once a specific action has been performed. For instance, choose the "if a Member has been active for 30 days" to automatically unsubscribe inactive contacts from your sequence.
Step 3. Add Emails to your Sequence.
Add emails to your sequence and schedule out the days according to the first day. To add additional emails to your sequence, simply click + Add New Email in the top right corner of the Sequence Dashboard.