Assessments are a great tool for creating standardized tests, questionnaires, and surveys. Learn to create, customize, and share your Assessment.
---
In this article:
---
Why use assessments?
With Kajabi, Assessments can be used in a number of ways to create an engaging experience for your Members and site visitors.
For example:
Assess your Members' understanding of your content.

Survey site visitors to learn more about their experience and background.

Craft questionnaires to design tailored content for your Members and site visitors.
With this article, learn to create an Assessment on Kajabi and begin collecting information and assessing your audience.
---
Create an assessment
Build standardized tests and surveys on your site by creating an Assessment on Kajabi.
To create a new Assessment:
Open the People tab from your Dashboard.
Select

Assessments.
Click

+ New Assessment.
Complete the prompt to begin customizing your Assessment:
Looking to add questions to your assessment? Learn more
---
Customizing assessments
In the Assessment Editor, edit the details of your Assessment, configure the Language, add Automations, and set up your after submission settings to create an Assessment that best fits your business needs.
Note:
Your Assessment will adopt the appearance of the Product or Page Theme it is added to. For example, if the Primary Color of your Product Page is set to yellow, and you add an Assessment to your Product, the color of your Assessment's button will be shown as yellow when previewing your Product page. If your Assessment is not added to a Page or Product, the Assessment color scheme will be defaulted to Kajabi Blue.
Assessment details
With your Assessment details you can:
Edit the Assessment Title.
Include a Description.
Enable or Disable Automatically grade assessment. Learn more
Configure the Results Breakdown Preference to choose to display or hide your user's Assessment results upon completion.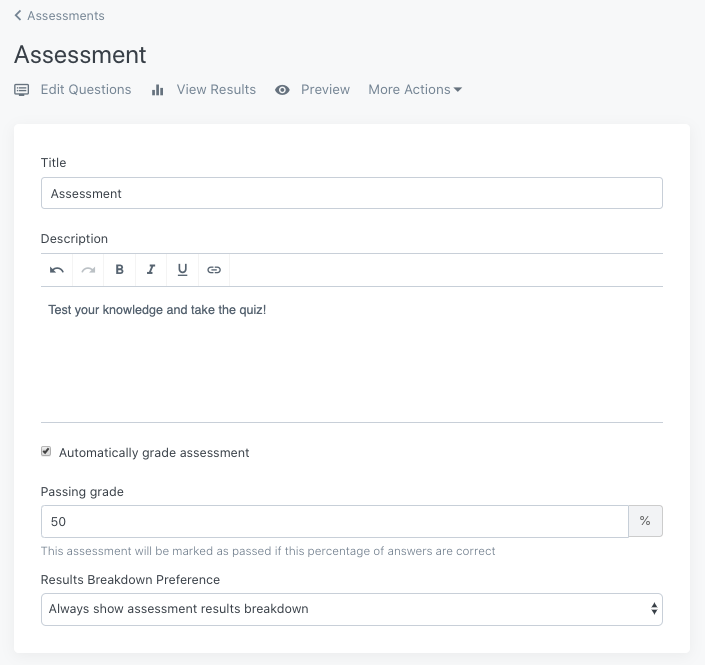 Language
Change the text displayed to your users when they interact with the Assessment:
Start text
Completed text
Customize the text to bold, italicize, underline, and/or hyperlink your text: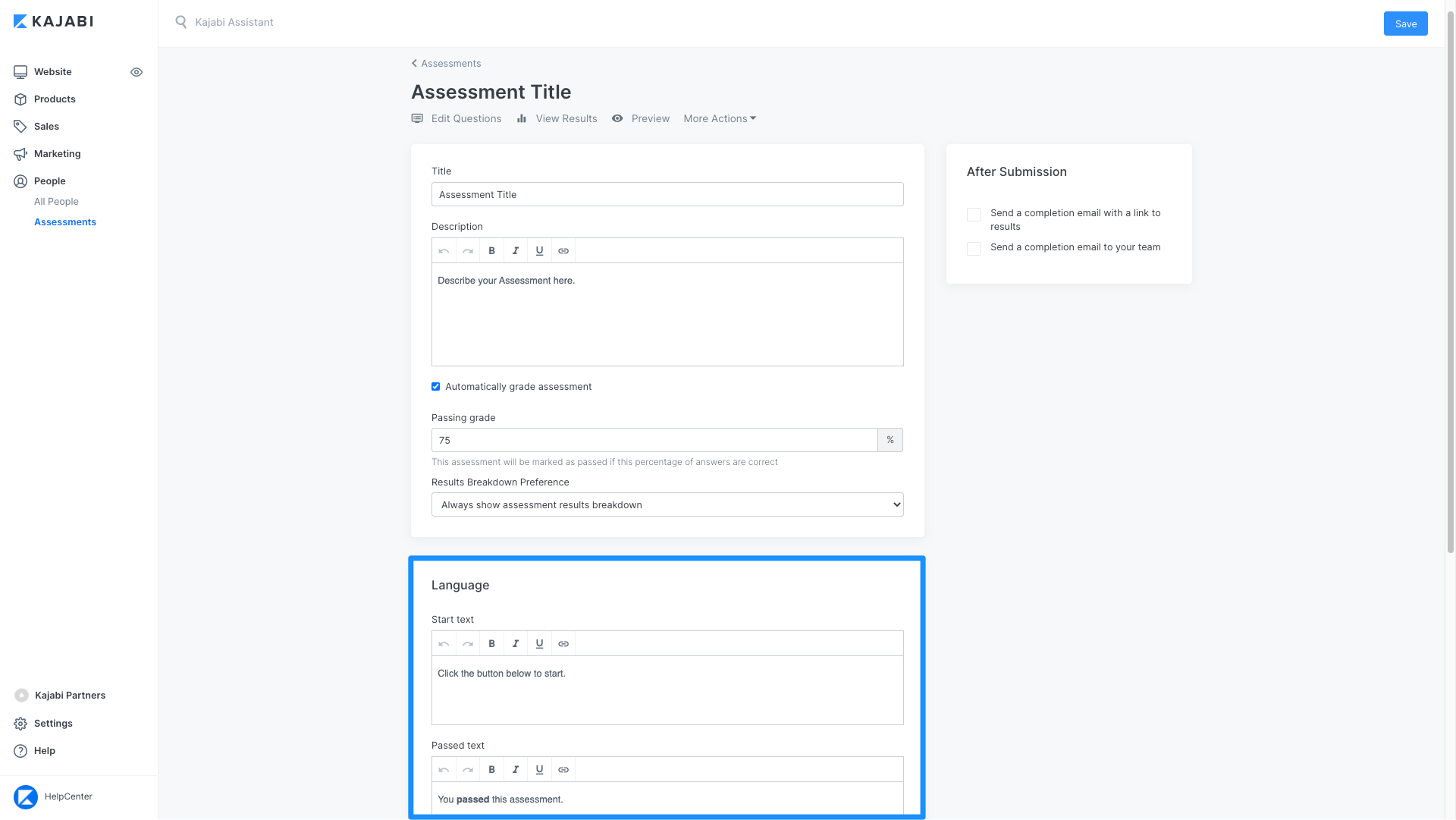 Automations
Navigate to the bottom of the Assessment Editor to add Automations. Automations can be used in Assessments after an Assessment is completed (the "When" trigger) for a variety of actions:
Grant an offer
Revoke an offer
Subscribe to an email sequence
Unsubscribe from an email sequence
Register to an event
Deregister from an event
Add a tag
Remove a tag
Send an email (considered a Transactional email)
Send a single-use coupon
Read the full guide Automations Overview to learn more about Automations on Kajabi.
After Submission Settings
Set up notification settings to:
Send a completion email with a link to results to the user when they complete the Assessment.
Send a completion email with a link to results to your team anytime a user completes the Assessment.
To set up notification settings:
From the Dashboard, open the

People

tab.
Edit an existing

Assessment.
Navigate to the After Submission section.
Check the box next to

your desired notification setting:
---
How to share an assessment
Share your Assessments to quiz or survey your users by adding Assessments to:
Note:
Assessments can only be attached to one Product Post. Once there, the assessment will take on the same theme coloring of that product. If you are not seeing your Assessment appear when attempting to attach your Assessment, you may first need to create a new Assessment or clone an existing Assessment to use in a separate Product Post. Read
How to Clone Your Assessment
for details.
---
Viewing assessment responses
To view the results of your Assessment:
Open the People tab from the Dashboard.
Locate the Assessment you wish to view.
Click View Results: