Learn to create a Digital Course Product on Kajabi.
---
In this article:
---
What is a Course on Kajabi?
A course on Kajabi can be anything from:
an online course,
resource center,
to a teaching tool
to deliver your value digitally to your customers.
Build your content into your Kajabi Product for your customers to access digitally and sell (or share) your Product(s) by connecting your Product(s) to Offers.
Learn more about Offers to begin selling your Product(s).
---
Creating a new Product
Get started building your digital course on Kajabi by creating a new Course Product:
Open the Products tab from your Dashboard.
Click Get Started.
Select the Course Product.
Click Get Started.
Then, complete the on-screen instructions to create your course details:
Tip:
Pick a simple and memorable title for your Product. But don't worry too much about this now. You can always go back and change it later by
Editing your Product Details!
---
Choose your Course Template
After selecting the Course Product, you can select the course template to help you get started building your course.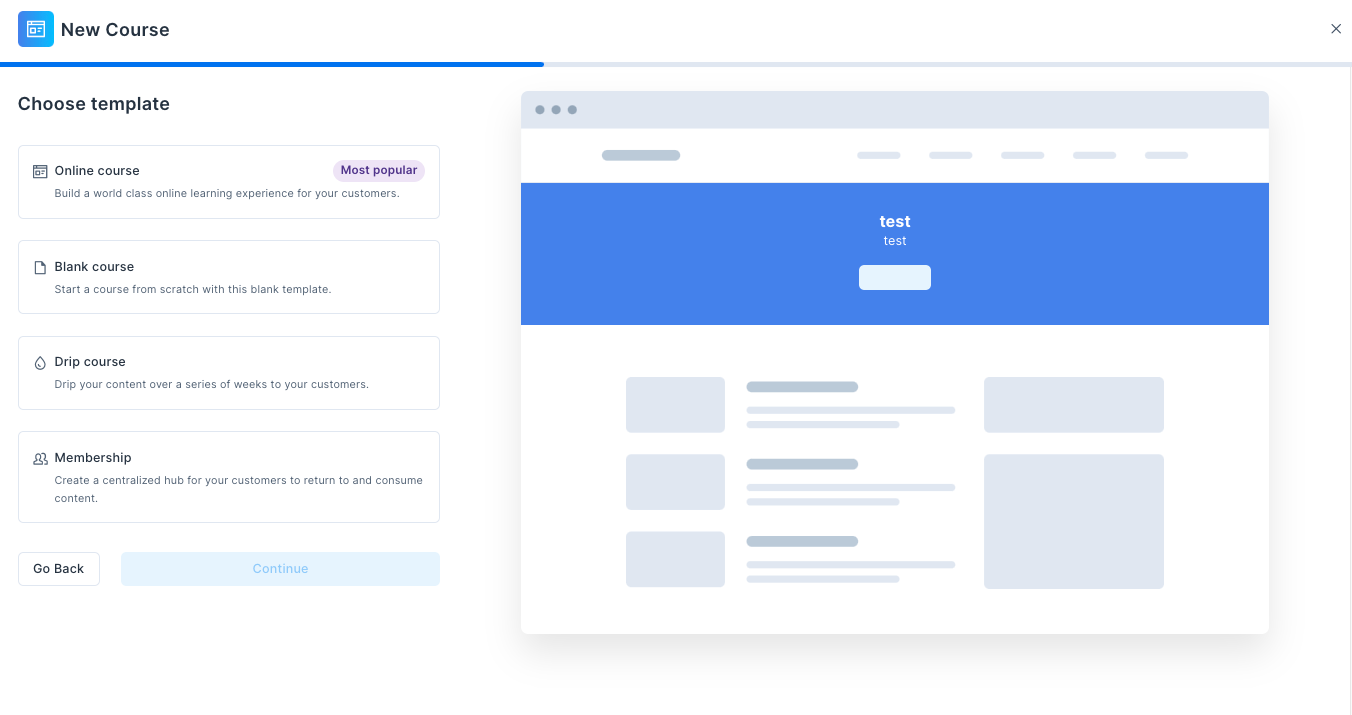 If you want to start from scratch without a pre-built template to help you get started, select the Blank course template.
Learn more about each course template by selecting the following:
Online course -A

streamlined outline complete with copy and pre-configured delivery settings.

Drip course -

Provide ongoing value and inspire brand loyalty by releasing your content over a series of weeks

Membership course -Y

our customers pay a recurring fee

to access ever-evolving content.
---
Adding Categories and Lessons
Add Categories, Subcategories, and Lessons to build your content into your Product.
Learn more about Product Categories and Product Lessons.
Click Add Content to add Categories, Subcategories, and Lessons:
Click the + Add Content button next to the Module title to add a Lesson or SubModule:
Learn to edit, update, and manage your Product Categories and Lessons.
---
Deleting a Product
Warning:
Deleting a Product cannot be undone and the content within your Product once deleted cannot be retrieved. Please be sure to confirm the deletion of your Product.
To
Delete

a Product:
Open the Products tab from your Dashboard.
Hover over a Product and click the ….
Select

Delete:
Note:
If your Product is attached to a recurring payment (Multi-pay or Recurring Subscription) Offer, your Members will continue getting charged. Be sure to adjust your Offer or deactivate the Offer from your Member's profiles before removing if you wish to completely remove the Offer containing the Product. Read
How to Cancel Your Member's Subscription
for details.
And that's how to create a digital course Product in Kajabi! Please vote below and let us know if you found this article helpful. We value your feedback. Thanks for being the best part of Kajabi!