Pipelines on Kajabi are automated marketing and sales funnels. Learn how to use the Pipelines Visual Editor and begin creating Pipelines with our different Pipeline Blueprints.
---
In this article:
---
What is a Pipeline?
A Pipeline is an advanced funnel creator that simplifies the relationship between marketing and sales by automating the entire process.
To better understand Pipelines, think of a treasure map.
In a treasure map, various locations are strung together to lead to the treasure. In the same way, Pipelines string together landing pages and email campaigns to ultimately lead a potential customer to a purchase.
Take, for example, the Simple Sales Page Pipeline: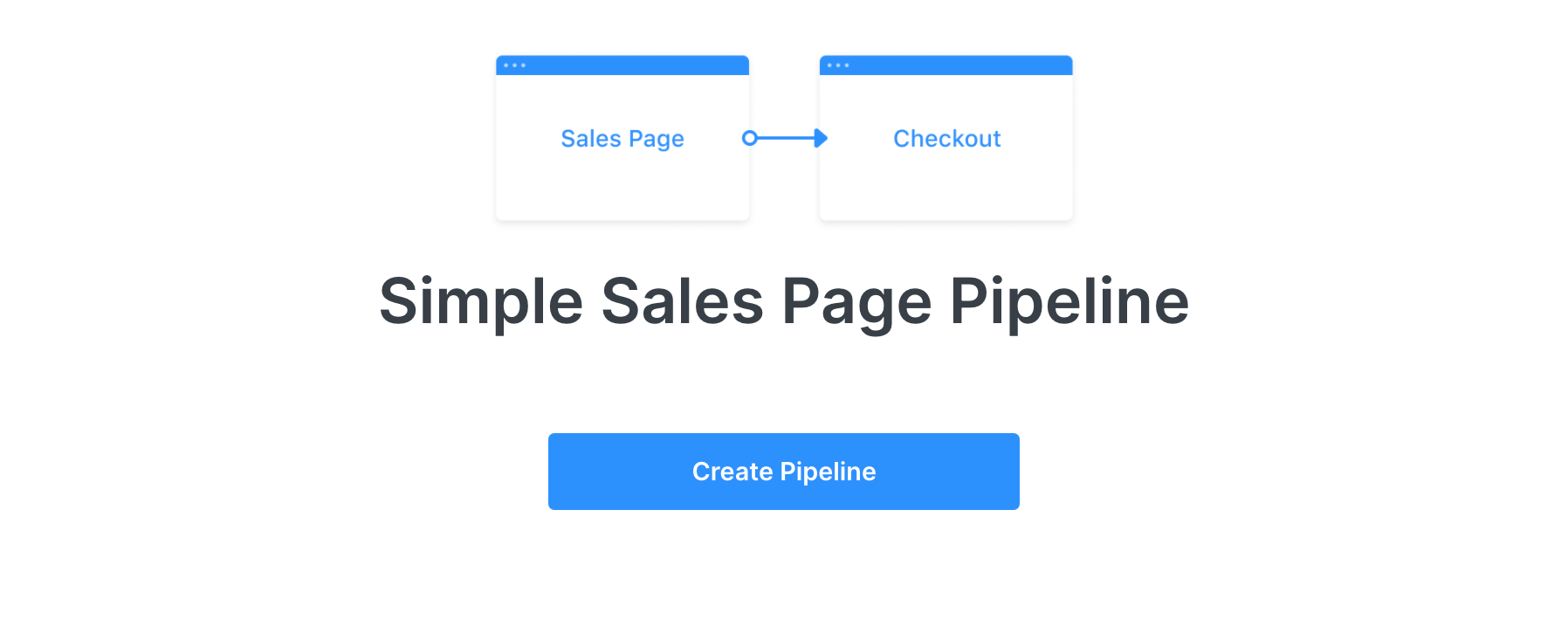 In the Simple Sales Page Pipeline, a potential customer will begin their journey from the Sales Page and be led to the Offer Checkout page to make their purchase.
Although this process can be built without a Pipeline (by creating a CTA button in a landing page), Pipelines help you automate and organize the connection between landing pages and email campaigns within a single location of Kajabi.
With the building blocks of a Pipeline:
Landing pages,

Email campaigns,

and an Offer
Design a seamless user experience to encourage your audience to see the value you offer and provide them with the opportunity to access that value.
Pipeline Blueprints are designed with pre-built landing pages and email copy to help you get started.
Simply generate the Pipeline Blueprint that best fits your vision to begin building your very own Pipeline. Begin your Pipeline journey and learn to generate a new Pipeline!
---
Building your Pipeline
After generating a Pipeline Blueprint, begin building in your content from the Pipeline customization screen:

Hovering over each page will display tips on how to use each auto-generated page in your Pipeline.
Although Pipeline Blueprints generate pre-built landing pages and email copy to get you started, you have the flexibility and the freedom to customize your Pipeline to best fit your business.
Click into each page to begin customizing your Pipeline page in the same way you would customize a landing page with Kajabi Pages!
Not familiar with Kajabi Pages? learn more
Within your Pipeline customization screen:
This allows you to manage and customize all the building blocks of your Pipeline in one location.
Now that you are familiar with the building blocks of a Pipeline, learn more about each Pipeline Blueprint!