Encourage your Members to complete your course with locked content. Locking content in a Product requires your Members to mark a Post as completed before accessing the next Category.
---
In this article:
---
Locking categories
Releasing content in a Product can vary from business to business. That's why Kajabi gives you the tools to build your Product to release content according to your business needs.
Locking content can be accomplished by locking Categories or Subcategories by Product Post.
This ensures that your Members must first complete your specified Post to unlock the next Category or Subcategory and gain access to the next section of content.
To unlock a Locked Category, your Members must:
What happens if a Member attempts to move on to the next Category before completing the Post?
If a Member attempts to move onto the Locked Category or Subcategory before completing your selected Post, they will encounter a "This Post is Locked" message: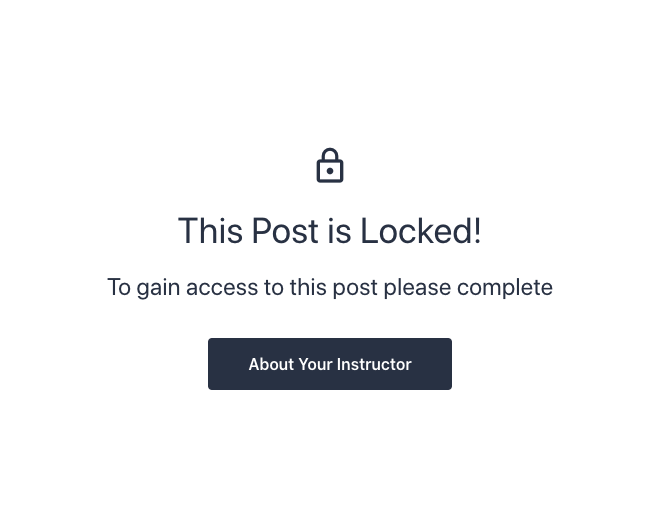 This message is not customizable, however, the language can be changed by updating the Language in your Site Details settings.
---
Locking assessments
Assessments are great tools for surveying or testing your Members in your Product. With Assessments, you can require your Members to complete or pass your Assessment before unlocking the next Category.
Learn more about Assessments in Kajabi
If you choose to Lock a Category to a Post containing an Assessment, your Members can gain access to the Locked Category by:
Learn to add an Assessment to your Product
Tip:
Remove the Mark as Complete block in the Product
Post Body
to ensure that your Members can only access the Locked Category by completing the Assessment contained in your selected Post. Keep in mind, removing the Mark as Complete block will remove the button from all Posts in the Product. This will require your Members to unlock any Locked Categories by completing or passing a Post containing an Assessment.
---
Setting up locked content
Note:
Individual Posts cannot be locked. Instead, Lock and release entire Categories or Subcategories. If you wish to unlock a single Post when another Post is completed, then include it in its own
Category
or
Subcategory
. A Post's visiblity must be set to
Published
to be unlocked. If a Post is still set to
Draft
, it will not unlock with the Category.