Site Branding Settings allow you to customize your logo, favicon, colors, course instructor, and page scripts. By completing your site branding settings first, you will save yourself time when customizing the rest of your Kajabi platform.
---
In this article:
---
Update your Site Branding Settings
To view and update your branding settings:
Open the Settings tab from your Dashboard.
Click Site Details:
---
Branding
Set the default Site Logo and Site Favicon used across all new templates on your site. Anytime you create a new Page, Product, or Website the templates associated with each will pull from the Branding section for the default install.
Tip:
Logo and Favicon images can still be edited in the template editor of each page.
---
Colors
Set the default color palette used in the color pickers of all editors on your site. Each time you create a new Page, Product, or Website the editor will pull from this default palette to populate your color picker options.
How do I create my custom color?
To create your custom color palette, click the color you wish to change and enter your RGB color code in the bottom right field or use the sliders to select your color.
Use the

vertical bar to select the hue.
Use the square box to adjust the saturation and brightness of your color.
Use the horizontal bar to adjust the opacity of your color.
Then, after selecting your custom color, click Save in the top right corner or bottom right corner of the page to keep your changes.
---
Instructor
You can set a default instructor image, name, and title. This information will only be displayed for courses with Premier installed after this information is saved.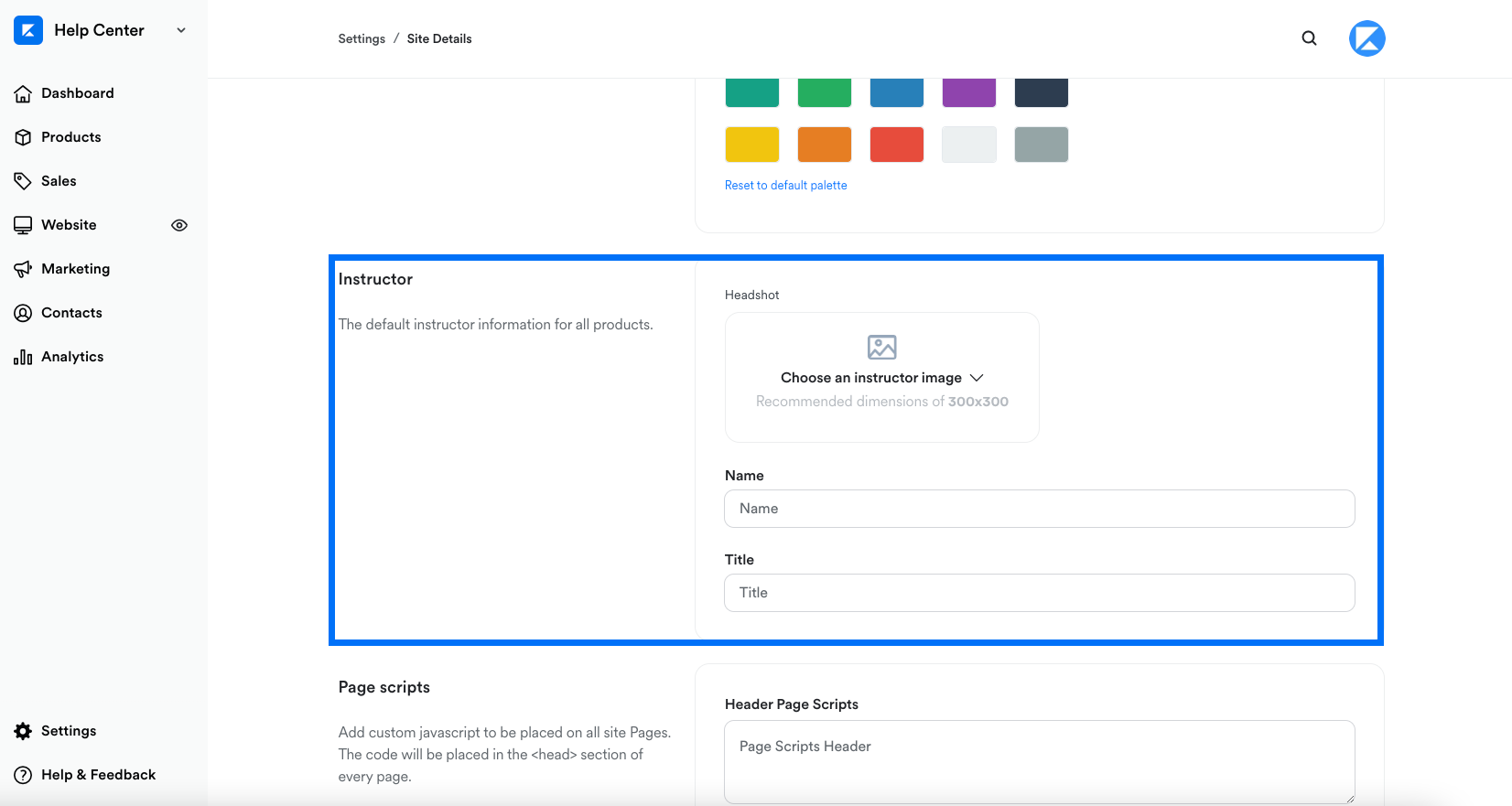 You can edit the instructor information for product and lesson pages by customizing the template. Premier also contains a bio field that can be set by customizing the template. Learn to customize your template.
---
Page Scripts
The text added here will be placed in the <head> section of every page on your site. This includes Products, Lessons, Landing Pages, Website Pages, and Static Pages.
The Header Page Script allows you to add custom javascript on your site pages. For example, you can add a Cookie Disclaimer onto your site pages with the Header Page Script. Learn more
Page scripts will not display on your Checkout Pages. Learn to add custom tracking code to your checkout pages.
Warning:
Introducing custom code to your site can open you up to vulnerabilities and potential malware attacks.
We recommend using vulnerability tools like
VirusTotal
or
Snyk
to scan any custom code that you intend to use and apply certain best practices to help reduce potential impact.
To add to your Page Scripts:
Open the Settings tab from the Dashboard.
Click Site Details.
Scroll down to Page Scripts.
In the

Header Page Scripts

text box, enter your custom script.
Click Save to keep and apply your changes:
And that's how you can customize your brand settings! Please vote below and let us know if you found this article helpful. We value your feedback. Thanks for being the best part of Kajabi!