Learn to build your custom pages with the Kajabi Page Builder.
---
In this article:
---
Why use Kajabi Pages? 
With Kajabi Pages you have the flexibility to build exactly the page you want. 
But it doesn't stop there. Here at Kajabi, we asked ourselves, "What is going to make our customers more successful?"
That's why Kajabi Pages are built to streamline the process of creating beautiful pages in a way that is simple and painless, to help you showcase your content and get your site up and running in no time.
With Kajabi Pages you can:
And more!
To sum it up, Kajabi Pages give you the ability to build and design custom landing pages to help you accomplish your unique vision for your business.
---
Selecting your page template
Get started designing your page by first selecting a template that best fits your vision.
Kajabi Pages provides you with basic streamlined pages and premium-designed pages to get you up and running:
Read How to Add Pages to Your Website to begin building custom landing pages.
Tip:
Interested in a fast and easy way to start collecting email addresses to build your email list? Use the Lead Generation Page Creator to help you build a Lead Generation Landing Page in just a few simple steps.
Learn how to create a Lead Gen Page
.
---
Customizing your page settings
After selecting your template, customize your Page Settings before diving into the design of your custom landing page. This will help set up your page to begin designing and adding your content.
Favicon is the image displayed in the tab of your web browser to create a more polished look.
Style Guide is used to configure your page colors, fonts, font colors, and font sizes.
Design Tools turn on the new grid overlay while designing a page. This shows you a 12-column grid, to help you design your layout. 
Custom Code allows you to insert custom HTML, CSS or JavaScript into your page. If you are not familiar with CSS or JavaScript, we advise that you either avoid using this section or reach out to our support team to guide you through its functionality.
Exit Popups will appear when your visitor attempts to leave your page.
Two Step Optin launches an Opt-in Form popup when a button is clicked to create an engaging, clean look for your page and help improve your rate of opt-ins.
---
Building your page
Before you begin building your page, let's discuss page structure.
Kajabi Pages are made up of:
Each Section of your page is made up of multiple Blocks.
For example, the Text & Image section includes a Text Block and an Image Block: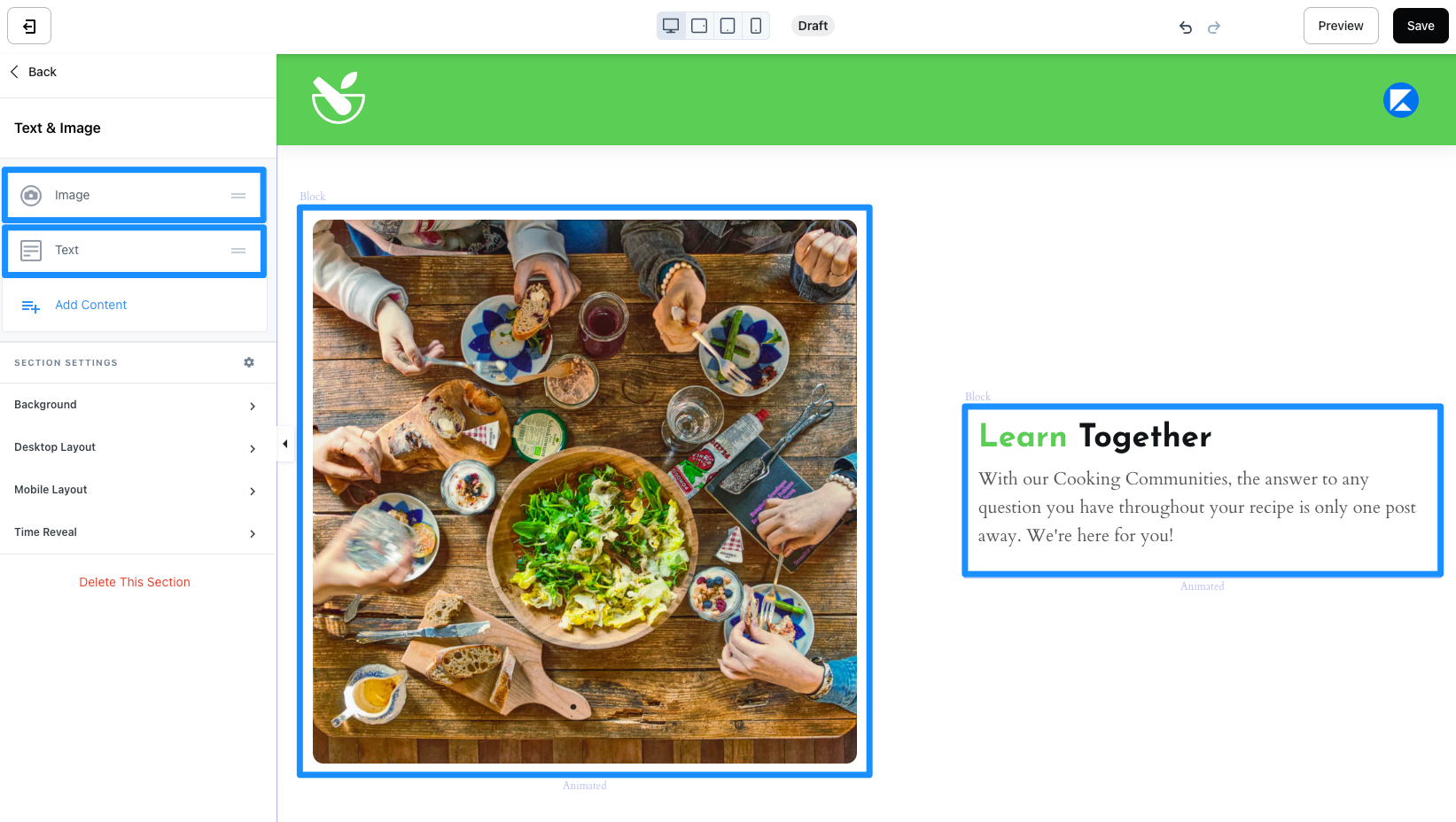 Kajabi provides you with preset Sections containing specific Blocks to streamline the process of designing your page.
Each section is customizable, and regardless of the Section you choose, you can always remove, add, and edit the Blocks within your chosen Section according to your design vision. 
Note:
Although any Section can be replicated by adding or removing Block types, the appearance of your Section may vary due to the optimized design Kajabi has built for you with each preset Section.
Now that you are an expert on Kajabi Pages, we recommend customizing your Header and Footer to officially begin designing your page to showcase your brand and business.
---
And that's Kajabi Pages! Please vote below and let us know if you found this article helpful. We value your feedback. Thanks for being the best part of Kajabi!