Cloning or Duplicating a page can be used to keep your branding uniform throughout all pages. This can help save you time to focus on your content. Learn to clone your pages.
---
In this article:
---
Cloning Pages
What is Cloning?
Cloning a page in Kajabi duplicates your page. Your cloned page duplicates the Theme, the page settings, and content from the original page.
Cloning your page is a great tool to accomplish various actions, for example:
Creating a uniform design throughout your website;
Creating pages specific to different languages;
Duplicating a Pipeline Page to a Standalone Page.
Keep in mind, these are simply examples for the possibilities cloning a page can achieve. You may find that cloning a page can help you in more ways than one that may be specific to your business and vision.
How do I tell the difference between my original page and the cloned page?
To differentiate between your original page and the cloned page, notice that your cloned page includes a number following the title of your page.
This number signifies the number of times your original page has been cloned: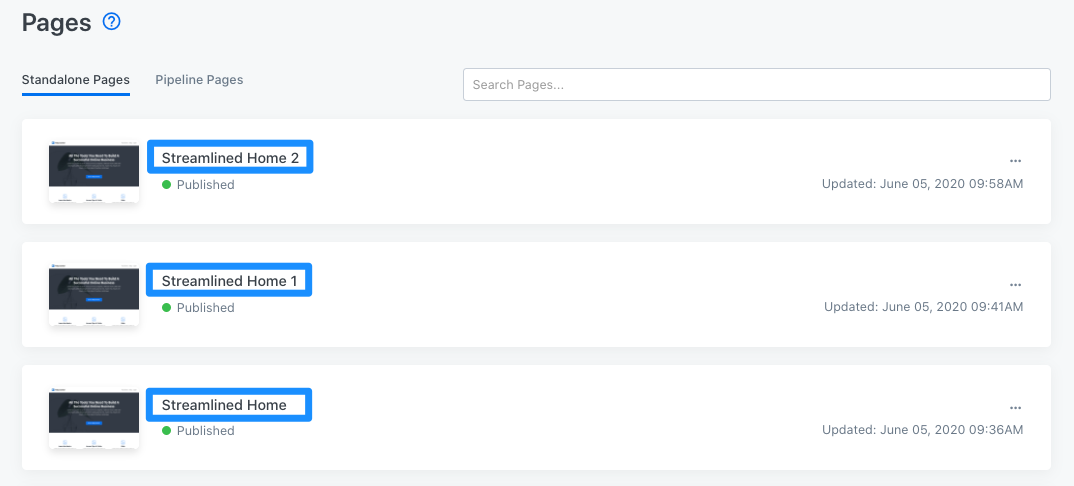 ---
How to Duplicate a Page
Open the Website tab from your Dashboard.
Click Pages.
Locate the Landing Page you wish to clone.
Click … and select Clone (or Duplicate if Website Pages Beta is enabled):
After cloning your Page, you can begin customizing your cloned Page! If you wish to change the Title and visibility of your cloned Page, return to your Pages list to edit your Page Details.
Note:
Cloned Pages become Standalone Pages after generating. If you have cloned a Pipeline Page, you can locate your cloned page within the list of Standalone Pages under the Pages section of your Website tab.