Partnerships are huge for any business. They empower you to spread your reach by expanding your sphere of influence.
With the Growth and Pro Plans, Kajabi enables you to form partnerships with the Affiliate Program. Learn to track your Affiliate's data with your Affiliates report.
---
In this article:
---
Can't access the Affiliate Report?
The Affiliate Report is only available with the Growth and Pro Plans. Learn more about our Growth and Pro Plans at
kajabi.com/pricing
.
What is an affiliate?
An Affiliate is a user who will share a link that leads to a section of your site (Offer, Checkout, Pipeline Page) and receive a percentage of the profit made from anyone who clicks on that Share Link and completes a purchase on your site.
The Affiliate User can present a Share Link to their audience through Facebook, Twitter, Youtube, email… really, anywhere they can copy and paste the Share Link to.
The Affiliate User will take a percentage of each sale made from anyone who clicks on that Share Link and completes a purchase on your site within 30 days with the same browser.
Note:
Although you can track clicks for specific share links, there is no way to determine which Affiliate Link was used by a specific Member or the Affiliate credited.
How does the Affiliate Program work?
Affiliate conversions are tracked by using cookies in a user's browser. This means that if a user clicks on an Affiliate's Share Link and purchases an Offer, your Affiliate will be credited with a commission value.
If a user clicks an Affiliate's Share Link, the cookies will remain in the user's browser for at least 30 days and up to 90 days unless another Affiliate's Share Link is clicked.
Learn more about the Affiliate Program.
Note:
If a customer clicks an Affiliate's Share Link, but purchases an Offer on a different browser, on a separate device, or clears their cache and cookies in their browser the Affiliate will not be credited with the commission value.
---
How to access your affiliate's report
Open the Analytics tab from the Dashboard.
Then, select View in the Affiliates card: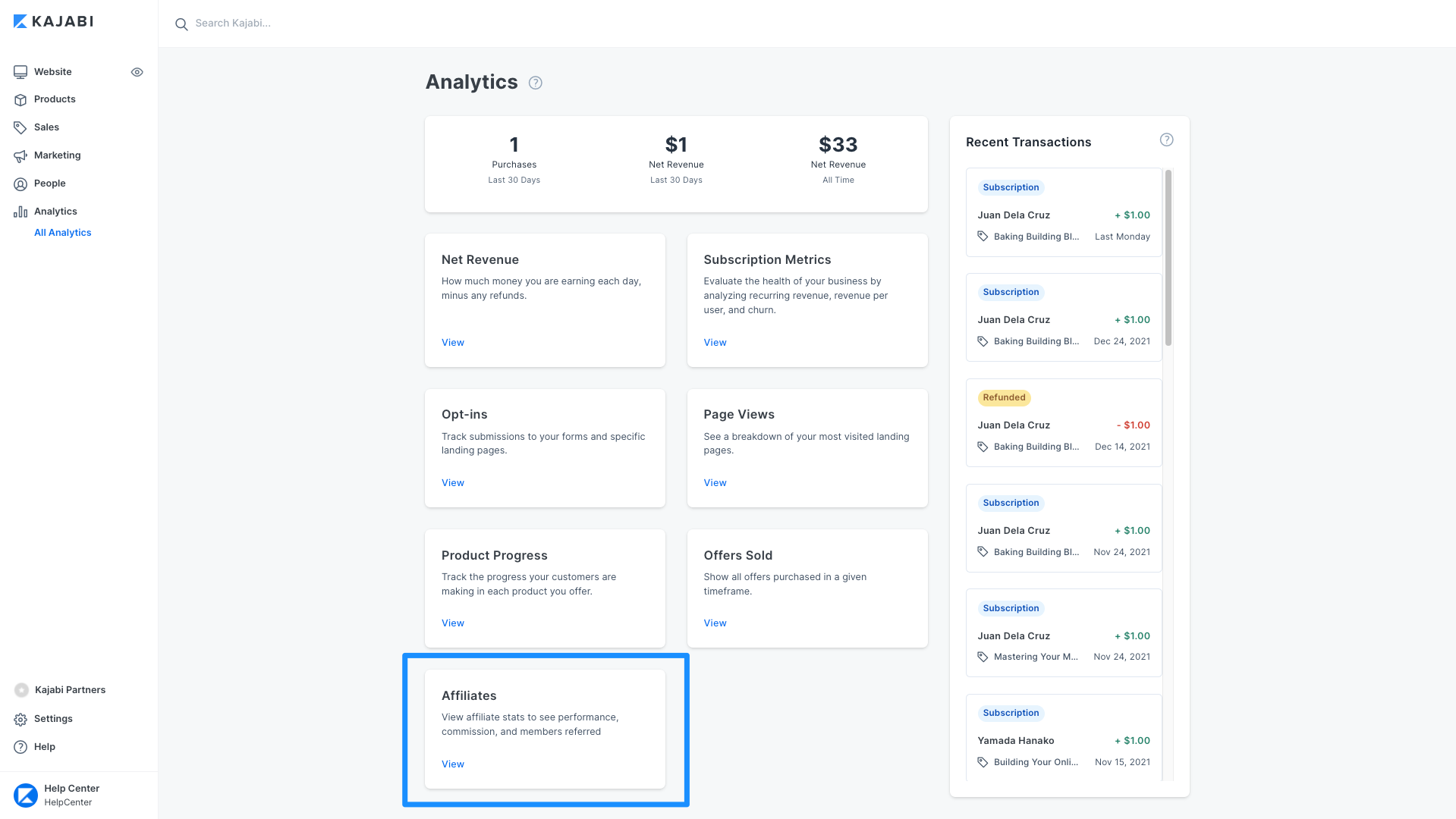 ---
Understanding your affiliate's report
Your Affiliates Report provides you with easy-to-read data displaying your Affiliates in rank order. Your Affiliates are ranked based on their total amount of revenue with the highest ranking at the top and the lowest ranking at the bottom. The Affiliates Report is displayed in chunks of 30 days to easily track Affiliate stats on a monthly basis.
Additionally, the Affiliates Report includes your Affiliates:
Revenue
Commission earned
Conversions
Total Clicks
Conversion Rate
Last Sale made
Override Percent
Email
PayPal Email (for Mass Payment Export)
View by affiliate
Narrow your focus further and access more information for each Affiliate.
Simply click their name.
And take a look at their Referred Board.
In this view, you can see each Member referred by your Affiliate and the specific Offers purchased.
Note:
The Referred Board is limited to 1000 records.
Use filters
Speaking of narrowing your focus, use filters in the right sidebar to locate a specific Affiliate and access their Referred Board.
Search by Affiliate:
Navigate to the right sidebar.
Enter in the Affiliate's name or email.
Click

Apply.
Click the name of your Affiliate to access their Referred Board:
Notice a discrepancy between the number of conversions and the number of Members that purchased with an Affiliate?
If a Member is in the midst of a trial or a Free Offer was purchased, they are not recorded as purchases.
---
Exporting the affiliate report
Export your Affiliate Report based on your specified date range and filters to:
Exporting your Affiliate Report
Open the Analytics tab from the Dashboard.
Then, select View in the Affiliates card.
Filter by date, name, and/or email.
Click Export.
Select your desired report to begin exporting:
Locate your exported report in the downloads folder of your hard drive. Your CSV file will be titled "affiliate_report" or "paypal_mass_payment_compatible" with your specified date range included in the title.
Exporting report for PayPal Mass Payment
What is PayPal Mass Payment and how do I send it? Check out
PayPal's Guide
to learn more about Mass Payment.
Export a PayPal Mass Payment compatible report to streamline your payout process:
In your Affiliates Report or your Affiliate tab, click Export.
Select Paypal Mass Payment Compatible:
To match PayPal's Mass Payment file requirements, the PayPal Mass Payment Compatible report includes:
Column 1: Affiliate PayPal email
Column 2: Commission amount
Column 3: default customer currency code
PayPal Mass Payment Compatible report:


---
Frequently asked questions
Do affiliates get paid automatically?
No, if you have toggled on Give an affiliate commission in your Offers, this information will be tracked by Kajabi and held in your Affiliate tab. You can then manually pay your Affiliates via PayPal, Stripe, or any payment method of your choosing.
Learn How to Activate an Affiliate's Commission in an Offer.
What if the Offer is a Subscription?
If you choose to activate Affiliate commission for a Recurring Subscription Offer, the Affiliate commission is set for the lifetime of that Member's subscription.
For example, if a Member purchases a monthly subscription Offer and pays each month, your Affiliate(s) will get a monthly commission for the Member's lifetime each month the Member continues to pay.
Why does the affiliate report have a commission value when there are 0 clicks and 0 conversions?
Related to Recurring Subscription Offers, the Affiliate commission is set for the lifetime of the Member's subscription. Affiliate conversions are credited when a customer initially purchases the Offer.
All payments following the initial purchase will be credited to the Affiliate's commission value, while the number of clicks and conversions will not count the remaining subscription payments made.
What happens if a user clicks on two separate Affiliate's Share Links and then purchases?
The commission value is attributed to the Share Link clicked last prior to purchase. If a customer clicks another Affiliate's Share Link prior to purchasing an Offer, the initial link will be overridden.
Why is there a discrepancy between my Affiliate Transactions and the Affiliate Report?
If you have set up a Commission Override Percentage, it is important to note that within your Affiliate Transactions you may see a different Commission Override Percentage for individual transactions attributed to the same Affiliate. Because the Override Percentage can be adjusted, the transactions will reflect whatever percentage was in place at the time the specific transaction took place.
With this in mind, you may notice differences in your Affiliate Transactions compared to the Affiliate Report. This is due to the Affiliate Report displaying the Override Percentage for the most recent transaction credited to the Affiliate within the timeframe selected.