Learn to bulk export contacts in your People tab.
---
In this article:
---
Export your contacts
Open the People tab from your Dashboard.
Filter or Segment the contacts you wish to Export.
Select the contact you wish to export or click Select All to export the entire Segment.
Click open the Bulk Actions dropdown menu.
Then, select Export:
Your exported list will be emailed to the email address associated with your Kajabi account.
Click Submit to acknowledge the popup.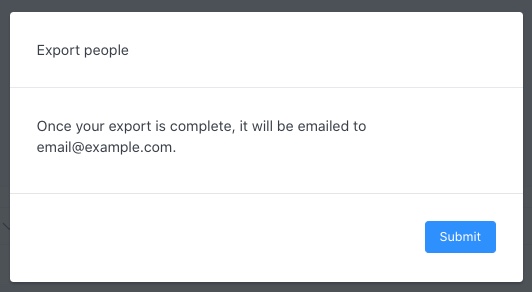 ---
Download your exported list
Download the CSV from the email within 3 days of receiving it before the link expires.
If you are unable to download the CSV within the 3 days of receiving the email, simply repeat the steps above to export your List.
Log into your email associated with your Kajabi account.
Your exported list will be attached to an email from Kajabi Support with the Subject Line: Contact export process completed.
Open the email and click download the CSV: