Learn to navigate the Customer Feedback Portal to share your ideas, features you'd like to see added to Kajabi, or simply share a thought on how we can improve.
---
In this article:
---
What is the Customer Feedback Portal?
With our integration with Pendo, the Customer Feedback Portal is a tool for direct collaboration between you and our product development team. Here, you can request new features, improvements, and more!
The Customer Feedback Portal is there for you to actively influence the updates that are made and how much priority is placed on specific updates that can benefit your business most.
Read the Product Feedback Policy for more information.
---
How do I submit a Feature Request?
Tip:
Before submitting a new request, be sure to first search the Feedback Portal in the top right corner to see if your request(s) currently exist to add your upvote and move your request(s) up in priority!
Open the Help tab from the Dashboard.
Click share your ideas! to enter the Customer Feedback Portal: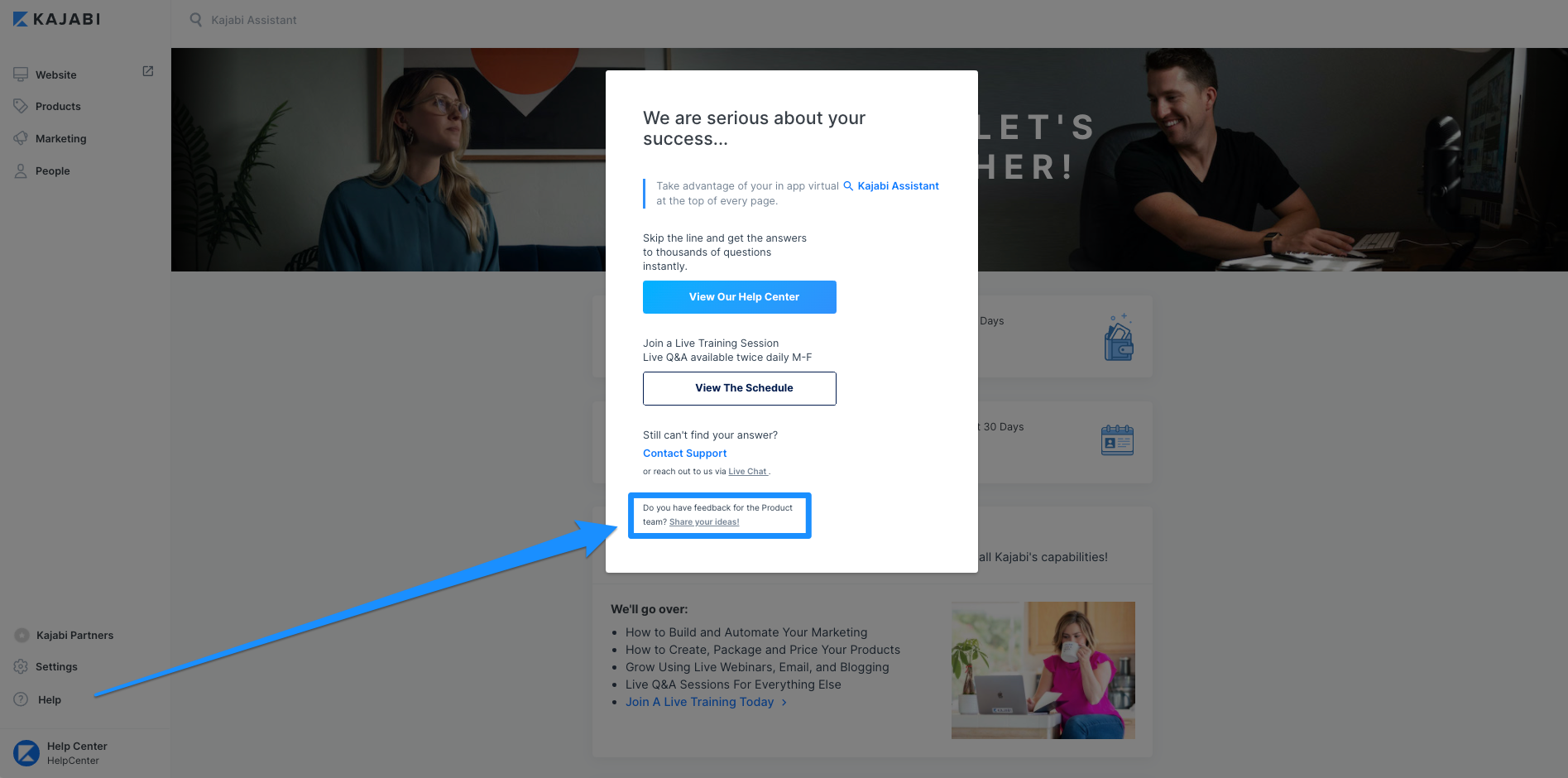 In the Customer Feedback Portal, click Make a Suggestion.
Complete the form.
Then, click Submit request:
Keep track of your request status
Submit and vote for the Feature Requests that will benefit your business. This will subscribe you to the updates for the Features you are most interested in.
Awaiting Feedback: When you submit a request in the portal, it is reviewed by our product team and initially set to "Awaiting Feedback" so that other users can view, comment, and upvote it.
Declined: If your request has already been submitted, your request may state "Declined" because our product development team is using the earlier request as reference. Simply upvote the other request and include additional comments.
Planned: This moves the Request to the What's Coming board. This means the Request has been added to the product development team's project list.
Building: The product development team is hard at work on this right now! Keep an eye on it for updates. If you are subscribed to the Feature Request with an upvote, you will receive emails when updates occur.
Released: The Feature Request has been Released!
Note:
If you reach out directly to our support or customer success teams, they can help you look up the ideas for you and help you submit requests, but they won't have any additional information or be able to provide an estimate for when your item will be reviewed.
---
Dashboard
In the Customer Feedback Portal Dashboard, submit a Feature Request, see What's New, Vote on Feature Requests, and keep track of your priority feature requests.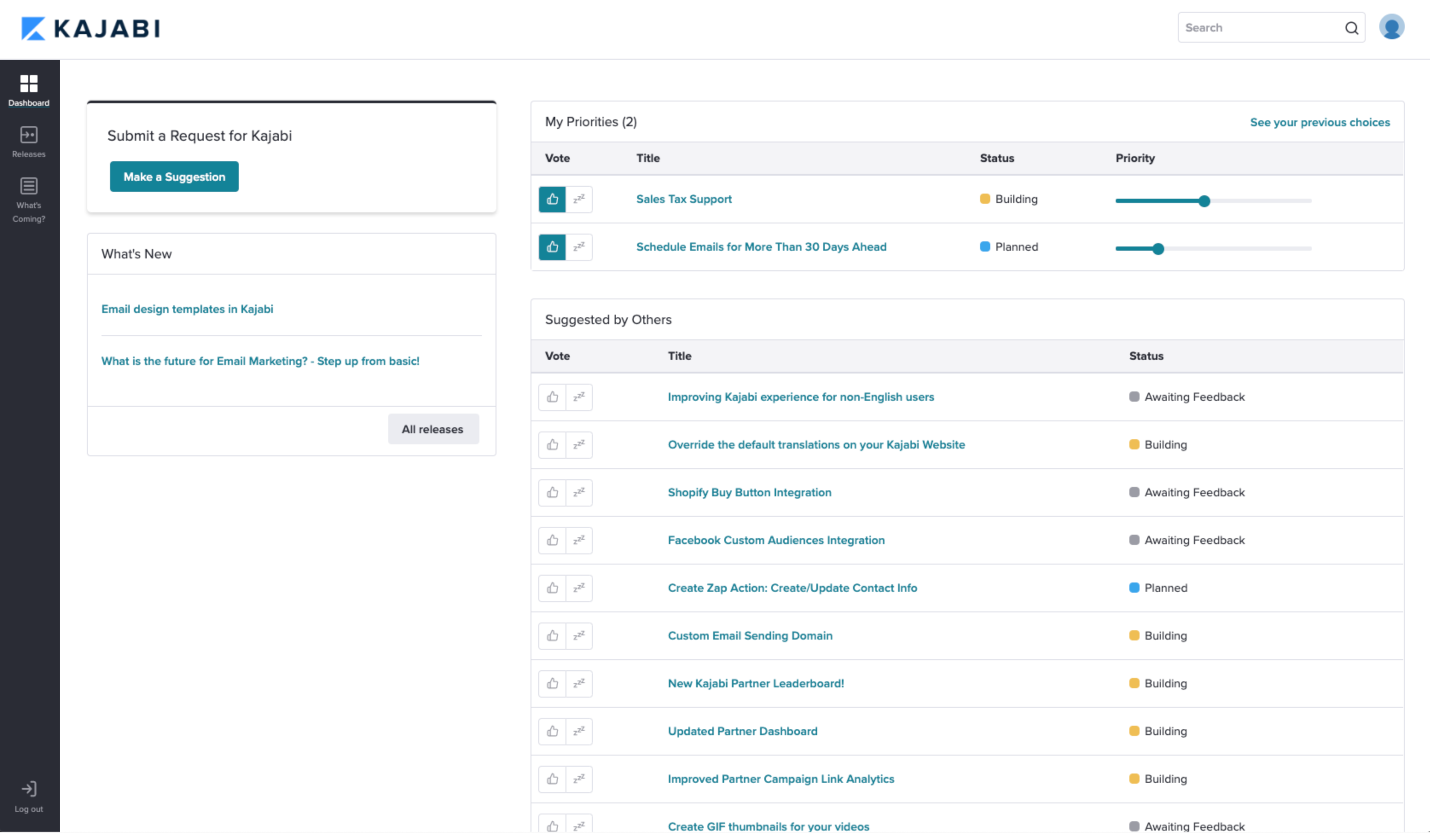 Submit a Request for Kajabi to communicate your ideas, pain points, and feature requests to the product development team.
What's New showcases the most recent feature releases.
My Priorities displays the ideas you upvoted or submitted.
Use the Priority slider to communicate the level of priority the feature request means to your business.
Track the Status of your Feature Requests, make comments on a specific idea, and change your votes.
Tip:
Subscribe to ideas and feature requests by upvoting the ideas that would help your business succeed. This will help you track the request status for the ideas you are most interested in and take part in the conversation.
Suggested by Others lists the ideas submitted by other Kajabi Users. Here, you can vote for their ideas and keep track of their status by clicking the Title of the Request.
---
Releases
Stay up-to-date with the Kajabi Updates and Releases! Track Releases and watch as your ideas and Feature Requests come to life in Kajabi.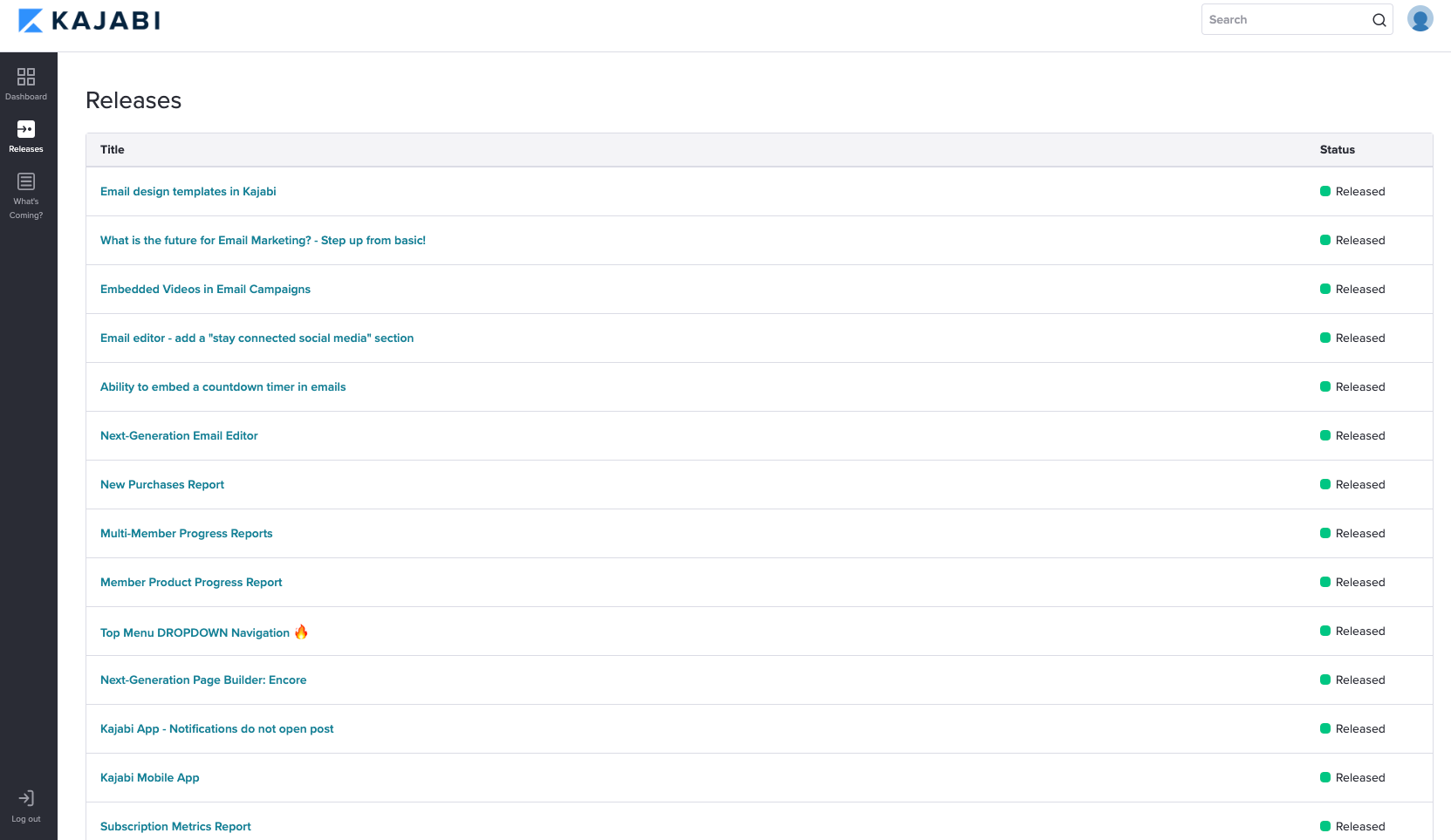 ---
What's coming
Track the Feature Releases that move into the Planning and Building phases to prepare for upcoming Releases in the Product Improvement Roadmap. Vote to Subscribe to the Feature Requests being planned and built to track their Status and add your vote to share your level of interest and commitment to the creation of the idea.