Learn to merge contacts if a contact has created two accounts with separate emails on your site.
---
In this article:
---
Merging contacts
Merge duplicate contacts to keep accurate records and ensure that your customers can access their Products from a single account.
Note:
With the merging tool, you can merge up to two contacts at once.
Merging accounts will leave your Customer with one account containing all of their purchased or granted Offers.
---
What happens when I merge two contacts?
Merging contacts will combine, disassociate, or delete information from the Secondary Contact to merge into the Primary Contact.
Combined
Offers - Paid, Free, Granted, Revoked, Inactive and Active Offers will transfer to the Primary Contact unless the Active Offer is an Active Subscription payment. Revoked or deactivated Offers will not be granted or reactivated upon Merge.
Form Submissions - Submission data won't be directly added to the Primary Contact's Customer Info, however, the Form Submission ID is carried over and the data associated with the submission can be viewed by clicking on the Form.
Purchase History - All purchases, refunds, failed payments, cancellations, etc. will be carried over and viewable within the Primary Contact.
Unique Product Progress - if combined Products are unique (not duplicates), then Product Progress for the Secondary Contact will be kept for all new Products.
Disassociated
Email Records - Opens, clicks, unsubscribes, etc. will not be destroyed and will count towards the general analytics. However, neither the Primary or Secondary contact will be associated with these records.
Deleted
Email Notification Settings - The email notification settings associated with the Secondary contact will be disregarded and deleted.
Duplicate Product Progress - if combined Products are duplicates, the Product Progress for the duplicates will keep the progress for the Primary Contact and delete the Progress of the Secondary Contact.
---
What will not happen when I merge contacts?
Merging contacts will ensure that your contacts contain the correct information in their Contacts Profile. However, there are actions that may not be performed when attempting to merge your contacts.
The following is a list of the actions that will not happen when attempting to merge your contacts:
Automations will not be triggered based on a Merge action.
If the Secondary Contact has an active subscription, it cannot be merged.
Tags are not merged to avoid future complications.
Email statistics and settings associated with the Secondary Contact will not be associated with the Primary Contact. However, these stats will exist for reporting purposes, but it will not be associated with a specific contact.
It is important to note that the merging contacts feature is only possible with two contacts at a time. If you wish to merge multiple contacts, you can merge up to two contacts into your Primary Contact repeatedly.
---
Step 1. Identify the primary account
First, identify the Primary Contact that will remain when the duplicate (i.e, Secondary Contact) is merged: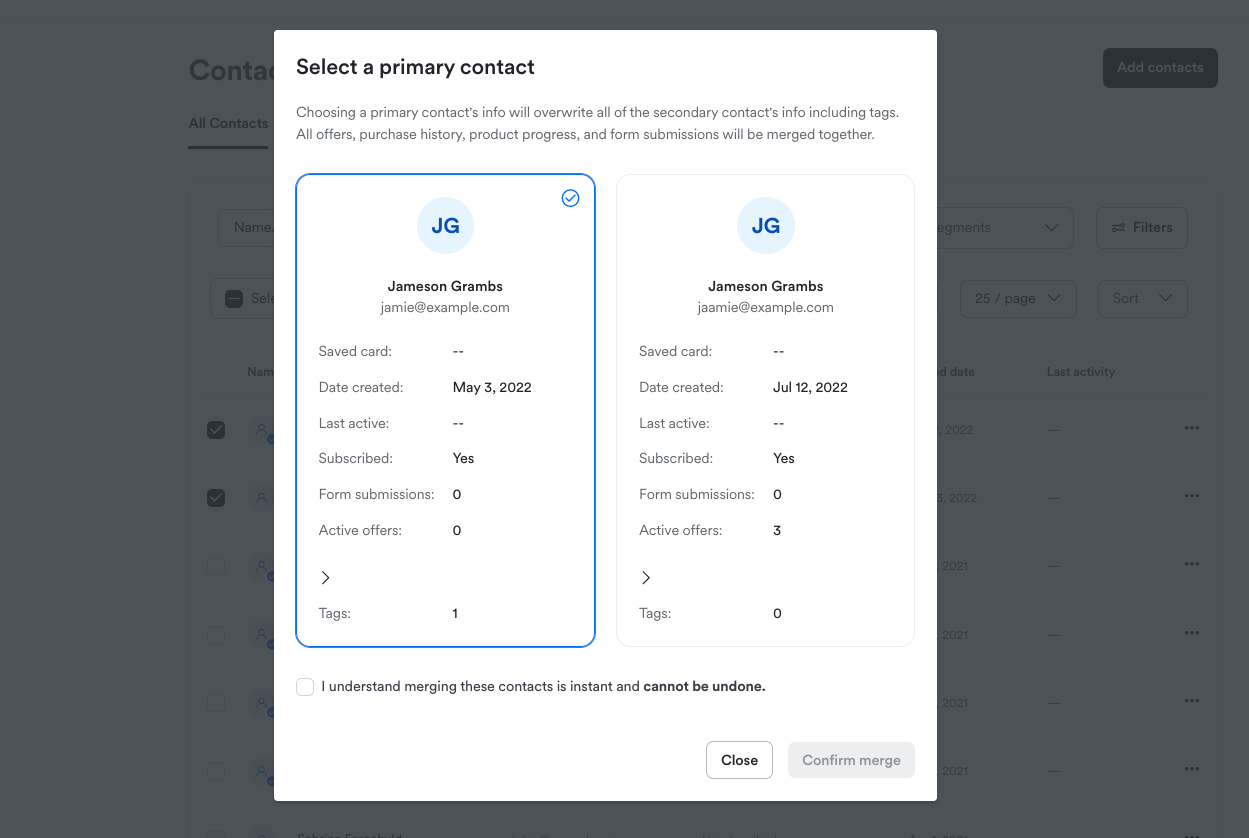 Choosing a Primary Contact's info will overwrite all of the Secondary Contact's info.
Click here to review the process of a merge.
Be sure to select your primary account with care to ensure that the correct contact remains.
---
Step 2. Merge accounts
After identifying your primary contact, use the merge contacts feature in your Contacts tab:
Open the

Contacts

tab from your Dashboard.
Then, select any two contacts you wish to merge.
Open the

More Actions

tab.
Click

Merge contacts.
Note: This option will only be present if two applicable contacts are selected.
Select the Primary Contact.
Then, click Confirm merge to merge your contacts into the primary account:
And that's how you can merge duplicate contacts!
Please vote below and let us know if you found this article helpful. We value your feedback.
Thanks for being the best part of Kajabi!