Go Live with YouTube directly from your site using a Video Embed Block and deliver your content in real-time.
---
In this article:
---
Looking to include the YouTube Live Chat Box with your YouTube Live?
Click here
to learn how to build a Live Webinar Funnel to include a YouTube Live Chat Box.
Step 1. Verify your YouTube account
Before you go Live with YouTube there are a few steps you'll need to complete on your YouTube account.
First, make sure that the Live Stream feature is enabled in your account settings on YouTube.
Log into your YouTube account.
Go to your YouTube Studio.
Click Settings in the bottom left corner.
Select Channel.
Click Feature Eligibility.
Ensure that your Default Features and Features that require phone verification are Enabled: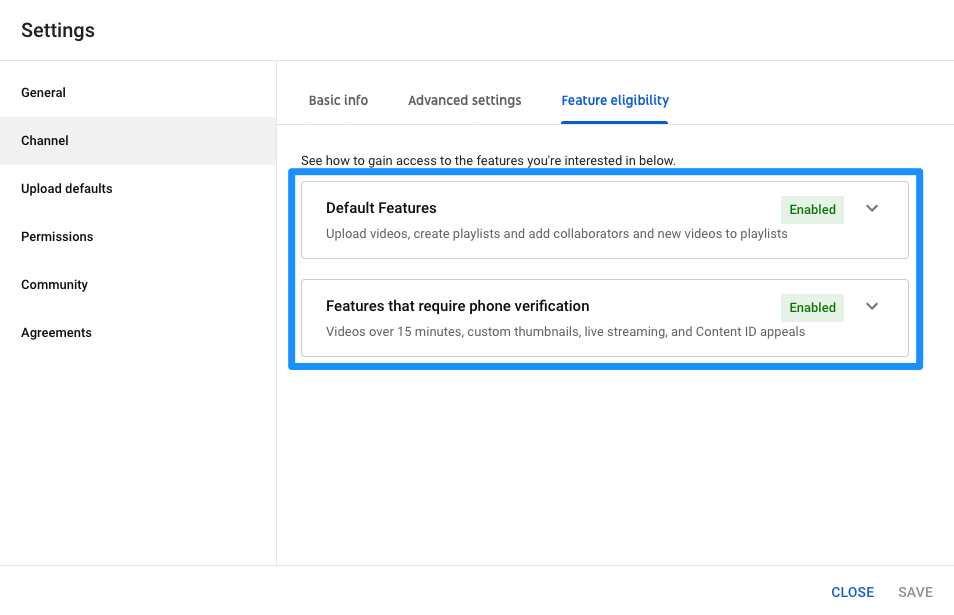 If your features are disabled, verify your YouTube account.
Click here to learn how to verify your YouTube account with YouTube's support guide.
---
Step 2. Set up your YouTube Live and create an embed code
If your YouTube account allows live streaming as verified in Step 1, set up your YouTube Live and create an embed code to embed into your Course Lesson on Kajabi.
To create your YouTube Live:
In your YouTube Studio dashboard, click

Create.

Then,

select

Go Live.
In the Live dashboard, select Stream or Webcam.
Proceed to customize your Live stream details by creating a title, specifying your time and date, and selecting your audience type.
Then, click Next.
This will prompt a streaming preview.

If you wish to upload a custom image for the Thumbnail or retake your Thumbnail, hover over the image and select your desired option:
Learn more about live streaming with YouTube
To copy your embed code:
After customizing your Live Stream details, click the SHARE button.
Click the copy icon next to your Video link.
Paste your Video link into a different tab on your web browser.
Navigate to the SHARE button directly below the video player.
Click Embed.
Then, click Copy: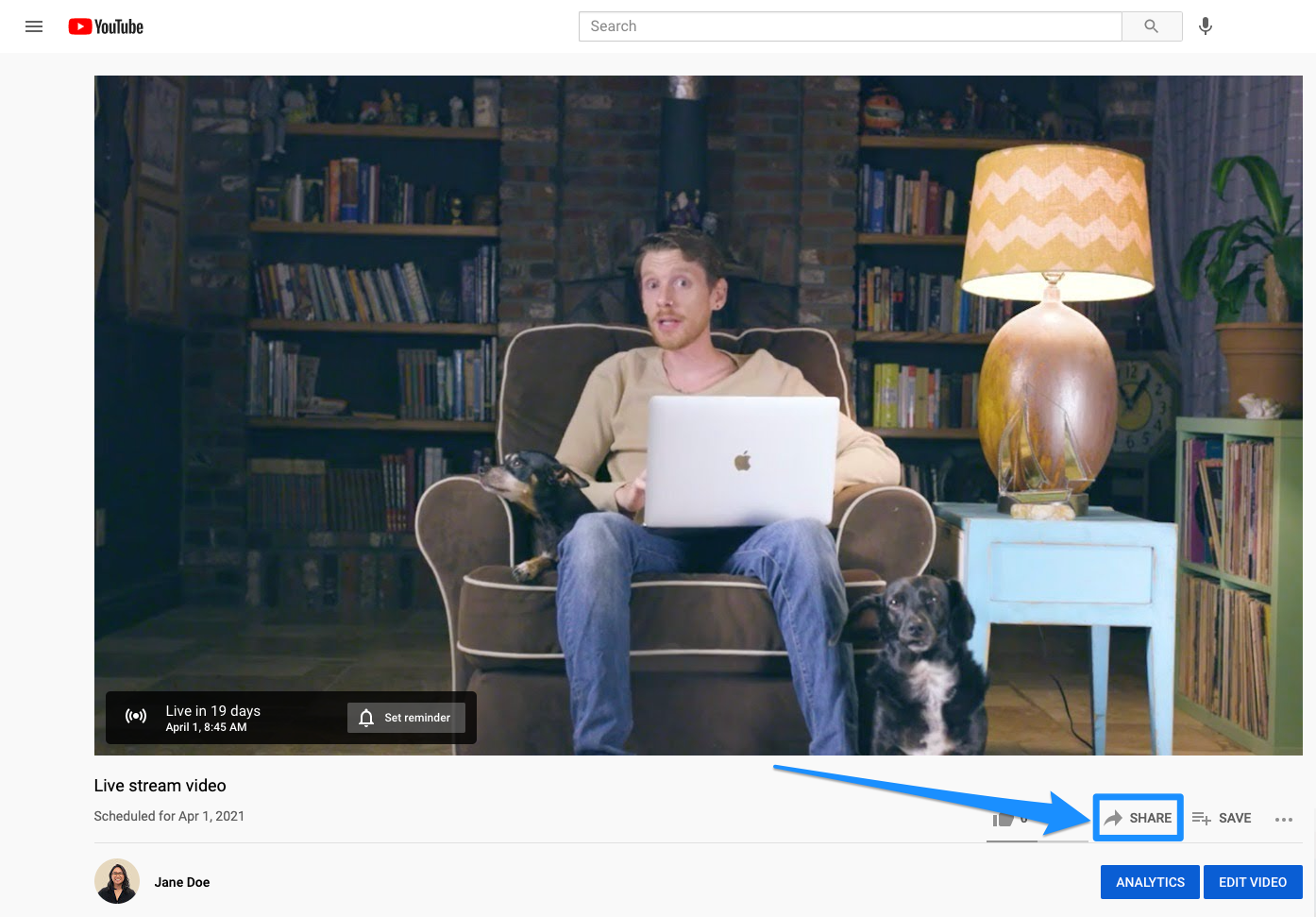 Don't see an embed option? Learn to embed videos and playlists with YouTube's support guide
Note:
You must allow embedding for your Video to play directly from your Page. If it is left unchecked, your viewers will be prompted to open in YouTube.
---
Step 3. Connect your YouTube Live to your page
Embed your YouTube Live using a Video Embed Block on your Page.
Add a Video Embed Block:
Open the Website tab from the Dashboard.
Select the Pages tab.
Open the page editor for your Page. Learn more
In the sidebar panel, click the Section you want to edit or

create a new Section.
In the sidebar, click

Add Content.
From the list, select Video Embed.
Your newly created Video Embed Block will generate at the bottom of the Section.
In the sidebar, paste the embed code into the Embed Code field.
Click

Save

to keep your changes:
Continue customizing your Page and prepare to Go Live!
Tip:
Make sure to test your YouTube Live functionality outside of the Page Preview mode (i.e. using a direct link). If your YouTube video is listed as Private or Made for Kids, it will not stream.
And that's how to use YouTube Live on a Kajabi Page! Please vote below and let us know if you found this article helpful. We value your feedback. Thanks for being the best part of Kajabi!