Learn about each Product Theme and select the Theme that best fits your vision. Creating a Product generates the default Premier theme. However, Kajabi provides 12 unique Product Themes to help you design the look and feel of your Product to fit your brand and enhance your Member experience.
---
In this article:
---
Product Themes Overview
Product Themes can be customized to look and feel different from your Website to give your Members a unique experience every time they access your Product(s). Select the Product Theme that fits best with your Product. Learn more about adding new Themes to your Product.
---
Momentum
A next-generation product theme built for simplicity and easy content consumption. With Momentum, the focus is placed heavily on your content and what is being delivered in the product, minimizing distractions that could detour the customer's experience. This is an excellent theme for your Membership Product.
Momentum Preview:

---
Premier
Never has a product been so customizable. From your product homepage to your posts, you can customize sections and content blocks throughout the product pages. There are a multitude of user experience options, including showing course progress, cross-sells, instructor visibility, categories or post visibility and much more. For the first time, you can tap into the ultimate appearance and utilize background images on a product level. Generating a Product will default to this Theme and you will find that it is very similar to customizing your Website Pages.
Premier Preview:
---
Lagunita
Our Lagunita website theme features an introduction video that your members can watch before getting started. This welcome video doesn't have to be from a product, as you can use a hosted video URL rather than an upload. Directly below your welcome video, your sales page will be tiled above scrolling testimonials. Members' library pages showcase each product with large images front and center for easy navigation. Within the Lagunita product theme, a post will be utilized as the header marquee, while the categories display below. Within a product category, each post shows a short description before opening. To add to such a wonderful layout, your thumbnails will be used as your Lagunita pagination buttons.
Lagunita Preview: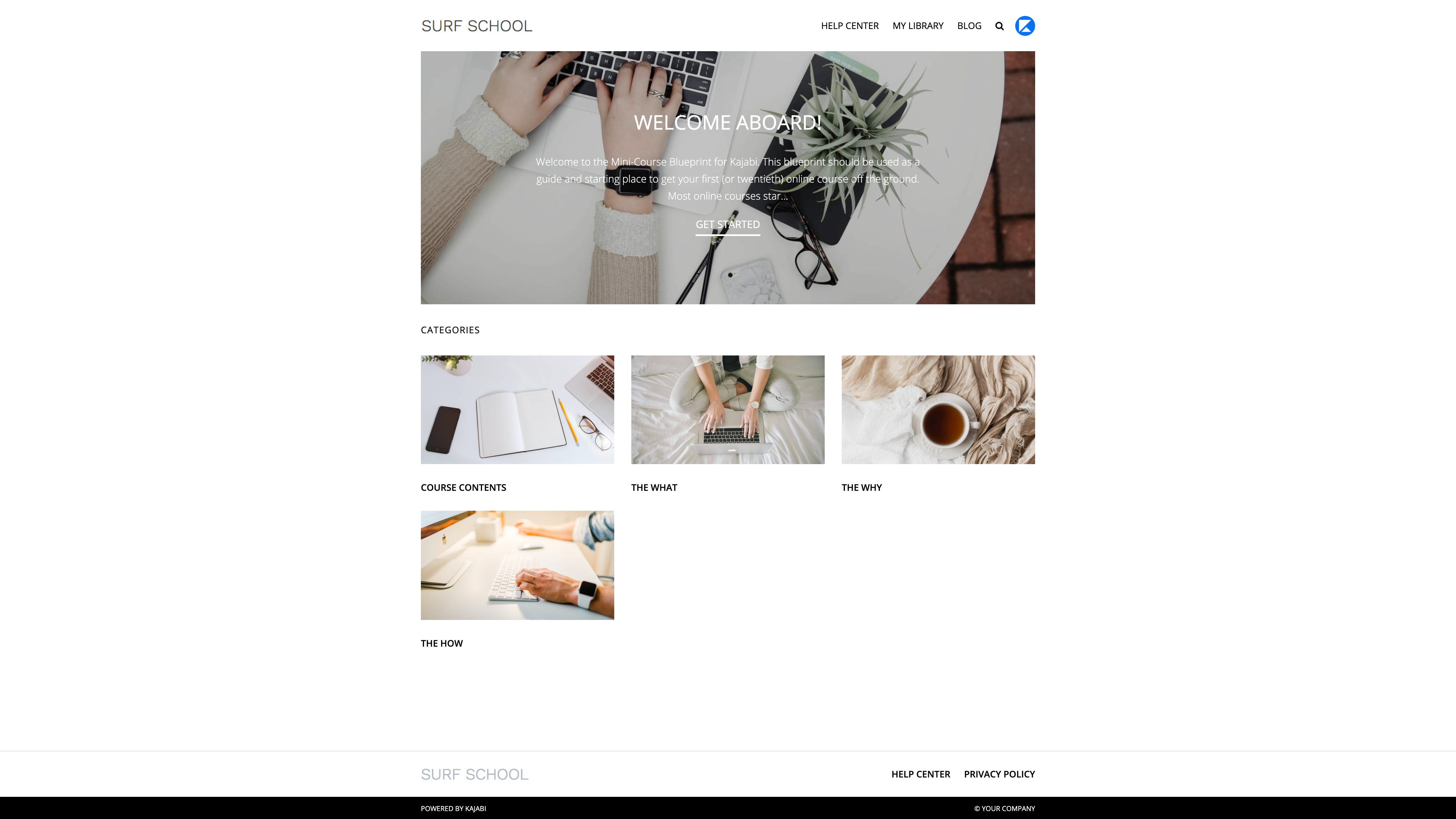 ---
Warren
The Warren product theme emphasizes the use of large images throughout your product. The images in your post, are displayed at the top as a marquee and in the pagination buttons for course navigation. Instructors can be showcased at the bottom of your page, allowing for a more extensive instructor bio. A fully customizable and expandable sidebar menu can assist your students with quicker access to course content. The theme is fully responsive on both mobile devices and tablets.
Warren Preview: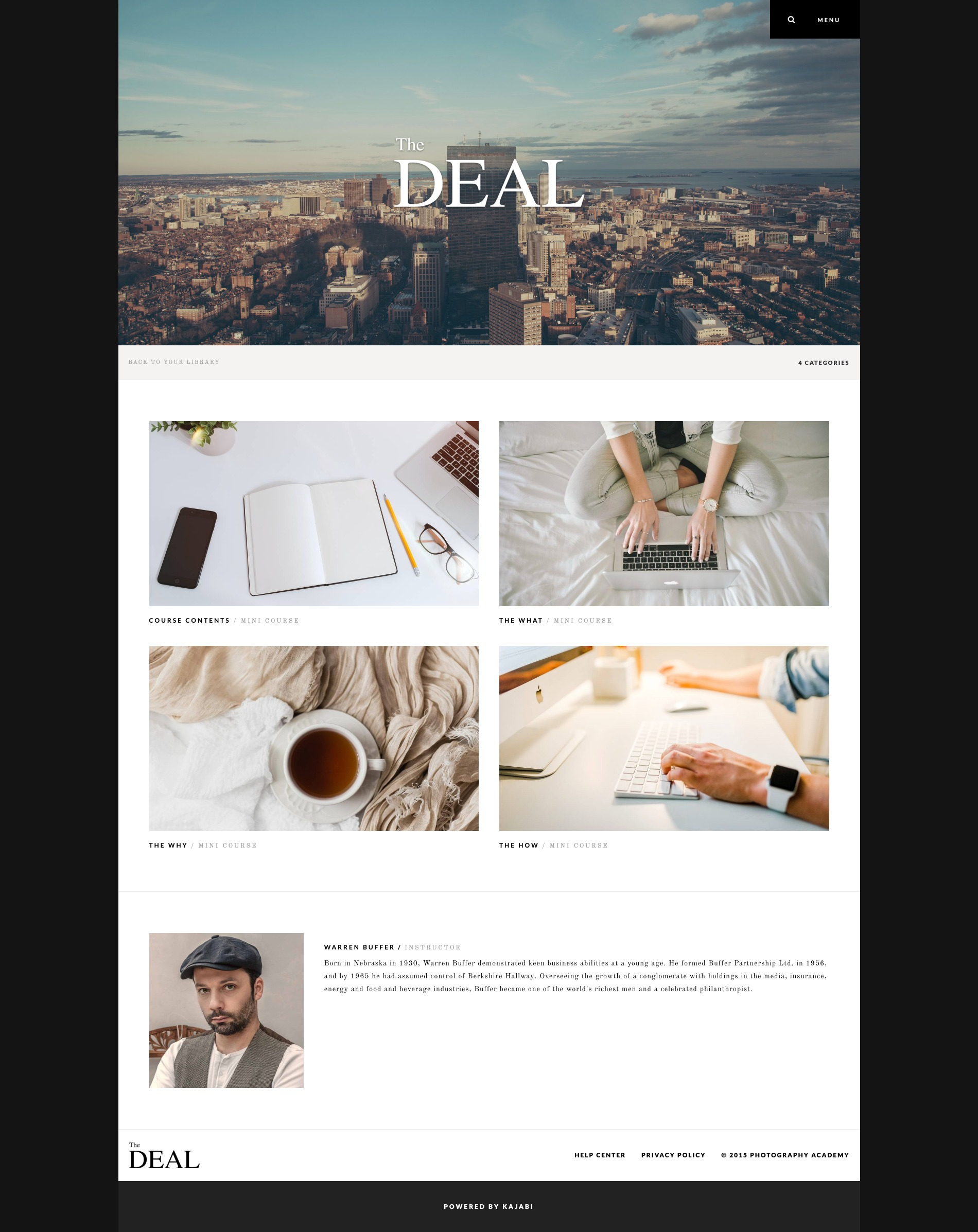 ---
Taylor
Taylor features your thumbnails as large pagination icons, allowing for seamless navigation. Both the instructor bio and category descriptions are featured as tiles among your thumbnails. Taylor gives you the option to create and showcase a welcome post featured in your marquee. Upon completing a post, customizable checkboxes will appear so students can track their progress. On mobile devices, the large icons that Taylor features, allow for a wonderful user interface that is sure to be engaging.
Taylor Preview: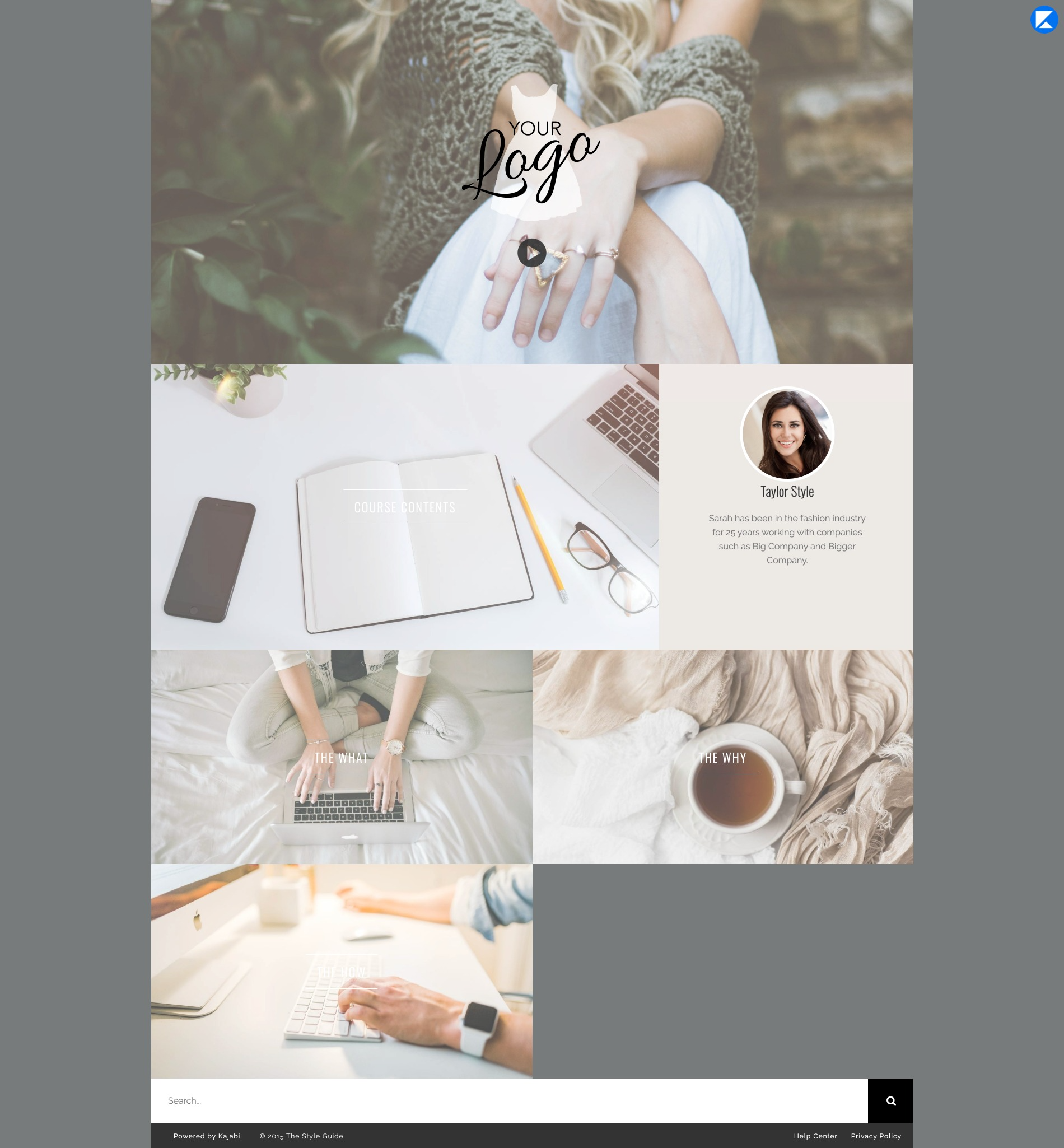 ---
Mist
The Mist Theme is built around the idea of single-post products with downloads. Your content is featured with a beautiful, simplistic design with a large accent image as the backdrop. For products with more than one post, an expandable sidebar will display categories and posts for easy navigation throughout your product. A Welcome Post can be set, or you can simply drop your users directly into your first post.
Mist Preview: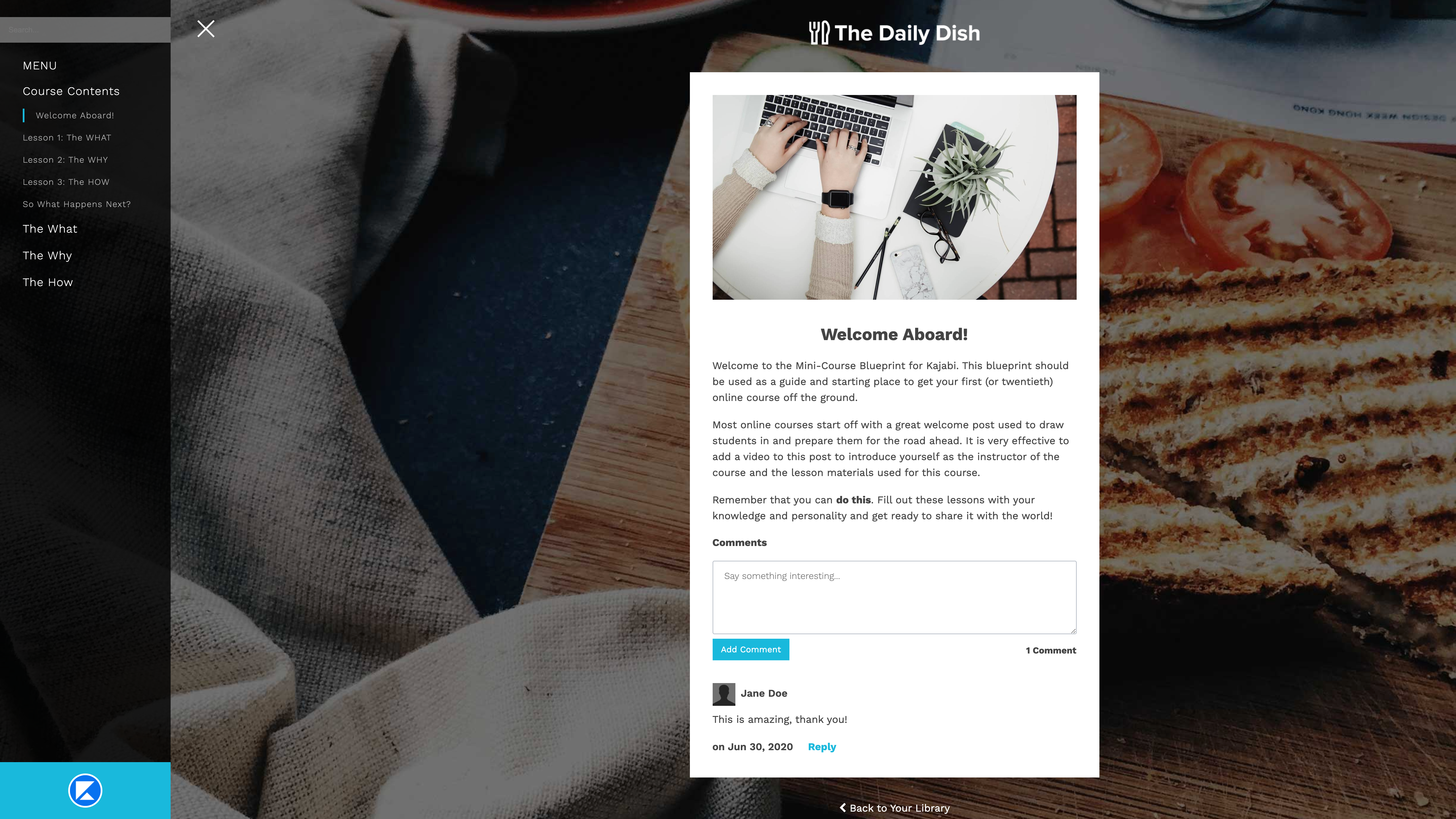 ---
Next
The Next Product Theme, based on the Legacy Kajabi Next standard theme, makes for an easy transition for users coming from the Kajabi Next platform. It's one of our easiest themes to work with; with a clean, minimalist design, it is recommended as a starting point for any type of online course. Students can view their progress at any time from the product overview page, and easily navigate from one post to the next.
Next Preview: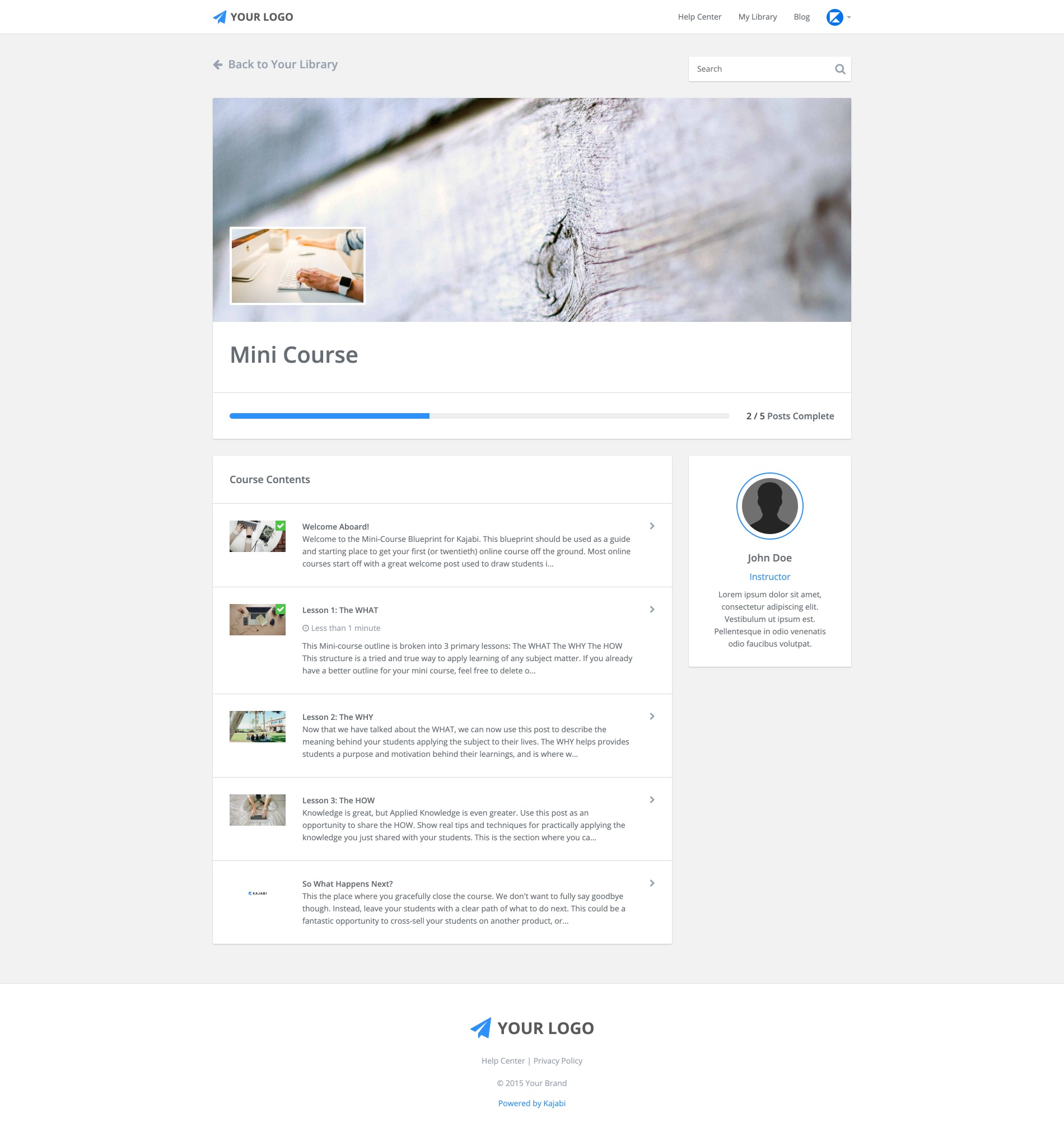 ---
Classic
Classic is the direct result of all the requests we've received for a theme reminiscent of the original Kajabi platform. This theme is a throwback to the original Kajabi platform, but with many modern improvements. It features tab navigation, hover drop-down categories, a sidebar that can be aligned to the left or right, and of course is completely mobile responsive.
Classic Preview: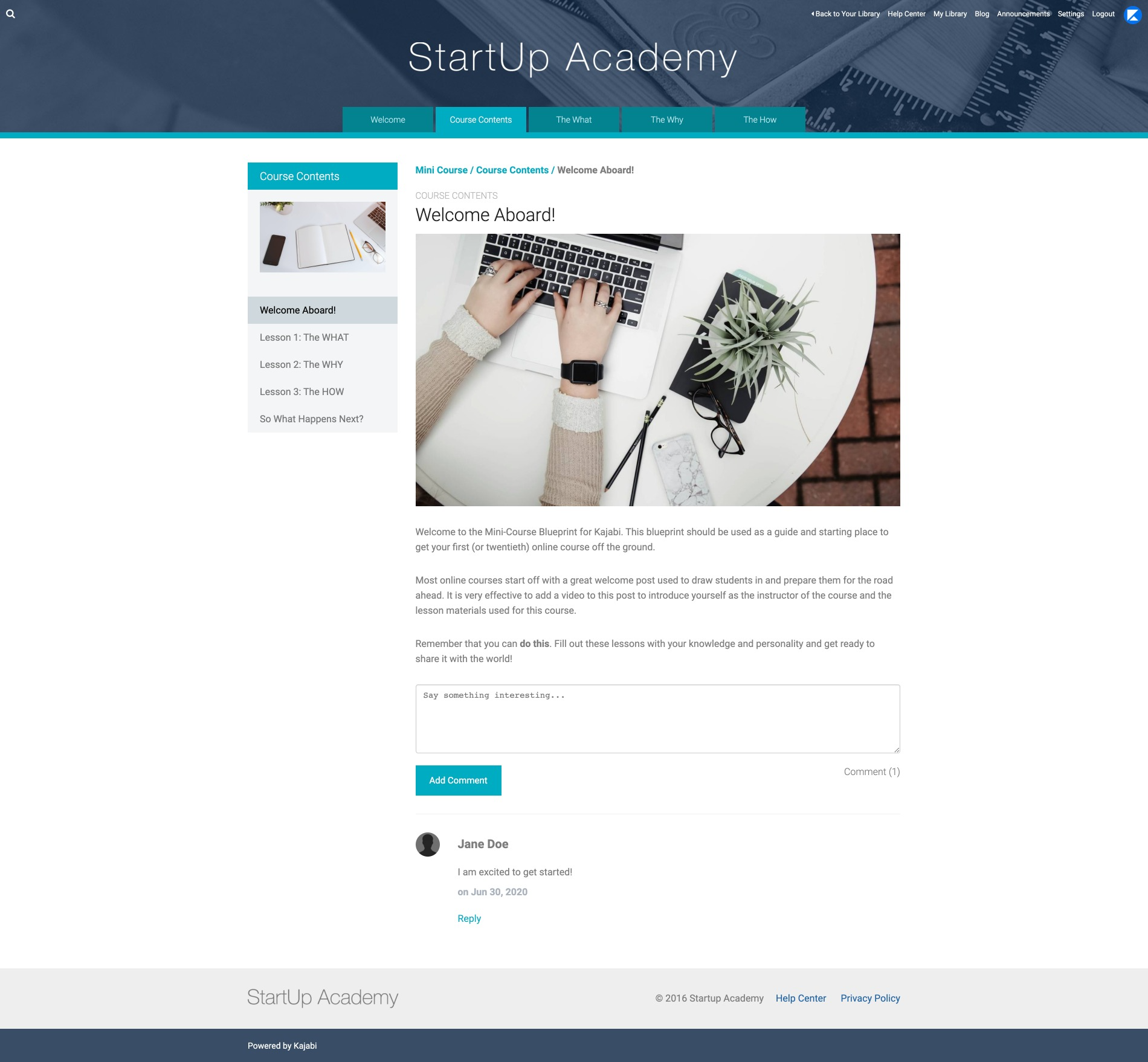 ---
Dive
Dive was created with small, simple courses in mind. Instead of the usual product overview page, Members are brought directly into your course where all of your posts in your first category are available on the same page. With categories always visible, your content is just one click away. This theme is perfect for short, introductory classes with a clean and modern design. As with all other Kajabi themes, Dive comes with numerous page-specific theme settings.
Dive Preview: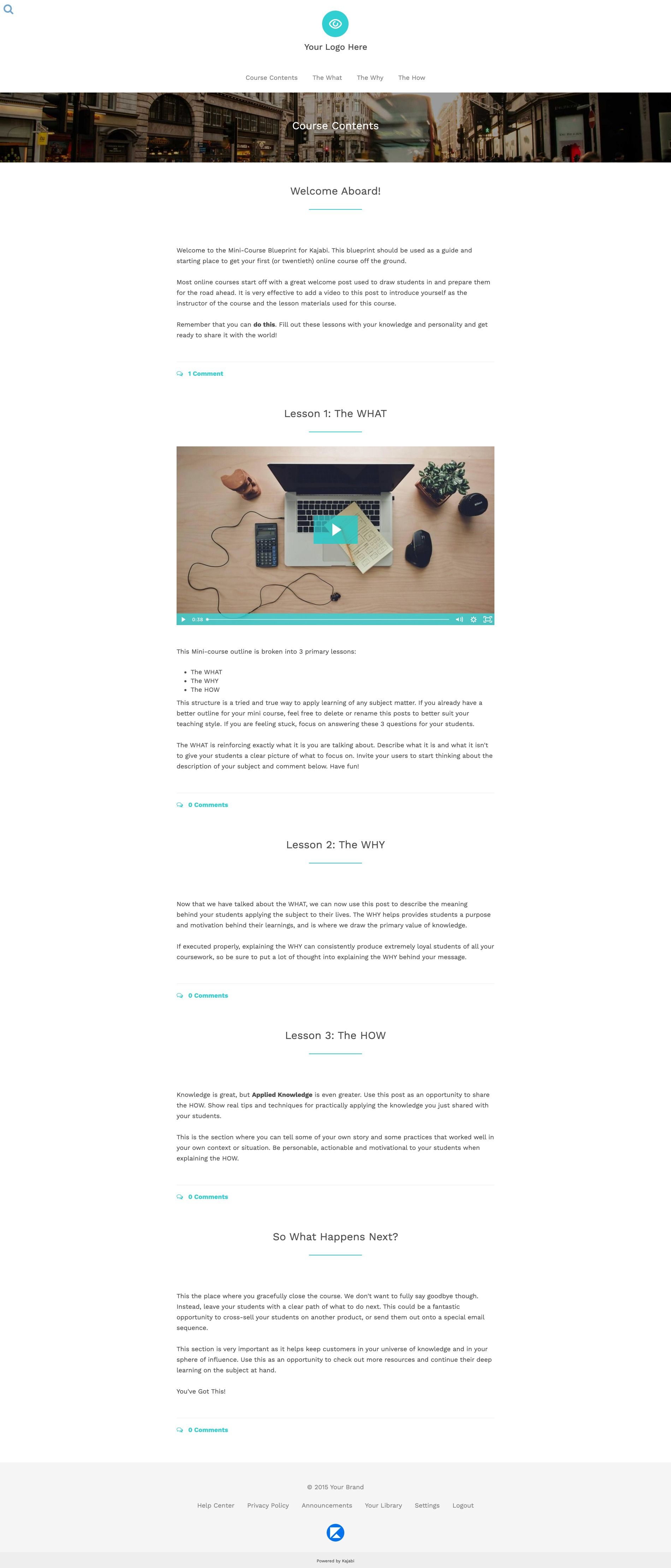 ---
Derby
The Derby Product theme was designed with online course creation in mind, and it shows this by displaying a course syllabus at the forefront. Emphasizing large videos and imagery, Derby immerses your members in the learning experience and makes advancing from one lesson to the next simple and easy. Your members will love how clear it is to view their progress and keep track of the posts they have completed. Like all of our themes, Derby can be viewed on any device, has a variety of typography options, and can be visually customized to match your brand.
Derby Preview: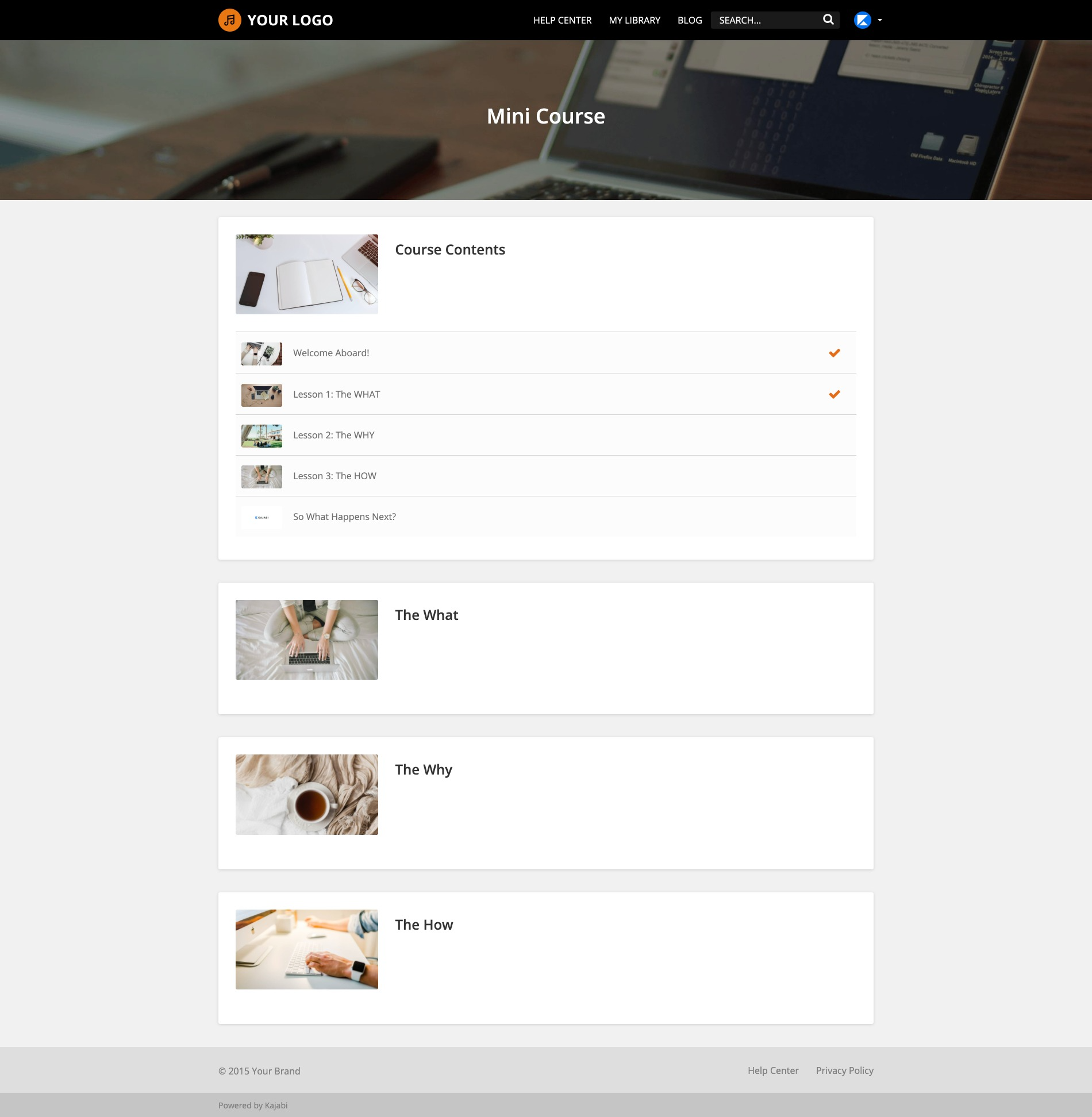 ---
Primo
Primo is a powerful Kajabi theme with a clean and modern design geared towards highlighting your content. The first thing your users will see is a Welcome Video accompanied by a large accent backdrop image. Once they've clicked the Get Started button, users will immediately be taken into the course where they can easily navigate through your content. All of this is made even easier with side-bar navigation where Categories are always visible.
Primo Preview: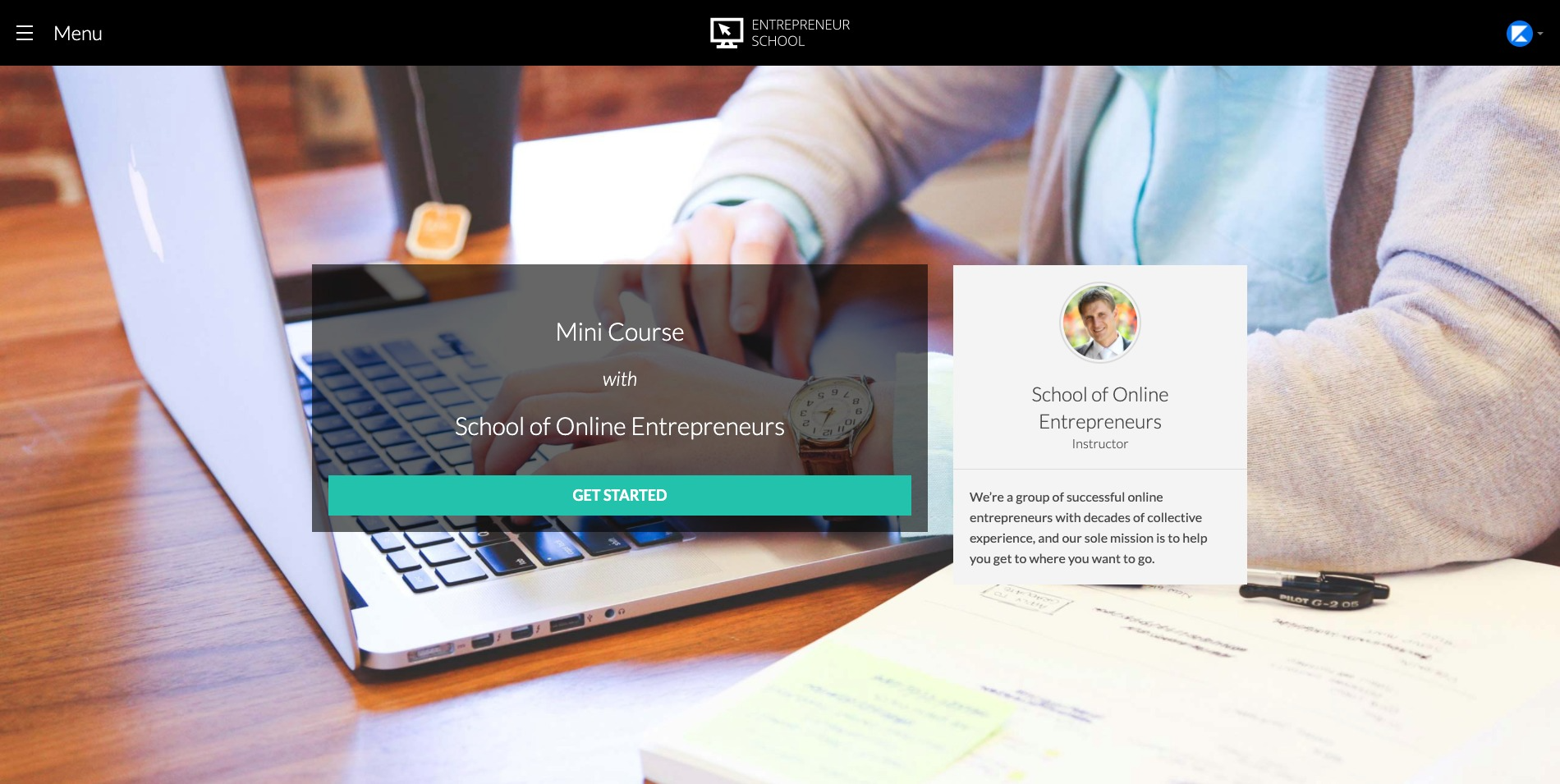 ---
Slate
The Slate Product Theme was designed with large images and robust courses in mind. With its focus on graphics, it makes use of both category and post-specific images. Instead of the classic linear-based model, your categories are displayed as a catalog where students can pick and choose which topic they'd like to dive into. Once in a post, all content from within the category is visible, making it easy for students to navigate between related posts. Slate comes with numerous page-specific theme settings, and complete control over the typography and colors.
Slate Preview: