Learn to send a Certificate of Completion directly from Kajabi when your Member completes a Product. Certificates of Completion can be created, designed, and sent through a variety of methods. Learn to create a simple Certificate and streamline the process by setting up an Automation directly from your Kajabi account.
---
In this article:
---
Step 1. Design your certificate of completion
In order to send a certificate of completion, first design your certificate to fit your brand and business.
Design your Certificate of Completion using image editing tools like Canva to create beautiful, branded certificates for your Members.
You will want to design a general Certificate to apply to all Members completing your Product. If you wish to create and send personalized Certificates, refer to How to Create a Certificate with Google Slides or How to Send Certificates of Completion with Accredible.
Then, download your Designed Certificate of Completion to your hard drive.
Example Certificate designed with Canva: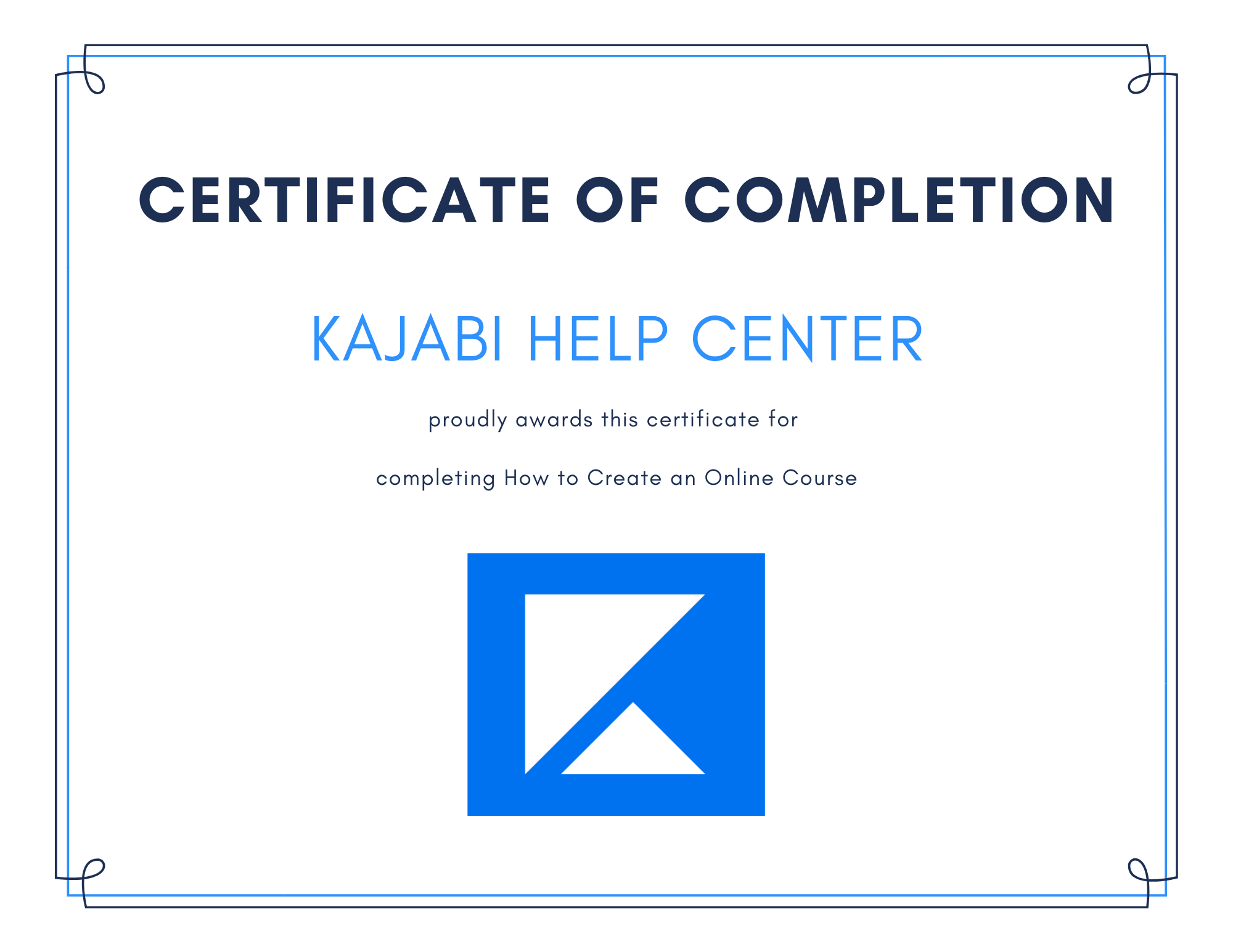 ---
Step 2. Create an Automation in your final Product Post
After designing your certificate, you are now ready to set up your Automation in Kajabi to send the certificate as an email attachment to Members that complete your Product.
Creating the automation:
Open the Products tab from the Dashboard.
Select the Product you wish to edit or create a new one.
Click the Product Post

you wish to edit or create a new one.
Navigate to the bottom of the Post Editor.
Click + Add Automation.
Open the "Then" Action triggered by the completion of the Post.
Select Send an email.
Select To the person.
Customize the Subject and Body of your email.
Click the paper clip icon to add an attachment.
Use the File Picker to upload your Certificate of Completion:
With your Automation set up, Members that complete your last Post will receive an email containing their Certificate of Completion!
The next step depends on your Kajabi Plan and your vision for your Certificate.
Read Basic vs. Advanced Automations to learn more about Automations in Kajabi.
If you have a
Kajabi Basic Plan:

Your Automation will add a tag when a Member completes the Post. Click Save to keep your changes.
If you have a
Growth

or

Pro Plan, you have the option to:
Automatically add a Tag when your Member
completes the Post.

Note:

The Post is considered complete when your Member selects the

Mark as Complete

button located at the bottom of the Post.
Or automatically add a Tag when your Member
passes

or

completes an Assessment:
Click Add Condition.
Open the Select filter

dropdown menu.
Select your desired conditional filter: Completed Assessment

or

Passed Assessment.
In the next field, select your Assessment: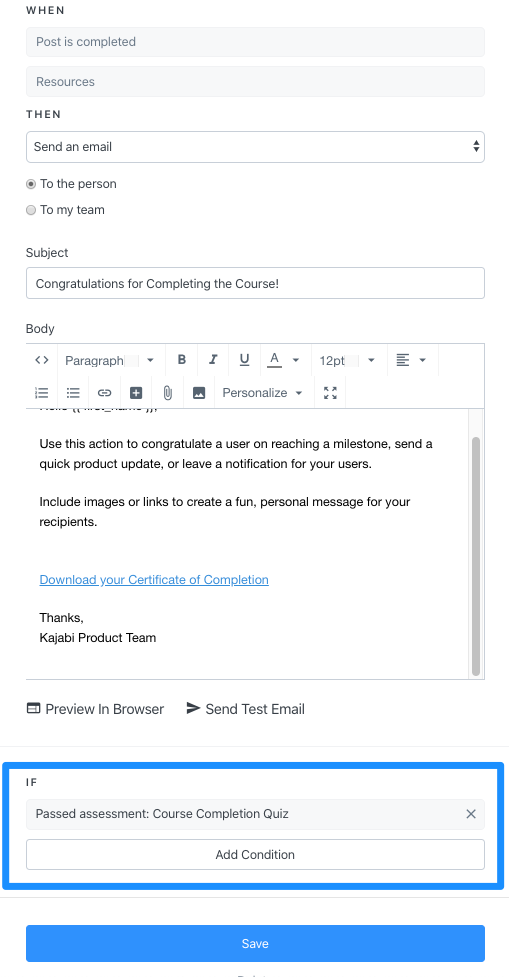 Learn to create an Assessment and add it to your Product Post.