Kajabi helps you build a healthy mailing list consisting of high-quality contacts by helping you validate your contacts' email addresses. Learn how Email Address Validation helps you build a good sender reputation, encourage high click-to-open rates, and ultimately increase your contacts' overall engagement with your content.
---
In this article:
---
What is Email Address Validation?
Email Address Validation is the process of validating your contacts' email addresses submitted to your site when importing People, Form submissions, and Offer purchases.
This process of email address validation ensures that your mailing list consists of high-quality contacts and helps you build a good sender reputation.
Here at Kajabi, we want to provide you with the tools to achieve success online by helping you build a good sender reputation with a healthy mailing list.
Although Kajabi helps you validate your contacts' email addresses, you have the flexibility to choose to accept or deny email addresses that may be considered high risk.
---
Email address characteristics
Undeliverable: the address is invalid and emails sent to it cannot be delivered. This can occur if:
Mailbox is invalid.
Domain does not exist.
High Risk: the address is deliverable, but sending marketing emails to it is considered risky.
An address is considered "risky" when:
the email address mailbox may be configured incorrectly,
the email address may become undeliverable in the near future,
or similar email addresses submitted have proven malicious or undeliverable in the past.
What can happen if you send email campaigns to high-risk email addresses?
Sending emails to high-risk email addresses can damage your sender reputation. This can also result in low click-to-open rates and a decrease in overall engagement.
---
Understanding email address validation messages
Kajabi validates your contacts' email addresses as email addresses are submitted onto your site. This process is visible to you when adding potentially high-risk email addresses into your People tab. Learn to better understand each validation message you may encounter.
Potential Email Address Validation Message: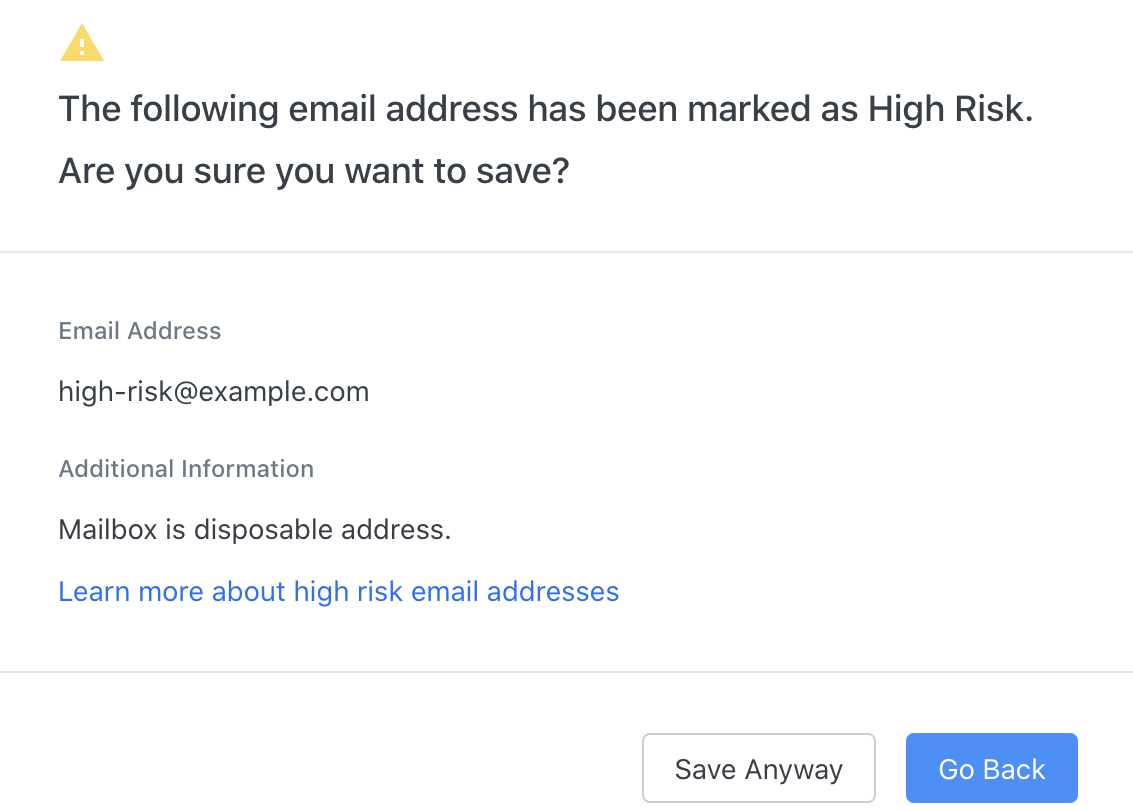 High risk domain, Subdomain mailer, TLD risk:
The domain, subdomain, or TLD (top-level domain, e.g, .com, .org, etc.) is suspicious or proven malicious, or undeliverable in the past. This is based on historical sending data.
Mailbox is disposable address:
The address is disposable (one-time use or kept live for 10 minutes). This address will typically receive the first email it is sent, but will bounce subsequent emails.
Immature domain:
The domain was created very recently, which can be indicative of a spammer.
Mailbox does not exist, No mx, Unknown provider:
The mailbox may not exist, may be configured incorrectly, or the mailbox is on a server our email partner has never sent to before and cannot be verified.
Note: Email Addresses with this message are likely to be considered undeliverable instead of high risk.
Mailbox is role address:
The email address is a role-based address (e.g., sales@kajabi.com). Role-based email addresses are unlikely to interact with your marketing emails and can harm your sender reputation.