Limited Release Feature:
This feature is currently limited to a select group of Kajabi users. Don't see this feature yet? Prep your site to meet the
eligibility criteria
to get ready for the official feature release!
Learn about Kajabi's Custom Email Domains to brand your sender information when sending marketing emails to your list.
---
In this article:
---
What is a Custom Email Domain?
Custom Email Domains are a great way to add credibility to your brand when sending marketing emails to your list.
When you join with Kajabi you are set up with Kajabi's shared marketing email domain to benefit from the excellent sender reputation Kajabi has spent years building. With Kajabi's excellent sender reputation, you have the opportunity to grow your reputation to improve your email deliverability rates as you scale your business.
However, if you are sending more than a few thousand marketing emails per week, creating and connecting a Custom Email Domain can help solidify your brand!
What is the Email Domain used for?
Customizing your Email Domain is used to brand your sender information when sending email marketing content to your list. This means Kajabi's email sending domain will continue to display for the transactional emails sent from your site.
Learn more about marketing and transactional emails
Note:
We do not recommend this feature if you are sending a few hundred emails per month so that you can continue benefiting from Kajabi's
sending reputation
as you grow your list.
---
Adding your Email Domain
Step 1: Meet the eligibility criteria
In Step 1, Kajabi will perform an eligibility check for you in the backend to see if you meet the following qualifications:
You're using a custom domain for your website.
You've been sending marketing emails with Kajabi for at least 30 days.
Your marketing email recipients are engaging with your content.
If your site is eligible, you will see:

If you meet the eligibility criteria proceed to Step 2: Enter the domain you'd like to send your marketing emails from.
Not eligible?
If you are not currently eligible to connect your custom email domain, refer to your marketing settings to see what you may be missing.
Step 2: Enter your Domain on Kajabi
To add your custom email domain be sure that your domain meets the following requirements:
Is your domain a valid and existing URL?
Do you have access to the DNS records of your domain registrar outside of Kajabi (e.g., GoDaddy, Google Domains, BlueHost)?
Is your custom domain only used on one Kajabi site?
Does your domain include the top-level domain (e.g., .com, .org, etc.)?
Be sure that your domain does not include:
the protocol (e.g., https://)
prefixes (e.g., www.)
subdomain (e.g., "mail." in mail.yourdomain.com)
Adding your Custom Email Domain:
Open the

Settings

tab from the Dashboard and select

Marketing Settings.
Locate the Custom Email Domain section.
Ensure that you meet the eligibility criteria in Step 1.
Ensure that your domain meets the domain requirements.
Then enter your custom email domain and click Next to verify your domain: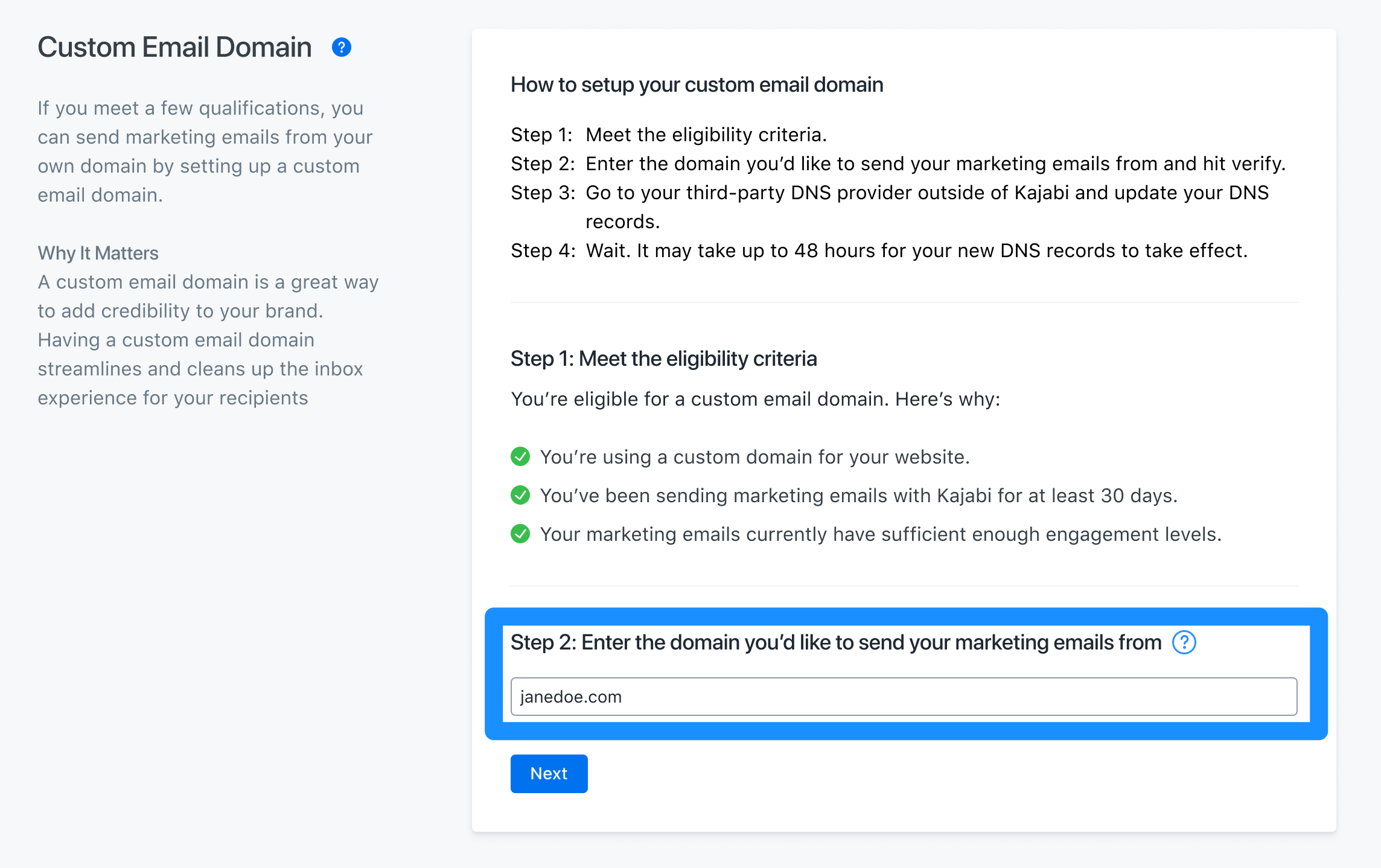 Step 3: Update your DNS Records outside Kajabi
After entering your custom email domain into Kajabi, it's time to add and verify your DNS records in your domain registrar.
If you have connected a custom site domain to Kajabi, this step will be familiar!
It is important to note that your domain registrar is outside of Kajabi and you will require access to your DNS records in order to connect your custom email domain to Kajabi.
Tip:
Open two tabs in your browser window to easily access your Kajabi account and your domain registrar to add the DNS Records to your registrar from Kajabi.
Adding DNS Records:
To connect your custom email domain to Kajabi, you will need to add DNS Records to your Registrar outside Kajabi:
Depending on your domain registrar, the process of adding DNS Records will vary. Please refer to your domain registrar's support or help center for additional information.
Learn to edit your DNS records for a few popular domain registrars:
In Step 3, you will notice that you are given the DNS Records to add to your Registrar. Copy and paste your unique DNS record from Kajabi into your domain registrar.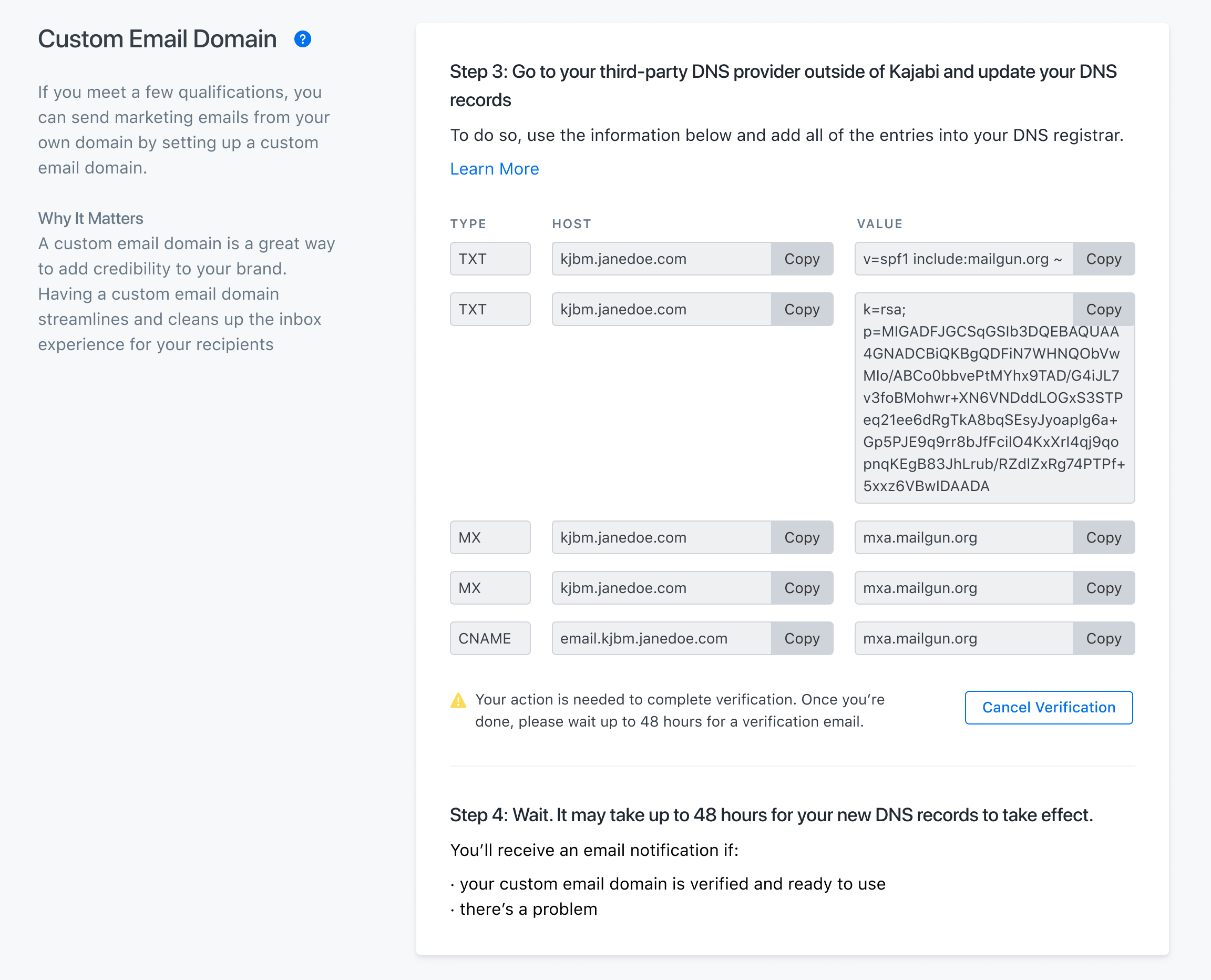 What are the DNS records for?
TXT records
The first TXT record is used for the Sender Policy Framework (SPF) required to identify which mail servers are permitted to send email on behalf of your domain. This helps email servers determine that your message is from a trusted source and that you are the owner of your domain.
The second TXT record is used for Domain Keys Identified Mail (DKIM) for email servers to determine that your emails are sent and authorized by the owner of your domain.
MX records
The MX records are the "mail exchange" records to indicate how email messages should be sent in accordance with the Simple Mail Transfer Protocol (SMTP).
Both MX records are required to verify your email domain. Although these records are typically used for receiving email rather than sending, the presence of these records indicate that your domain is verified.
If you are prompted for a priority, enter 10 in the field.
If your DNS registrar does not accept multiple MX records with the same priority, the MXa record should be priority 10 and the Mxb record should be priority 20.
CNAME record
The CNAME record allows your email statistics to be recorded (e.g., opens, clicks, etc.). Failure to include this record will result in inaccurate email statistics. If this is not included in your DNS, Kajabi cannot capture and/or recover missing email event data.
Note:
If you are required to enter a Time to Live (TTL) when changing your DNS records (and there is not a default value) enter 3600 or 1 hour in the field.
Interested in learning more about DNS records? Check out Cloudflare's Guide for DNS Records.
Step 4: What happens next?
Next, we wait!
After completing Step 3, wait up to 48 hours for the DNS changes to propagate.
What does this mean?
To create a successful connection:
A custom subdomain must be added to ensure your records do not interfere with existing domains;
Your DNS changes must propagate, meaning Internet Service Provider (ISP) nodes across the world must update their caches with your new DNS information.
How will I know when it's done?
After the verification process has completed, the Custom Email Domain setting will change and you will receive an email notification:
Your custom email domain is verified and ready to use
Or there is a problem verifying your domain
If you have received an email notifying you that your custom email domain is ready for use, you can now begin sending your marketing emails to your list with your newly branded email domain!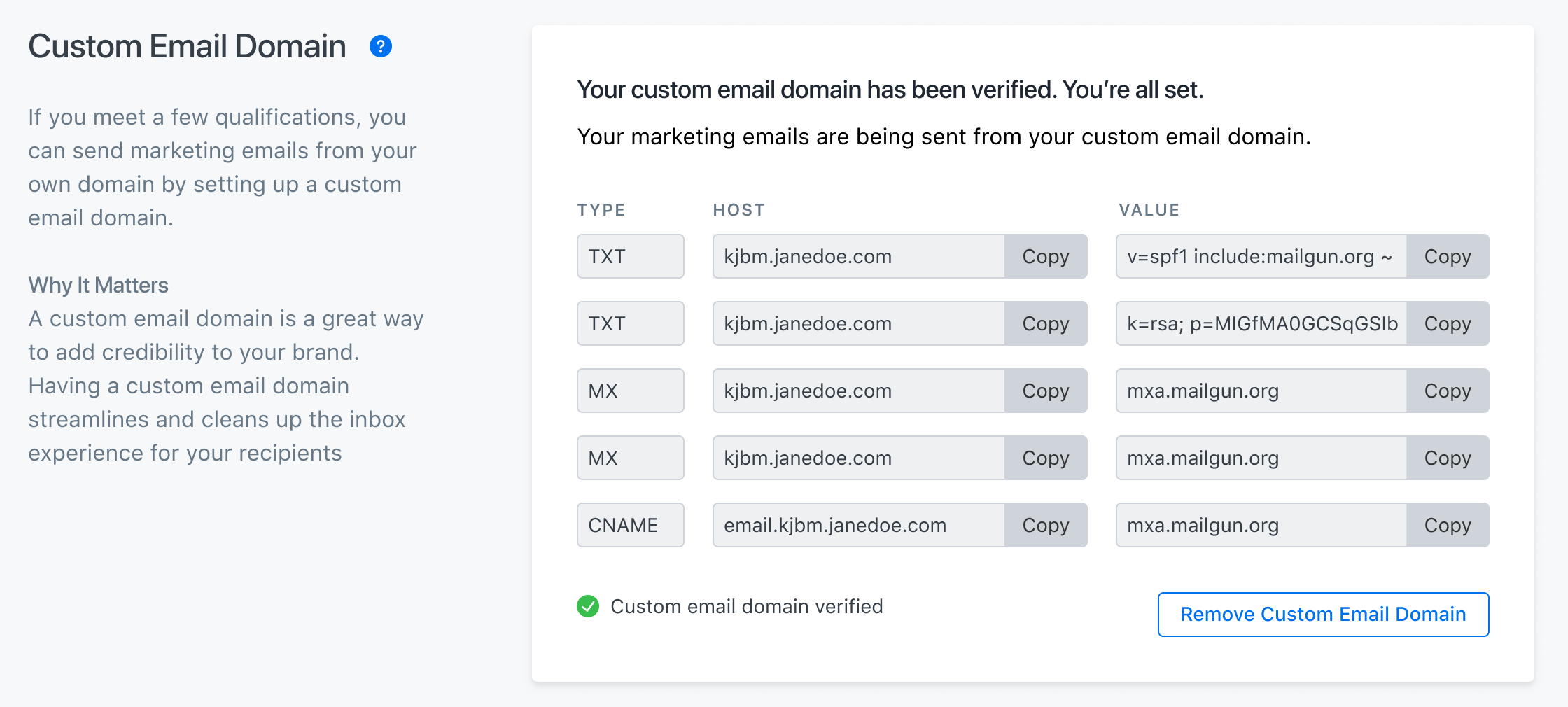 ---
Removing your Custom Email Domain
Warning:
Removing your custom email domain cannot be undone and you will be required to repeat the setup process to use a custom email domain when sending marketing emails.
If you wish to remove your custom email domain to continue with Kajabi's shared marketing email domain:
Open the

Settings

tab from the Dashboard and select

Marketing Settings.
Locate the Custom Email Domain section.
Click Remove Custom Email Domain.
Then confirm by clicking Remove Custom Email Domain again: