Learn to create filters to better manage and organize the contacts in your People tab with the new look.
---
In this article:
---
Why use filters?
Organize, manage, and search your list with filters. Additionally, filters can help you build Segments to design personalized marketing and efficiently manage your list.
---
Creating filters
With the People tab's new look, you can add multiple filters, clone filters, and use the same filter more than once!
Creating filters require you to select:
Category: a specific division available in Kajabi
Conditional: dynamic requirements or conditions specific to the Category selected
Value: the specified value for the Category and Conditional
Filter your list to manage and organize your contacts:
Open the People tab from the Dashboard.
Click Filters.
Select your Category, Conditional, and Value:
After creating a Filter, click Apply Filters or add a new Filter to narrow your list even further.
If you wish to create a Segment with your Filter(s) simply click Save as segment after applying your filters! Learn more about Segments
Note:
Create up to 10 Filters!
---
Things to consider when applying filters
There are a few things to consider when applying filters to your People tab, in order to obtain the most accurate filter results.
Consider the following information when creating filters:
Applying duplicate Categories:
If multiple instances of a filter with the same category and conditional are applied, the duplicate instance will be omitted, regardless of if there is a difference in values:

Selecting multiple values:
Depending on the selected Category, you may be able to select multiple values. For example, creating a Filter with the "Offer" or "Tags" Category allows you to select multiple Values to define the Filter: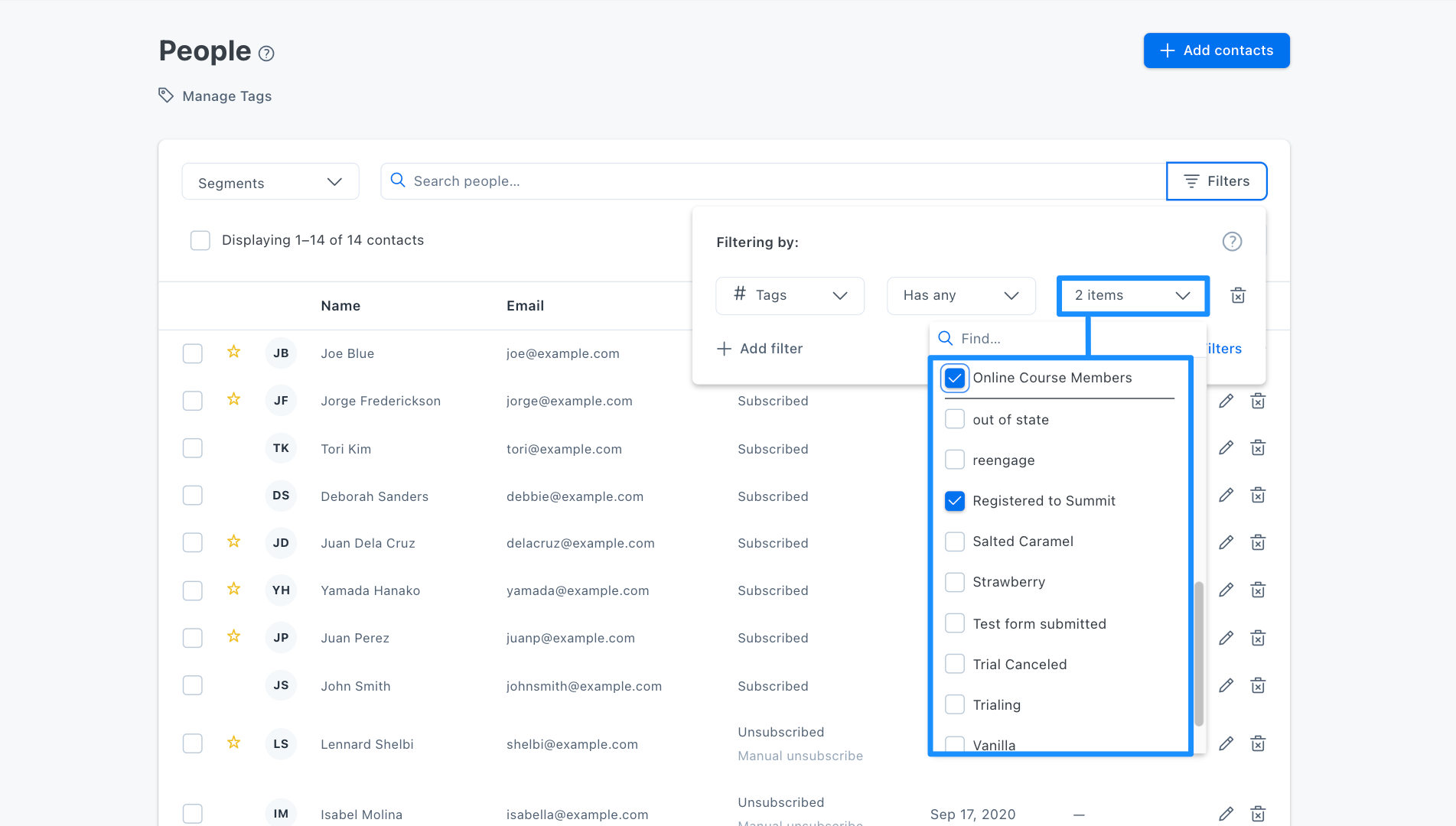 Conditionals:
Applying a Filter for "Offer" with the Conditional, "Owns", functions as an "OR" statement, not as an "AND" statement: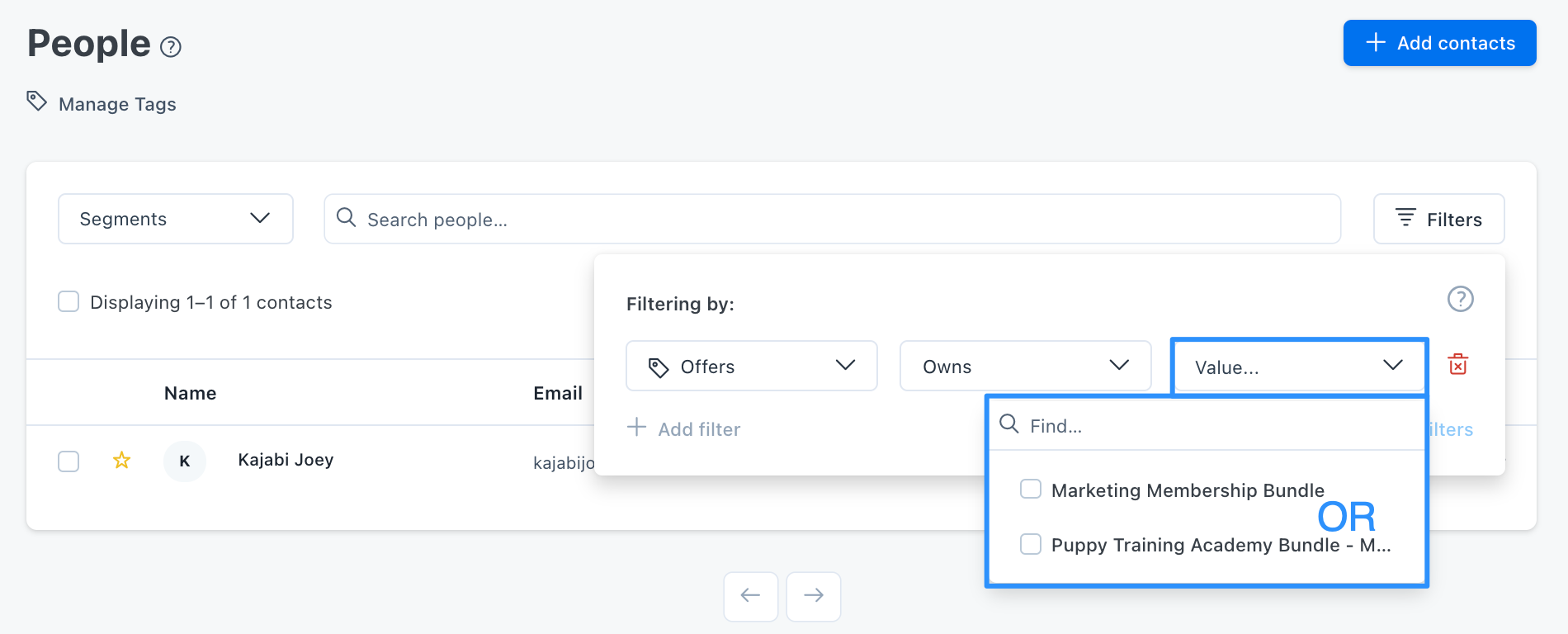 Applying "Tags" with the Conditional, "Has any" or "Has all", functions as an AND statement when selecting multiple Tags for the Filter: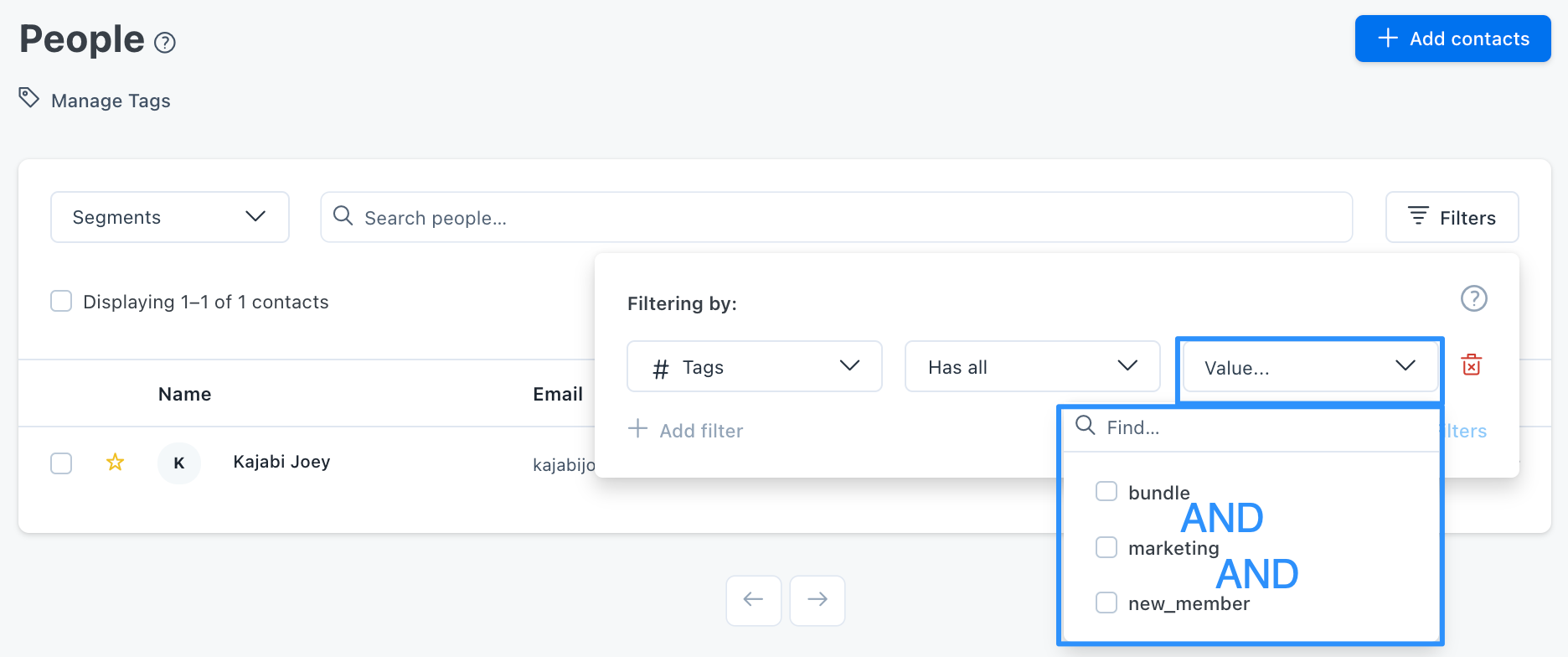 ---
Removing filters
Click Filter.
Navigate to the right of your Filter and click ….
Select Remove: