Learn to view your Partner Dashboard to create Partner Campaigns and track your Partner Status.
---
In this article:
---
Accessing your partner dashboard
From your main Kajabi dashboard, navigate to the bottom left corner of the sidebar.
Click Kajabi Partners:
---
The first card below the Partner Leaderboard will indicate your Rewards Level.
This card will display your current Partner Level and how many more users you need to refer until you reach your next level: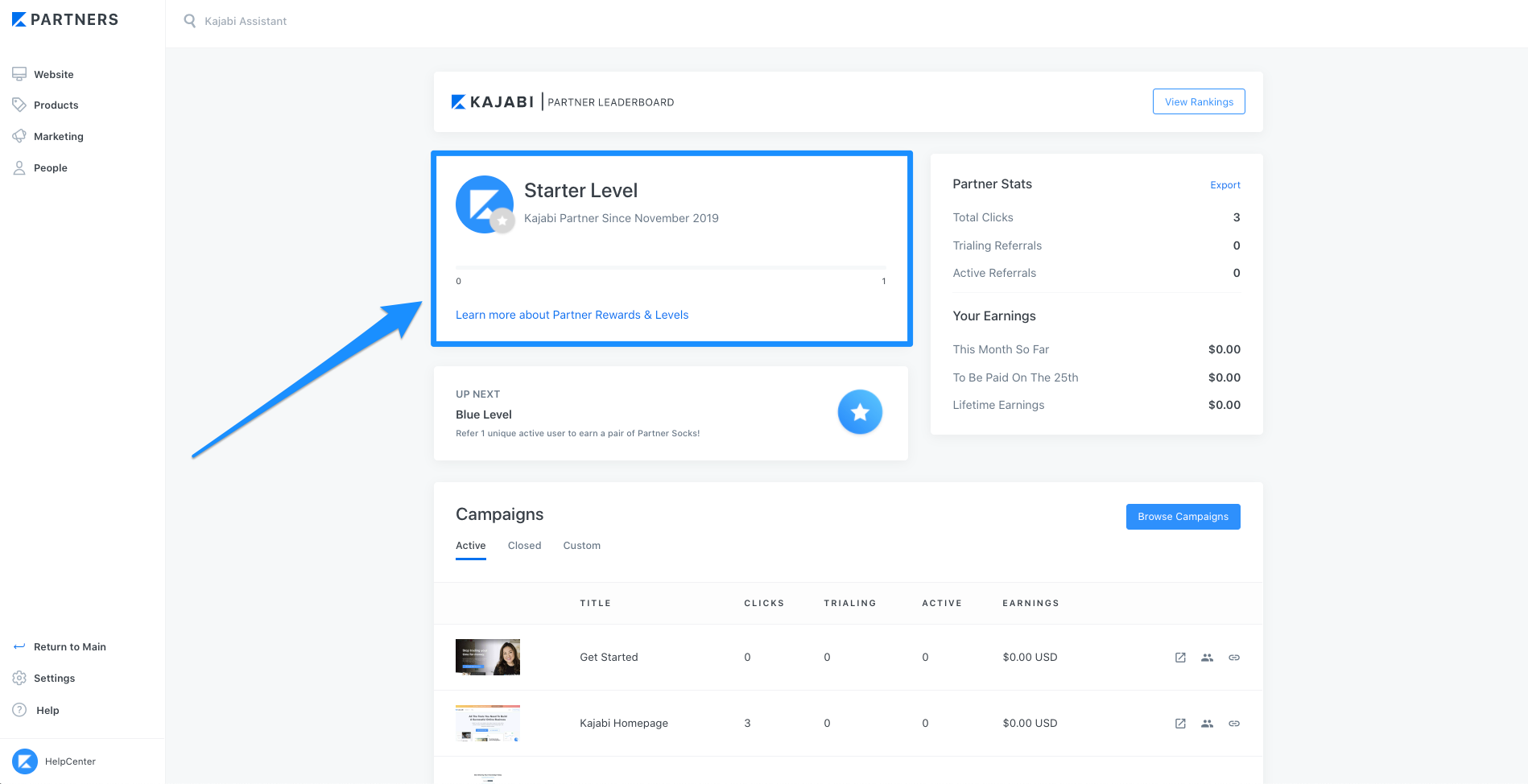 Since our success is only possible because of your success, we want to go the extra mile for our Partners.
In addition to your 30% lifetime commission, we will also treat you to special rewards as you progress. Each level unlocks exciting bonuses only available to our Partners.
Levels
Blue = 1 active Member
Bronze = 3 active Members
Silver = 5 active Members
Gold = 10 active Members
Emerald = 25 active Members
Diamond = 50 active Members
Platinum = 100 active Members
Legend = 200 active Members
Learn more about each Partner Reward Level.
Note:
You will receive a 30 day grace period if you fall below a level's required active member count to give time for those numbers to balance out. After the first 30 days, you will be given another 30 day grace period with 50% of your level's payout before you are downgraded to a lower level.
---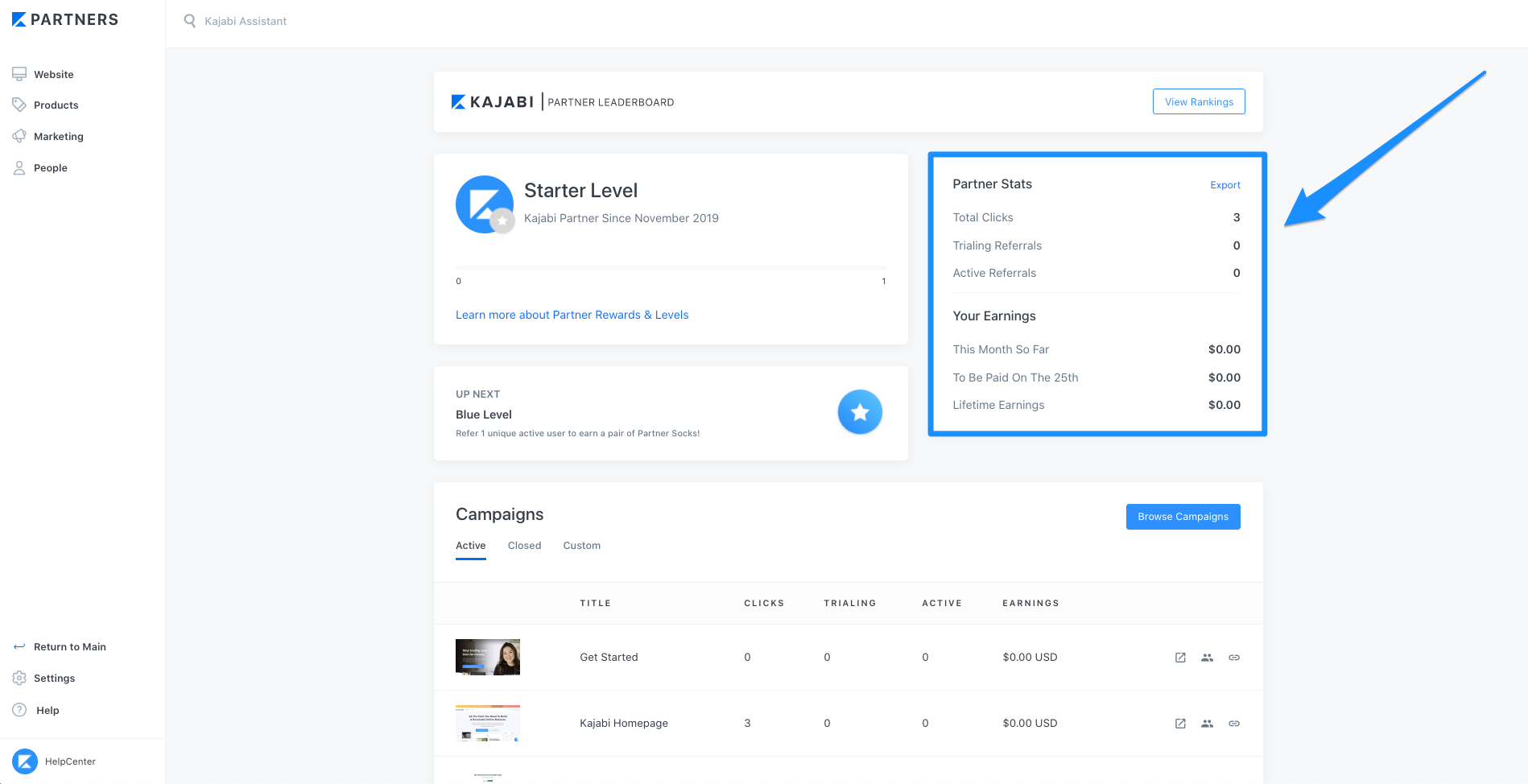 Total Clicks: Counts the number of visits that have been generated through your partner link.
Trialing Referrals: Any user who has currently trialing and are NOT paying for their Kajabi subscription.
Active Referrals: Any user who has completed their trial and are paying for their Kajabi subscription.
Your Earnings: Counts the payout amount you will receive for each month.
Learn more about your Partner Stats.
---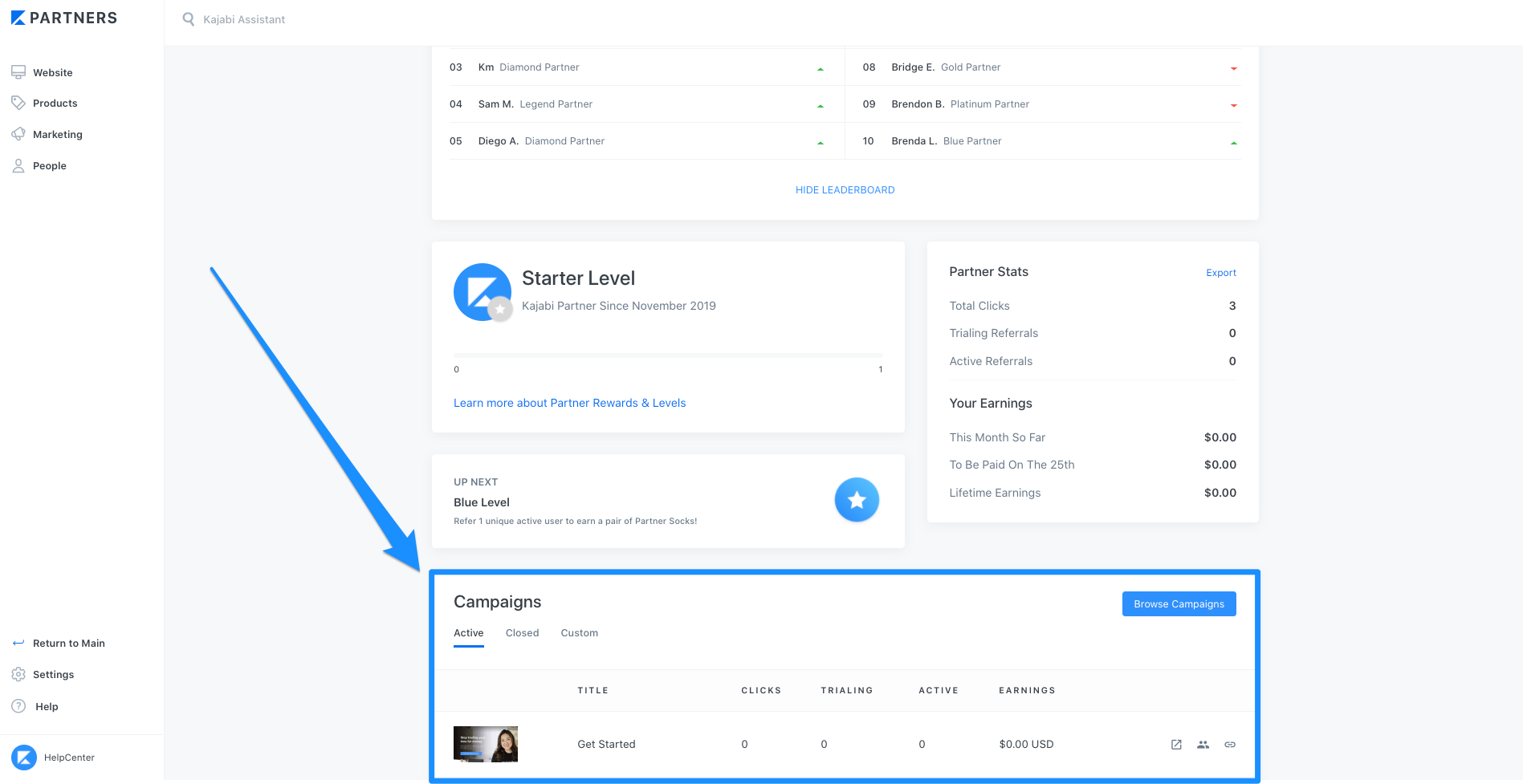 Drive traffic to Kajabi with Campaigns and start gaining active members in your Partner dashboard.
Each campaign will come with a Campaign Brief that will contain:
Commission breakdown
Benefits for joining the campaign
Sample email copy
Creative assets to use for ads and other promotion pieces
Kajabi style guide
Learn to create your Campaign Link to begin sharing with the world!
Note:
A campaign is subject to close or change at any time based on the needs and efforts of the Kajabi team.