Learn to design the overall appearance of your Blog Search page.
---
In this article:
---
What is the blog search page?
The blog search page displays when a visitor searches with the search block in a blog sidebar (this can be included your blog post sidebar or blog homepage sidebar):
---
Customizing the blog search page
With the Website Builder, design the look and feel of your blog search page to represent your brand. Learn more about the Website Builder
To begin customizing your blog search page design:
Open the Website tab from your Dashboard.
Click the Pages tab.
Select Blog Search from your list of website pages to begin customizing:
Design your Blog Search page with a Header & Footer and further customize the page with Blocks and Sections.
Your blog search page includes a Section unique to the blog search page builder, the Search section:
---
Designing the search section
The Search section is unique to the blog search page builder and allows you to customize the:
To edit the Blog Listings section, open the page editor for your Blog and click the section from your sidebar.
Search
Language
Customize the language used for the searched, showing, and results text: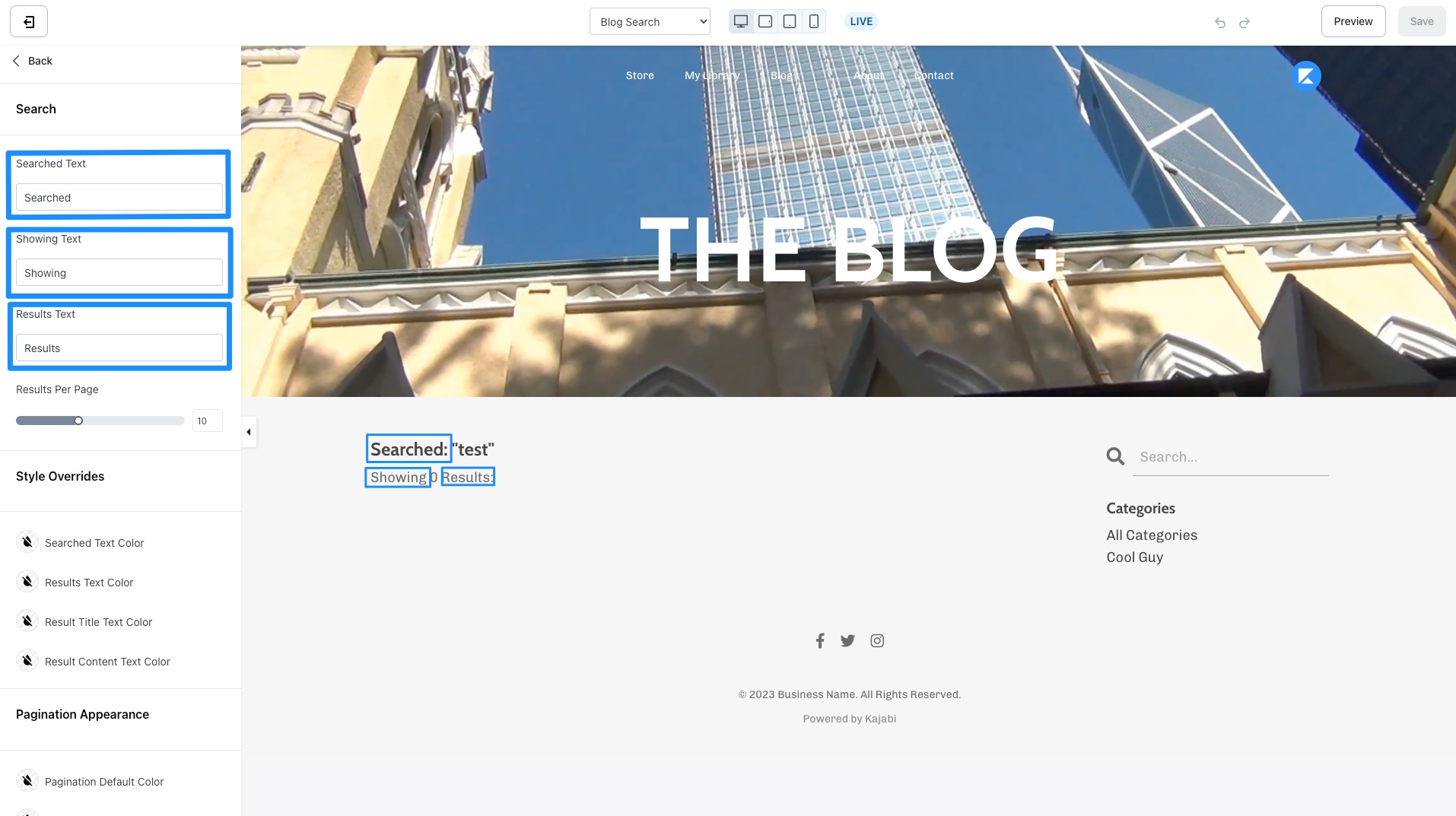 Results Per Page
Adjust the slider to customize the number of results that appear in a single search page:
Pagination Appearance
Customize the color of your pagination buttons if your blog post listings take up multiple pages: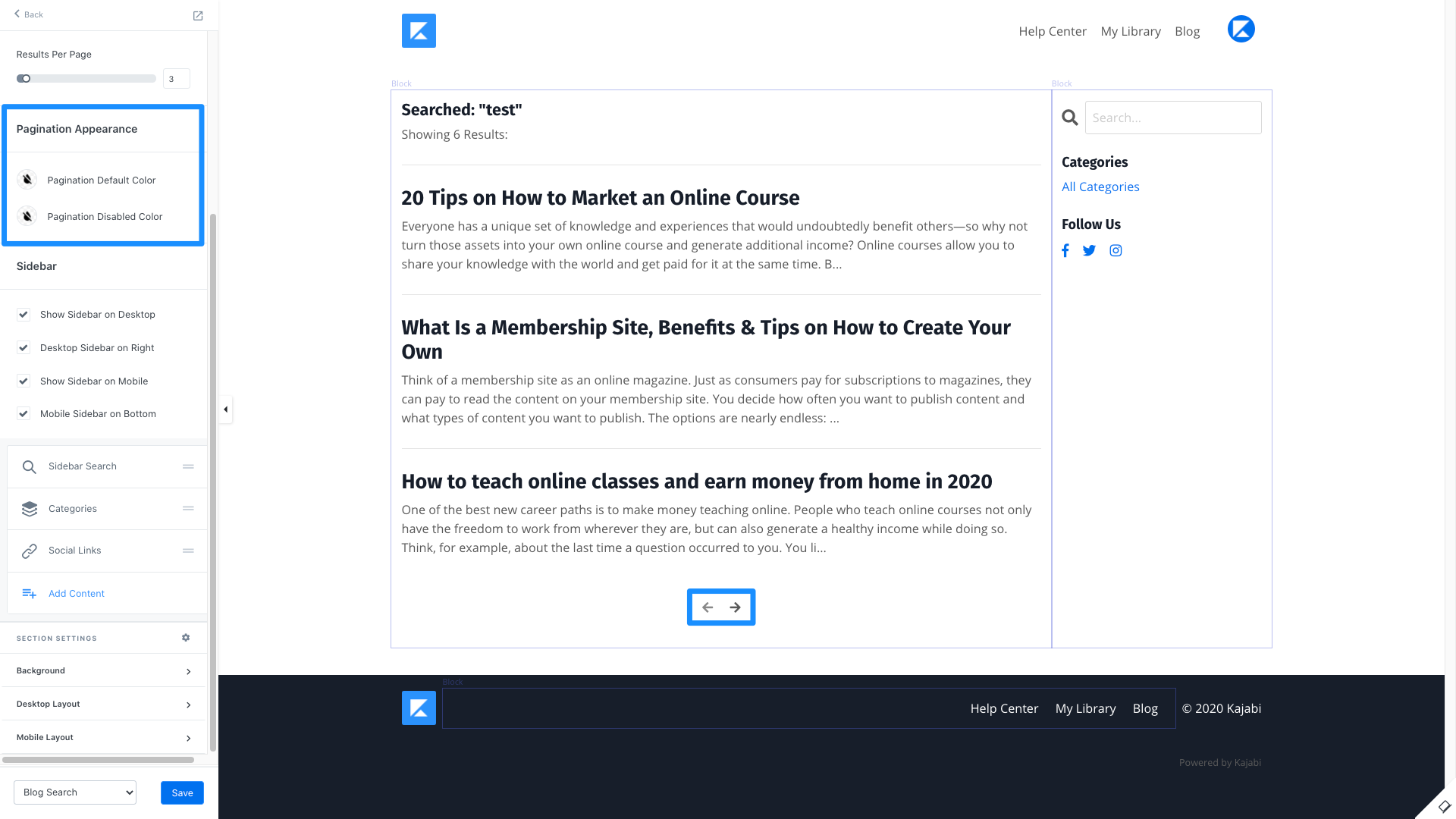 Click the color icon next to each pagination appearance setting to customize the color.
If you prefer to use a custom color, click the color wheel and then either enter your RGB color code or use the sliders to choose your color.
The

vertical bar

allows you to select the hue.
The

square box

allows you to select the brightness and saturation.
The

horizontal bar

allows you to select the opacity of your color.
Pagination Default Color - Select a color to override all default colors for your pagination appearance: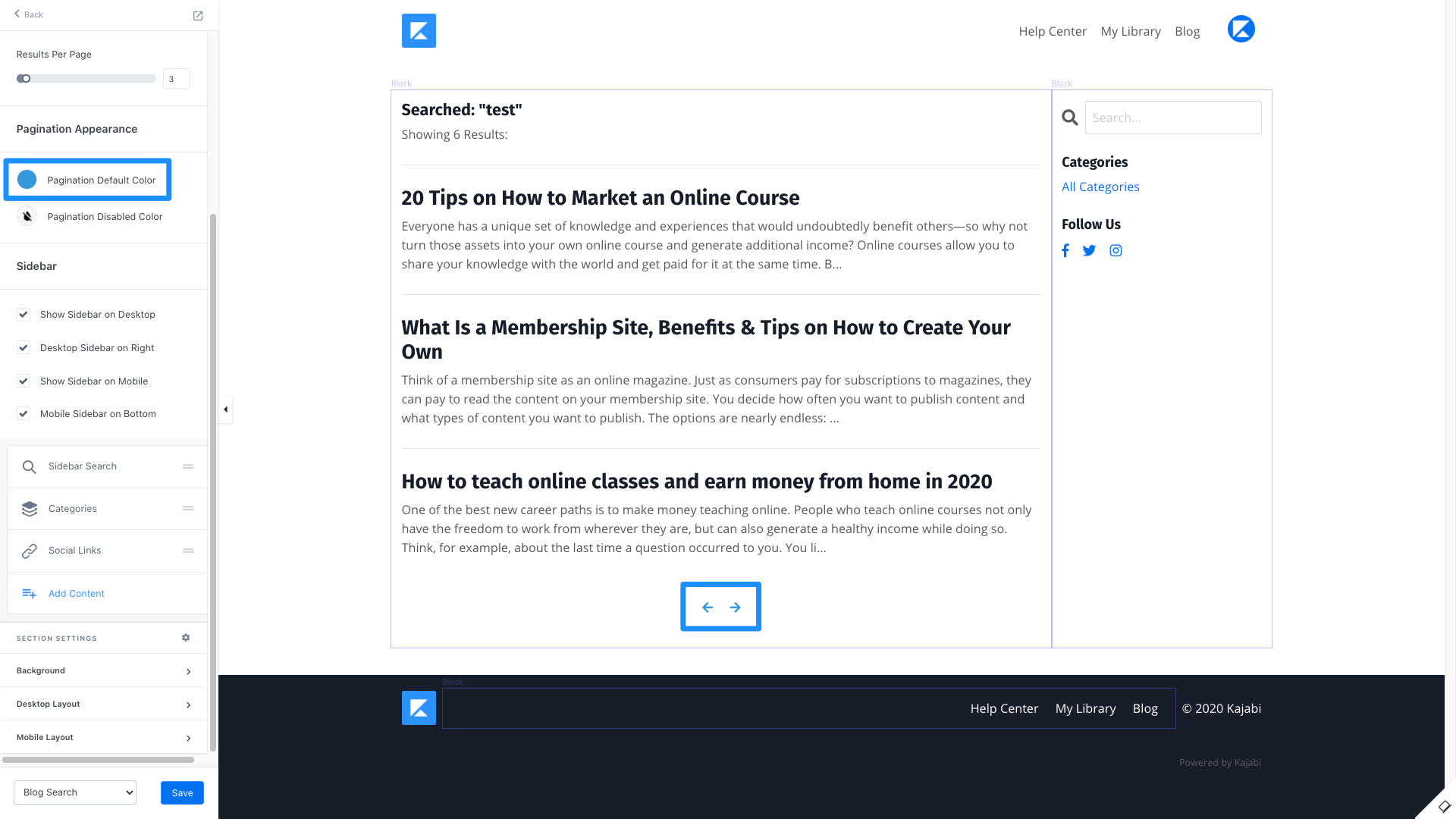 Pagination Disabled Color - The "pagination disabled" uses color to signal to your visitors that the number of pages for your blog posts do not continue. This changes the arrow color for going backward or forward depending on the page your visitor is viewing: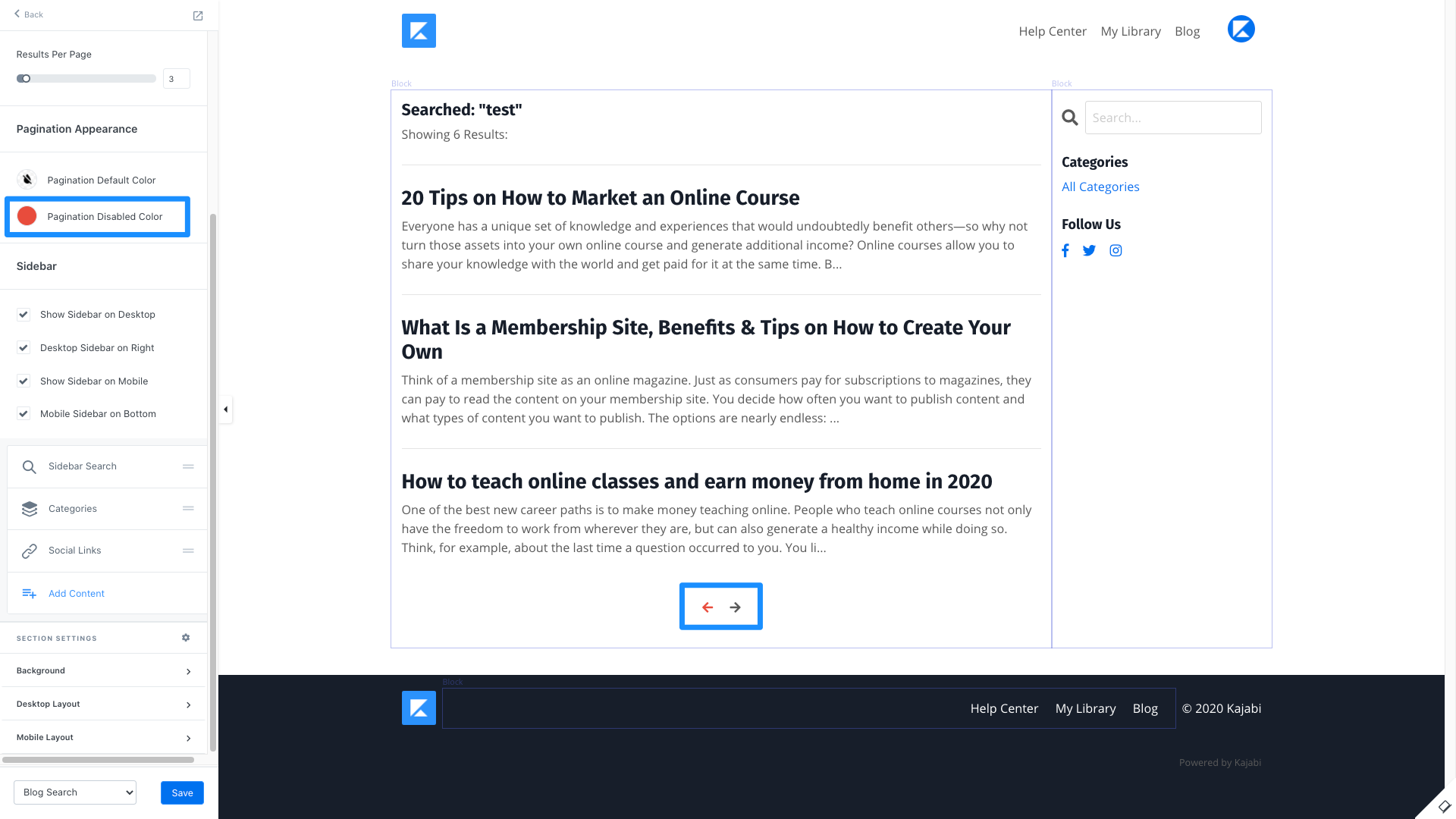 Sidebar
Similar to your Blog Post Sidebar and Blog Homepage Sidebar, you can design a space for your blog search page visitors to easily navigate through your blog with the sidebar.
Customize your blog sidebar by adding, removing, and arranging sidebar blocks:
Author

- Add and customize your author information to display in the sidebar of your blog search page.
Call to Action

- Encourage an immediate response from your visitors to subscribe to your marketing emails, view a landing page, purchase an Offer, and more.

Learn to use a Call to Action
Categories

- Use Categories to easily filter through your Blog Posts when visitors view your Blog. Customize the language and appearance for your Categories block in the blog homepage sidebar. Read

How to Categorize your Blog Posts

for more details.

Custom Block - Create Custom blocks in your Blog Sidebar to include Images, a

Call to Action

(CTA), and additional text content. For example, advertise your own Offer from your blog sidebar.
Image - Add an Image to your sidebar to enhance the visual experience of your Blog Homepage and act as an optional button to redirect to your selected page when clicked by configuring the Image Action.

Learn more about image blocks
Recent Posts

- List your most recent posts for your Blog visitors to easily access:
Sidebar Search

- Add a search bar to the homepage of your Blog for your visitors to easily search your Blog Posts.
Social Links

- Include

Social Links

to connect your Blog visitors to your social networking pages. Simply copy and paste your social networking page to its corresponding text box in the Sidebar Editor.
Section Settings
Customize the Blog Listings Section:
And that's how you can design your Blog Search Page! Please vote below and let us know if you found this article helpful. We value your feedback.
Thanks for being the best part of Kajabi!