Learn to add a Navigation Menu to your page Header for your users to easily navigate through your website.
---
In this article:
---
Adding a menu to your page header
Step 1. Select the menu block
Open the

Website

tab from your Dashboard.
Select the Pages tab.
Open the page editor for your Page.

Learn more
Navigate to the sidebar panel and click

Header.
Click Add Content.
Select Menu: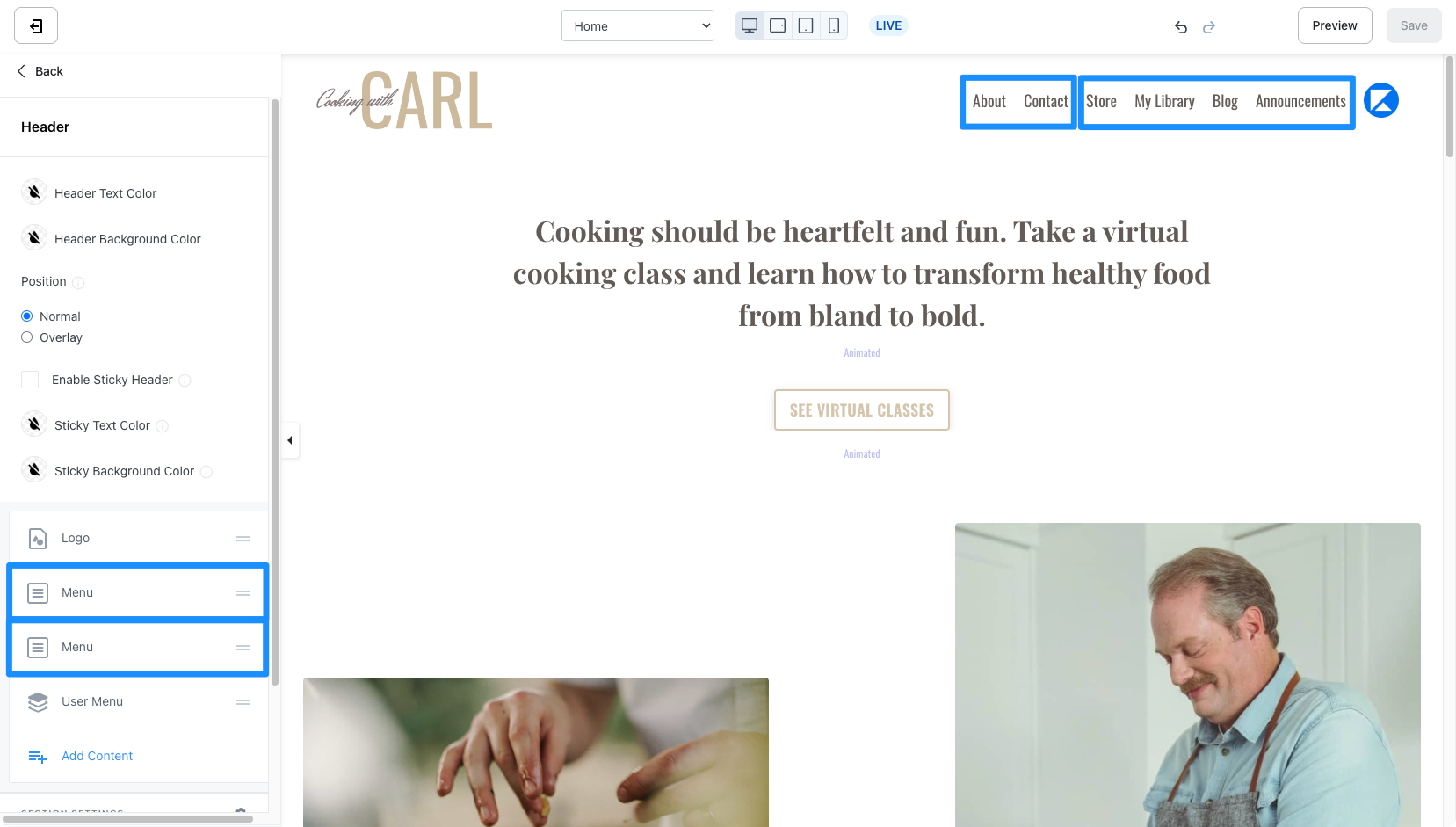 Note:
To create and edit your menu links, click Edit your link lists below the Menu Header in the sidebar editor.
Step 2. Select your navigation menu
Open the Menu dropdown.
Select the Menu/Link List that you wish to add to your Header.
---
Customizing your menu
Open In New Tab
Enable this setting to open the item selected from your menu in a new tab of your page visitor's browser.
Stretch Block
Note:
Only available with the Website Builder pages.
Learn more
Enable the Stretch Block setting to fill the remaining space of the Header section.
A good rule for using the Stretch Block feature is to enable the Stretch Block feature for the block on the far left of your Header section.
For example, if you want to have a Logo on the far left side of your Header and a Menu and User Menu on the far right side, select Stretch Block for your Logo:
Control the alignment and positioning of your blocks by adjusting the Stretch Block and Block Alignment for the Blocks in your Header.
Text Alignment
Adjust the horizontal alignment of your block in the Header to appear more left, centered, or right-aligned.
Keep in mind, this setting will be impacted by the positioning and alignment of surrounding blocks.
---
And that's how to add a Menu to your page Header! Please vote below and let us know if you found this article helpful. We value your feedback. Thanks for being the best part of Kajabi!