Learn to build your Announcement page to provide an easy-to-access location for your Members to view your Product and Site Announcements.
---
In this article:
---
How to customize your Announcement page
Streamline how you manage your Product and Site announcements all while giving your Members one easy-to-access location to view your announcements with the Announcement page available with the Website Builder.
To begin customizing your Announcement page:
Open the Website tab from your Dashboard.
Click Pages.
Select Announcement from your list of website pages to begin customizing:
---
Designing your announcements page
With the Website Builder you can create a custom Announcements page with various Blocks and Sections.
Unique to the Announcement page builder is the Announcements section.
The Announcement section pulls from your Members Product Announcements and Updates to display in their Announcement page. Learn to create a Product Announcement
With the Website Builder, customize the overall appearance of your Product Announcements section.
Additionally, the Announcement page includes the Site Announcement section, pre-built from a Text Section with two Text Blocks: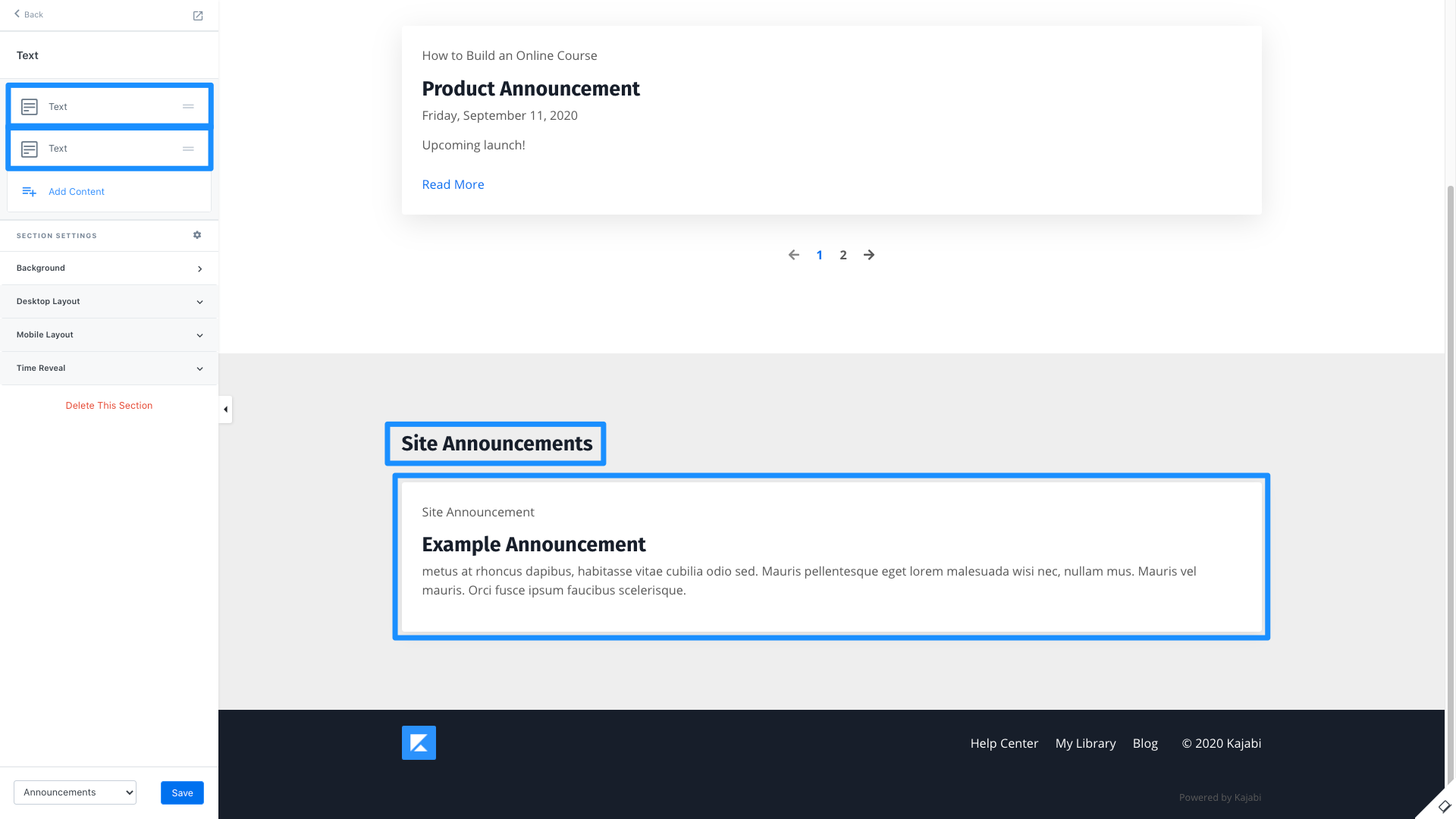 Learn to customize Text Blocks to create site announcements for your Members.
Announcements section settings
Within your Announcements section configure the:
Announcements
Design the language, color, and layout for your Announcements: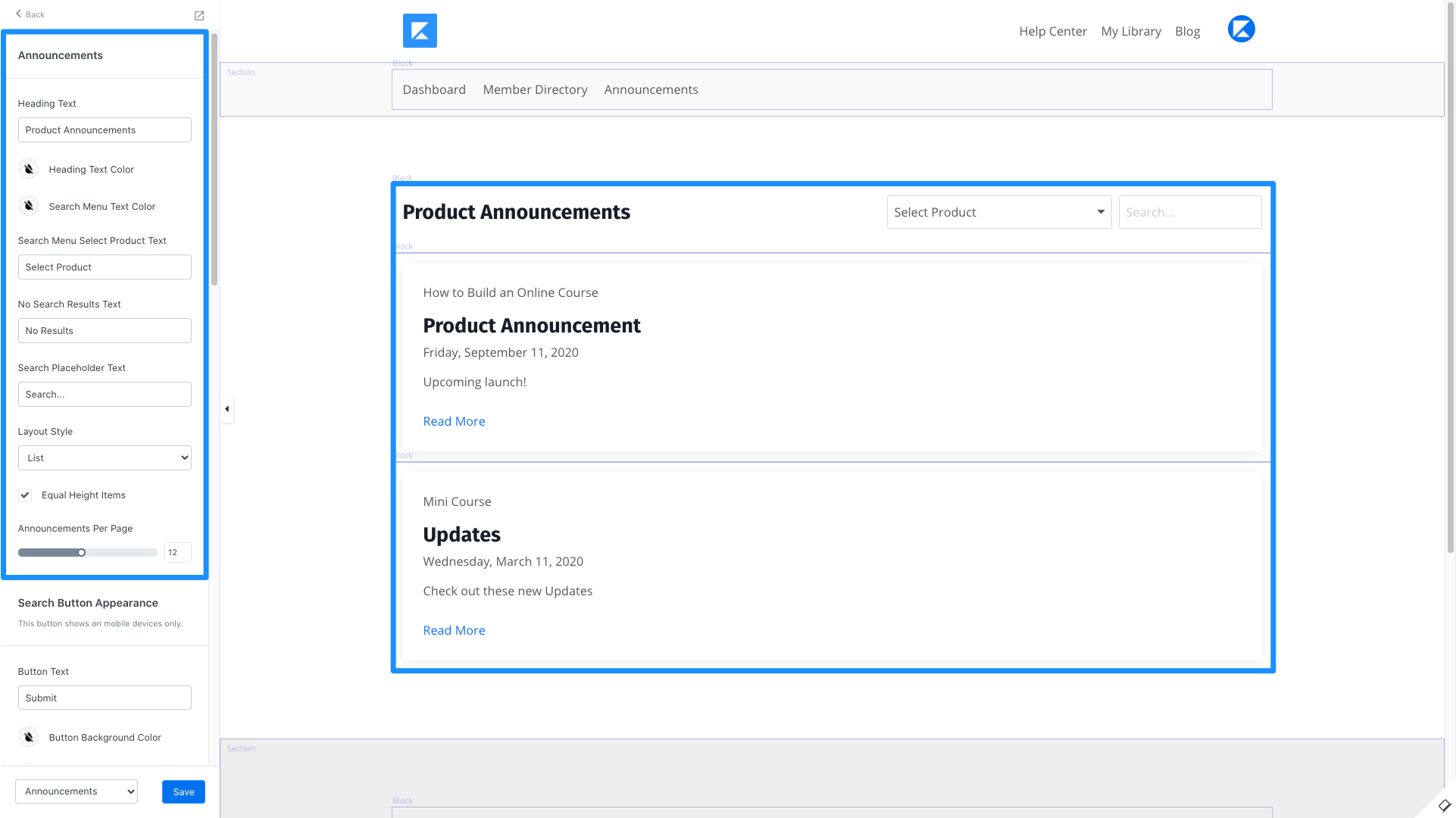 Search Button Appearance
Customize the button language, color, and general appearance when the Announcements page is viewed on a mobile device.
Override your global site settings for the button by customizing the search button appearance settings: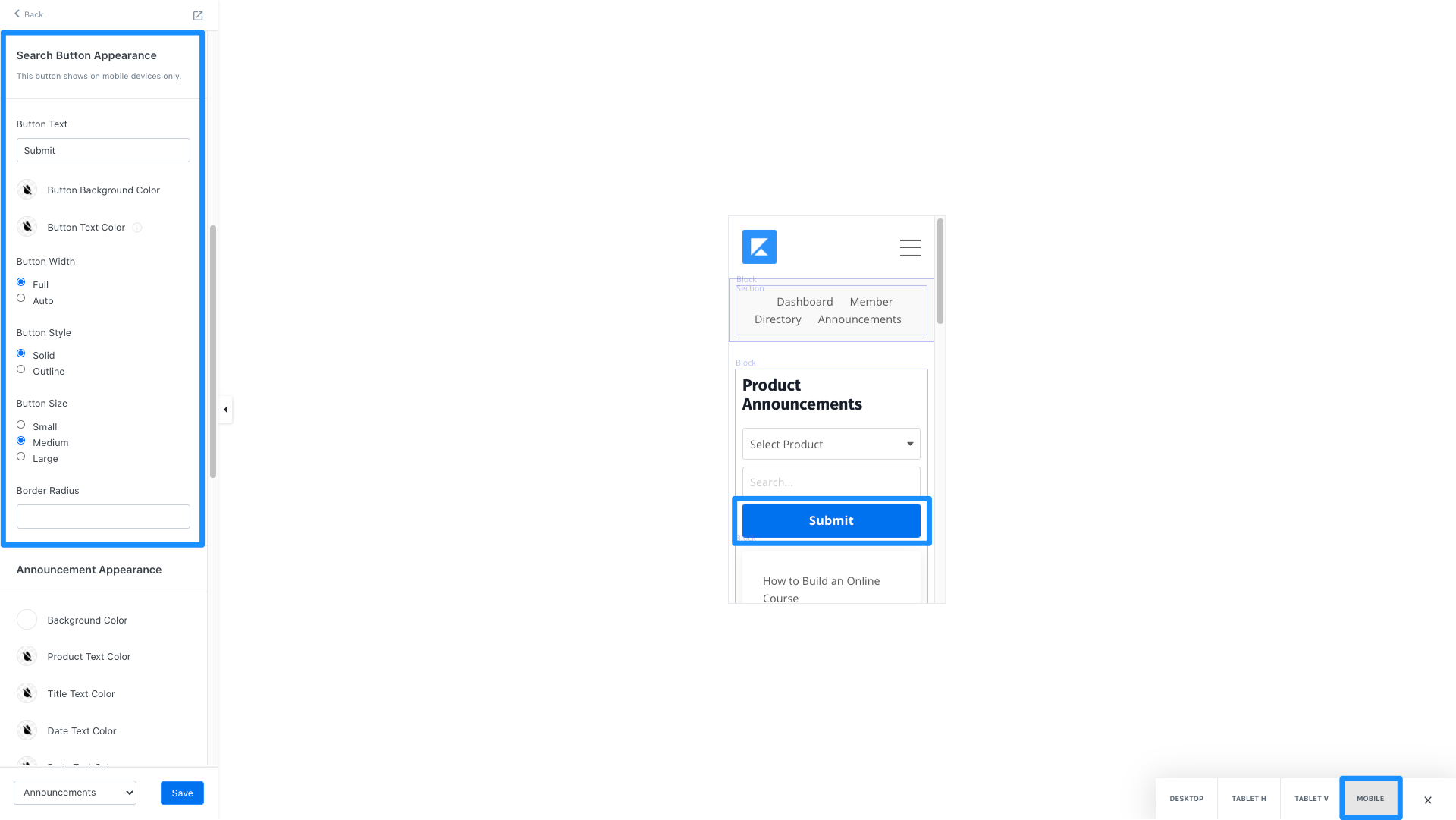 Tip:
Click the desktop icon in the bottom right corner of your page editor to preview your page on different devices.
Announcement Appearance
Customize how your Product Announcements and Updates appear in the Announcements Section of your page.
Adjust the color, the character truncation, border type, border radius, and border shadow.
Tip:
Don't see the difference between the border types? Try changing the Border Width and the Border Color!
Add borders around each announcement by selecting a Border Type: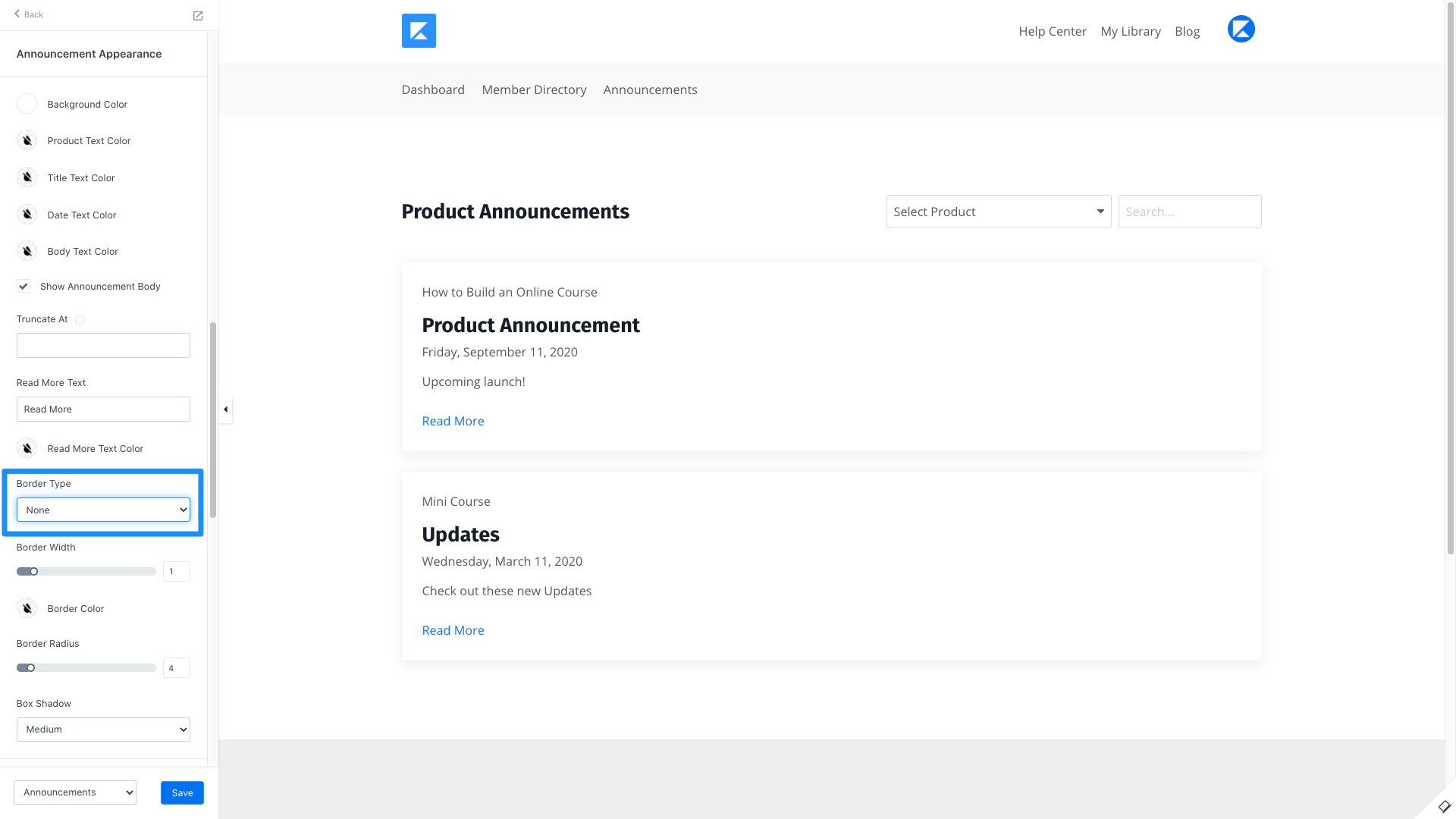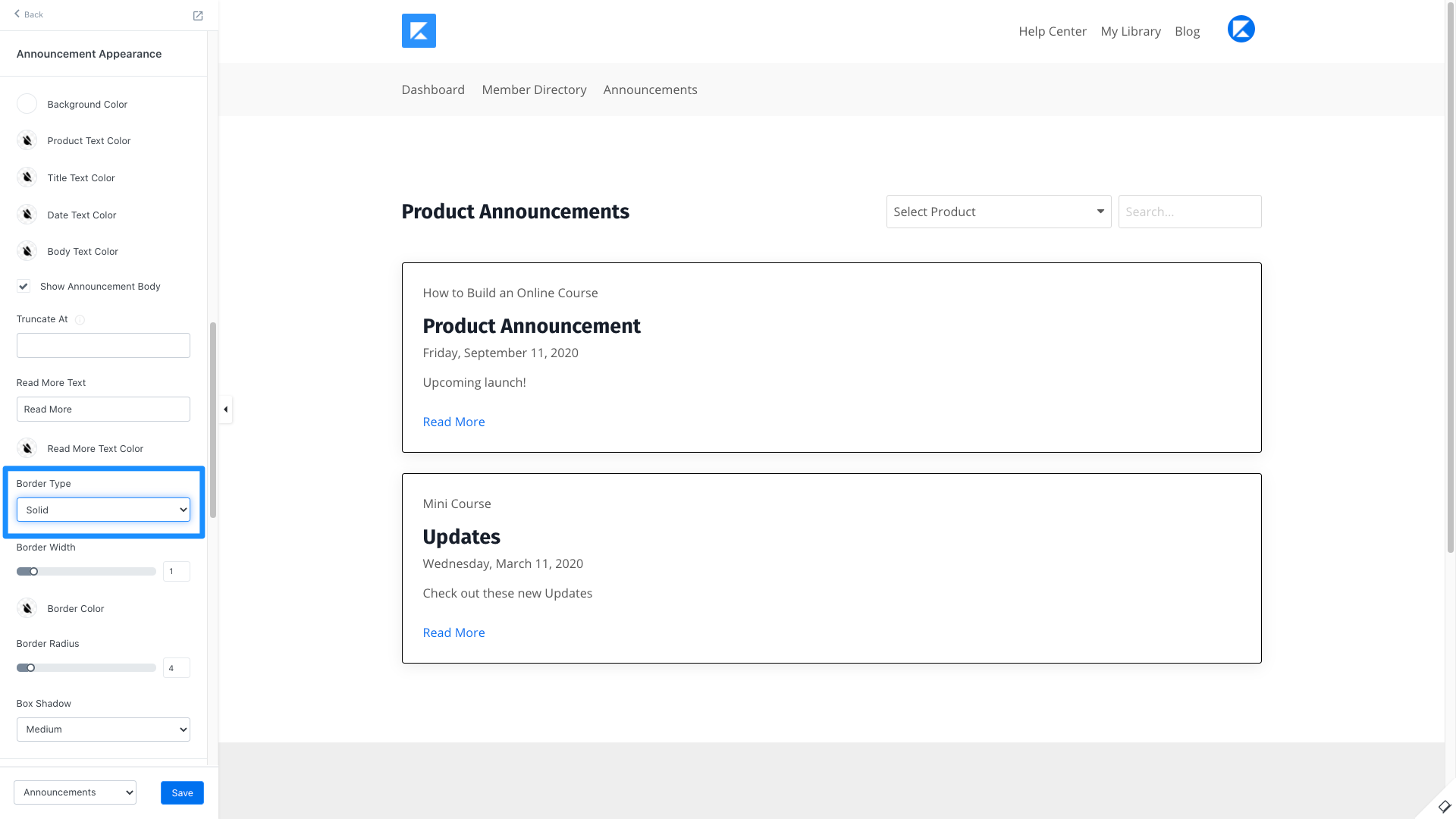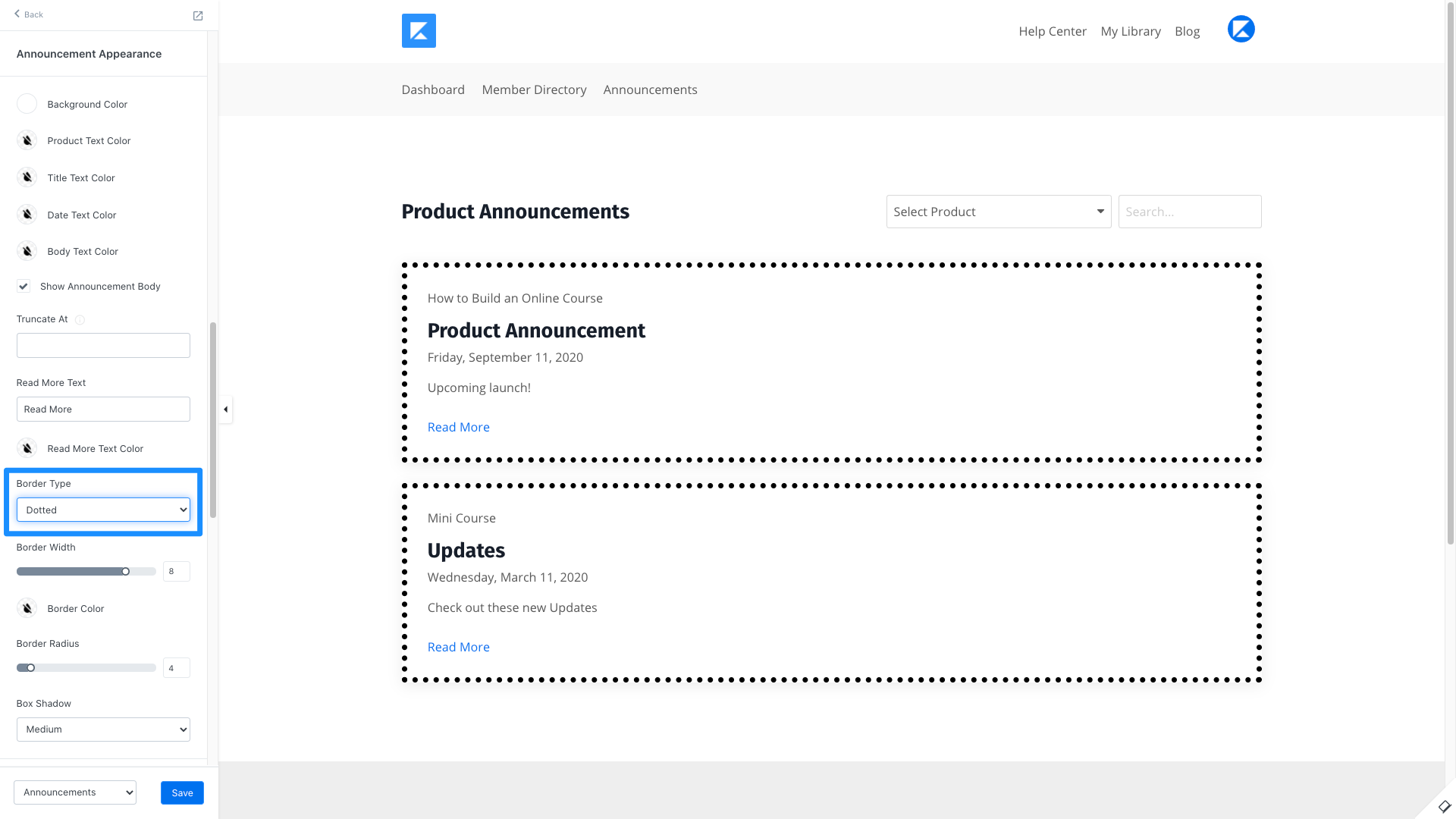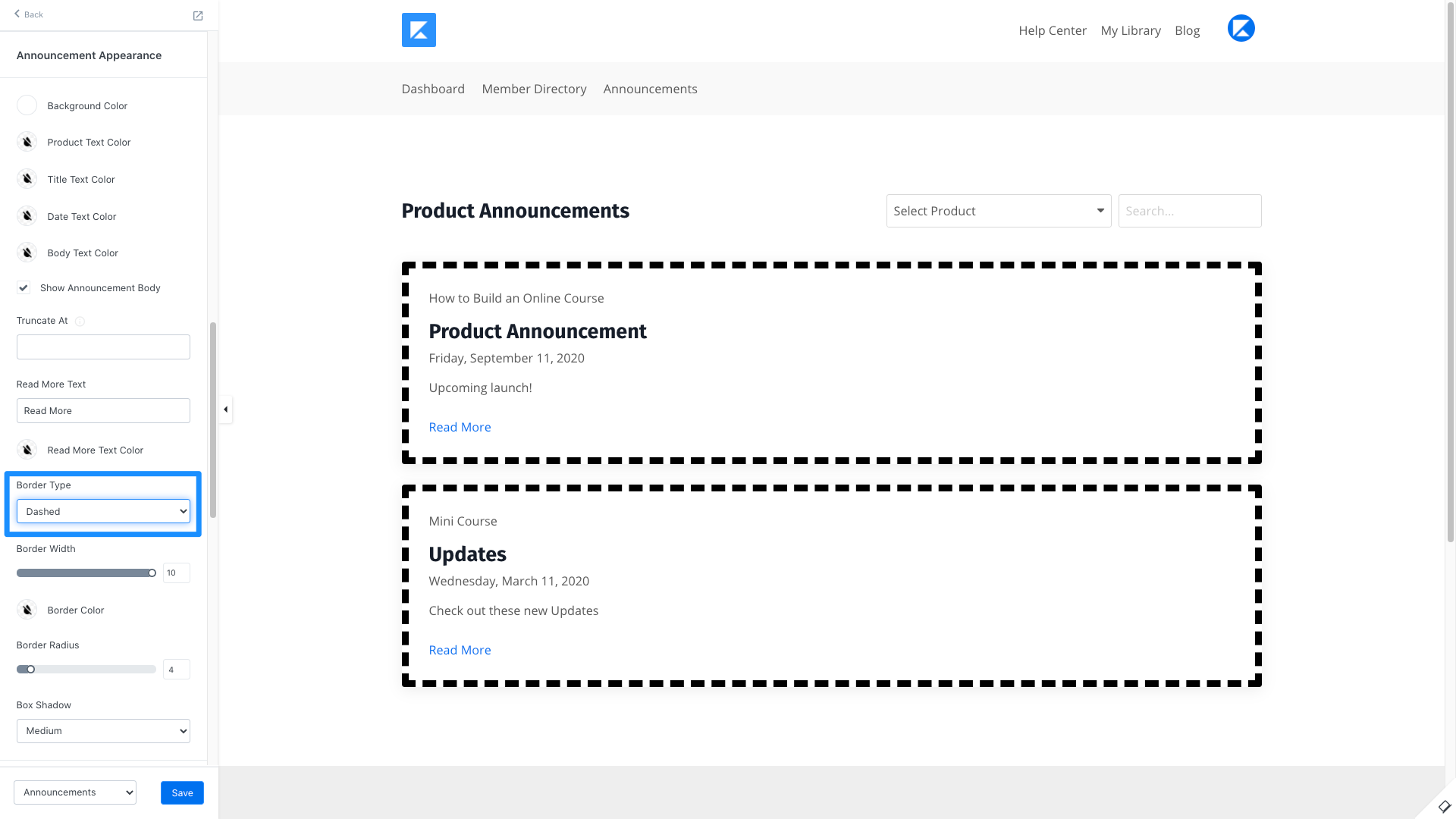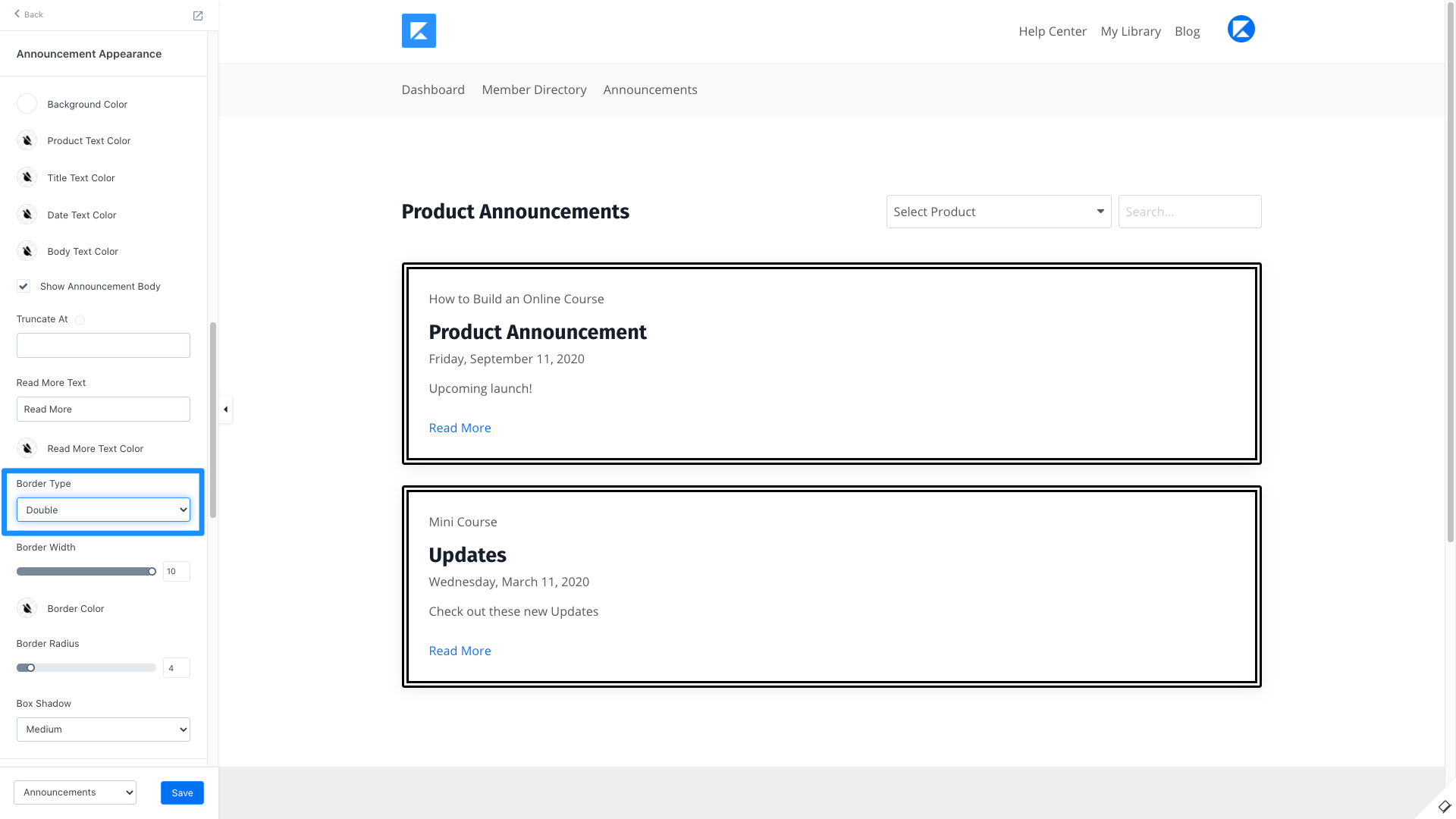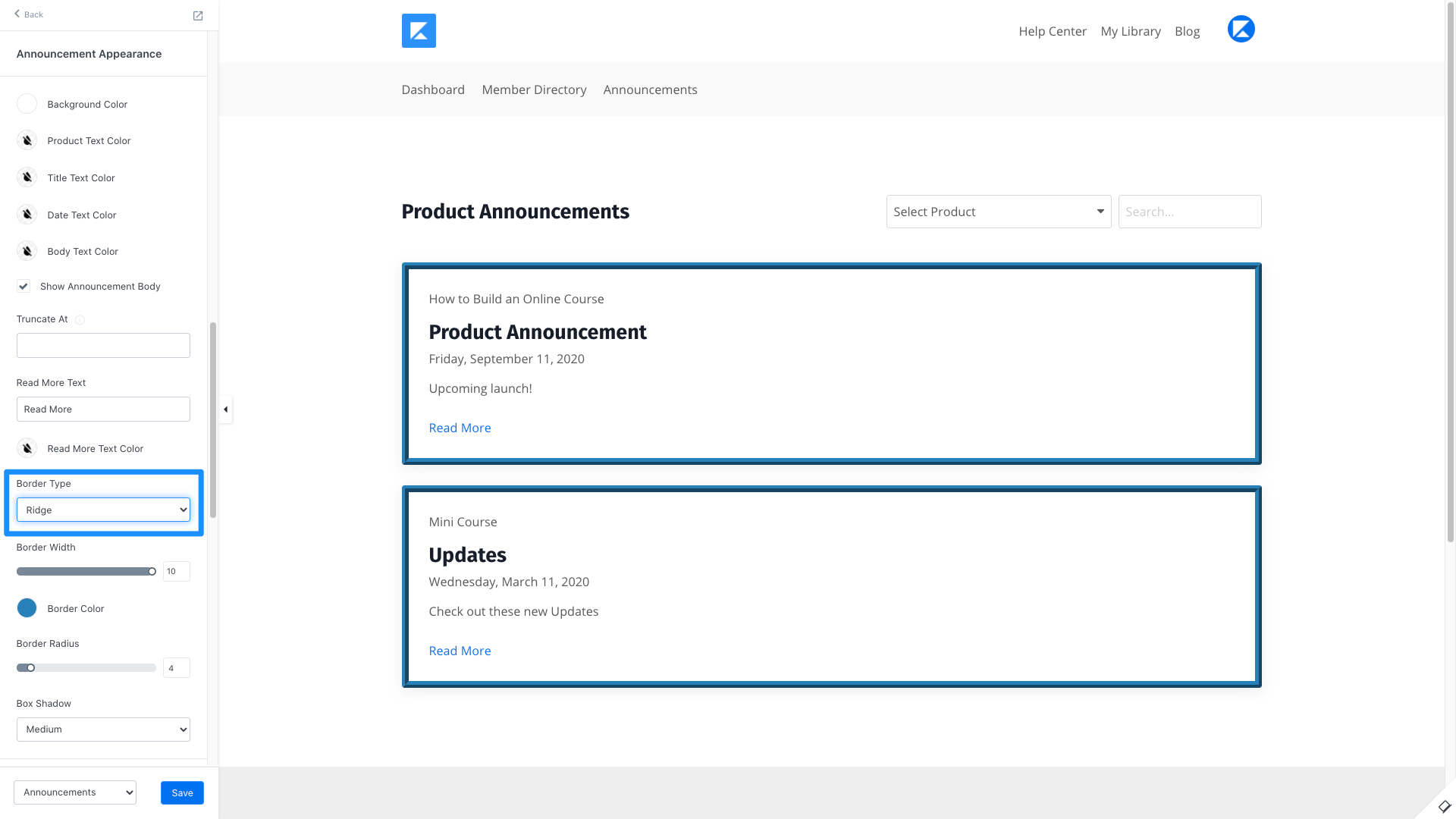 Pagination Appearance
Customize the color of your pagination buttons if your blog post listings take up multiple pages: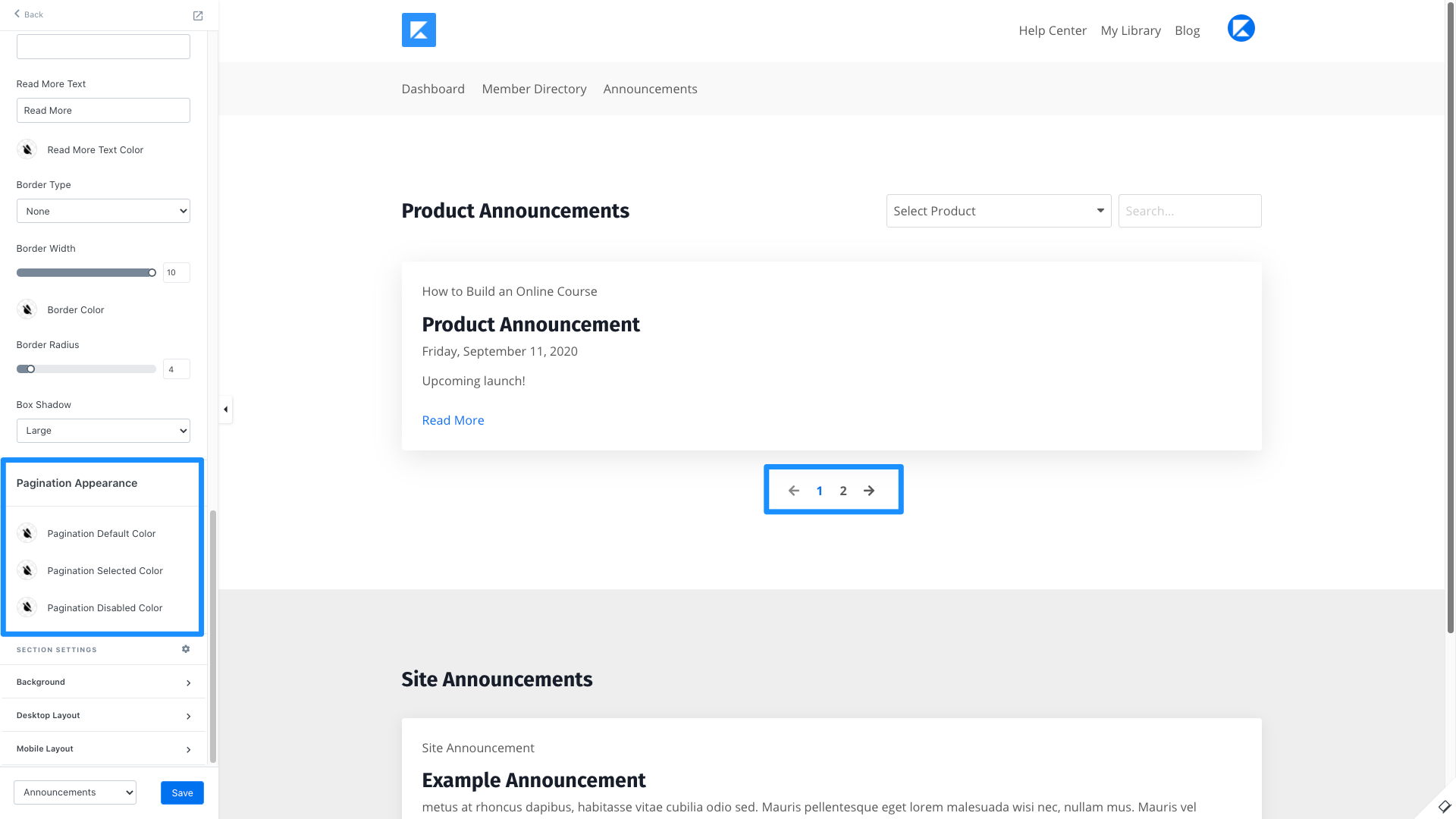 Click the color icon next to each pagination appearance setting to customize the color.
If you prefer to use a custom color, click the color wheel and then either enter your RGB color code or use the sliders to choose your color.
The

vertical bar

allows you to select the hue.
The

square box

allows you to select the brightness and saturation.
The

horizontal bar

allows you to select the opacity of your color.
Pagination Default Color - Select a color to override all default colors for your pagination appearance: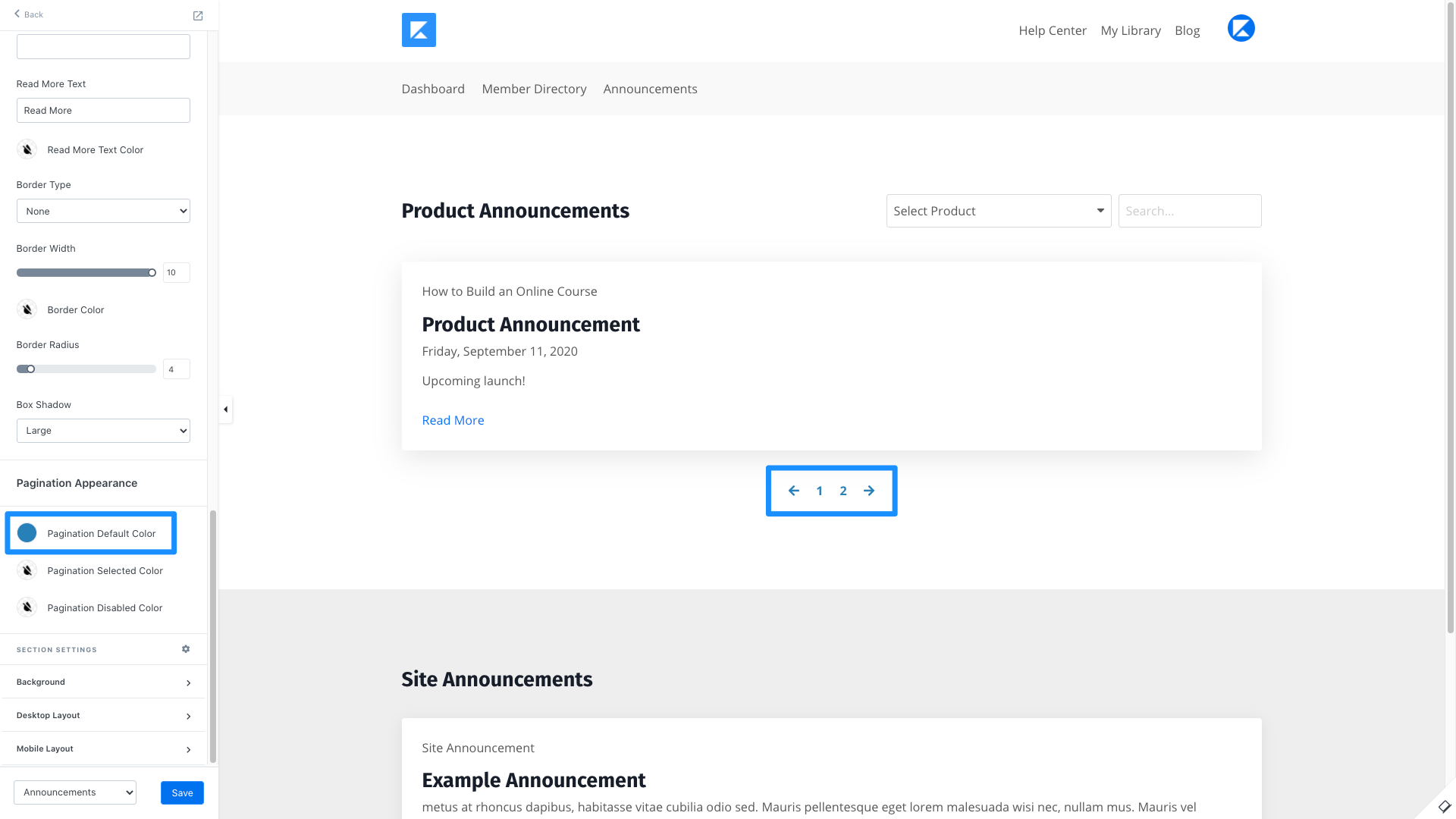 Pagination Selected Color - The "pagination selected" uses color to signal to your visitors the page number they are viewing. Select a color to change the color for the "pagination selected":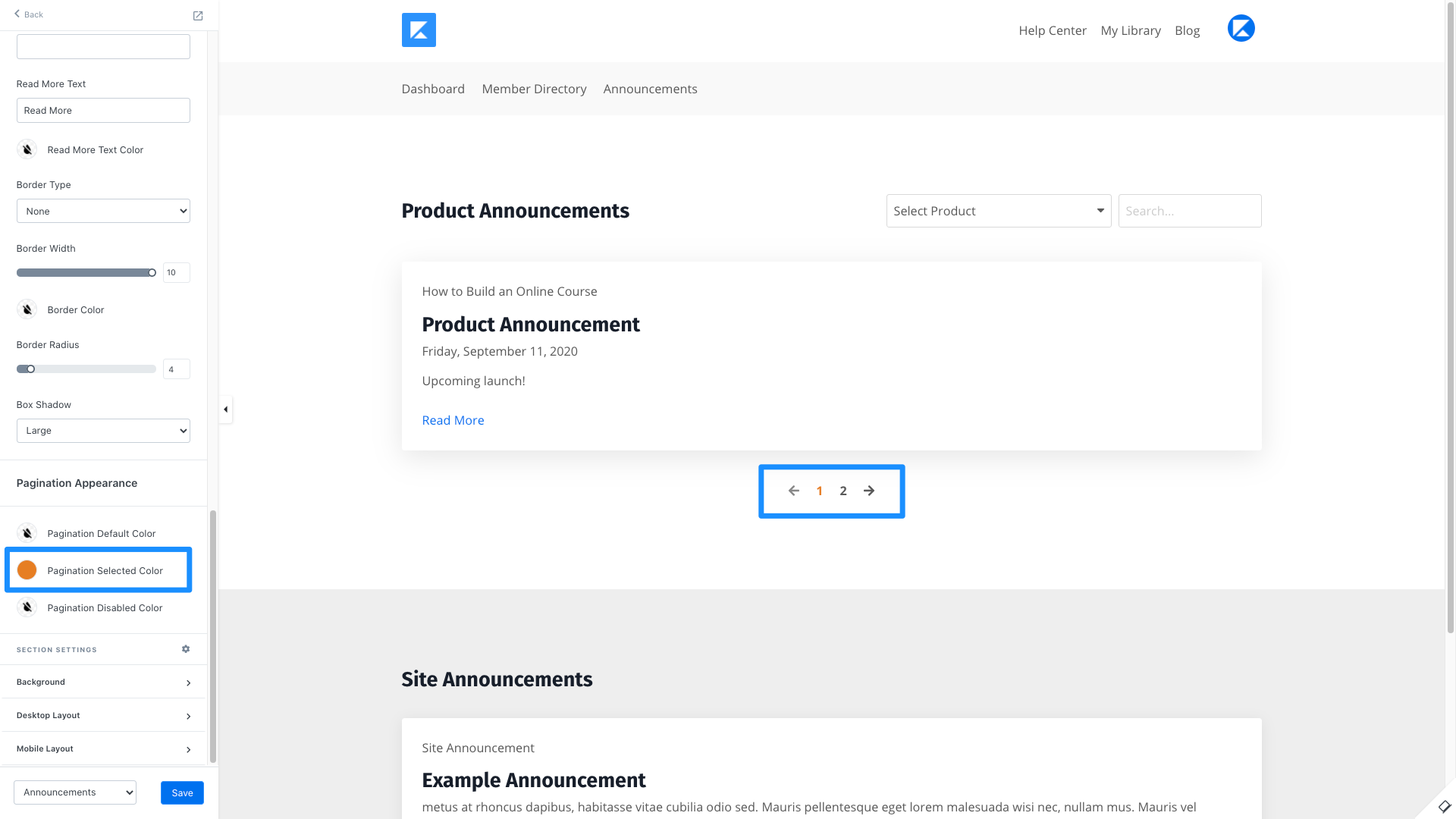 Pagination Disabled Color - The "pagination disabled" uses color to signal to your visitors that the number of pages for your blog posts do not continue. This changes the arrow color for going backward or forward depending on the page your visitor is viewing: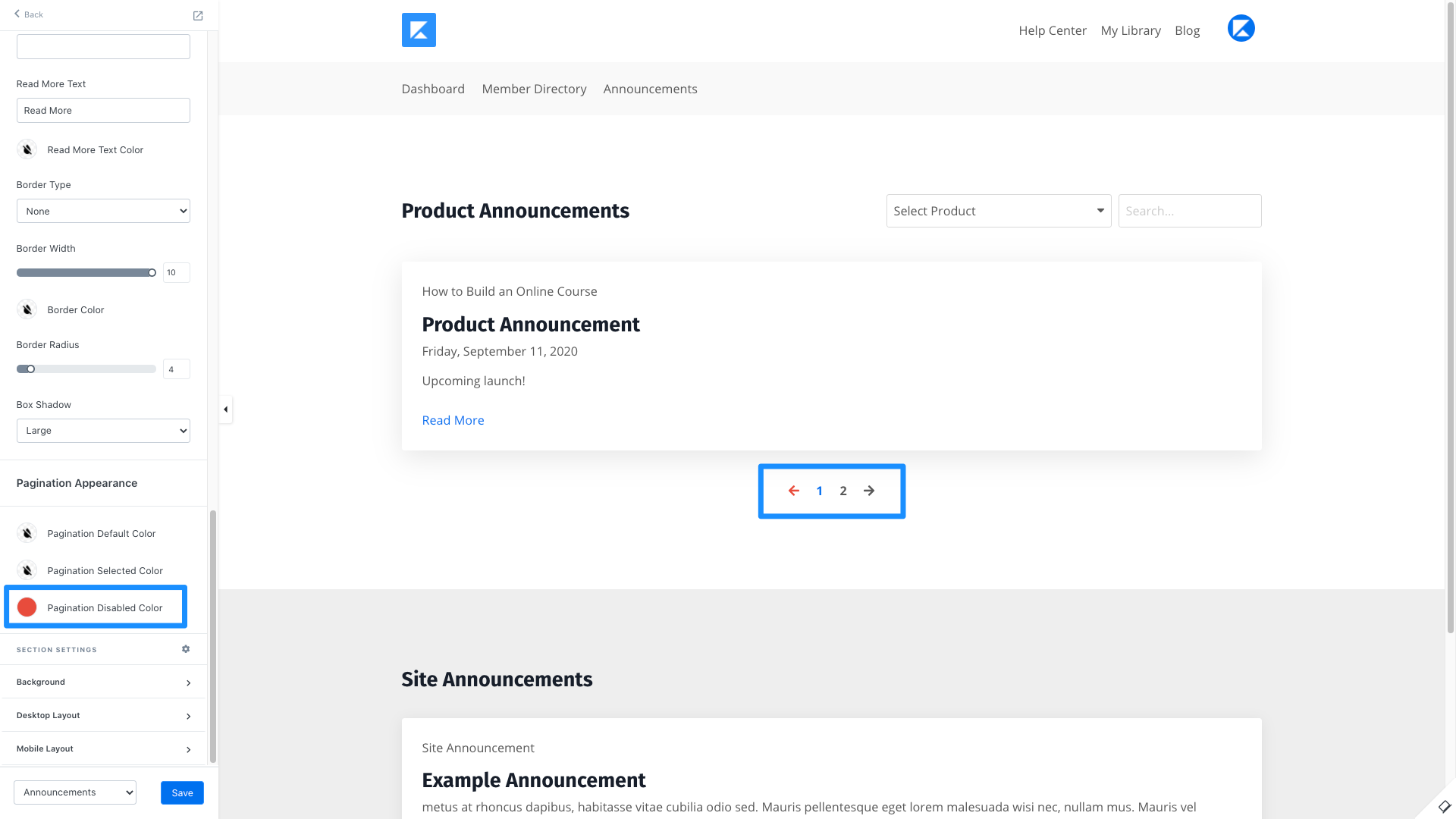 Section Settings
Customize the Blog Listings Section: