Private Podcasts in Kajabi allow you to restrict access to your podcast to only those who have purchased or have been granted an Offer connected to your podcast product. In this guide, learn how to create, manage, and publish your Private Podcast!
---
In this article:
---
Creating your Private Podcast in Kajabi
Open the Product tab from the dashboard
Select Podcast.
Click New Podcast.
Click Get Started.
Select Create a new podcast and click Continue.
Follow the prompt by giving your new Podcast product a:

Title.

Host Name.

Description of your Podcast.


Then, choose Private as your Podcast availability type and click Continue:

Select your Podcast Language and Podcast category.
Next, choose whether you would like your Podcast to appear in episodic or serial order:

Episodic will order your Podcast episodes starting with the most recently made.

Serial will order your podcast episodes from oldest to newest and will be split up by seasons.
Customize your Podcast appearance by choosing a Primary and Accent color and uploading a thumbnail Image.
Finally, add your Payment and Pricing information.
Click Save and Finish:
Previewing Your Podcast Page
Your Podcast page will automatically generate with a URL in the format of: https://domain.com/podcasts/your-podcast-name.
Preview your Podcast page and your page URL by clicking the Preview icon at the top right of the Podcast Editor: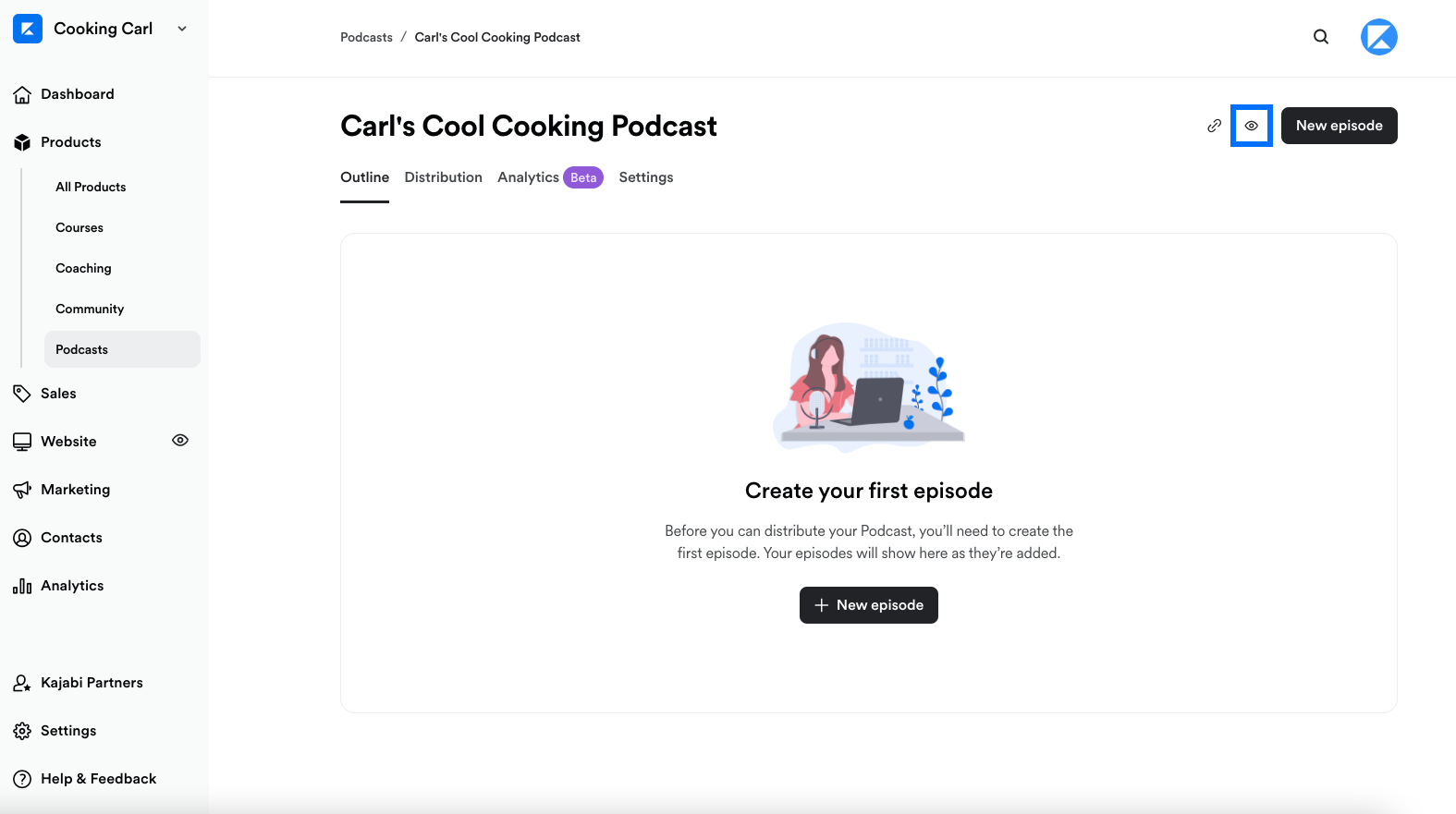 ---
Editing the Details
To edit your Podcast Details:
Click the Settings tab in the top menu of your Podcast page. Here, you will find:
Details
Title
Host
Owner Email
Description
Thumbnail Image
Select if the Podcast contains explicit content
And disable episodes from being downloaded
Podcast Categories
In the podcast categories section, select the three categories that best fit the description of your Podcasts' content. Selecting categories will help with discoverability
Page Customization
In the Page customization section, you can select Primary and Accent colors to customize the look of your Podcast page to better match your branding.
Primary Color applies to the audio player and page buttons.
Accent Color applies to the header background:
---
Connecting your Podcast to an Offer
In order for your Private Podcasts to be purchased or granted, they must first be connected to an Offer.
To connect your Podcast to an Offer:
Open the

Sales

tab from your Dashboard.
Select the Offers tab.
Click +New Offer.
Select the Title and the Podcast Product you would like to include in this Offer, as well as the price of the Offer:
---
View Analytics (Beta)
To View your Podcasts Analytics:
Click the Analytics tab from the top menu of your Podcast page.
The Podcast Analytics tab will display data for:
Total Downloads.
The Apps are being used to stream your Podcast episodes.
The Devices that are being used to stream your episodes.
Which Device Operating Systems are being used to stream your episodes.
Top Countries.
Top Ten episodes by Downloads.
You can also preview your Podcast page from the perspective of your audience by clicking the eyeball icon at the top right of the Analytics page.
---
Subscribers
Podcast Subscribers are the customers who have purchased or have been granted your Product. When clicking the Subscribers tab from the Podcast Product Page, you will be taken to a custom segment in the Contacts tab.
Follow our guide to learn more about managing your segmented contacts in the Contacts tab.
And that's how to create a Private Podcast! Please vote below and let us know if you found this article helpful. We value your feedback. Thanks for being the best part of Kajabi!