Importing your Podcast onto Kajabi allows you to utilize all of the tools Kajabi offers for your online business (website, payments, automations, email, affiliates, analytics, and more) to help support and grow your Podcast!
In this guide, we will walk you through how to migrate your Podcast to Kajabi seamlessly without any downtime!
---
In this article:
---
Step 1. Retrieving your Current RSS Feed URL
A podcast RSS feed is a link that contains all of the information of your podcast and updates listening apps and subscribers when new episodes are uploaded, automatically adding the new episodes into their feed.
Your Current RSS Feed URL can be found on whichever site your podcast is hosted on.
To find your RSS Feed, follow the guides for the site where your Podcast is hosted:
Note:
The episode number must be greater than or equal to 1.
---
Step 2. Importing your Podcast onto Kajabi
Once you have located your current RSS Feed URL, the next step is to import your podcast onto Kajabi by entering the RSS feed link into Kajabi's podcast import tool.
To import your podcast into Kajabi:
Open the Products tab from the dashboard.
Select Podcasts.
Click + New Podcast.
Click Get Started.
Select Import a podcast and click Continue.

Enter your current RSS feed link and click Continue.
Verify your Podcast details are correct and click Save and Finish:
Once your podcast has been imported, you can click into your Podcast from inside the Podcasts tab. You will find that Kajabi has imported your episodes and data, including:
Audio File
Publish Date
Title
Brand Colors
Artwork
Show Notes
Transcription TXT File
Previewing Your Podcast Page
Your Podcast page will automatically generate with a URL in the format of: https://domain.com/podcasts/your-podcast-name.
Preview your Podcast page and your page URL by clicking the Preview icon at the top right of the Podcast Editor: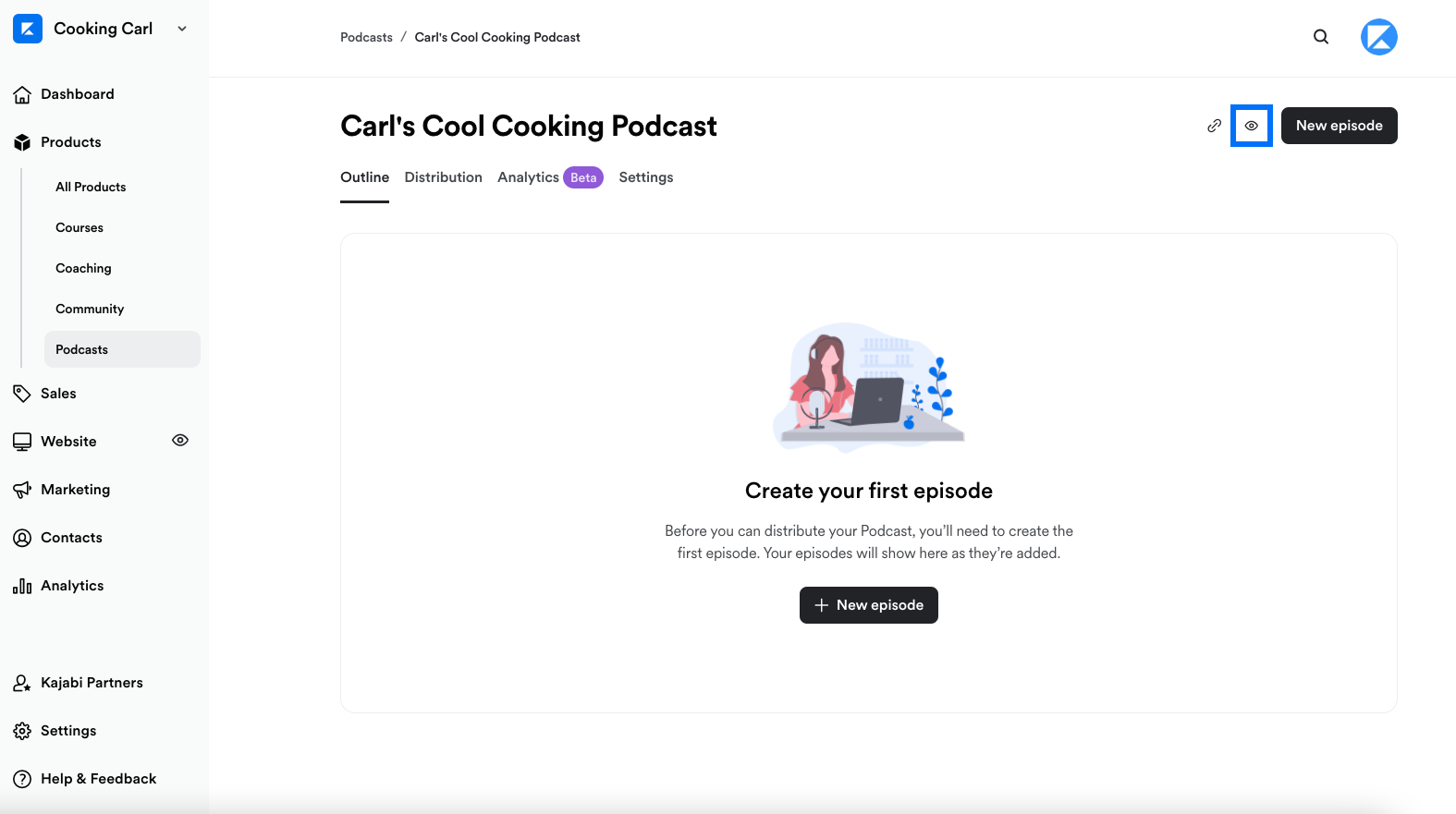 ---
Step 3. Setting Up Distribution
Upon Import, Kajabi creates a new RSS Feed URL for your Podcast. But, directories (aka listening apps like Apple Podcast, Google Podcast, and Spotify) will still be pulling your podcast from your old host. So, the next step is to tell listening apps that you have changed your host to Kajabi by redirecting your RSS feed.
To set up Distribution:
Click Distribution in the top menu of the podcasts page.
Here, you will find your Podcast RSS feed link, which is a link that contains a summary of updates from your website.
To set up the distribution of your podcasts with different directories, you will need to provide the RSS feed link that Kajabi has offered.
Because each directory has its own unique process for connection, Kajabi has provided the instructions for Apple Podcasts, Google Podcasts, and Spotify. Follow these instructions to connect to these directories:
Once you have successfully connected, Kajabi will then automatically add an icon link on your podcast's page, allowing your customers to access your podcast via the directory:

Most Podcast platforms pull from these three major platforms, which means that your podcast will most likely be available on any platform of your choosing! It may just take a few days to populate.
---
And that's how to import an existing podcast onto Kajabi! Please vote below and let us know if you found this article helpful. We value your feedback. Thanks for being the best part of Kajabi!