Learn to verify your custom domain on Kajabi to set up your Google Workspace.
---
In this article:
---
Google Workspace
Looking to connect, create, and collaborate with your entire team on Google Workspace?
With Google Workspace you can build custom business emails for your Kajabi email campaigns, organize your events with Google Calendar, collaborate with your team on upcoming projects, and more!
Learn more about Google Workspace
With the power of Google Workspace and Kajabi you can streamline and connect your workflow.
If you wish to use Google Workspace with your site on Kajabi you will need to connect a custom domain to Kajabi and verify your domain to complete your Google Workspace setup.
Learn to connect your custom domain to Kajabi
Note:
If your custom domain is purchased through Google, Google will automatically verify your domain for you and you will not be required to complete the steps provided in this article.
If you have purchased your custom domain from a registrar that does not partner with Google you will be required to verify your domain to ensure the protection and privacy of your Google Workspace and Domain.
---
Domain verification
Before verifying your domain to set up your Google Workspace, you will first need to connect your custom domain to Kajabi.
The verification process cannot be completed with a Kajabi Subdomain as you will need access to your domain DNS settings.
Learn to connect your custom domain to Kajabi
After successfully connecting your custom domain to Kajabi, verify your domain in Google Workspace.
Step 1. Get your verification code
Open the Google Workspace setup tool.
Then, sign in to your Google Admin console.
Note: You will need to sign in with your Google Administrator account.
Click Continue next to the Verify your domain card.
Locate your verification code and click Copy: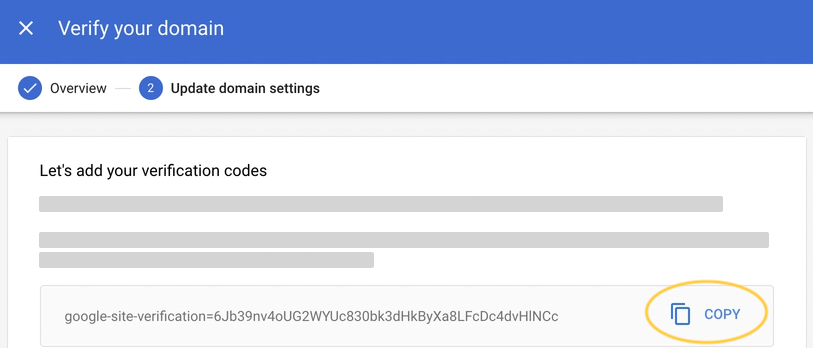 Step 2. Add your verification code to your DNS Settings on Kajabi
In a separate browser window or tab, log into your Kajabi account.
Click Settings in the bottom left corner of your Dashboard.
Open Domain to access your Domain Settings.
Click the right-arrow to open your DNS Settings for your connected custom domain.
Click + Custom Record in the top-right corner.
Select TXT Record.
In the name field, enter the @ symbol.
Then, in the TXT Record field, enter your Google Workspace verification code from Step 1.
Click Add to apply:
Step 3. Verify your domain
Navigate back to your Google Admin Console.
Then, click Verify my domain:
Note:
Additional time may be required to publish the verification code. If you receive an error message from the Google Workspace setup tool, wait an hour before attempting to verify again. It is important to note that in extreme cases, it can take up to 48 hours to publish your verification code.