Kajabi has created many different tiers of pricing plans for our many different types of entrepreneurs, whether you're just getting started, or already have a large, thriving business. But, how do you know if your pricing plan is still right for you? A great way to see if the plan you initially chose is working for you is by viewing your Feature Limit Usage!
---
In this article:
---
Usage
In the Usage section of your billing page, you can view all of the feature limits of your current pricing plan and how close you are to reaching the limits of each feature.
To view your Usage:
Open the Settings tab from the Dashboard.
Select Billing.
Scroll down to Usage.
Note:
Your pricing plan determines the limits across your account. If you have multiple sites in your account, each feature used across each site will contribute to the total feature limit set by your pricing plan.
---
Feature Limits
Each Kajabi plan has feature limits, such as Products, Sites, and more. If you're getting close to your limits, congratulations! That means your business is growing. Or if you are nowhere near your limits, you can downgrade to a smaller plan.
If you would like to view each feature's limit, click on the link for the feature limit you would like to learn more about:
---
How to update your plan
To upgrade your plan:
Open the Settings tab from the Dashboard.
Locate your

Account Settings.
Select

Billing.
Click Upgrade plan in the Subscription section of the page.
Review the available Kajabi plans and confirm the change on the final page: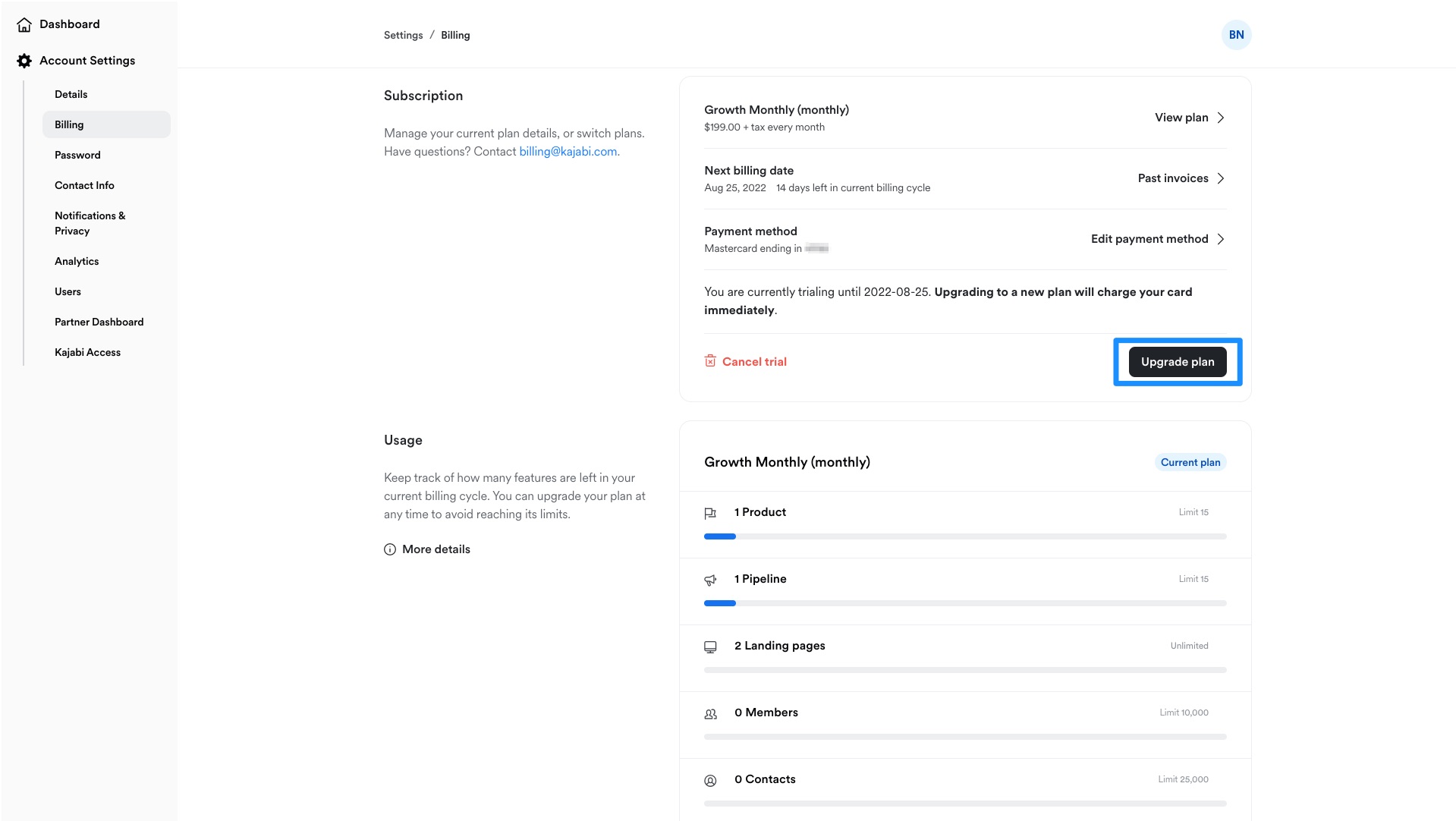 And that's your feature limit usage! Please vote below and let us know if you found this article helpful. We value your feedback. Thanks for being the best part of Kajabi!