Learn about your contact preview to help you retain your filters, view individual contacts faster than before, and gain insight into each individual with Kajabi's latest improvements.
---
In this article:
---
What is the Contact Preview?
The Contact Preview allows you to preview and perform quick actions without having to enter into the full People Profile page.
With this latest feature you can filter your list, view your contacts, and perform your most common actions without resetting your filtered list!
---
How to access the contact preview
To access the contact preview:
Open the People tab from your Dashboard.
Select the name of your desired contact or member.
Preview and perform quick actions from the contact preview:
---
Member Contact Preview vs. Non-Member Contact Preview
The contact preview will provide different options depending on the type of contact you view. If you open the contact preview for a Member you can perform more actions through the contact preview than you will find in the contact preview of a Non-Member.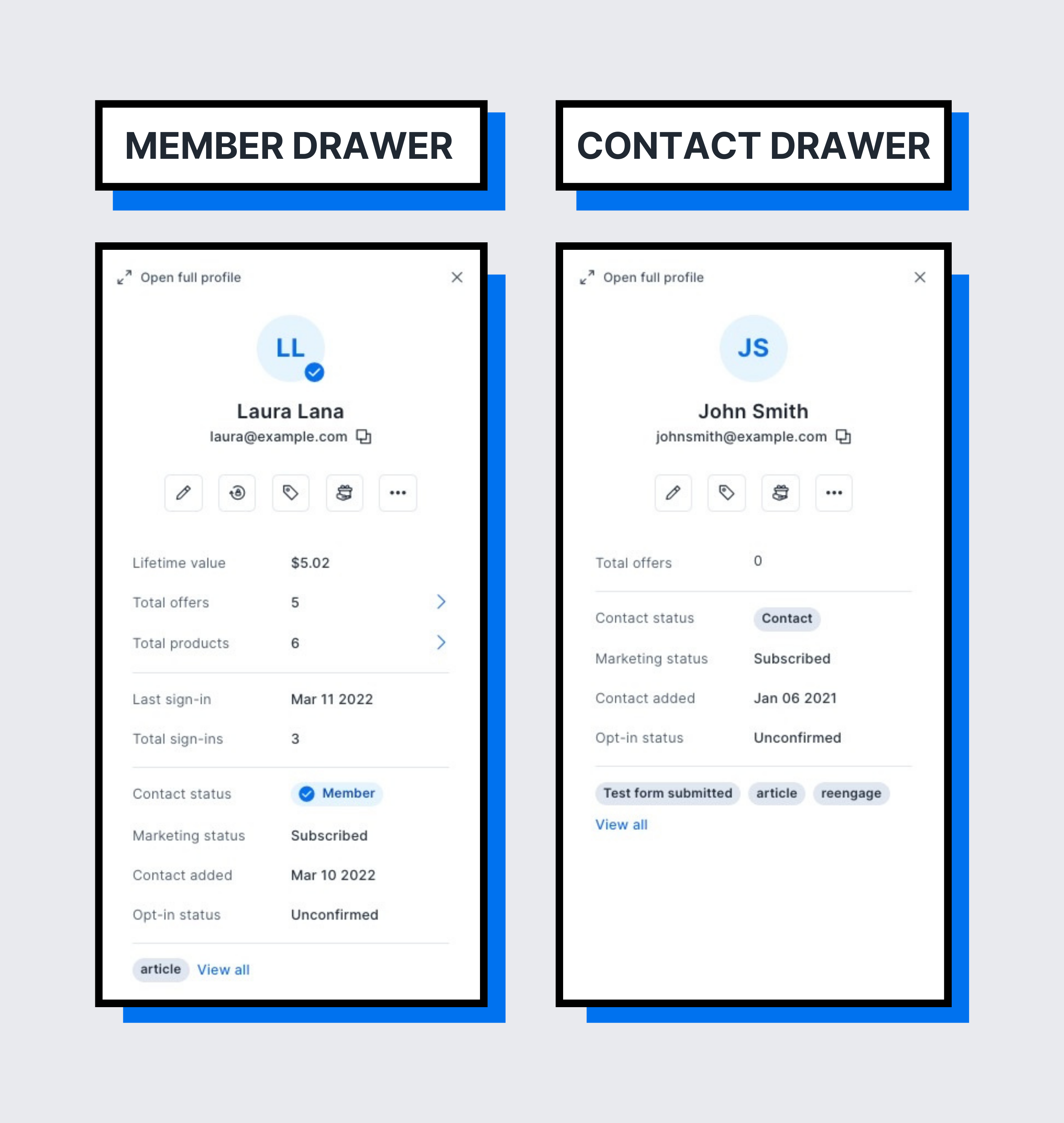 Member contact preview
The Member contact preview contains more information and quick actions compared to the Non-Member contact preview as a result of their Member status.
Your Member contact preview allows you to:
Edit the contact details
Send a reset password email to your member
Add tag(s)
Grant an Offer
Manually change your member's password
Add a note
Hide the contact
Delete your contact
View the lifetime value of your member
Total Offers owned
Total Products owned
Last sign in date
Number of total sign-ins
Contact status
Date the contact was added to your site
Opt-in status
Any applicable tags
Non-Member contact preview
The Non-Member contact preview allows you to perform the applicable quick actions to your non-member contact and provides an efficient method of viewing your contacts important information.
With your Non-Member contact preview you can:
Edit the contact details
Add tag(s)
Grant an Offer
Add a note
Hide the contact
Delete your contact
View Total Offers the contact ever owned
Contact status
Date the contact was added to your site
Opt-in status
Any applicable tags
---
Quick actions
With the contact preview you can perform quick actions:
How to apply quick actions
To apply quick actions with the contact preview:
Open the People tab from your Dashboard.
Select the name of your desired contact or member.
Apply your desired quick actions from the contact preview: