Learn to create and automatically send students who complete your course an official Certificate of Completion with Kajabi.
---
In this article:
---
Certificates of Completion
Interested in increasing the credibility of your course by offering your students a Certificate of Completion?
With Kajabi, you can now create and automatically send the students who successfully complete your online course an official Certificate of Completion they can share on their social media accounts to build their own authority: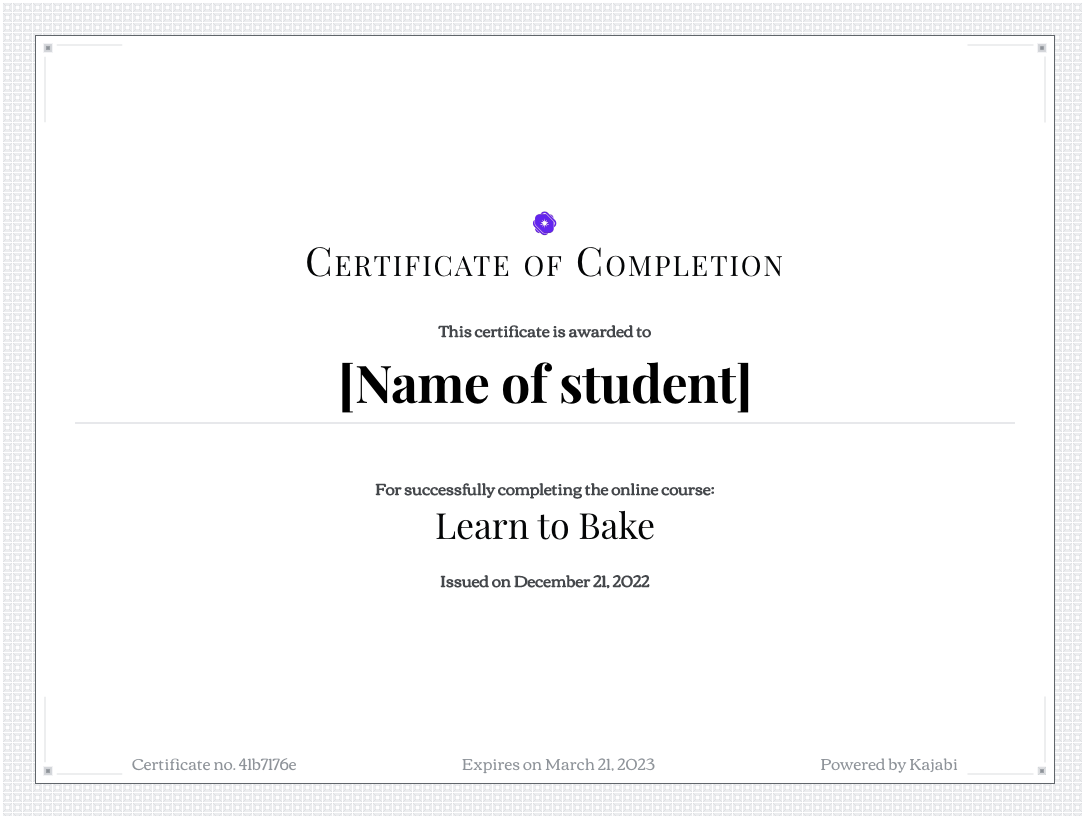 Follow this guide to learn how to create and send your certificates without leaving the Kajabi platform or employing a third-party solution.
---
Creating your certificate
To create a customized Certificate of Completion for students who've completed your course:
From your dashboard, select Products.
Then, select Courses.
Click the title of the Course for which you want to create a certificate.
Select the Certificates tab.
Click the toggle on to Provide certificates for this course.
Upload your logo and complete the fields to add your certificate title and subtitle, recipient title, and course name (note: Kajabi will automatically input the recipient's name each time a certificate is created).
(Optional) Select the checkboxes to show a completion date and unique serial number on the certificate if desired.
(Optional) Click the toggle on to add an expiration date to the certificate if desired. Enter the expiration time period in days, months, or years using the input fields.
Click Save to keep your changes.
Select Preview to preview your certificate design:
---
Customizing your certificate email
Upon completing 100% of the lessons in your course, your students will receive an auto-generated email containing a link to a digital Certificate of Completion downloadable in PDF format: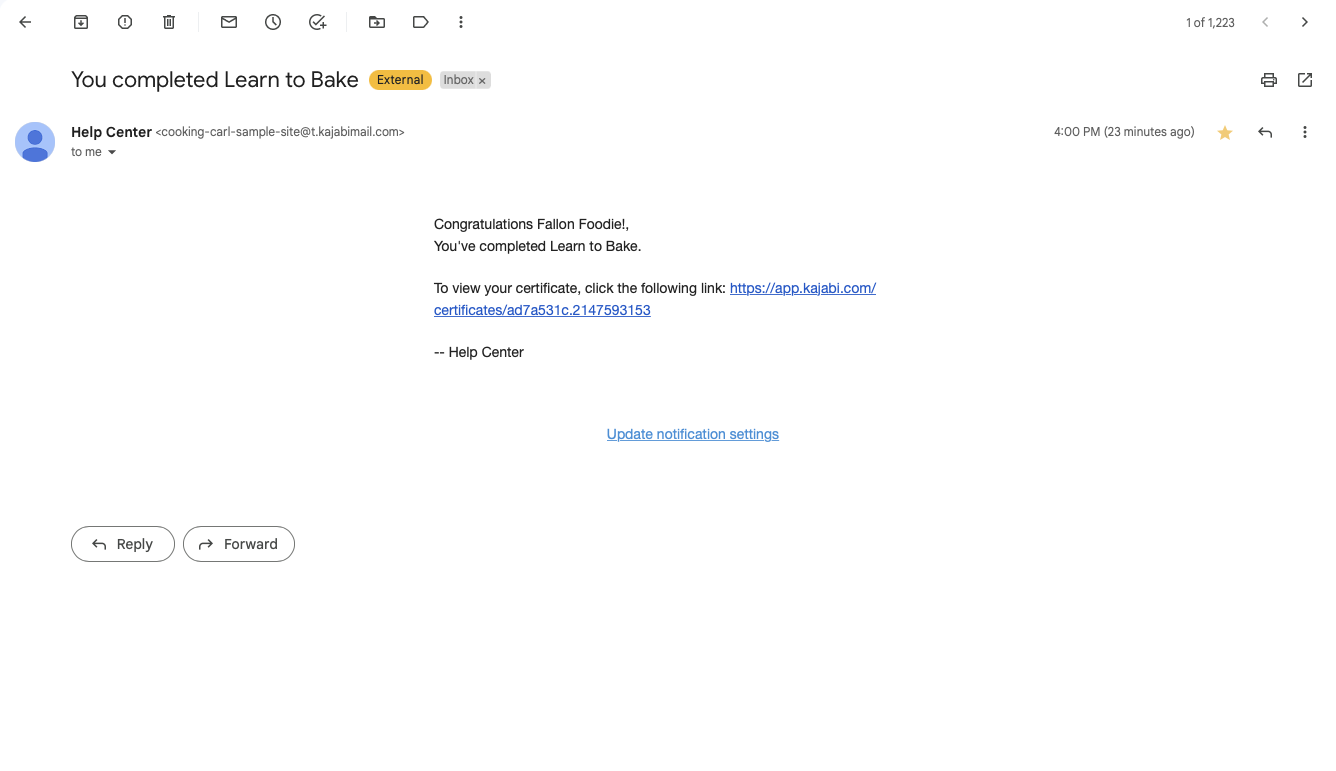 To customize the content of the email your students receive:
From the Certificates tab, click the Email templates link on the left. This will open the Email Templates in your Site Settings.
Navigate to the Course Completion Certificate template and click the Edit icon.
Update the Subject and Content of your email as desired.
Click Save to apply your changes.
Select Preview in Browser to view a web preview of your email, and Send Test Email to send yourself a test email:
---
Certificates and social sharing
When a student opens their digital Certificate of Completion, they'll be presented with icons to optionally share their new certificate on LinkedIn, Facebook, and Twitter.
With as little as a few easy clicks, your students can share their achievement with their social network, boosting their personal authority and increasing visibility for your course: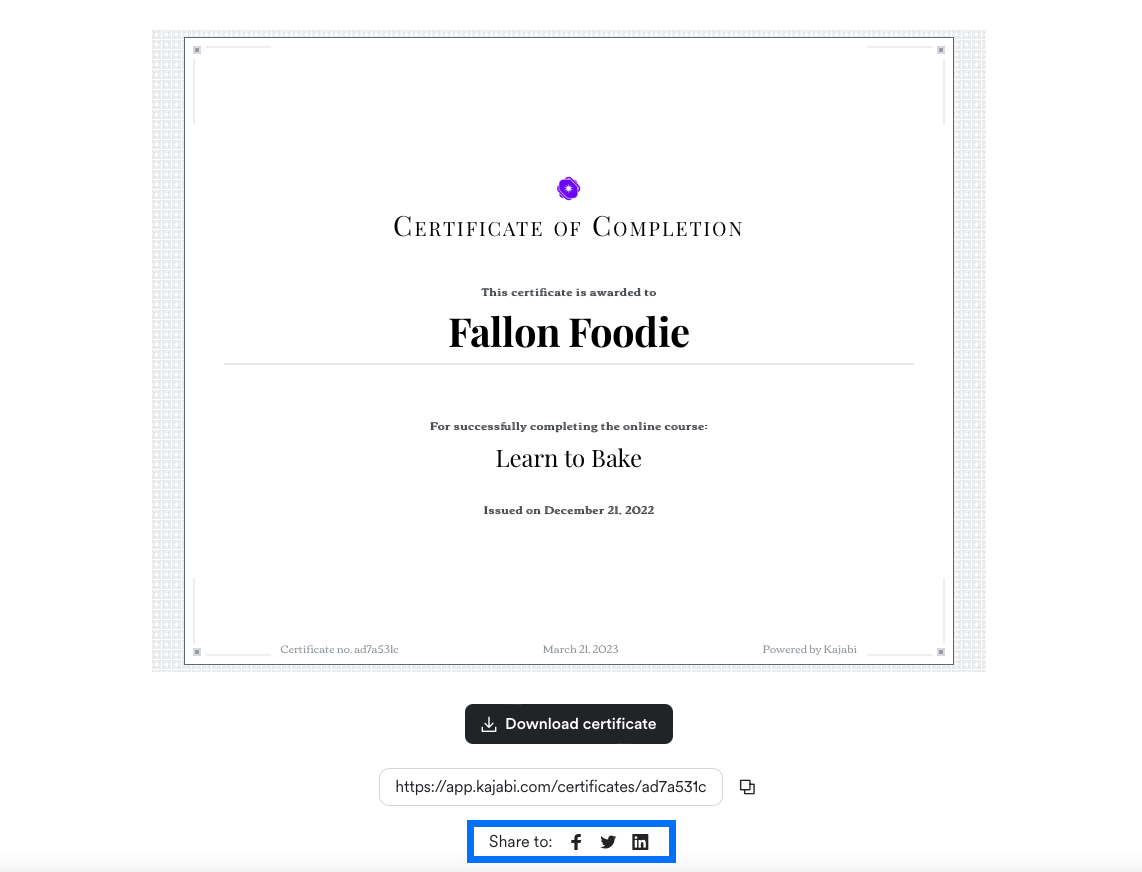 Do you love the new certification feature? Are you experiencing a bug? Wishing for more complexity with Certificates? We want to hear about it! Please
submit your feedback here
.
And that's how you can create and send Certificates of Completion with Kajabi! Please vote below and let us know if you found this article helpful. We value your feedback. Thanks for being the best part of Kajabi!