BETA:
This feature is being released in phases to ensure stability across all accounts. If you do not see this setting, the feature has not been made available to your account yet. Check back at a later time to try the new experience.
Learn to manage, update, and share your Creator Studio Projects.
---
In this article:
---
Projects vs. Video Clips
Before we discuss managing your Creator Studio projects, we must first understand the difference between projects and video clips.
What are projects?
Projects are the working files in Creator Studio.
You create a project by sending a course video to Creator Studio to be transcribed. When your transcript is ready, you can open Creator Studio to view the transcript, make edits, and create video clips.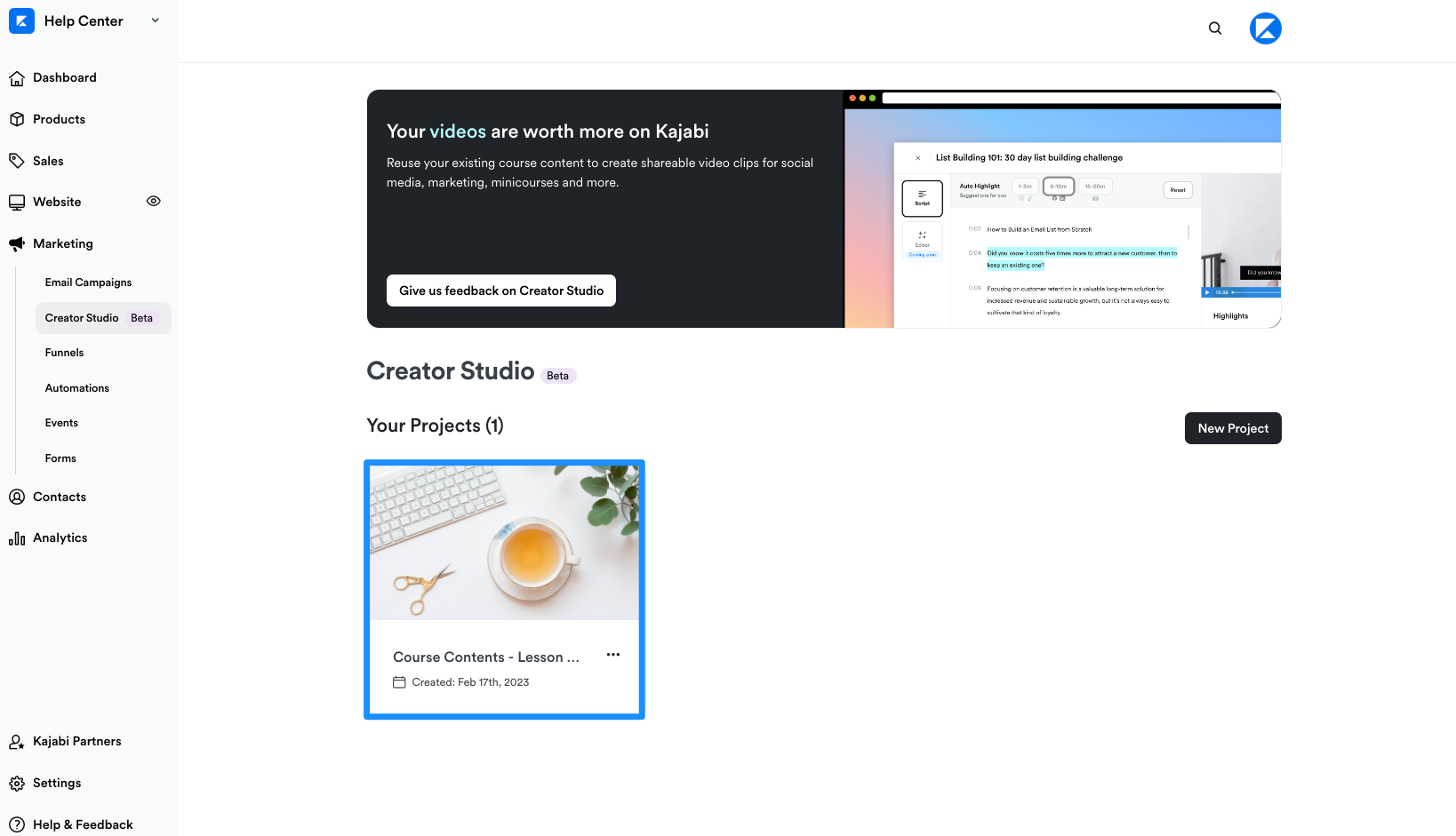 What are video clips?
Video clips are the video files that you make from a project to use for social media, marketing, mini-courses, and more.
Video clips are created when you work on a project.

---
Manage projects
All of your projects for your site are accessible from the main Creator Studio page.
By default, the project will share a name from the course and module name that the video came from.
Opening a project will change based on context:
When a project has no clips, opening a project will open Creator Studio for you to make your first clip.
When a project has clips, opening a project will take you to a page showing you a list of the clips you have generated so far.

If you want to make another clip, click the Studio button on the top right corner.
---
Manage video clips
All of your clips are organized by the project from which they were made.
Viewing your video clips within a project will allow you to see when the clip was created, its duration, and if it has been shared to social media from Kajabi.
Creator Studio gives you the tools to:
Rename a clip
By default, your clip will be named based on when it was created.
Preview the clip
Download the clip
Share the clip to social media

---
Need help?
Need help with the Creator Studio? Contact our team directly by messaging us in the Creator Studio Beta community or opening a support ticket.