Learn to edit your email preferences and notifications from Kajabi.
---
In this article:
---
Marketing emails
Kajabi sends marketing emails to share information about new features, swag rewards for reaching a new Hero or Partner tier, promotions, and updates about Kajabi.
You can find out if an email you received from us is a marketing email by scrolling down to the bottom of the email you received and locating the text, "You received this email because you are subscribed to Free Marketing Content from Kajabi." If you see this text, then it is a Kajabi marketing email.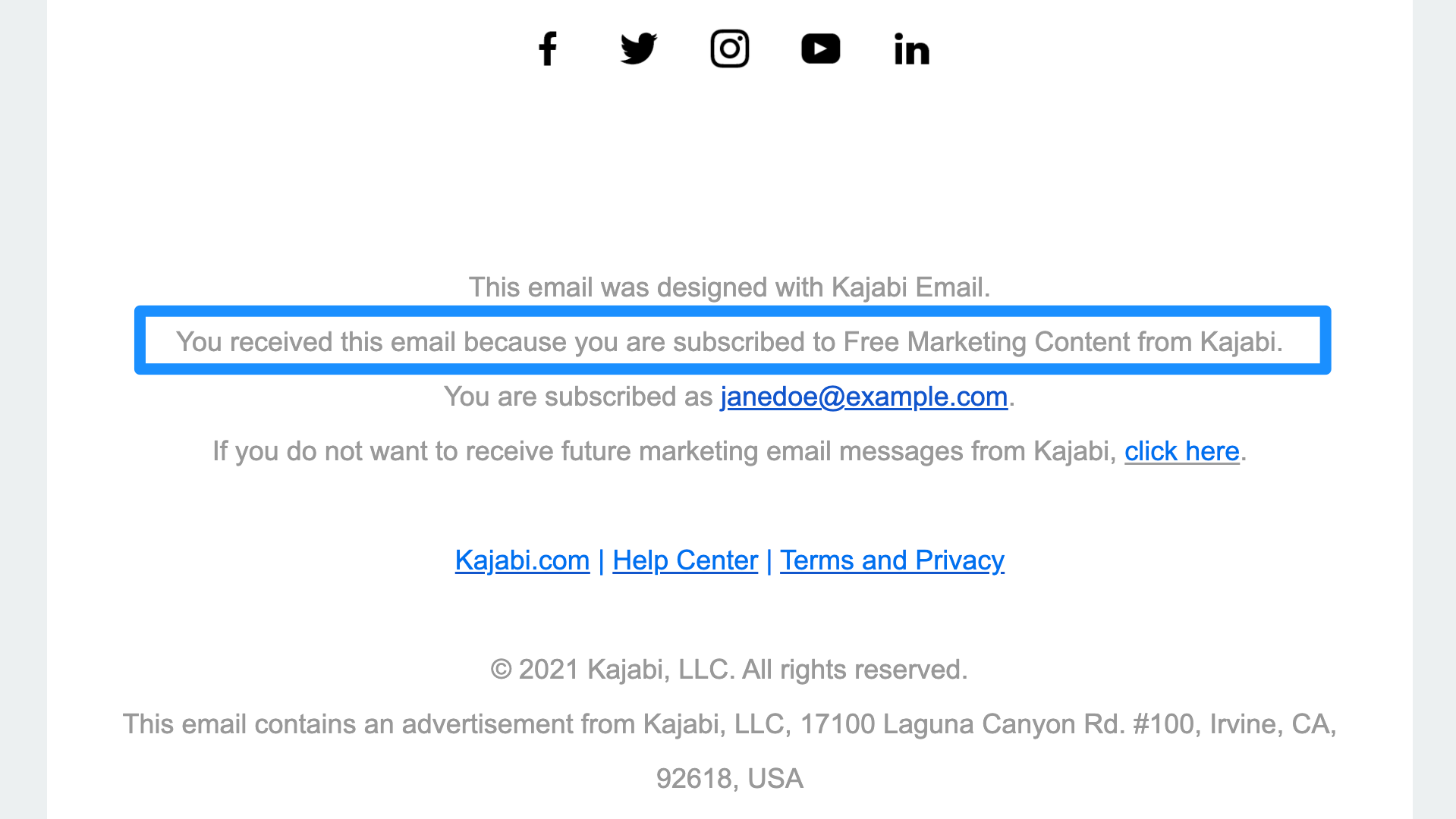 If you wish to subscribe to Kajabi marketing emails, please go here!
If you wish to unsubscribe from Kajabi marketing emails, scroll to the bottom of the marketing email you received and locate the test, "If you do not want to receive future marketing email messages from Kajabi, click here."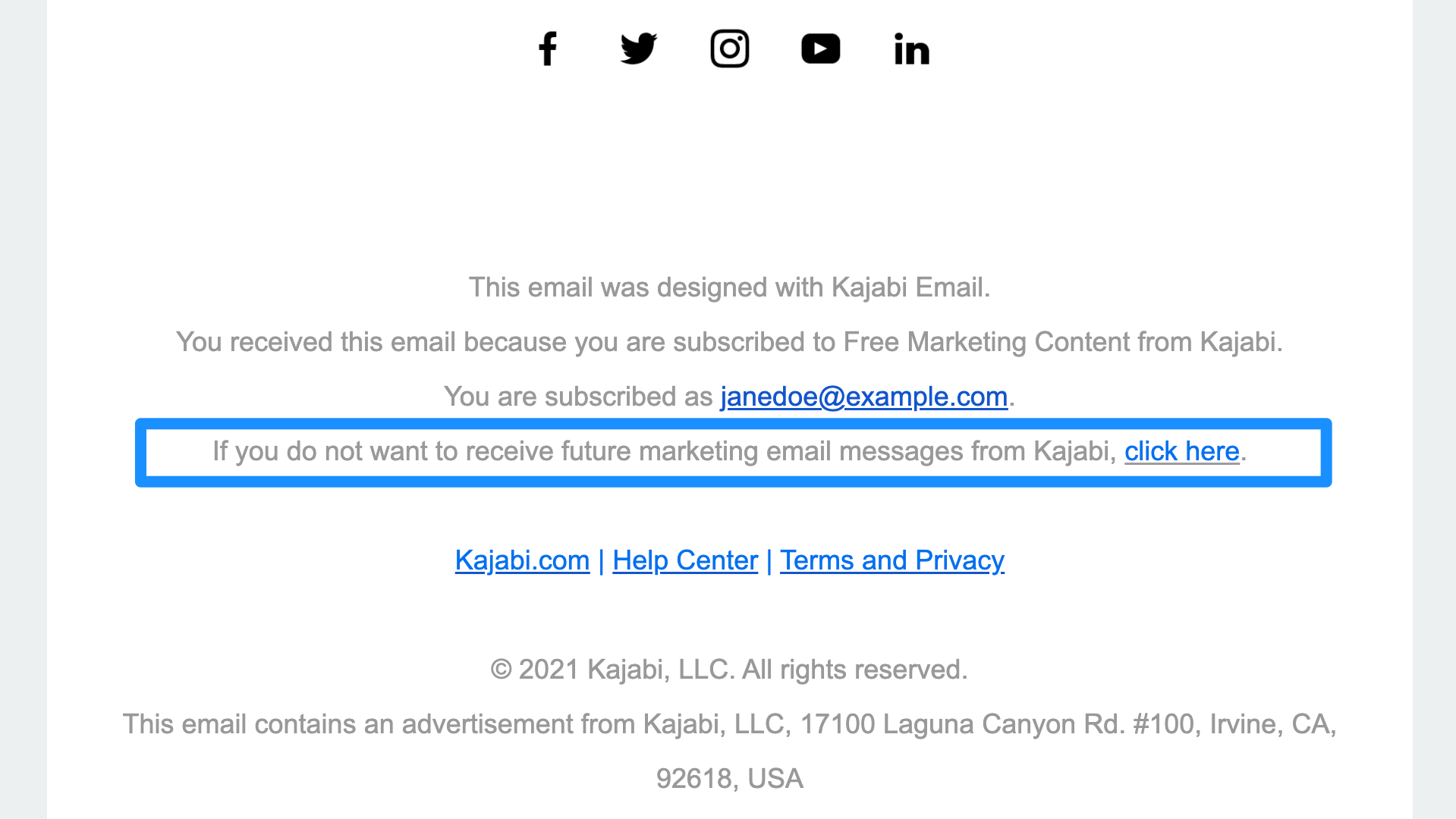 ---
Notification emails
Notification emails are notifications sent from Kajabi to account owners and users. These include the following emails:
Kajabi news & updates
Kajabi News & Updates include any updates to your Kajabi account such as password reset emails, product updates and getting set up.
Subscribe to Kajabi News & Updates to receive emails to celebrate and claim your rewards for reaching new Kajabi Hero Levels.
Comments
Receive notifications when:
a new comment is created;
a new reply to your post or comment is created;
a community member creates a post.
Member subscription & payments
Receive email notifications when:
a subscription payment for a member fails;
a member removes their card on file;
when a member cancels a subscription.
Keep in mind that there may be other types of admin emails that are sent, but the emails listed are the most common.
You can specify the notification emails you wish to receive on the Notifications & Privacy page in your settings.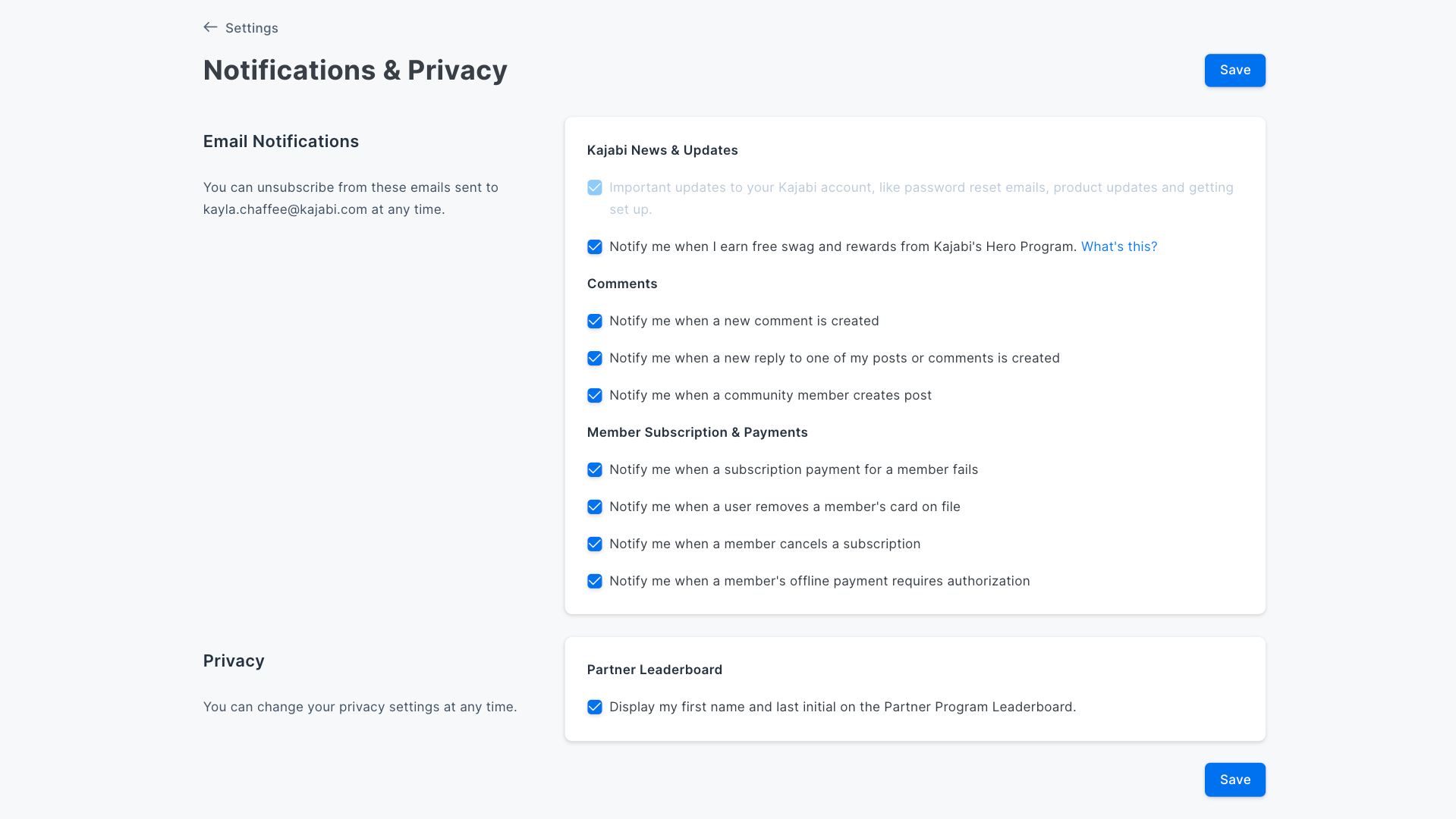 Note:
It is important not to mark notification emails as spam in you email provider (e.g., Gmail, Outlook.com, etc.). This will result in you not receiving future notifications from Kajabi, including password reset emails. If you are having trouble receiving notification emails, please contact support.
Click here
to learn how to get support.
---
Updating your email notifications
To update your email notifications:
Open the Settings tab from your Dashboard.
Select Notifications & Privacy from your Account Settings.
Update your email notifications.
Remember to click Save to keep your changes: