Learn more about Afterpay as a way to offer flexible payment methods to your customers, making your offers more affordable, and lowering the barrier for them to purchase.
---
In this article:
---
How Afterpay works 
Afterpay is a Buy Now Pay Later payment method that allows your customers to split purchases into four payments over a period of six weeks or longer termed monthly installments, while you get the full payment amount upfront.
To pay with Afterpay, customers are redirected to Afterpay's site, where they either sign up or login to authorize the payment by agreeing to the terms of a payment plan:

Depending on the value of the offer and your customers history with afterpay they may see the option for splitting the purchase across for payments over a period of six weeks, and/or monthly installed over a longer term: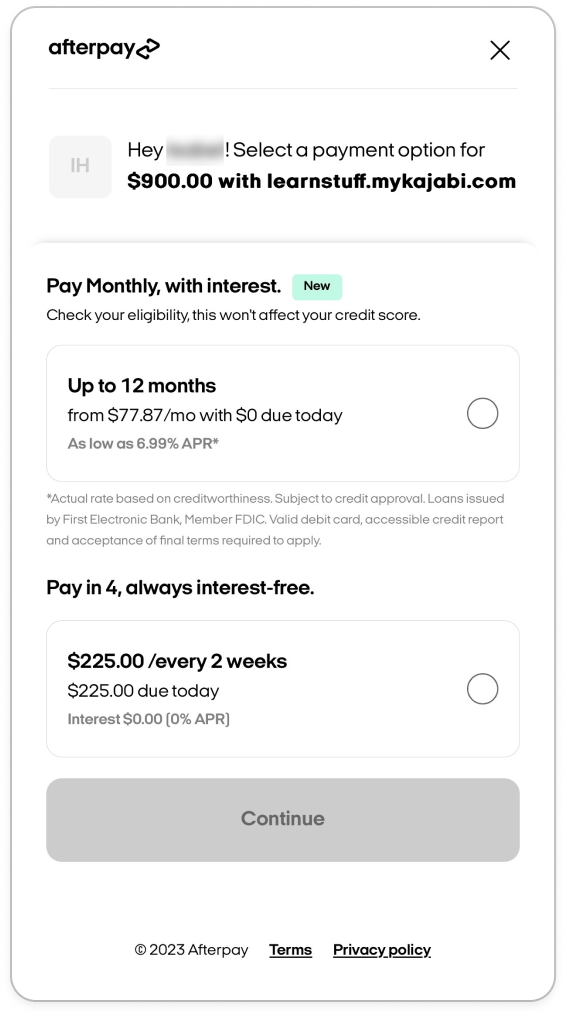 Note:
Please note that Afterpay supports payments up to $4,000. Offers exceeding this amount will not be eligible for Afterpay, and you won't be able to choose Afterpay as an additional payment method when creating your offers.
---
Supported regions
Afterpay is available to heroes whose businesses are registered in the United States. Customers must also be located in the United States to purchase using Afterpay.
For example, if a customer lived in Australia and attempted to purchase your offer priced at $1,000 USD, they would be unable to complete their purchase.
---
Transaction fees
| | | | | |
| --- | --- | --- | --- | --- |
| Country | One-Time Payment Transaction | International Cards | Currency Conversion | Subscriptions & Multiple Payments |
| United States | 6% + 30¢ | Not supported by Afterpay | Not supported by Afterpay | Not supported by Afterpay |
Learn more about Kajabi Payments fees.
---
Processing refunds
You'll be able to complete full or partial refunds for Afterpay transactions through Kajabi up to 120 days after the original payment. There are no fees to refund a charge. However, the fees from the original charge are not returned. If applicable, anything related to interest will be handled directly by Afterpay.
---
How to manage Afterpay purchases in Kajabi
You can see Afterpay purchases reflected throughout the Kajabi application and take actions, like sending receipts and refunding payments.
Afterpay transactions will appear on the following pages:
Payments Overview page
Transactions Page
Purchase Information page
Analytics
---
How to enable Afterpay on offers with Kajabi Payments
To enable Aferpay on an offer with Kajabi Payments:
Open the Sales tab from the Dashboard.
Click Offers.
Select the Offer you wish to edit or

create a new one

.
Then, select the Pricing tab.
Navigate to the Payment Providers section.
Check the box next to Afterpay.
Click Save to apply your changes:
---
Afterpay FAQs
Do I need an Afterpay merchant account?
No, you don't need an Afterpay merchant account. Afterpay serves as an extra payment option for your customers during checkout, with Kajabi Payments managing the process.
What offers will Afterpay work for?
Afterpay is only available on one-time offers that are configured to Kajabi Payments. It also supports additional purchases tied to the offer including order bumps, upsells and downsells. However, Afterpay may not be visible for these subsequent purchases if they are not one-time purchases or do not meet other requirements.
Will the $4,000 price limit for Afterpay increase in the future?
Afterpay is currently reviewing its offerings and limits. As Afterpay is the first BNPL solution introduced to Kajabi Payments, we're committed to collaborating with additional BNPL providers offering higher price limits in the future.
Can customers apply coupons with Afterpay?
Yes, customers can apply coupons at checkout before completing the purchase with Afterpay.
Does Afterpay do a credit check for my customers? 
Afterpay typically only performs a soft credit check for large amounts using the monthly installment option. For more information see Does Afterpay conduct credit checks?
Will all my customers be approved to pay using Afterpay? 
Not all customers are guaranteed approval for Afterpay, as approval depends on various factors considered during Afterpay's assessment.
What can my customers see about my business within their Afterpay account?
Customers can see basic information about your business within the Afterpay app, including your store name, logo, and the products they've purchased using Afterpay.
What happens if a customer misses a payment?
If a customer misses a payment, this does not affect your relationship with the customer or the funds you've already received. Afterpay manages payment collections independently. Customers can reference this Afterpay article for more information: I missed a payment. What happens to my account?
Is there a minimum or maximum purchase amount for customers using Afterpay?
Minimum and maximum purchase amounts may vary the individual customer's eligibility.
---
And that's how to use Afterpay with Kajabi! Please vote below and let us know if you found this article helpful. We value your feedback. Thanks for being the best part of Kajabi!