Kajabi offers many different options when it comes to supporting you, our Kajabi Heroes. We are eager to assist you in any way that we can! Read more to learn about the many support options that are available to you. 
Having trouble accessing your account?
---
In this article:
---
Interested in Kajabi?
Click here
to submit a request for more information.
Live Chat
The Kajabi customer experience team is available to answer your questions at any time, day or night!
Keep in mind, your Live Chat hours will vary depending on your Kajabi Plan.
Click here to learn how to reach Kajabi Live Agents during your Live Chat hours. 
Basic Kajabi Plan
Reach out by submitting a request or access Live Chat during business days from 6am-5pm Pacific Time.
Live chat is not available outside regular business hours if you are on the Basic Kajabi Plan. Please feel free to reach out to us by submitting a request for assistance outside the regular business hours. 
Looking for 24/7 Live Chat? Check out our Growth and Pro Plans at kajabi.com/pricing! 
Growth and Pro Kajabi Plans
Reach support by submitting a request or get access to 24/7 Live Chat.
Visit our pricing page at kajabi.com/pricing to learn more about each Kajabi plan.
---
Kajabi University
With a Kajabi account you can get access to detailed courses aimed at helping you create and build your online business on Kajabi!
Click here to start learning with Kajabi University.
---
Live Training Webinars
Master Kajabi and grow your business faster with daily educational and Q&A webinars, Monday - Friday from the comfort of your own home!
Join us for a
Live Training Webinar
:
Learn to build your site with our very own Kajabi team by registering to our webinar!
Need to view a replay of a webinar?
Replays are available to view 3 hours after that webinar has aired, as long as you reserved your spot for that webinar before it aired.  If you were not pre-registered for that webinar but would like to view a replay, please reach out to Support!
---
On-Demand Webinars
Kajabi webinars, that fit your schedule! 
We now offer On-Demand Webinars on our Customer Training website! These are pre-recorded expert webinars covering a variety of topics, with new topics being offered frequently!
Now you can master Kajabi whenever the time is right for you.
Check out our On-Demand Webinars here!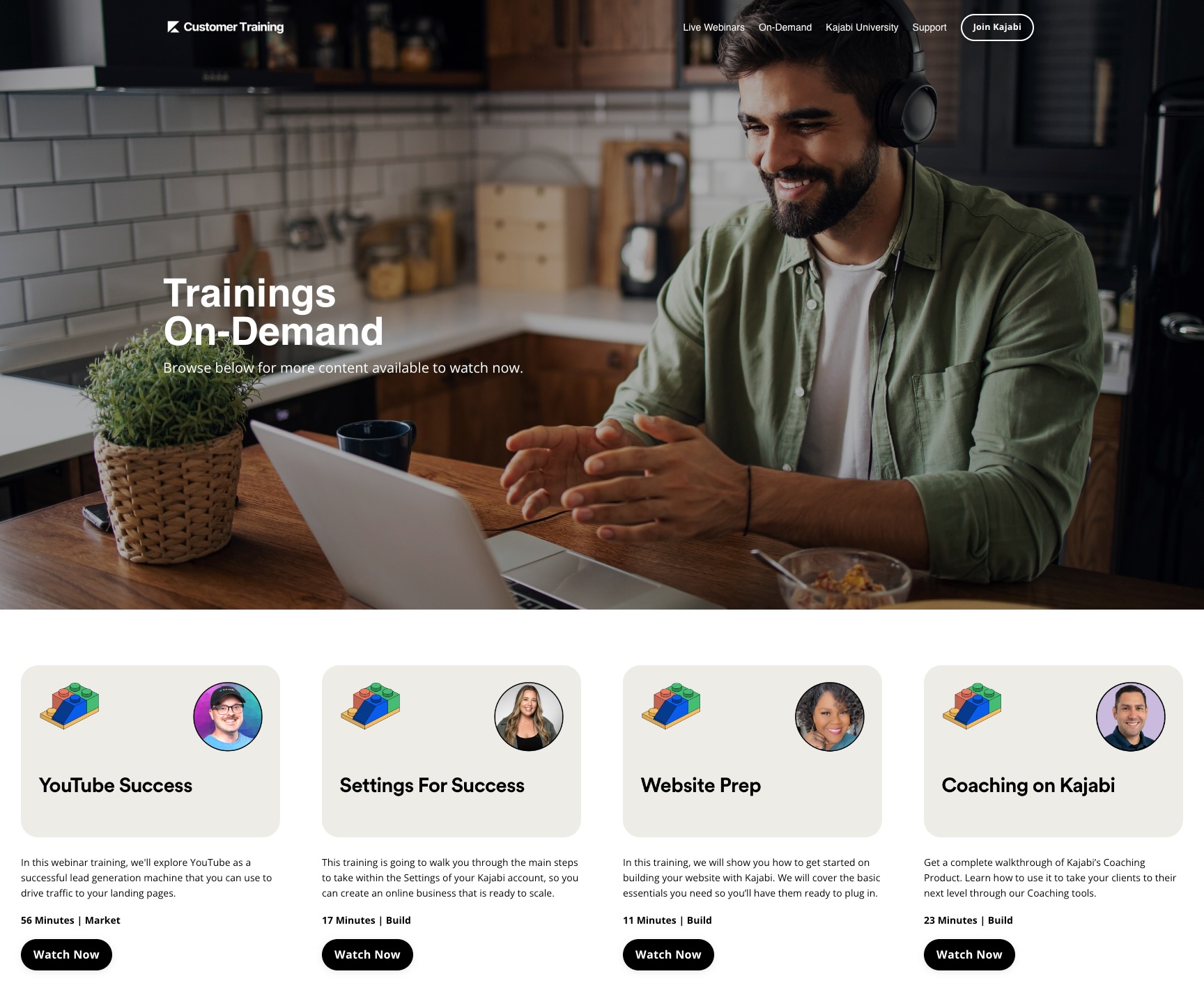 ---
Facebook Community
Get answers, offer support, and share your excitement with our engaged community of fellow entrepreneurs, experts, and influencers.
Tip:
As a member of the Kajabi Facebook Community, you can find help for services you may need to scale your business (e.g., creating a Facebook ad campaign). Each month we create a #HelpWanted post where you can request help to design your website, create a Facebook ad campaign, or anything else you may need!
Click here
to view the latest post.
Foster productivity, positivity, and passion by encouraging and sharing your experiences with your fellow Kajabi Heroes in our Official Kajabi Facebook Group! 
Click here to join the Community.
Note:
To join the Official Kajabi Facebook Group, you must have an active Kajabi account.
---
Kajabi Access
Access 1-on-1 sessions and join group calls with Customer Success Managers to help you meet your business goals on Kajabi!
Click here to learn more about Kajabi Access.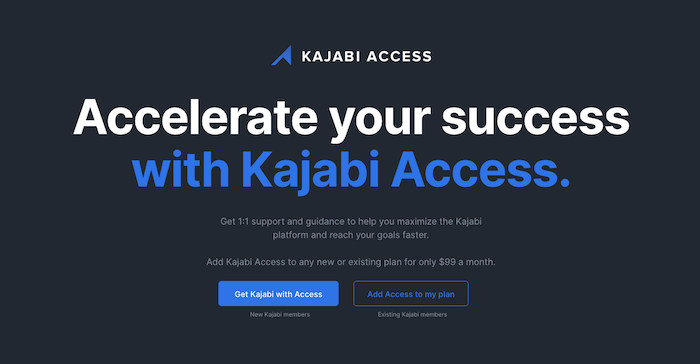 And that's how you can get support from Kajabi! Please vote below and let us know if you found this article helpful. We value your feedback. Thanks for being the best part of Kajabi!