Facebook Pixel is an analytics tool that allows you to measure the effectiveness of your advertising by understanding the actions people take on your website. Follow this guide to learn how to create and connect Facebook Pixel to Kajabi and how to use the integration!
---
In this article:
---
Connecting your existing Facebook Pixel ID to Kajabi
To connect your Pixel to Kajabi if you already have a Facebook Pixel ID number:
Sign in to your Facebook Pixel Events Manager Page from the link below:
https://www.facebook.com/events_manager
Inside your Events Manager Page, your ID will be at the top left of the
page under the name of your Pixel Account. Copy your Pixel ID Number to
your clipboard.
Go to your Kajabi Dashboard and click on Settings.
Click into Third-Party Integrations and scroll down to Facebook Pixel.
Toggle Facebook Pixel to ON.
Then, paste your ID into the box labeled Pixel ID:
---
Creating and connecting a new Facebook Pixel
If you haven't yet created a Facebook Pixel, learn to create and install a Facebook Pixel:
Go to

Events Manager.
Click

Connect Data Sources.

Then,

select

Web.
Select

Facebook Pixel.

Click

Connect.
Enter your

Pixel Name.
Then, enter your website URL to check for easy setup options.
Click

Continue:
Connecting your Facebook Pixel to your Kajabi Site:
Then, click Use a partner from the popup.
Select Kajabi.
Follow the onscreen setup instructions to copy and paste your Pixel ID.
From the Kajabi Dashboard, click into Settings.
Select Third Party Integrations.
Scroll down to Facebook Pixel and click the toggle to On.
When the text box appears, enter your unique Pixel Id.
Then, click Save:
Navigate back to your Facebook Pixel Dashboard, enter your Website Url to complete the onscreen setup instructions.
---
Testing your Pixel
Go to your Facebook Pixel Events Manager Page.
Click Test Events in Events Manager.
Enter your website URL:
From here, test the different Events on your Site you would like to track via Facebook Pixel. The actions made in your site will then be displayed in your Events Manager after testing: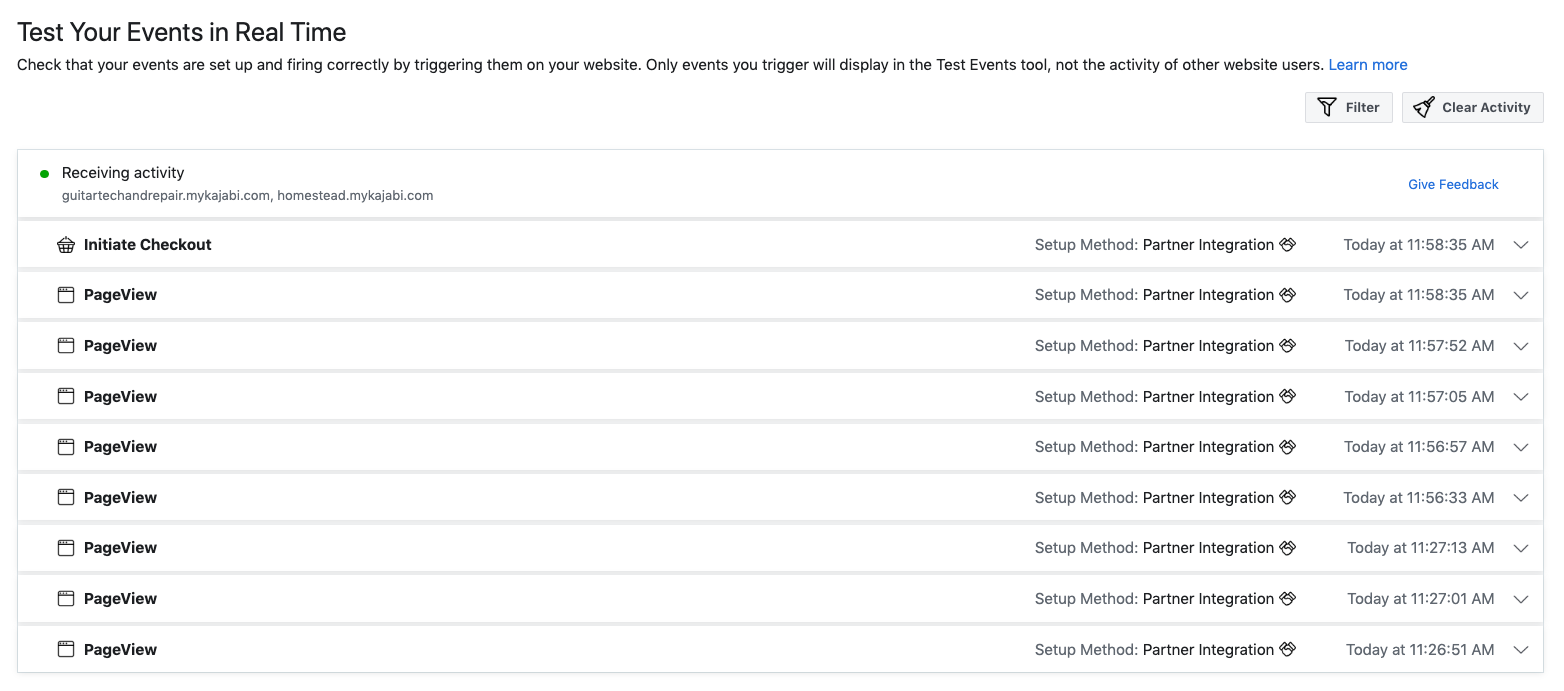 ---
Pixel Events
In Facebook Pixel, Events are any action made on a site such as Page Views, Completes a Registration (Form), or Makes a Purchase.
In your ads reporting dashboard, the Events you will be able to track are as follows:
PageView - PageView standard events record the referrer URL of the page that triggered the function call.



Lead - A submission of information by a customer with the understanding that they may be contacted at a later date by your business.



InitiateCheckout - The start of a checkout process. For example, clicking a Checkout button


Purchase - The completion of a purchase, usually signified by receiving order or purchase confirmation, or a transaction receipt
Note:
For more information on Facebook Pixel Events or to learn how to create Custom Events,
Click Here
!