Learn to add Custom Sections on your pages built with Kajabi.
---
In this article:
What is a custom section?
The Custom Section Category allows you to design a unique, one-of-a-kind Section from scratch.
You can add a Custom Section to create a blank slate to pick and choose the Block Types you wish to display and/or add a Custom Code Section to enter custom code to a section of your page.
Remember, each Preset Section can be customized to design a unique, one-of-a-kind section, but adding a Custom Section generates a blank Section to build Blocks into according to your vision!
Adding a custom section
Design a Custom Section with various Block types to present and display your content:
Open the Website

tab from your Dashboard.
Select the Pages tab.
Open the page editor for your Page. Learn more
Navigate to the sidebar panel.
Click Add Section.
Select the Custom Section from the Custom category

to Preview.
Click

Add

to generate the Preset Section to your Page:
---
Customizing the preset custom sections
Custom Section
Adding a Custom Section to your page generates an empty Section to add your desired Block Types:
After adding the Custom Section, navigate to the sidebar editor.
Click Add Content.
Select a Block type and begin customizing your section.
Click

Save

to keep your changes:
Custom Code Section
Creating a Custom Code Section generates a Custom Code Block to enter custom code or embed code onto your page.
The Custom Code Section is a powerful tool for a variety of purposes, including:
Adding custom code (like embedding a calendar to your page) without requiring access to the Code Editor of your site.
Creating blank spaces on your page to design beautiful, unique landing page layouts (check out the Iris Template below for an example):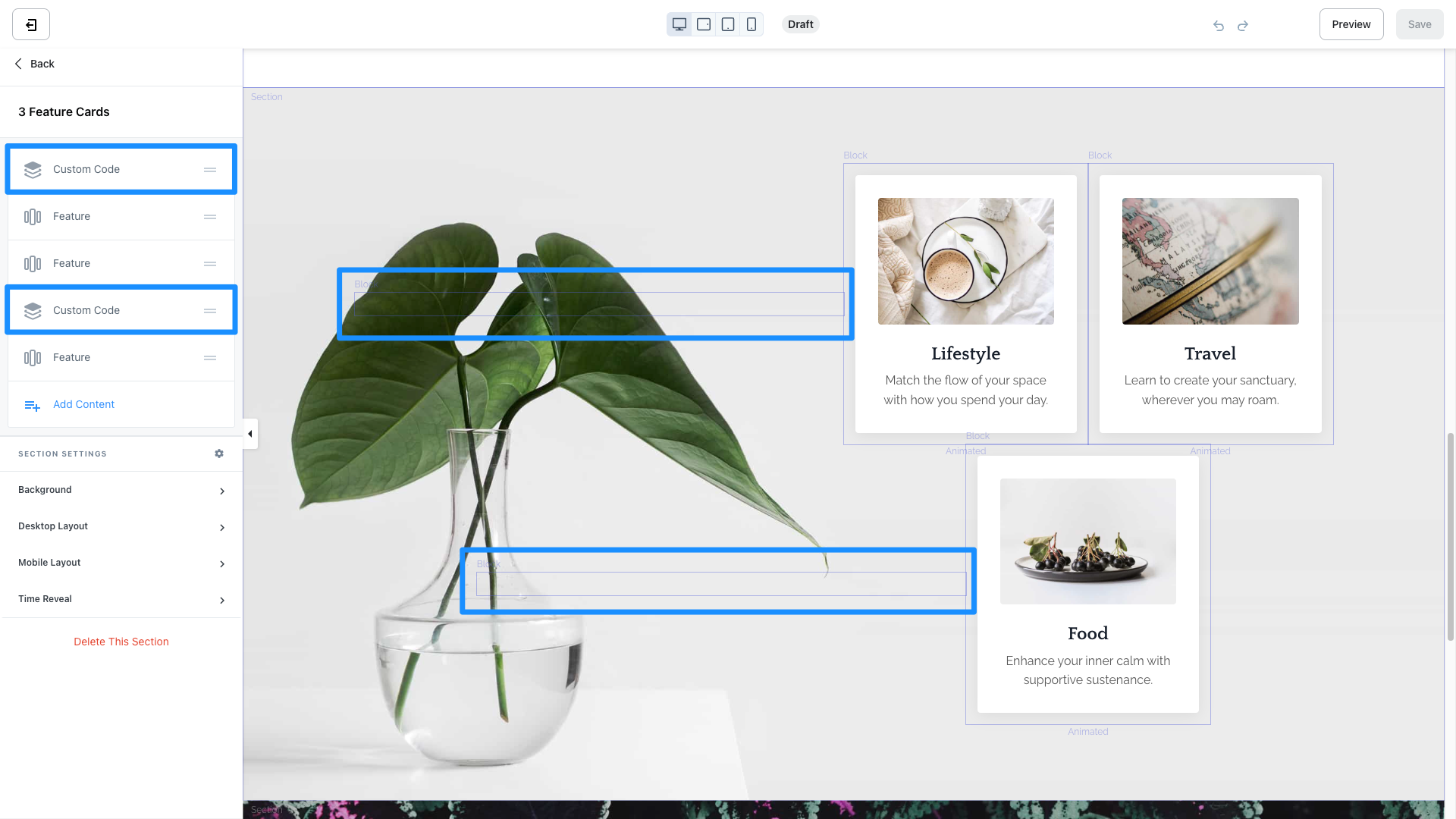 Test out the Custom Code Section to see how you can best use this Block to build custom code into your page with Kajabi Pages.
Warning:
Introducing custom code to your site can open you up to vulnerabilities and potential malware attacks.
We recommend using vulnerability tools like
VirusTotal
or
Snyk
to scan any custom code that you intend to use and apply certain best practices to help reduce potential impact.
Learn to add and customize Custom Code Blocks for more details.
---
And that's how to add a Custom Section! Please vote below and let us know if you found this article helpful. We value your feedback. Thanks for being the best part of Kajabi!