Learn to change the background color, add and adjust a border, and add depth to your Block.
This article refers to the Block Background Settings. If you are looking to customize your Section Background Settings, please refer to the
Section Background Settings guide
. Don't know the difference?
Click here
to learn more!
---
In this article:
---
Customizing your block background settings
Customize your Block Background Settings with a Block Background Color, Border, and/or a Box Shadow effect.
To enable your Block Background Settings:
Open the Website tab from the Dashboard.
Select the Pages tab.
Open the page editor for your Page. Learn more

Click open the Block you wish to customize.

Navigate to the sidebar and click Background.
Select your Border Type and customize your Background Settings:
---
Background settings
Block Background Color
Select the background color for your Block with the color picker:
Tip:
Use the Opacity Slider in the Color Picker to adjust the opacity of the Block Background Color.
Border Type
Select the Border Type to change the appearance of your Border:
None
Solid
Dotted
Dashed
Double
Ridge
Border Width
Configure the width of your Border and adjust its thickness:
Border Color
Customize the color of your Border to fit your page and branding: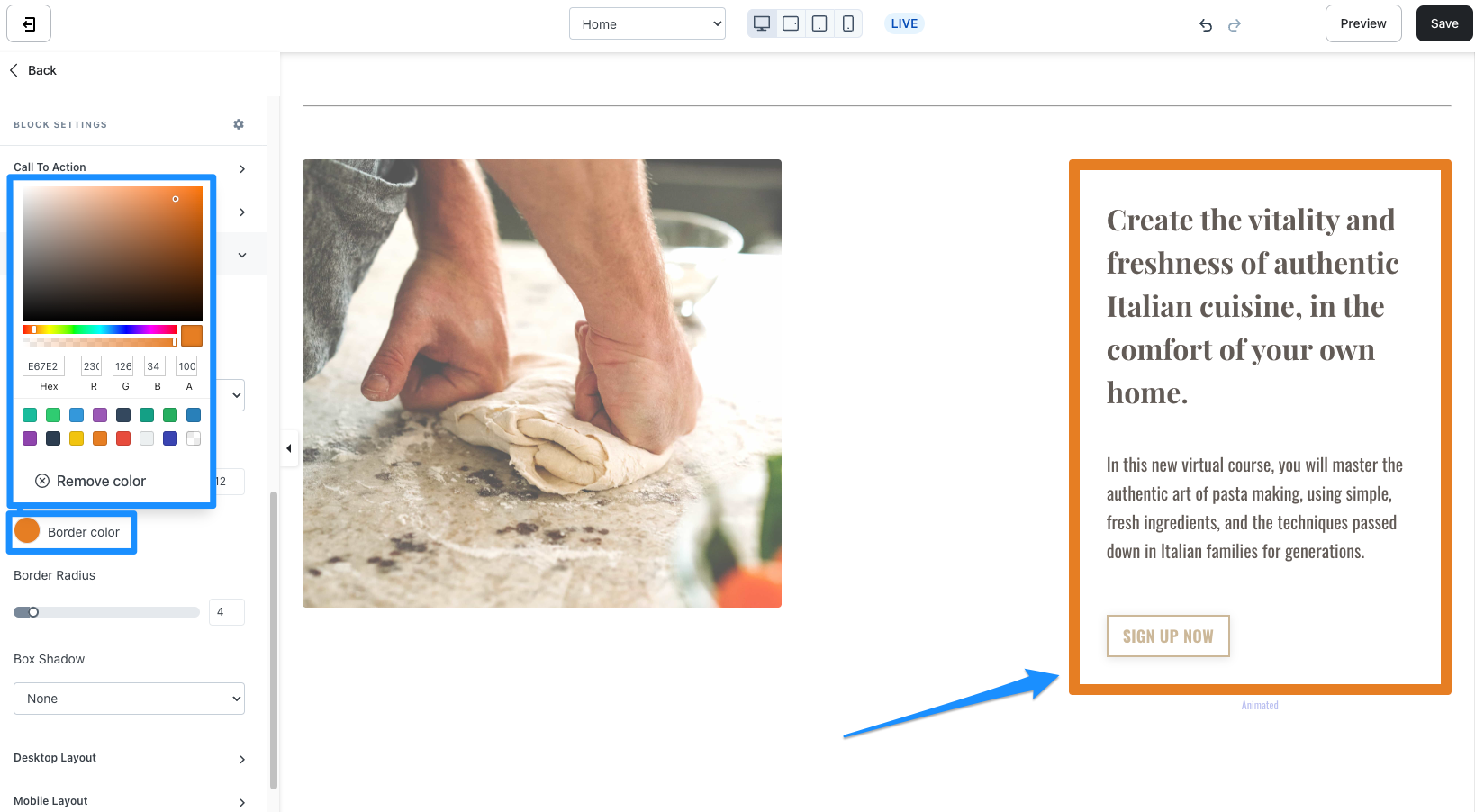 Tip:
Test the different Background settings and create unique designs and shapes by configuring the Block Background color, Border color, and Border type!
Border Radius
Adjust the border shape of the Block to appear more rounded or squared with the Border Radius slider:
Box Shadow
Add depth to your block by selecting a Box Shadow Effect:
And that's how to customize your Block Background Settings! Please vote below and let us know if you found this article helpful. We value your feedback. Thanks for being the best part of Kajabi!