Learn to customize the look and feel of all your Product Posts in a Product according to your brand and create a unique experience across your Product for your Members.
---
In this article:
---
This article refers to the Premier Product Theme. Installing and Activating a different Product Theme will include different features in the Product Editor. Learn to
Install and Activate a new Theme
to your entire Product.
The theme applied to your Product will activate across all the Product Posts within your Product to create a seamless experience for your Members to easily navigate through your Product.
Learn more about customizing the appearance of your entire Product.
To customize your Product Post:
Open the

Products

tab from the dashboard.
Select an existing Product or create a new one.
Then, click

Customize.
Hover over the image and click Customize once more.
Navigate to the lower-left corner, click Product to open the dropdown menu.
Select Post from the dropdown menu:
---
Product Post editor
The Post Design page is very similar to the Product Design page with a few additions: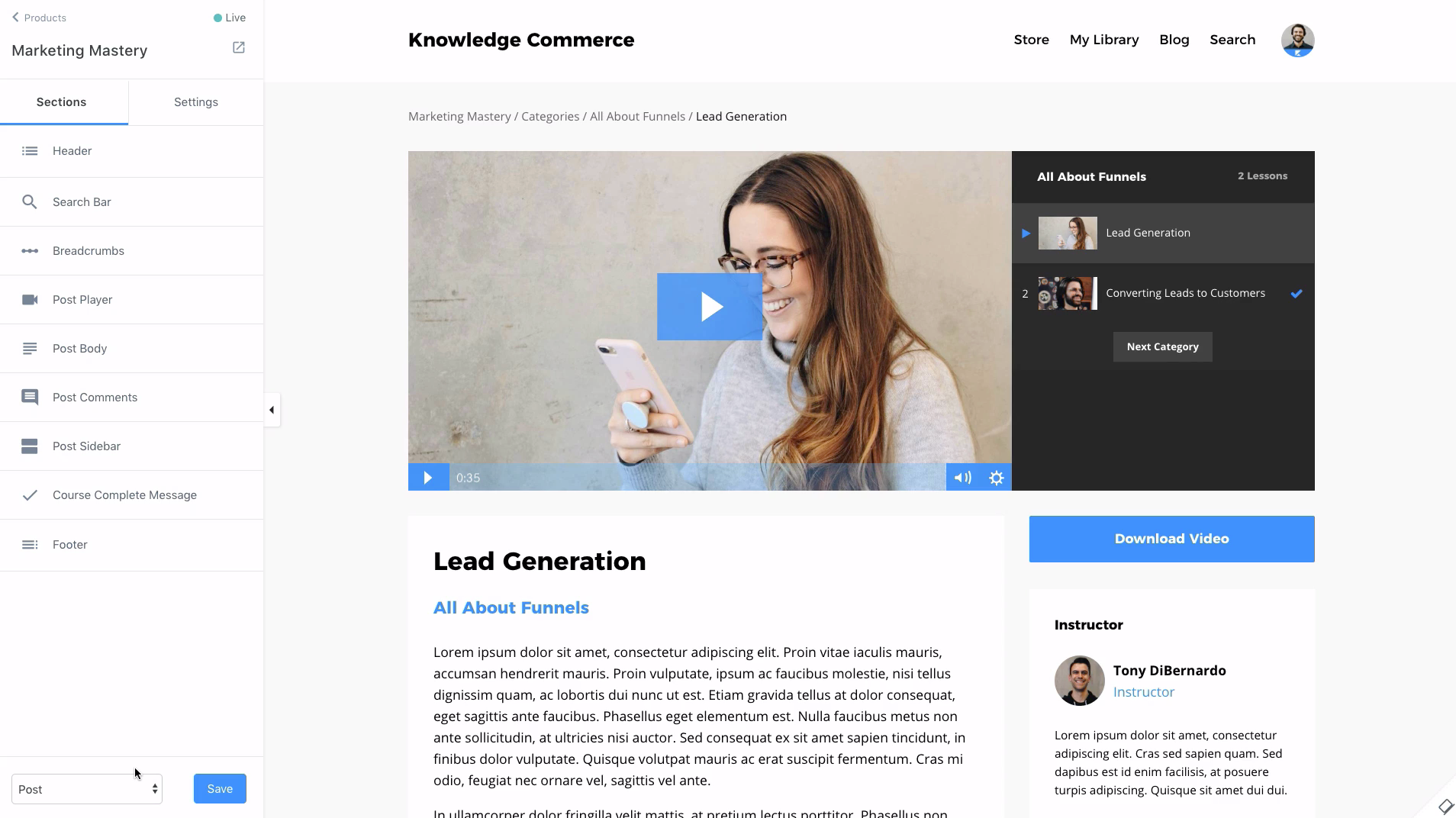 Breadcrumbs can be displayed to act as a link trail leading back to the Product homepage.
Post Player can be used to customize the Video Player Layout and Color, Language, Player Pagination Design, and the Auto Advance feature. Learn about the Post Player Auto Advance feature.
Post Body allows you to configure the appearance of your Post Body to adjust the text alignment, the Mark as Complete button, allow Post and Video Downloads, include a Call to Action (CTA), and add custom Code. Note: If you choose to remove the Mark as Complete button, product progress can only be tracked by the progress of a Video or an Assessment uploaded into the Post.
Post Comments can be configured to customize the text and button color of your Product Post comments section.
Post Sidebar allows you to add static or clickable images, instructor information across all Product Posts, allow Post and Video Downloads, and provide a space to Cross Sell other products within your Posts.
Course Complete Message can be utilized to display a message at the completion of the Course and redirect your Members to a Landing Page, a Checkout Page, another URL, or provide a downloadable file.
Note:
Customizing the appearance of your Product Post applies to all Posts in your Product to create a seamless experience for your Members throughout a single Product.