Learn to build Offers on Kajabi to package and sell your Product(s) to your customers.
---
In this article:
---
What is an Offer?
On Kajabi, an Offer is the price tag to your Product.
In order for your Products to be purchased or granted, they must first be connected to an Offer.
With Offers, you can create multiple prices for the same products, provide different payment plans for your products, and bundle products together.
---
Create a New Offer
Create and customize a new Offer to package and sell your Product(s) to your customers.
To create an Offer:
Open the Sales tab from your Dashboard.
Select the Offers tab.
Click +New Offer.
Select the Title and a Product you would like to include in this Offer, as well as the price of the Offer:
Ready to design your checkout page? Click here to learn more.
---
Offer Editor
After creating a new Offer, you can edit your Offer further to design an Offer that best fits your business.
Offer Details
With the Offer Editor, add an Internal Title to help you and your team easily identify your Offer, update the public Title for your Offer to communicate the Offer to your customers, and include a Description to display on a page with an Offer card: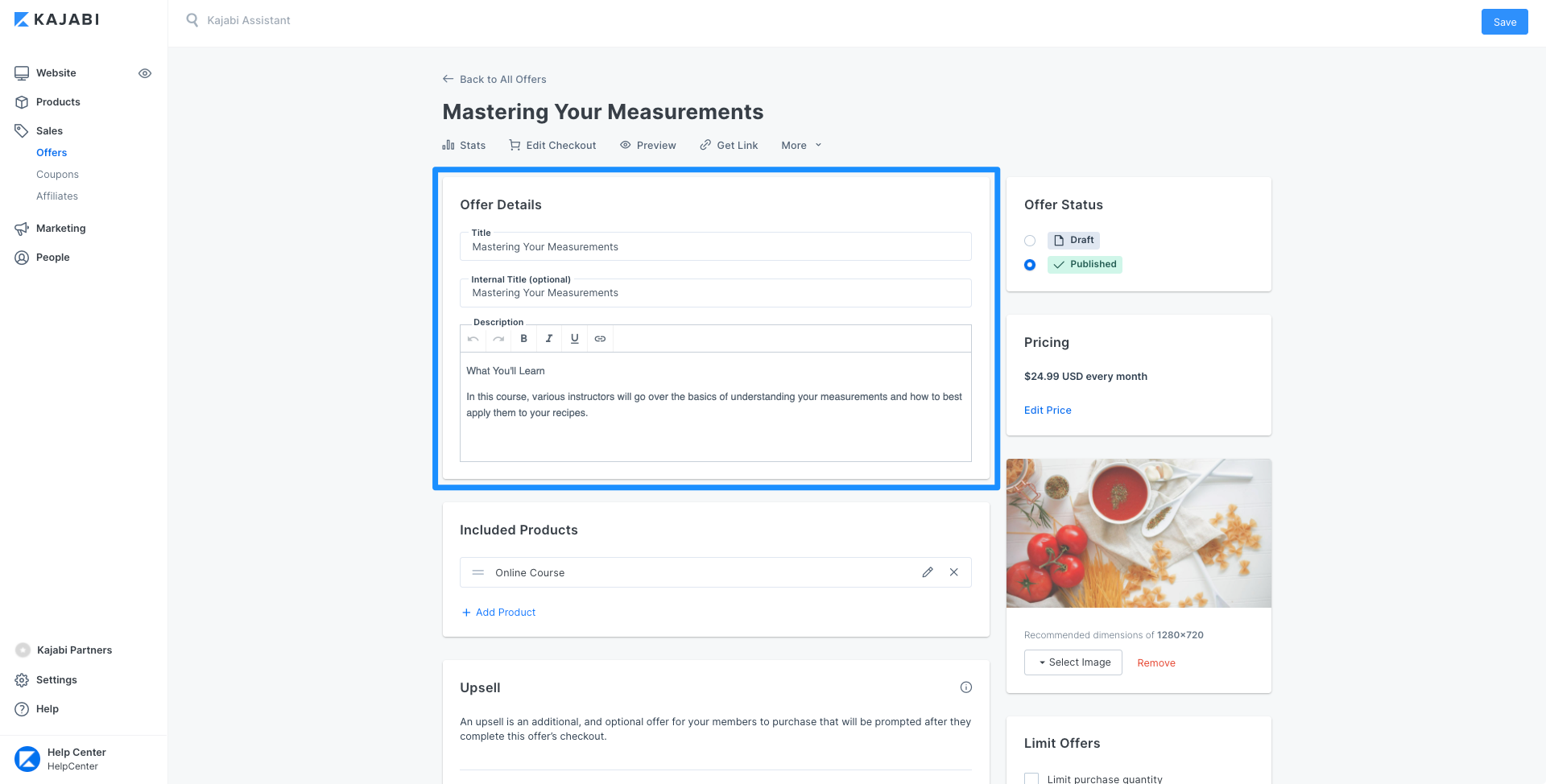 Offer Description
If you attach an Offer card to a page on Kajabi, the Offer Description will display in the card: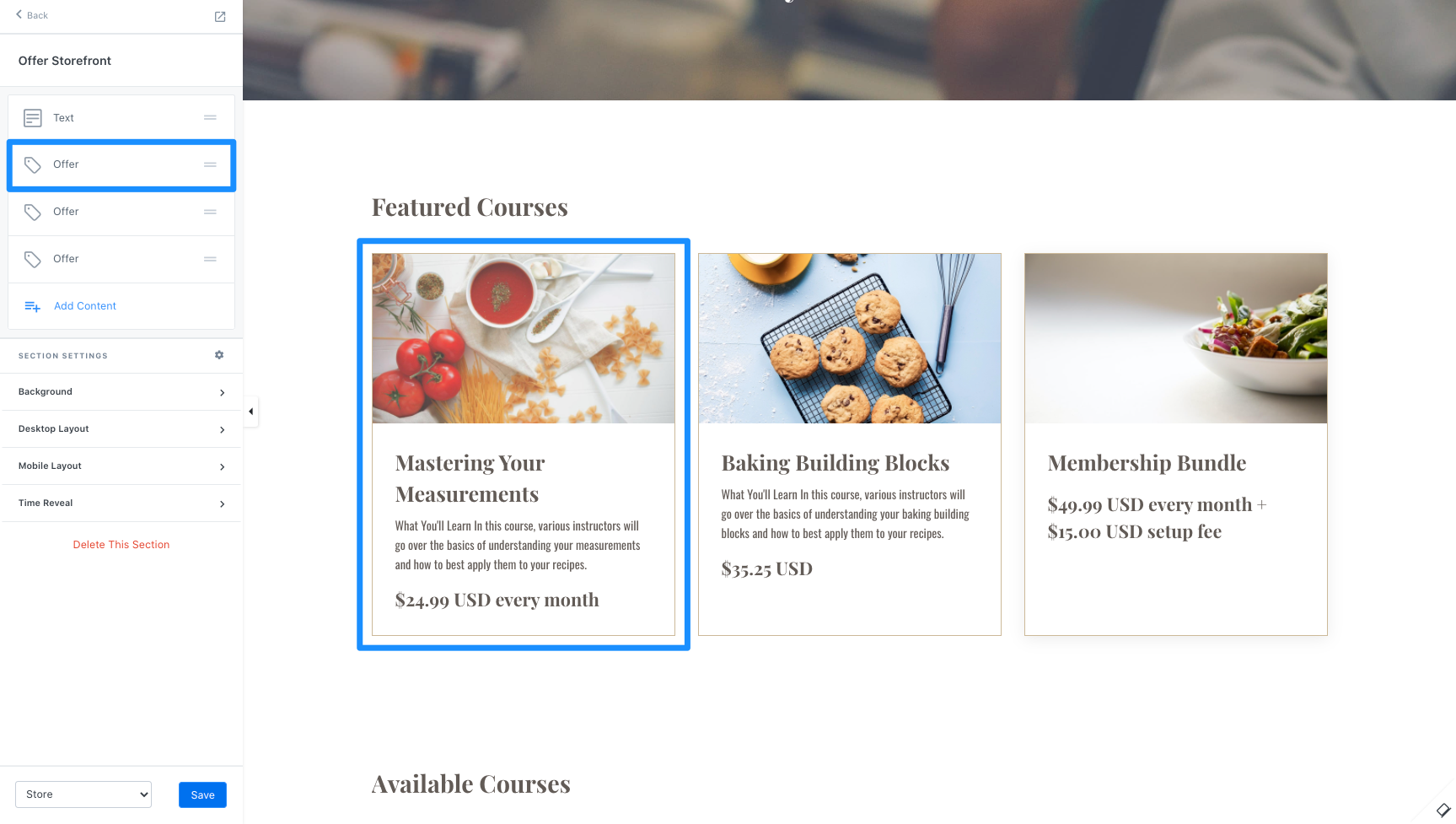 Learn to add an Offers & Pricing Section to your page
Included Products
During the creation of a new Offer, you will be prompted to select a Product to attach to your Offer.
In the Offer Editor you can update your included Products to include additional Product(s), remove Product(s), or replace your connected Product(s):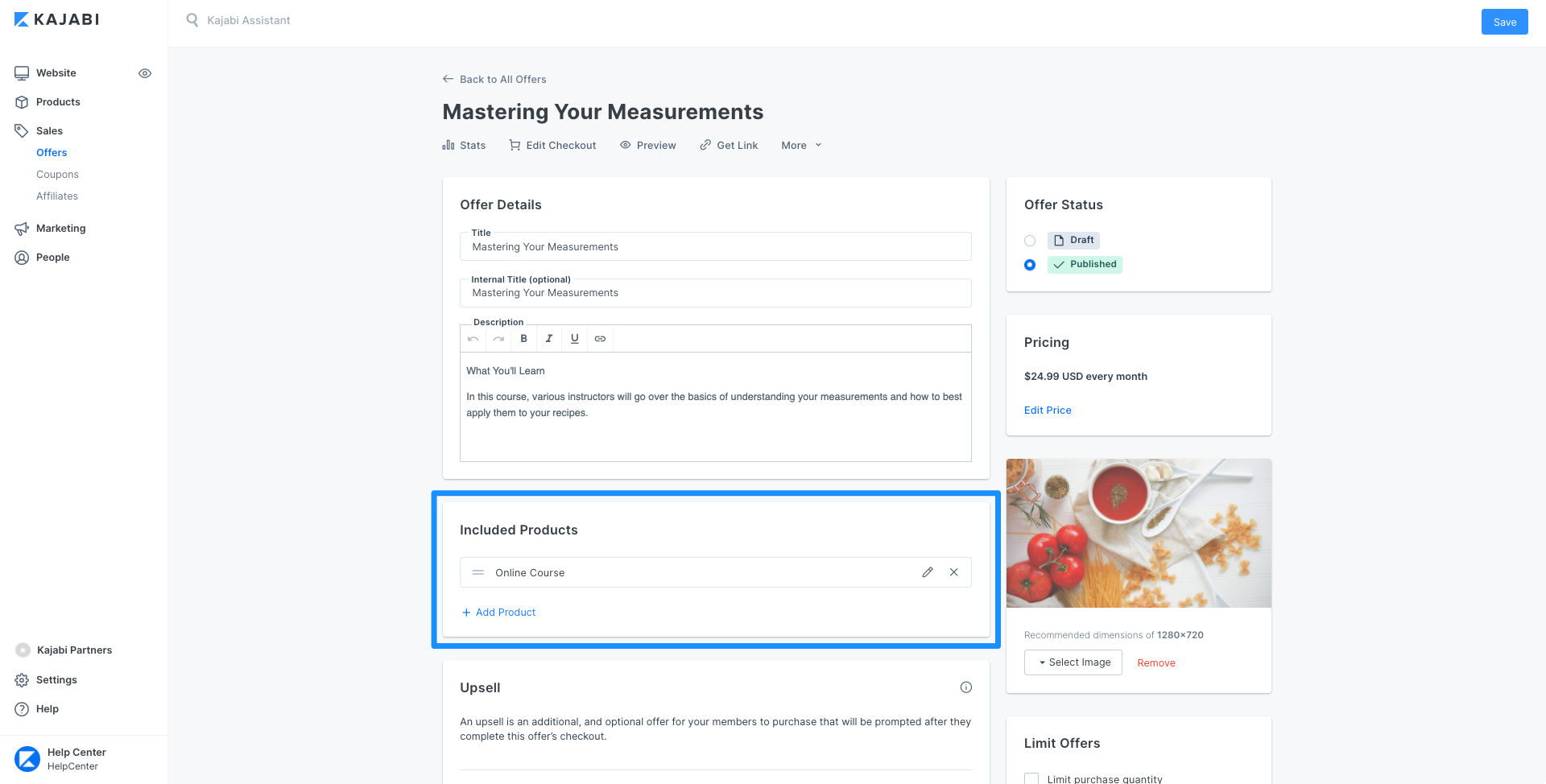 The flexibility of the Offer allows you to sell individual Product(s) and create Bundled Offers to encourage your customers to get the most out of the value you offer. Learn more
Upsells
Maximize your profit by adding an Upsell Offer to your order flow. With the Upsell, your customers can choose to purchase another product with just one click. Learn more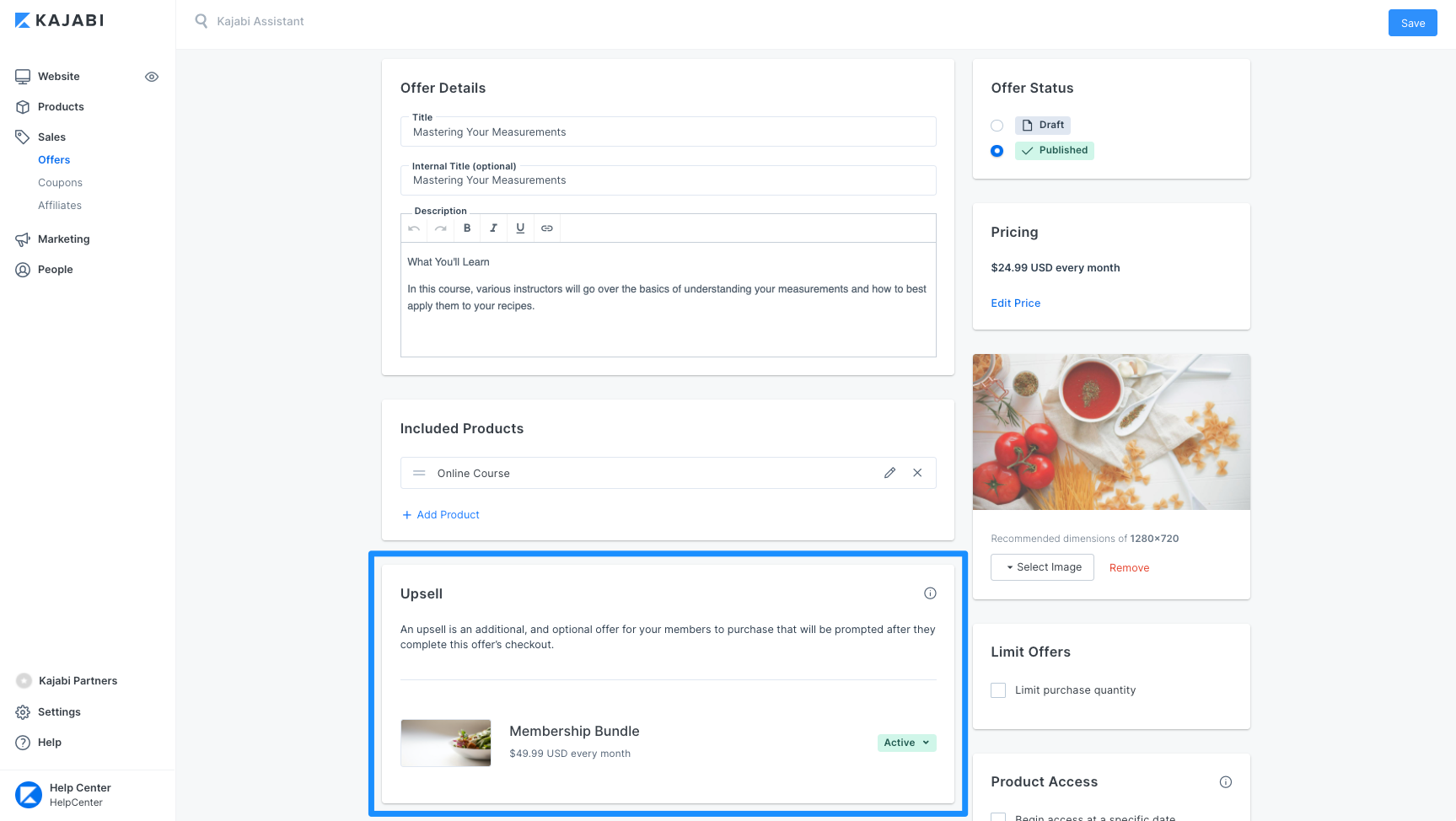 Cart Abandonment
If the customer abandons the Offer Checkout Page, send them an email reminder to complete their order after a specified time period:
The email reminder will send to the customers that complete their email address before abandoning the checkout page. If an email address has not been entered or a Member was not logged into their account at the time of abandonment, the email will not have an inbox to deliver to and the customer will not receive the email reminder.
Automations
Streamline your processes with Kajabi by creating Automations for your Offers.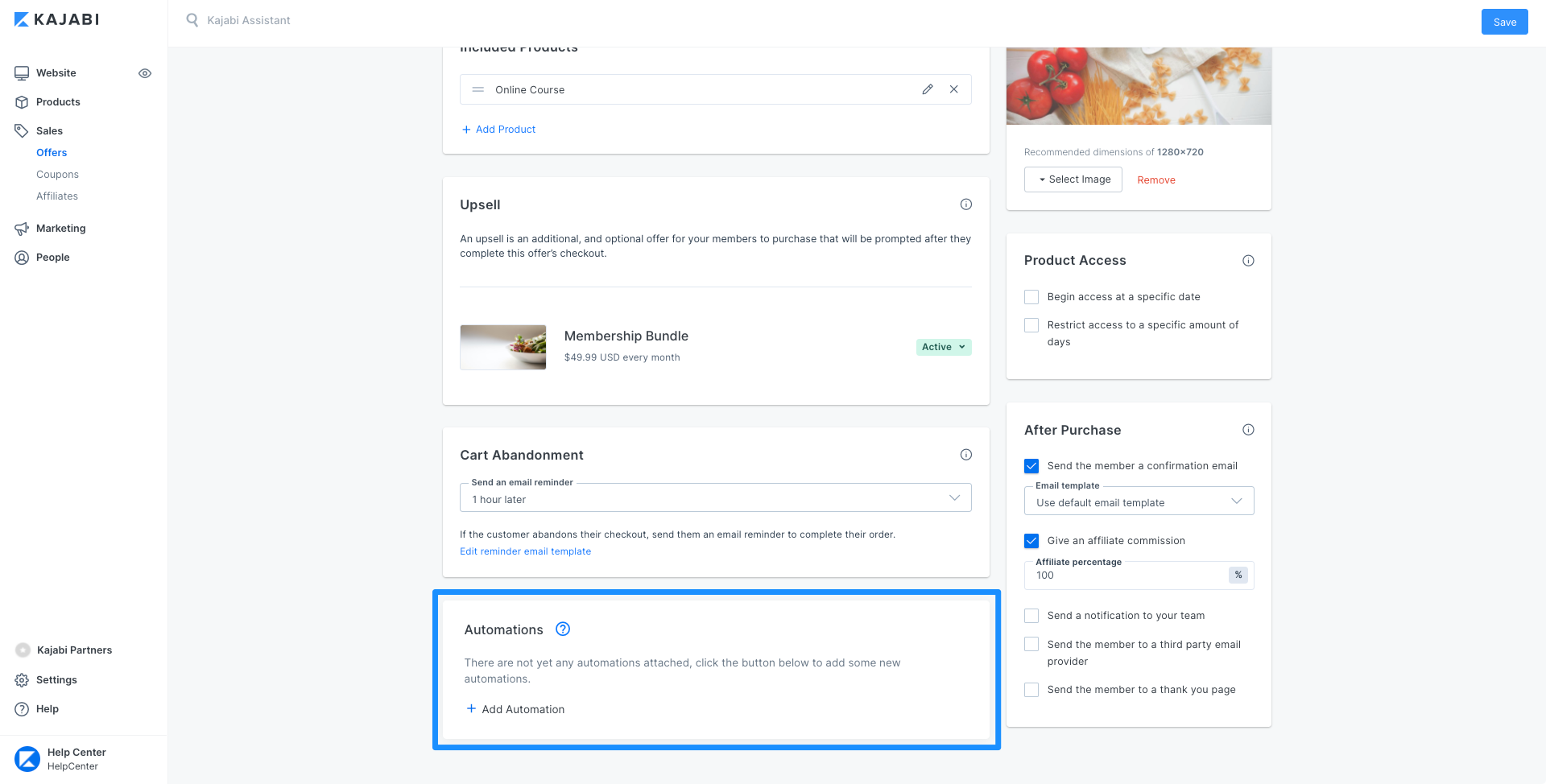 Offer Status
Creating an Offer will automatically publish the Offer and allow potential customers to locate and purchase the Offer through the Offer Checkout Page: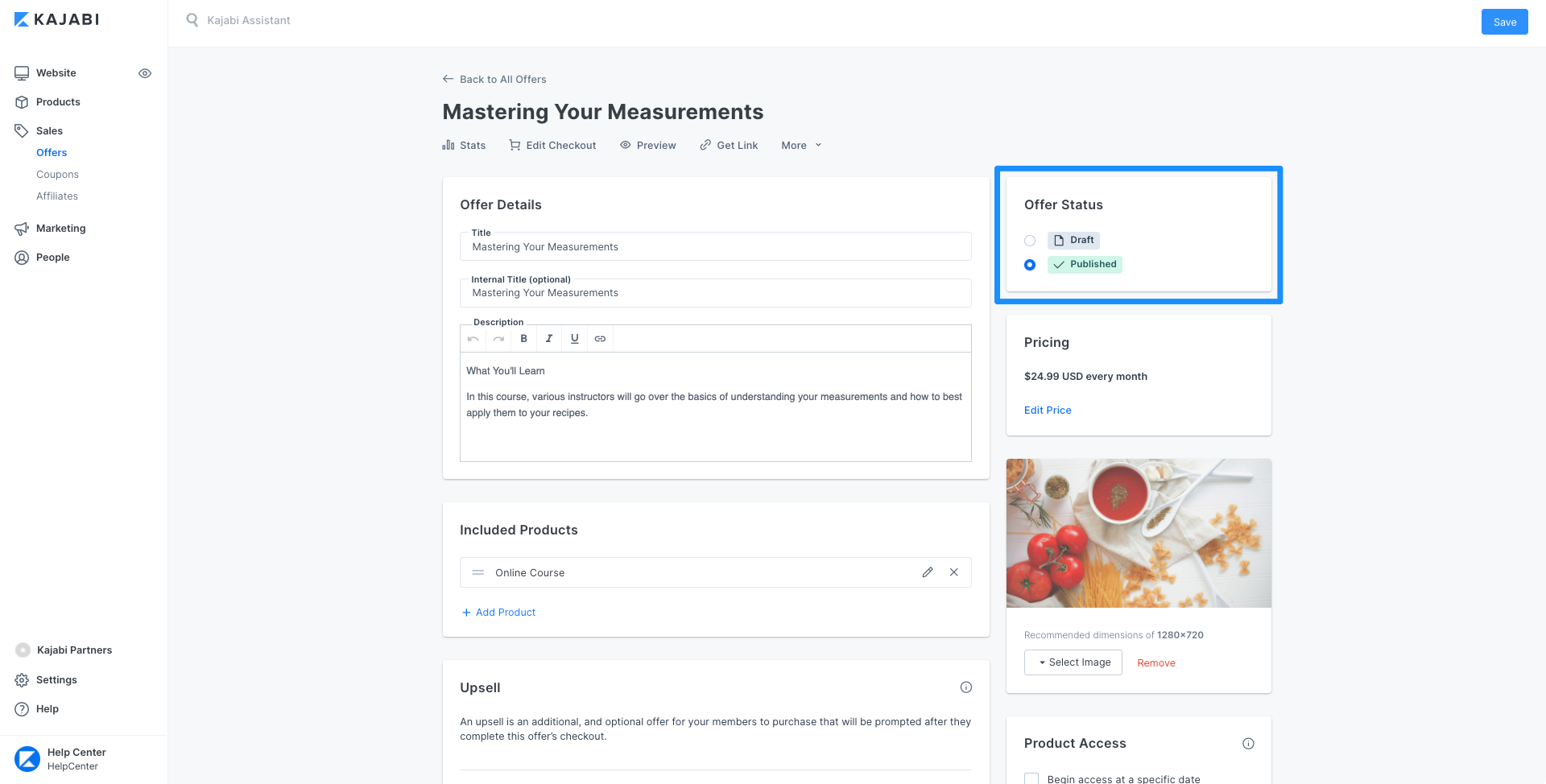 Although the Offer is published, if the Offer link is not shared the Offer will not be easily accessible.
Update the Offer Status to change your Offer from Published to Draft if you wish to customize your Offer behind-the-scenes and ensure that your Offer is inaccessible.
When you are ready to share and display your Offer, update your Offer Status to Published.
Be sure to share the checkout page link on a page, in an email, or your preferred media to encourage customers to purchase your newly created Offer!
Pricing
Customizing your Offer Price is a crucial step to setting up your Offer.
The Offer Price will be displayed in the Offer Checkout Page and if you choose to add an Offers or Pricing Block to a page on Kajabi, the Price will display in the block.
The purpose of the Offer is to package and deliver your included Product(s) to your customers. Update the Offer pricing to ensure that your Product(s) are being purchased for the price you intend.
To learn how to customize the price of an offer, follow along with our guide here:
How to Customize the Pricing of an Offer
Tip:
Not sure what to call your Offer? Update your title at a later date (before sharing with your audience) in the Offer editor.
Offer Thumbnail
Upload an image to display as your Offer Thumbnail.
The Offer Thumbnail will appear in the Offer Checkout Page and if you choose to add an Offers block, the block will display the Offer Thumbnail image.
Learn to add an Offers block to your page
Product Access
Adjust the access dates for Members that purchase your Offer: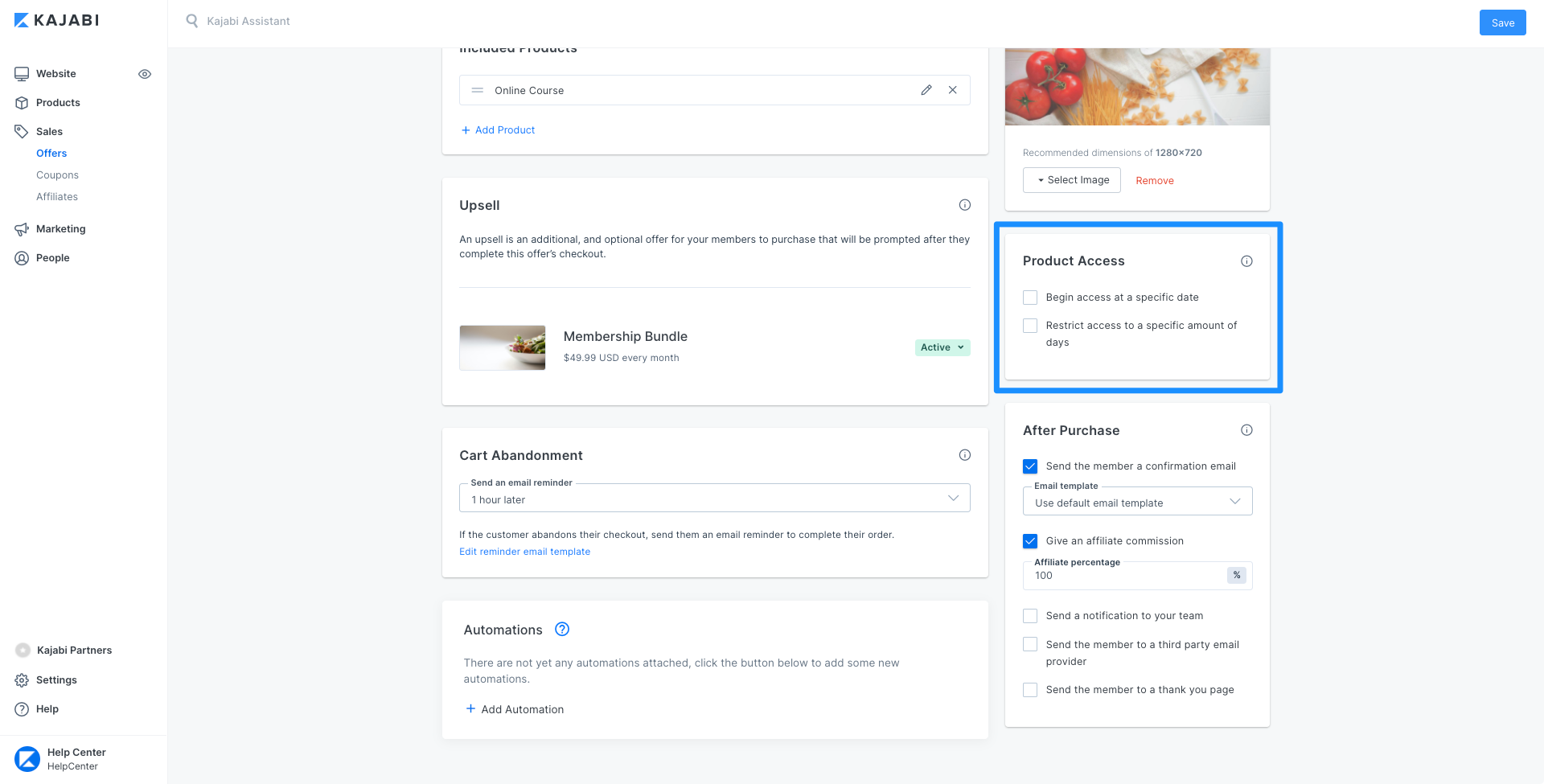 With the Product Access setting, you can determine the date your Members begin access to your Product(s) and you can specify the amount of time a Member can maintain access to the Product(s) for a specific Offer. Learn more
After Purchase
With Kajabi, the Offer Editor is designed to give you the power to determine how your Product(s) should be packaged, sold, and delivered.
The After Purchase settings take your Offer to another level by allowing you to customize the settings and user experience after the Offer has been purchased.
With the After Purchase settings:
Send a confirmation email
Credit an affiliate commission
Send a notification to your team
Send the member to a third party email provider
Send the member to a thank you page
Learn more about your After Purchase settings
Ready to design your checkout page? Click here to learn more.