Learn to create a Coaching Program on Kajabi to sell and schedule coaching sessions with your Members.
---
In this article:
---
What is a Coaching Product?
A Coaching Program allows you to reach your Members in an engaging, interactive setting.
Coaching Programs can:
Help your Members absorb your content,

Support a sense of connection to your brand and business,

Reach your Members at a personal level.
With the Coaching Product on Kajabi, you can build, manage, and grow your very own coaching program!
Learn more with the Coaching Product Overview.
---
How does the Coaching Product work?
The Coaching Product on Kajabi involves third-party scheduling tools like Calendly, Acuity, or Google Calendar and Meeting tools like Zoom or Google Meet to complete your coaching sessions with your Members.
Click here to view third-party scheduling and meeting resources.
When a Member purchases the Offer connected to your Coaching Program they will be redirected to their Library page to access their Coaching Product. From their Coaching Product they can schedule their sessions and access the agenda and resources for each coaching session.
---
How to Create a Coaching Product on Kajabi
Create a Coaching Program and schedule sessions with your Members from your Kajabi account.
To get started:
Open the Products tab from your Dashboard.
Select Coaching: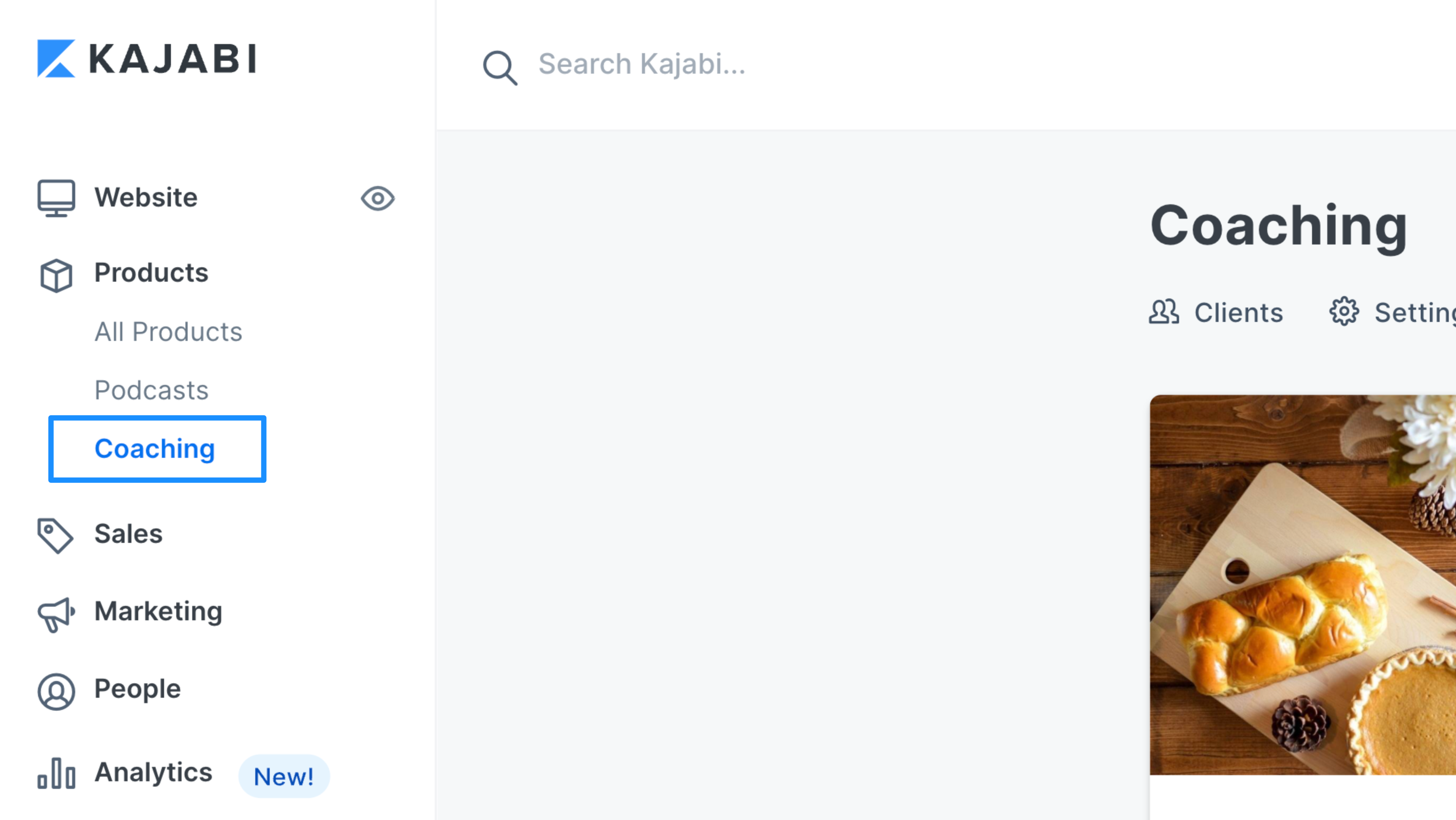 Then, to begin creating your coaching product:
Click Get Started to create your first Coaching Program.
Select Single session or Package.


Complete the prompt to include:



Title of the program
Number of sessions
Description of the program
Thumbnail image for your program.

Then, select your scheduling preference:



Custom link (e.g., Acuity, Google Meet)
Manual booking (e.g., Physical address, Zoom meeting link)

Then, click Submit:
After creating the Program, customize your Sessions for your Member(s) to join.
To customize your session:
From the Coaching tab, select the title of your newly created Coaching Program.
Click Package outline or Session template.
Then, begin editing your session by selecting the title of the Session:
Within each session you can:
Customize the title of your Session,
Include a Session Description,
List your agenda items for the Session,
Include any resources you wish to share during the Session.
Example Session: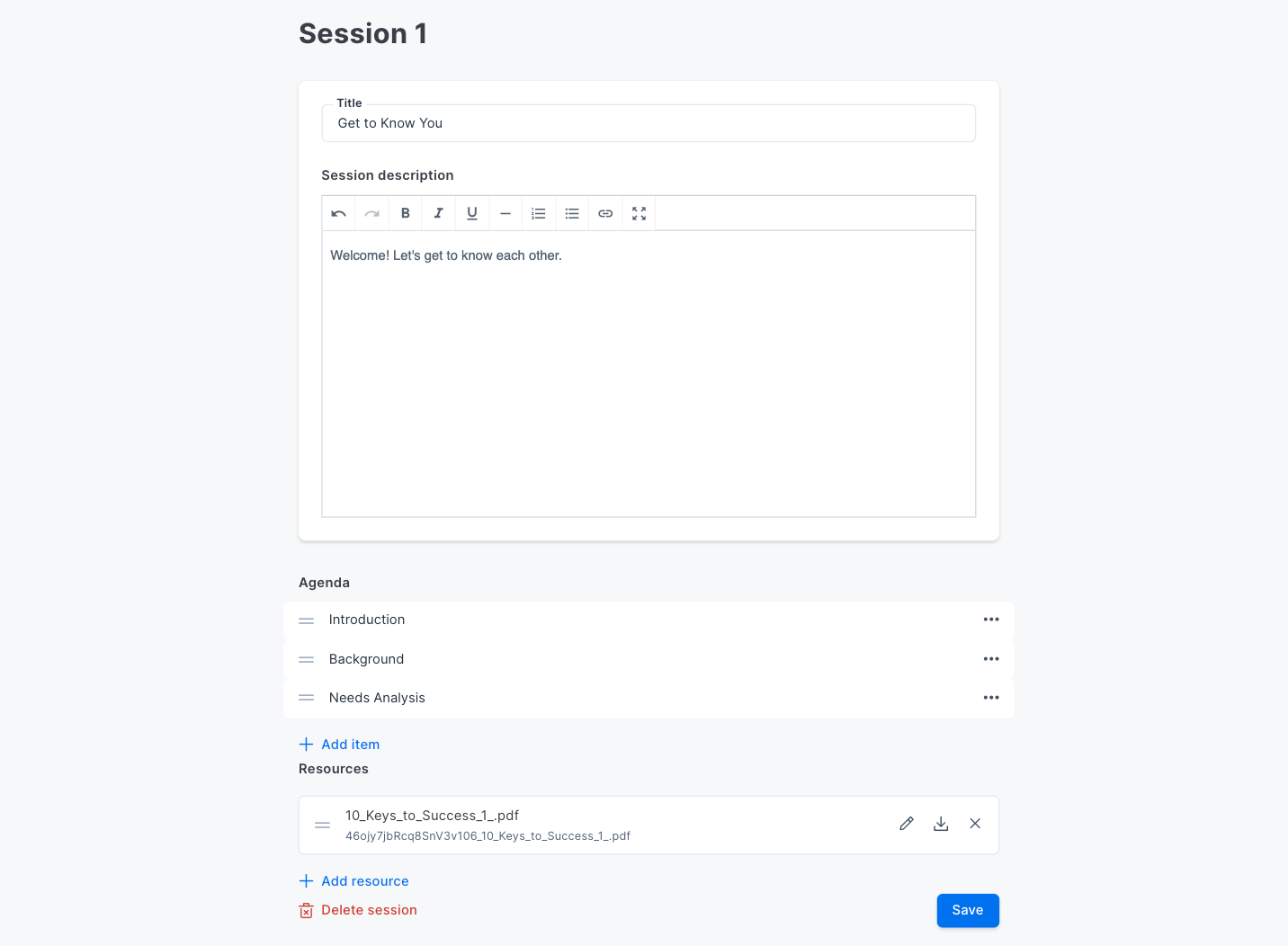 After creating and customizing your Coaching Program, connect your newly created Coaching Product to an Offer to begin selling your program to your customers.
Learn to add Products to your Offer(s).
---
Manage Your Coaching Product
After setting up your Coaching Program, you can manage, update, and review your Coaching Product from the Coaching tab.
Update your Program details, access the Offer(s) connected to your Coaching Product, review Client(s) status, create new sessions, and update existing sessions: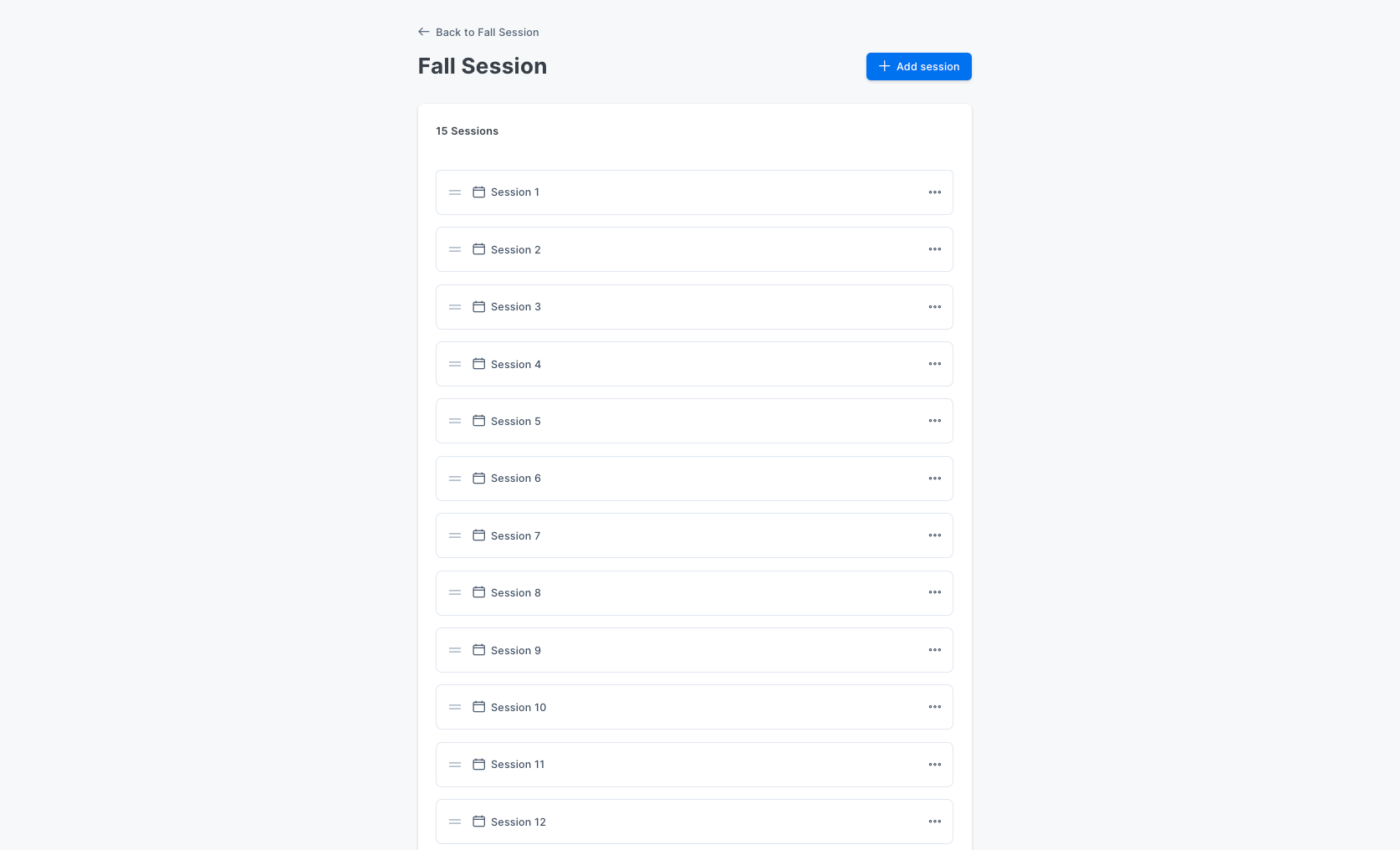 Edit Details
Update your Program Details:
Program details



Thumbnail Image
The thumbnail image will display in your customer's library of products.

Scheduling details
Customize how your clients can schedule your sessions. Connect your Calendly account, add custom links, or set up manual bookings.
Page customization
Brand your page by selecting the primary and accent colors to complete the look and feel of your Product page.
Page Upsell
Control whether or not a coaching product upsell button will appear after your client completes the session. This is a great way to upsell and advertise your Offers to existing Coaching Members.
Note:
The Upsell "buy" button will display inside each sessions page after the session has been completed and in the main package outline after every session in the package has been fully completed.
Learn to add a Coaching Product Upsell.
Offers
View the list of Offer(s) that include your Coaching Product and quickly jump into the Offer Editor to update or review your Offer Details.
Learn to add Products to your Offer(s).
Clients
View your list of Clients and review their progress, their notes, and contact details:

---
Third-Party Scheduling and Meeting Resources
With the Coaching Product you will need to use a third-party application for scheduling and meeting with your Members. Click into the resources listed below to learn how to create and use these popular scheduling and meeting apps.
Scheduling
Meeting (Video Conference, Chat, Webinar, etc.)