Learn about the most recent updates available with Kajabi's Checkout Page Editor.
---
In this article:
---
What's New With the Checkout Page Editor
We have redesigned the Checkout Page Editor to help streamline and organize how you customize your Checkout Pages.
With these updates we have:
Reorganized the checkout page editing capabilities.
Added the new Mobile Layout setting.
Included a new Log In Requirement setting.
Continue reading to learn more about these improvements!
---
Checkout page redesign
Design and customize your Checkout Page with ease with the latest improvements to the Checkout Page Editor.
Checkout page redesign: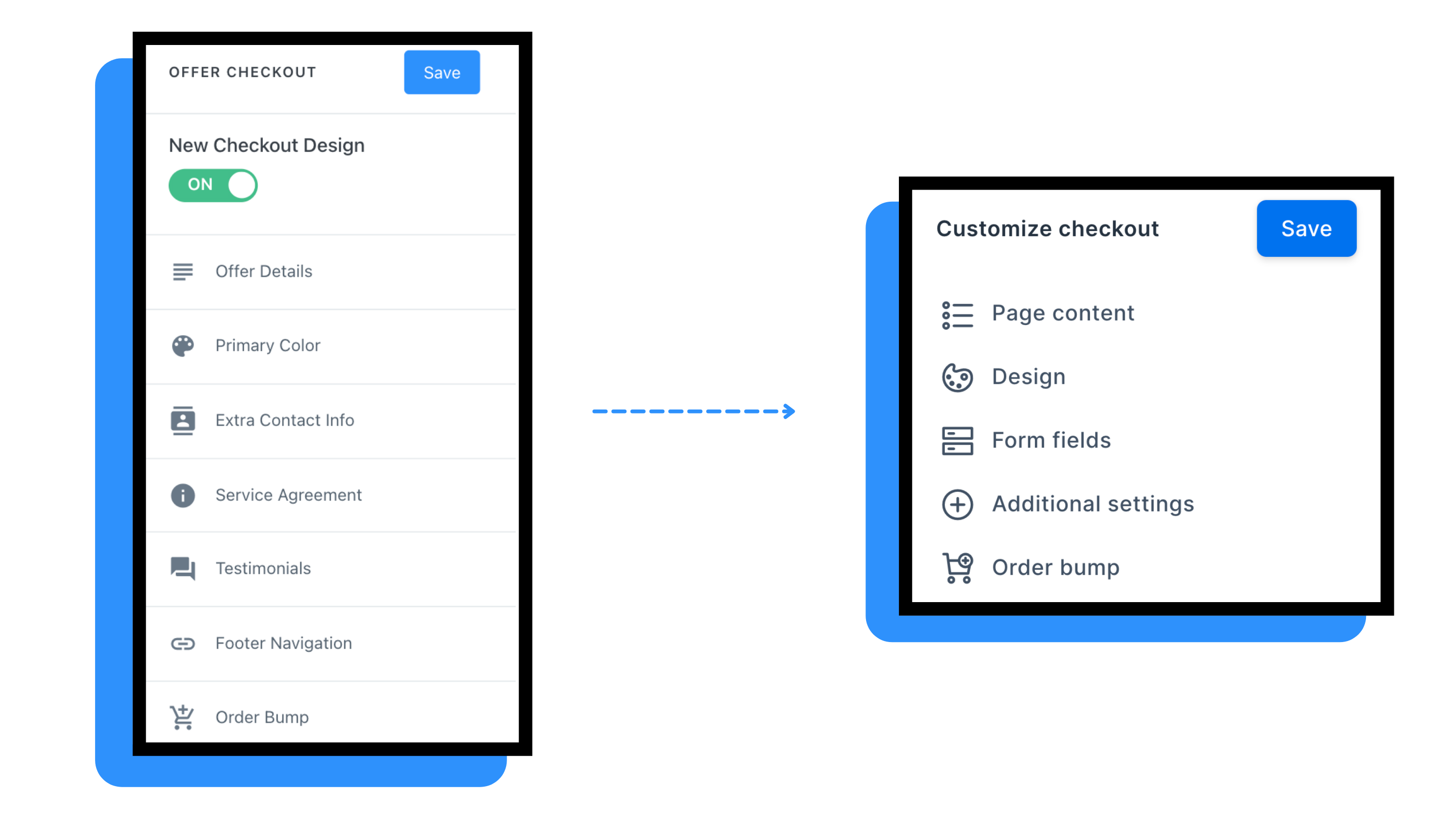 Changes to the checkout page editor
The checkout page editor has the same editing capabilities you had with the previous checkout page editor and more (with the addition of the mobile layout setting), but you will find that they have been reorganized to help you better customize and build your checkout page with fewer clicks!
Page Content
Under the Page content tab you can customize your:
Offer Title
Checkout Description
Video
Hero Image
Testimonials
Design
Your Design tab contains the:
Primary color
Banner
Logo
Form Fields
Add extra contact information and add custom fields to your checkout form with form fields.
Additional Settings
With your additional settings you can customize the:
Service agreement
Mobile layout*
Footer
Checkout type (legacy vs. new checkout template)
*New setting! Click here to learn more about the mobile layout setting.
Order Bump:
Just as before you can add an Order Bump to your Checkout page to present members with an additional Product or service to their purchase at checkout.
---
Mobile layout setting
Change the position of your Checkout form when your Checkout page is viewed on mobile devices to optimize your purchase experience for customers on any device!
Click here to learn how to change your mobile layout setting.
---
Log in requirement setting
BETA:
This feature is being released in phases to ensure stability across all accounts. If you do not see this setting the feature has not been made available to your account yet. Check back at a later time to try the new experience.
Create a frictionless checkout experience for returning customers that already have an account on your site by selecting your log in requirement.
Click here to learn how to update your log in requirement setting.