BETA:
This feature is currently in beta. During the beta period, users will receive free access to Creator Studio. Access and usage limits are subject to change during and after the beta.
Repurpose your existing content quickly and easily with the power of Creator Studio.
---
In this article:
---
What is Kajabi Creator Studio?
Creator Studio is an innovative new tool that can help you quickly and easily repurpose your existing videos into new content.
Now you can reach more people with less effort by creating social media clips, mini-courses, blog posts, and more from content you already have.
How does it work?
To get started, add a video to the Creator Studio tool.
You can select an existing course video from within Kajabi or upload a new video directly to Creator Studio. When choosing an existing course video you can select from any draft or published content over one minute long.
After your video is uploaded into Creator Studio, you can begin creating a clip. Click on the project to open it in the Creator Studio Script Editor. From here, you can view the video's entire transcript, download the transcript and subtitles of the full video, and select highlights with just a click to create a video clip.
You can also use the integrated AI auto-highlight feature. The Creator Studio AI can suggest highlights based on the intended length of your final video clip. For every video, our AI can only make three unique Auto-Highlight selections based on those lengths. For example, asking the AI to Auto-Highlight less than 3 minutes again will result in the same sentences being highlighted.
Can you change or remove the auto-selected highlights?
You can remove any highlight, whether one you've made or one the AI suggested. You can use the left highlight pane to navigate to where the highlight appears in the original transcript. Selecting the highlight in the transcript again will remove it from your list.
When you are satisfied with the highlights you want to use, click "Generate clip," and Kajabi will get started in rendering your video clip. Kajabi will do this completely in the background. While the clip is being generated, you can safely create another video clip using different highlights or leave Creator Studio or the Kajabi app.
After generating your video clips, you can preview your clips, adjust the layout for different social media platforms, download each clip, or share the clip to Facebook and Instagram.
When you return to the Creator Studio tab, you can view the clips from your projects and can access and redownload your clips in the future.
---
How to create video clips using any video
To get started with Creator Studio:
Open the Creator Studio tab from your Dashboard.
Select Create your first project or + New Project.
Click Upload a video or Select a recent file: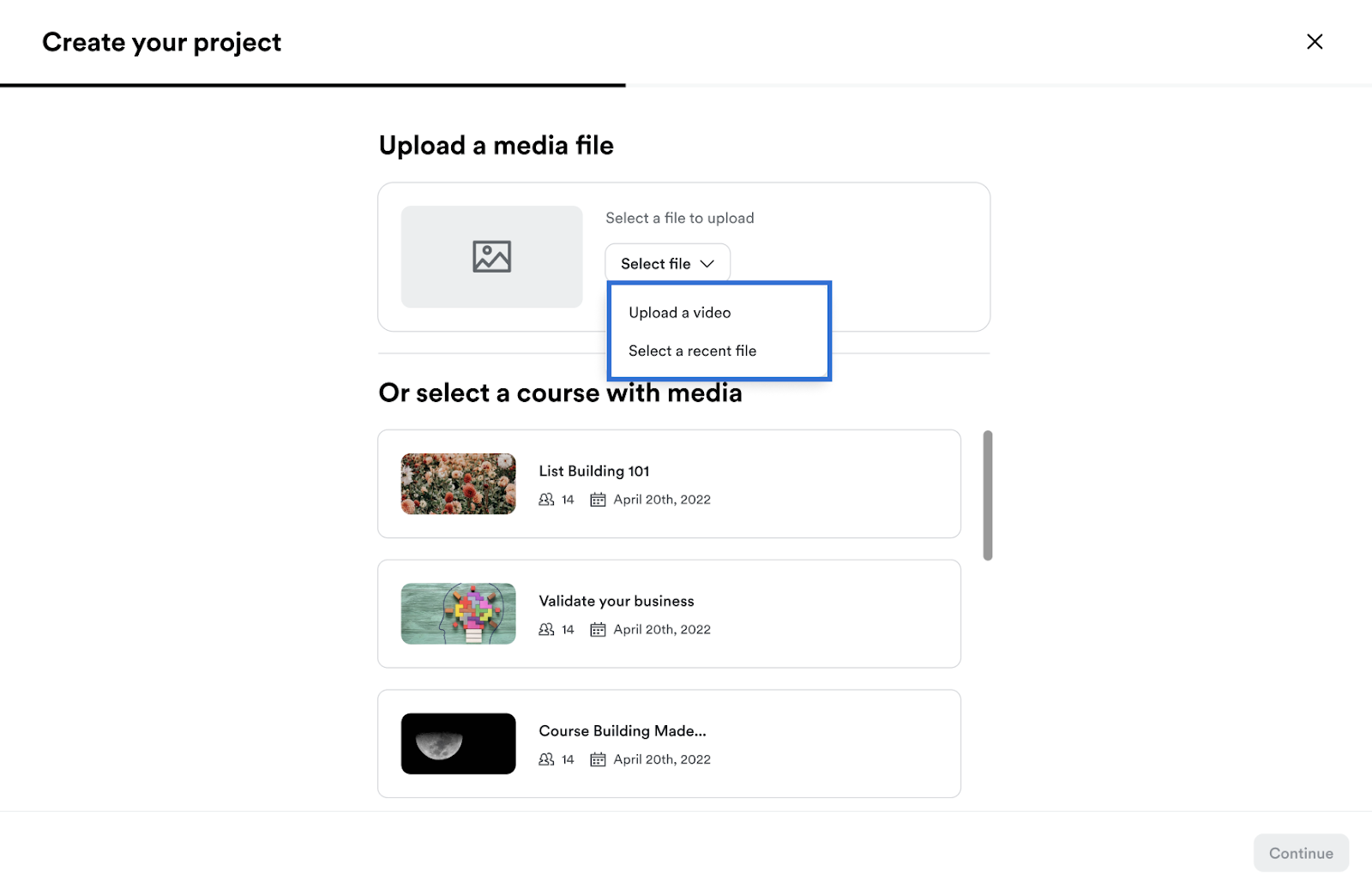 After selecting the video, you can review it.
When you are ready, click Continue to generate your video clips.
Not sure where to start? You can upload the following:
---
How to create video clips with your existing course videos
To get started with Creator Studio:
Open the Creator Studio tab from your Dashboard:
Select Create your first project or + New Project.
Then, select your desired course.
Note: Draft lessons with video are available in Creator Studio. If your course does not contain video lessons it will not be available to use in Creator Studio.
After selecting your course, you can review your video lesson.
When you are ready, click Continue to generate your video transcription.
Never miss a beat with Creator Studio.
Need to step away from Creator Studio as it processes? Go ahead!
Kajabi will notify you with an email confirmation when your project has finished transcribing, your highlight video has been generated, and your customized video is ready to download. Learn to update your email notifications.
---
Creator Studio FAQs
Have questions about Creator Studio? We have put together a few Frequently Asked Questions to help!
Can I use videos other than course videos?
Yes, you can upload any video to Creator Studio, as long as it is longer than 1 minute, shorter than 6 hours, and less than 4 GB. Learn more about video formats accepted by Kajabi.
Can I use audio-only files?
We do not support audio-only files.
How does the AI suggest Auto-Highlights? Do you always highlight a particular part of my course video?
Creator Studio will create a speech-to-text script of your video and identify complete sentences. It will then mix and match sentences until it can (1) create a clip under the desired duration, and (2) is a fair summary of the entire video.
It's possible that if you do a great job summarizing a particular part of the video, the AI will pick that part for the clip. However, the app is not designed to favor one part of the video over another.
Can I ask Kajabi to redo and make a new set of highlights?
At this time, the AI will always suggest the same set of highlights given the same course video and desired duration.
Is there a limit to the number of clips I can make?
During this Beta, there are no limits to the number of clips you can make from a project.
You can create as many projects as you want.
How can I quickly highlight sentences for a specific topic?
By using the keyboard shortcut for search, you can enter the name of your topic or a specific keyword. Then, quickly highlight the sentences pertaining to your topic by selecting them.
Search keyboard shortcut:
Mac: Simultaneously press Command - F on your keyboard.
Windows: Simultaneously press Control - F on your keyboard.
Can you download the script, subtitles, or captions?
Yes, you can download the transcript and SRT file for any video you upload into Creator Studio. Learn more.
You can also download the transcript and SRT file for any Creator Studio clip generated with Auto Highlights. Learn more.
Do my clips expire?
Your clips will not expire. You will be able to download your clips as long as you maintain your Kajabi subscription.
---
Need help?
Need help with the Creator Studio? Contact Support for additional assistance.