Kajabi Analytics offers essential data to help you run your online business. Integrate with Google Analytics to get even more data, such as: where your traffic is coming in from, where they are located, their online behavior, conversions, and much more.
---
In this article:
---
Connect Google Analytics
Step 1. Enable the universal analytics tracking ID

To connect Google Analytics to Kajabi, you will need to enable the universal analytics tracking ID in your Google Analytics account:
Go to your Google Analytics dashboard: analytics.google.com
Navigate to the lower left corner and click Admin.
Create a property and click Show advanced options.
Toggle on the Create a Universal Analytics property option.
Finish creating your property and exit the create a property page.
Learn more about creating a Universal Analytics Property
Note:
If you have already completed the process of creating a Property without enabling the universal analytics tracking ID, you may be required to recreate the Property or create a new one to properly connect your Google Analytics with Kajabi.
Step 2. Copy your Google Analytics Tracking ID:
Navigate to the left sidebar.
Click the dropdown list arrow directly below the Create Property button to expand the list.
Select the name of your created property.
Then, open the Tracking Info tab.
Click Tracking Code.
Copy the Tracking ID from the top left corner: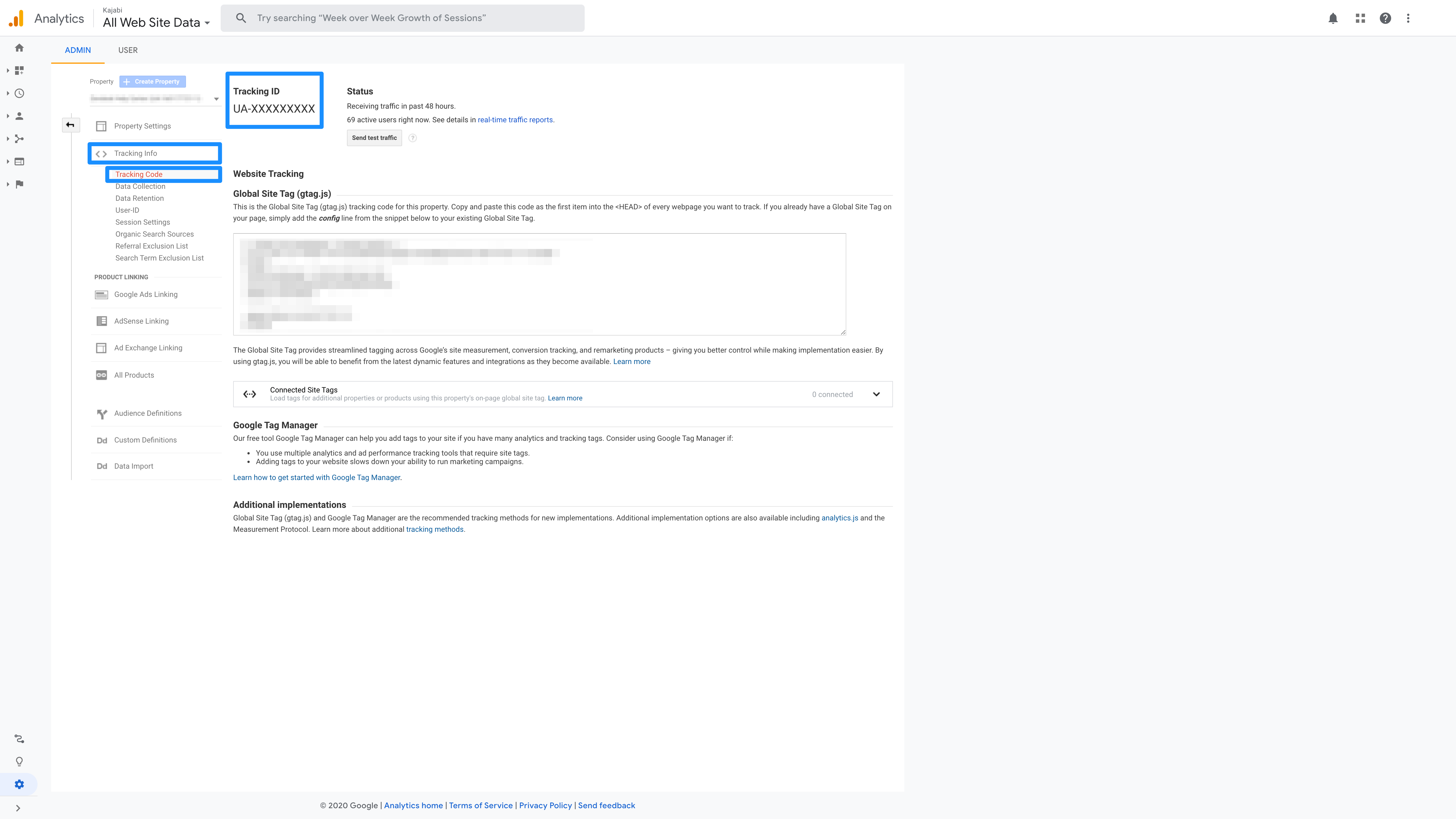 Step 3. Paste your tracking ID into Kajabi's Google Analytics connector
Navigate back to your Kajabi Dashboard.
Open the Settings tab in the bottom left corner of your Dashboard.
Click on the

Third-Party Integrations

tab.
Scroll down and find the

Google Analytics

tool and click the toggle

On.
Once you have switched it

On

insert your Tracking ID Number.
Click Save.
---
Additional resources
Access additional support guides for Google Analytics for those with advanced knowledge of cross-domain tracking and UTM Parameters.
Cross-domain tracking
Create UTM Parameters for your links with Google Analytics URL Builder