Kajabi Analytics offers essential data to help you run your online business. Integrate with Google Analytics to get even more data, such as: where your traffic is coming in from, where they are located, their online behavior, conversions, and much more.
Note:
If your Google Analytics interface differs in appearance, the steps found in this guide can still assist you in connecting your Google Analytics with Kajabi. However, if you require additional assistance we recommend consulting with the resources available on
Google's support page
or by contacting
Kajabi's support team
.
---
In this article:
---
Connect Google Analytics
Step 1. Enable the universal analytics tracking ID

To connect Google Analytics to Kajabi, you will need to enable the universal analytics tracking ID in your Google Analytics account:
Go to your Google Analytics dashboard at analytics.google.com.
Navigate to the lower-left corner and click Admin.
Create a property and click Show advanced options.
Toggle on the Create a Universal Analytics property option.
Finish creating your property and exit the create a property page.
Learn more about creating a Universal Analytics Property.
Note:
If you have already completed the process of creating a Property without enabling the universal analytics tracking ID, you may be required to recreate the Property or create a new one to properly connect your Google Analytics with Kajabi.
Step 2. Copy your Google Analytics Tracking ID:
Navigate to the left sidebar.
Click the dropdown list arrow directly below the Create Property button to expand the list.
Select the name of your created property.
Then, open the Tracking Info tab.
Click Tracking Code.
Copy the Tracking ID from the top left corner: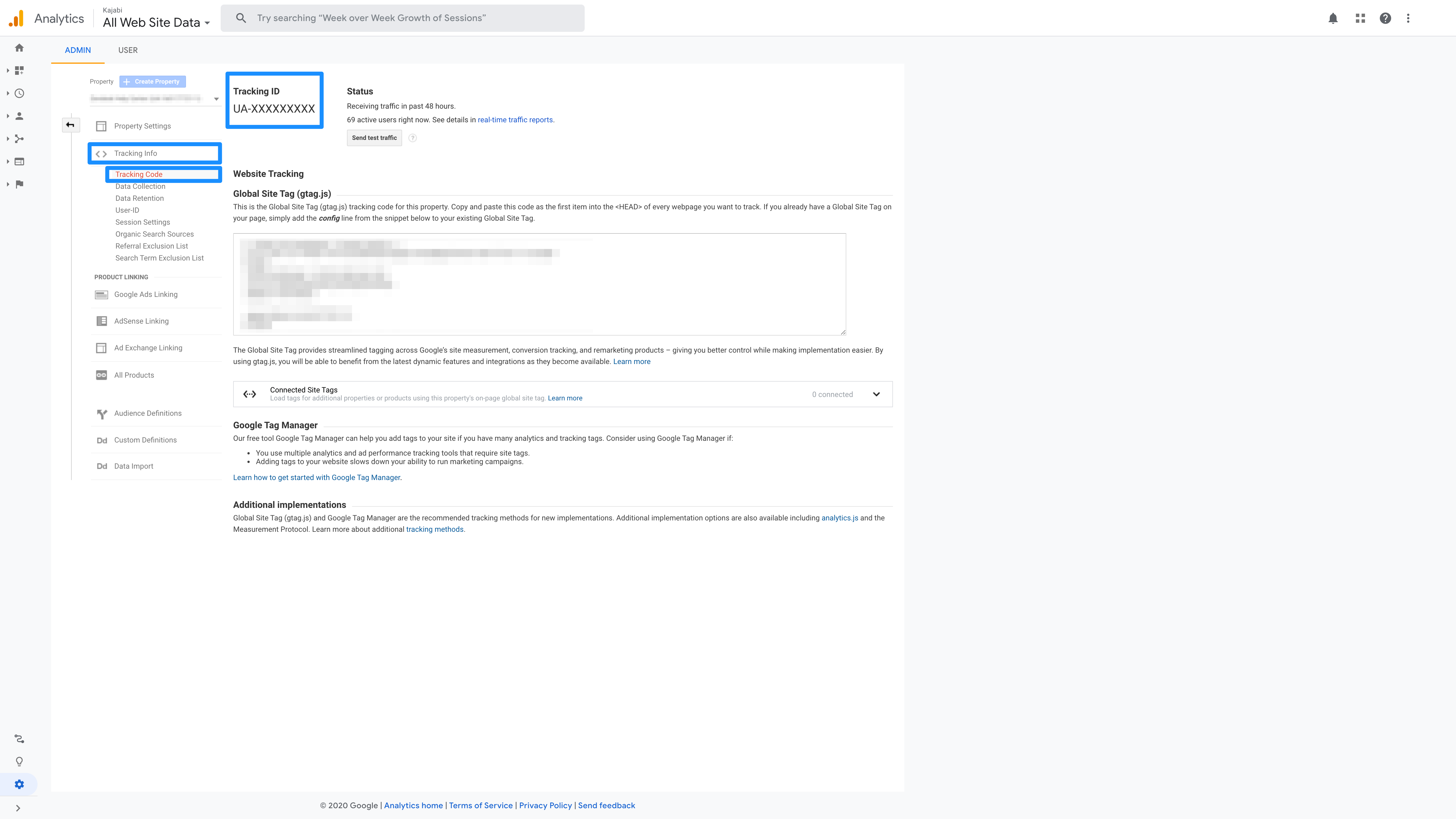 Step 3. Paste your tracking ID into Kajabi's Google Analytics connector
Navigate back to your Kajabi Dashboard.
Open the Settings tab in the bottom left corner of your Dashboard.
Click on the

Third-Party Integrations

tab.
Scroll down and find the

Google Analytics

tool and click the toggle

On.
Once you have switched it

On

insert your Tracking ID Number.
Click Save.
---
Understanding discrepancies between Google Analytics and Kajabi Analytics
Why are there differences between Google Analytics and Kajabi Analytics?
Although both analytics work similarly, slight discrepancies are expected when comparing tracking statistics of different services.
This is due to differences in how the tracking cookies are configured.
Most page trackers use cookies and though they are implemented similarly, the way they track page views may differ from one another.
A great example of how different trackers may count page views is if you were to refresh a page multiple times with a few seconds in between. Depending on how the tracker is configured, each page refresh may be counted as a unique page view whereas another tracker may count it as just one single page view.
See below for more information on Google and Kajabi Analytics behavior:
Google Analytics behavior:
Refer to Google's documentation for complete information on Google Analytics behavior.
Kajabi Analytics behavior:
Unique views are the count per unique person, computer, or mobile device who viewed the page. If the same person viewed the page, it will be not counted as a Unique View.
On Kajabi, views are the total number of times the page is viewed. This includes multiple visits by the same person, including page refreshes.
---
Additional resources
Access additional support guides for Google Analytics for those with advanced knowledge of cross-domain tracking and UTM Parameters.
Cross-domain tracking
Create UTM Parameters for your links with Google Analytics URL Builder
Google GA4 tag
Beginning July 1st, 2023, Google will no longer support Universal Analytics tags and will only support their new GA4 tag. Currently, Kajabi does not offer GA4 tag integration but will offer GA4 tag integration around July 2023.