As you promote Kajabi, learn to invest back into your business with the money you'll receive from referring people.
Note:
This article refers to the Kajabi Partner Program. If you are looking to learn more about the Affiliate Program to create Affiliate Users for your site, please refer to the
Affiliate Overview
.
---
In this article:
---
Becoming a Kajabi Partner
By partnering with us, you'll be working with a world-class Knowledge Commerce Platform that provides your clients with the tools they want for their online business now, and in the future. We are excited you are here!
With the Kajabi Partner Program, you will have the unique opportunity to customize an experience for your audience.
By running specific promotions from a suite of proven Kajabi marketing campaigns, you can now ensure that your tribe has all the resources they need to fall in love with Kajabi.
As a partner, you are part of an elite group of individuals who can impact the world with the vision of Kajabi.
As a Kajabi Partner, you will now receive a 30% lifetime commission for any new member you sign up for Kajabi that stays active past their trial period.
That means, if you sign up one member who sticks around for 2 years, you will make around $1,000! Imagine the possibilities!
Since you already use and love Kajabi, why not make money while sharing it with your audience?
---
To apply to be a Kajabi Partner:
Open your User Menu (account name) located in the bottom left corner of the Dashboard.
Select Partner Dashboard.
Complete the application and Submit:
You did it! You are now ready to start referring users to Kajabi 🎉
---
After applying for the Partner Program you'll go to your Partner Dashboard: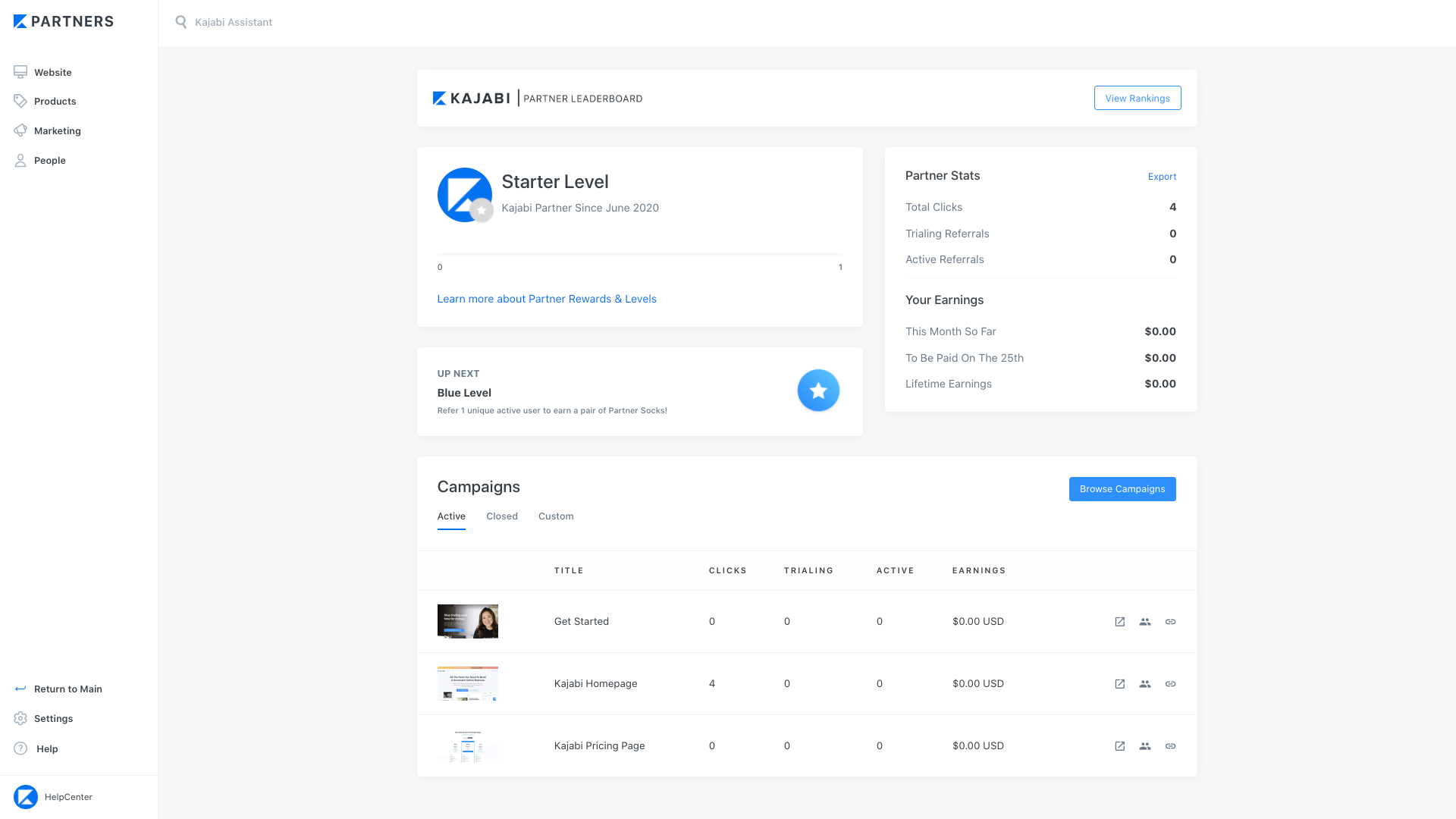 In your Partner Dashboard, you can review the Partner Leaderboard, view your Partner Status, and create Partner Campaigns to share with your audience!
Learn more about your Partner Dashboard
---
Partner payouts
When signups occur anytime within a month, whether the 1st day or the last day of the month, we wait for the next full month to make sure the Kajabi Subscription isn't canceled or refunded.
After that month has expired, a report is generated the first week of the following month and we pay out Partner commissions around the 25th of the month depending on holidays, and weekends.
For instance, any sales made in November 2018, we will be paying earned commissions around January 25, 2019.