Learn about Automations to simplify and streamline your time spent on Kajabi.
---
In this article:
---
Basics
Automations are an extremely powerful tool that uses when, then, if logic to help you streamline Kajabi processes and ultimately automate basic admin actions.
Depending on your Kajabi Subscription, you may have access to Basic or Advanced Automations.
If you are on the Basic Plan, you will have access to Basic Automations whereas Growth and Pro Plans have access to Advanced Automations.
Learn more about the difference between Basic Automations and Advanced Automations.

Note:
Growth and Pro Plans have access to create any Automation within the Marketing tab. Basic Plans will only have access to create Automations in various areas of Kajabi.
Creating Automations
As you build your business with Kajabi, you will notice the option to add Automations almost everywhere!
Automations can be found in:
Pipelines
Email Campaigns
Events
Forms
Offers
Posts
Here's a tip, check out the bottom of Editors in Kajabi to add Automations!

To create a new Automation:
Click + New Automation.
Select a "When" action.
Choose a "Then" action as a response.
Add a condition (optional and only available with Advanced Automations).
Remember to click Save to keep your changes:
Tip:
Automations can also be created and configured inside Email Campaigns, Pipelines, Offers, and Products.
---
Conditionals
Conditionals in the Automations infrastructure will allow you to add the "If" condition to all of your Automations.
For example, say you want to add a Tag to all users who have submitted a Form, but ONLY IF they answered a specific question on that Form with a specific answer.
Note:
The conditional filter matches the collected data and your specified value based on "contains" rather than an "exact match".
Example Scenario:
You're creating a customer color survey to find out what is the most common favorite color among your customers.
Create a Form with a custom field asking "What is your favorite color?"
Add answers for them to choose from or leave it open for discussion:
Now, add the Automation directly from the Form Editor or from the Automations Dashboard under the Marketing tab:
Click Add Automation.
The "When" will already be filled out if you are creating the Automation from the Form edit page.
Choose your "Then" action. In this example, we will be using the Add Tag action.
Next, add your condition. Here, we only want to tag users with the "Blue" tag if they chose Blue as their favorite color.
Hit save:
Note:
This same Automation can be created and configured in the Automations dashboard under the Marketing tab.
---
How to add Automations on Kajabi
Open the Marketing tab from the Dashboard.
Then, select Pipelines.
Create a new Pipeline or edit an existing one.
Click Add Automation.
Choose the automatic action you want to add:
To add an Automation to an Unsent Email Sequence or Email Broadcast:
Open the Marketing tab from the Dashboard.
Then, click Email Campaigns.
Create a new Email Campaign or edit an existing one.
Email Broadcast:
Click Add Automation in Step 2 Edit Content.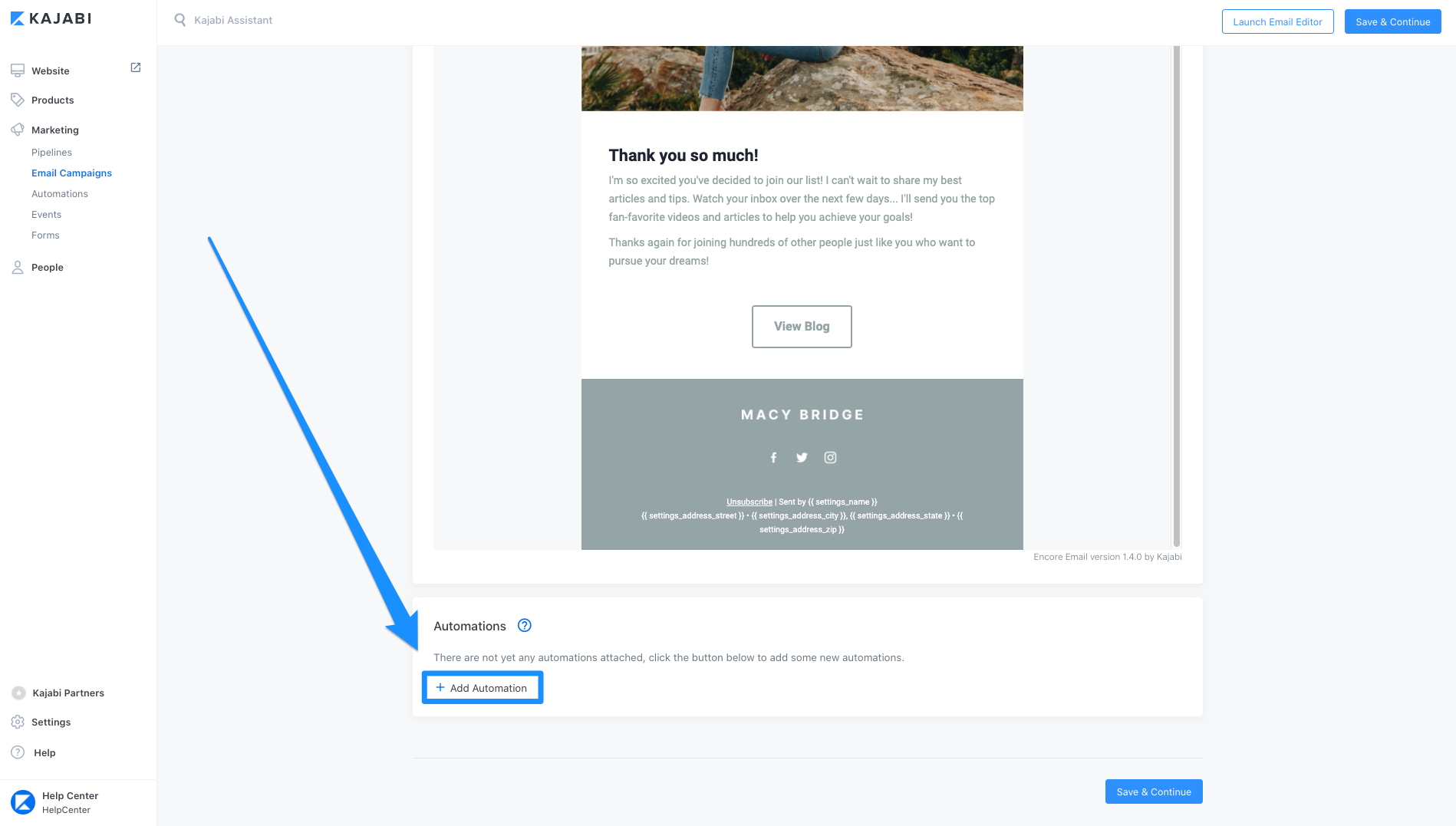 Email Sequence:
Click + Add Action for the email you wish to edit or create a Subscribe/Unsubscribe trigger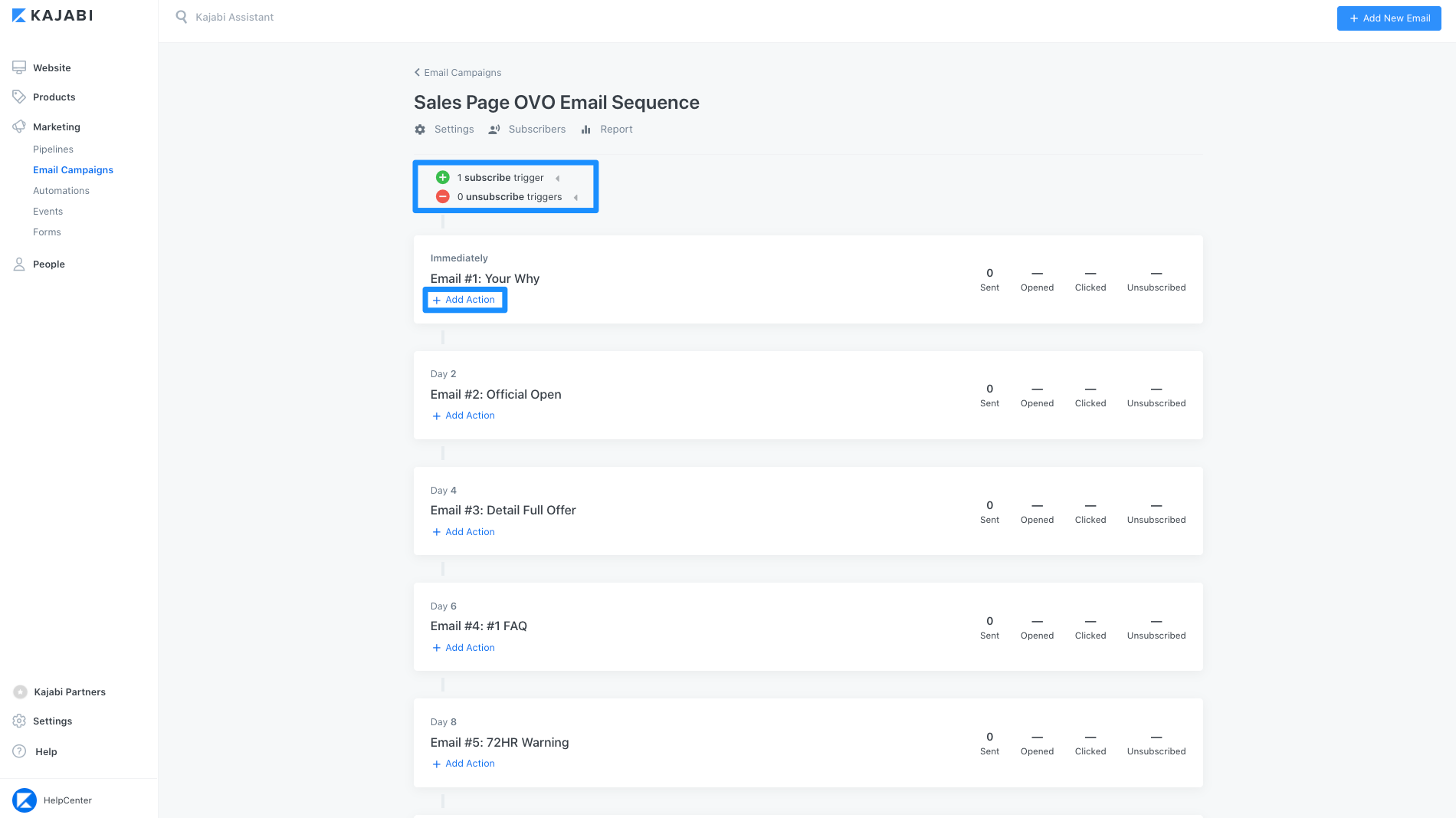 Events
To add an Automation to an Event:
Open the Marketing tab from the Dashboard.
Then, select Events.
Create a new Event or edit an existing one.
Click Add Action.
Set up your Automation: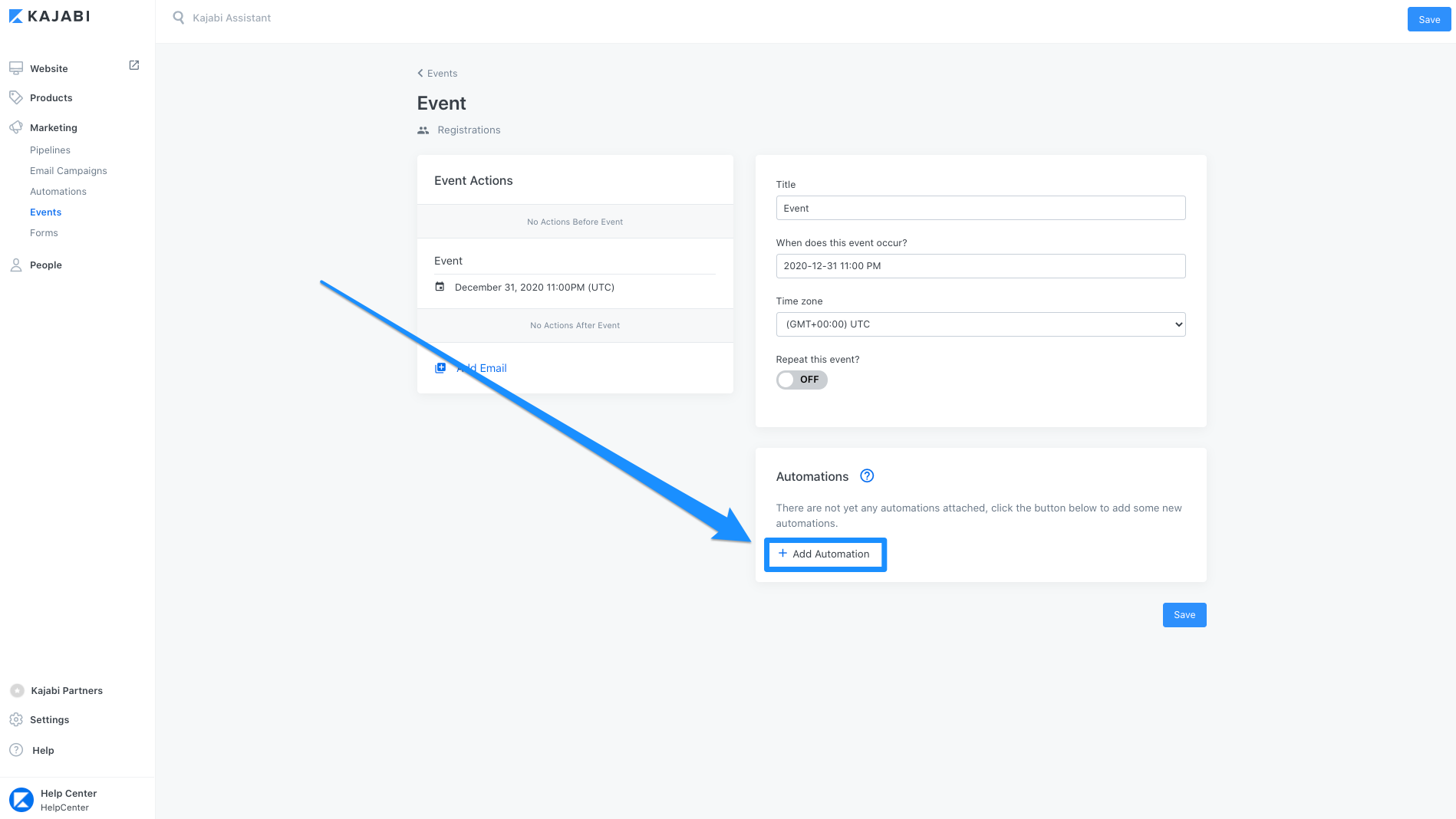 Forms
To add an Automation to a Form:
Open the Marketing tab from the Dashboard.
Then, select Forms.
Create a new Form or edit an existing one.
Click Add Action.
Choose the automatic action you want to add: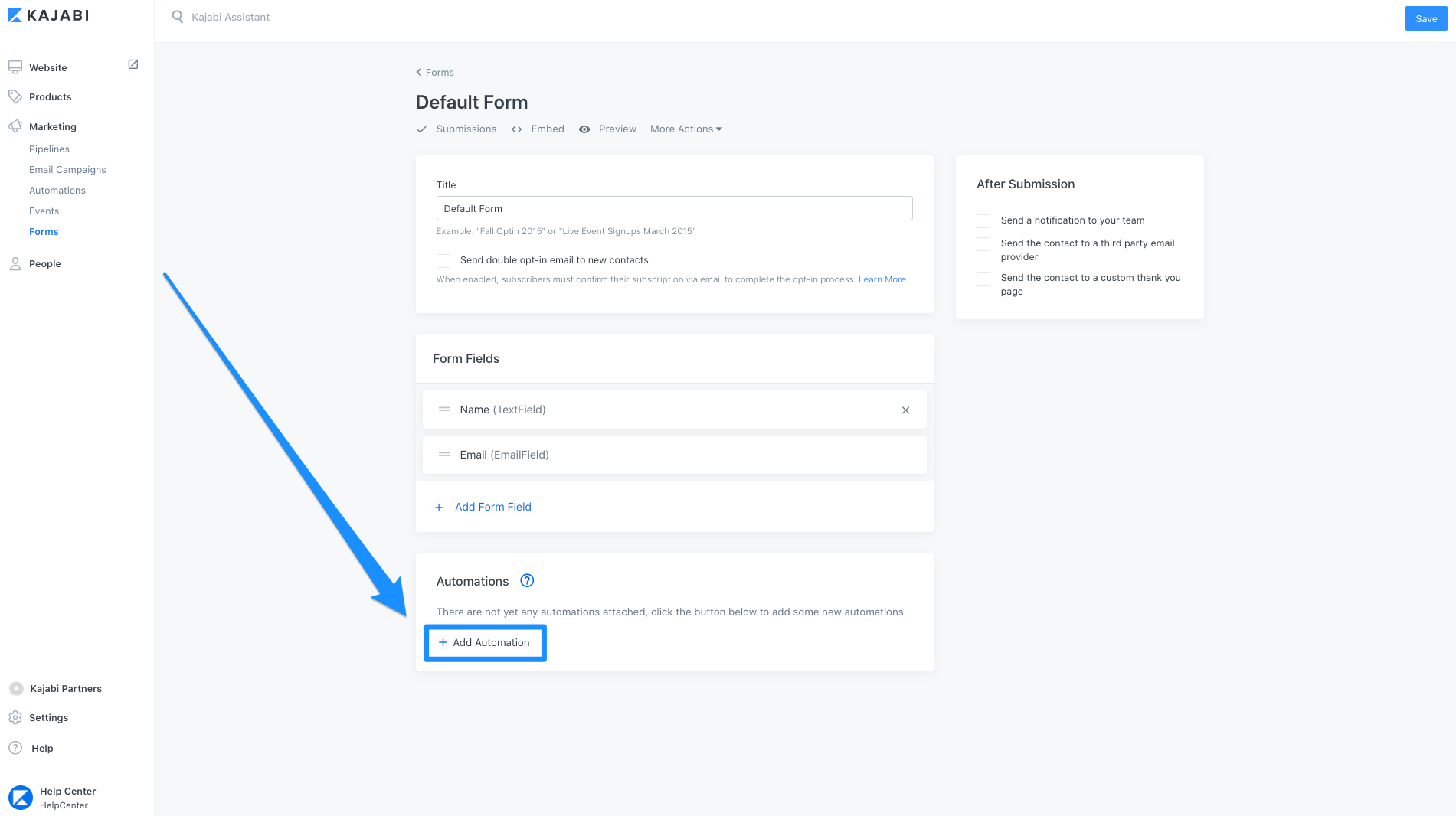 Offers
To add an Automation to an Offer:
Open the Sales tab from the Dashboard.
Then, select Offers.
Create a new Offer or edit an existing one.
Click Add Automation.
Set up your Automation: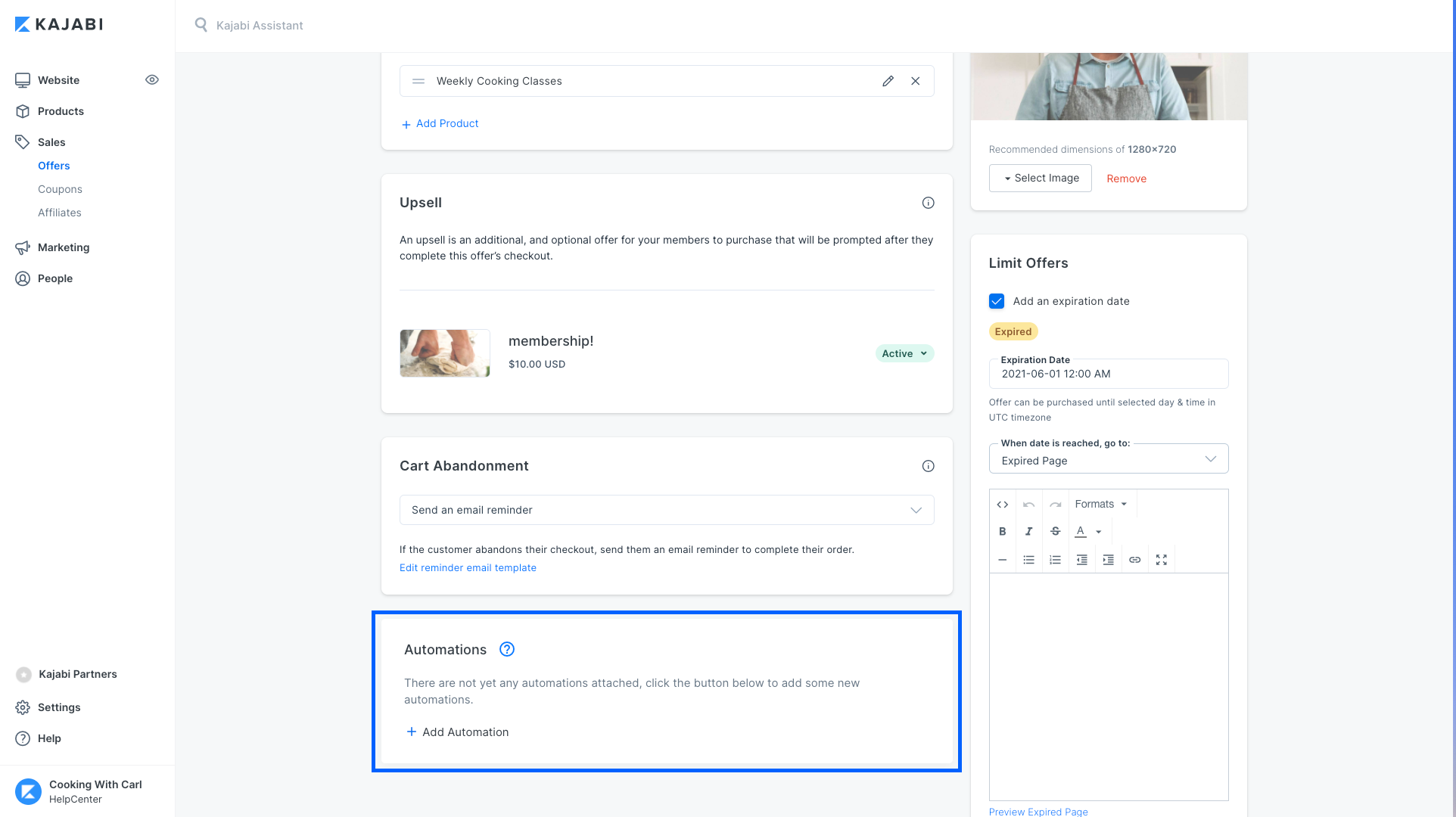 Open the Products tab from the Dashboard.
Create a new Product or edit a Post in an existing Product.
Click Add Automation.
Choose the automatic action you want to add: