Learn to send an announcement to all your Members in a specific Product.
---
In this article:
---
This guide refers to all Products with the exception of the Community Product. If you wish to send an Announcement to your Members within your Community Product, please refer to the guide
here
.
Send a Product Announcement
Share upcoming events, launches, Product changes, and more to all Members within a Product by sending a Product Announcement:
Open the Products tab from your Dashboard.
Select your Product.
Click the More Actions dropdown menu.
Select Announcements from the dropdown.
From there, click + New Announcement.
In the Announcement Editor, edit the Title and Details of your announcement and set up an Announcement Notification.
Click Post Announcement to send your Product Announcement to your Member(s) in the Product:
---
Product Announcement
After creating an announcement, your Members can view your announcement in their Library.
They will first need to log into their Library page and open the Announcements tab to view your Product and Site Announcements:
If you choose to send an email notification with your Announcement, your Members will receive an email from your site leading them to the Product Announcements page.
Continue reading this guide to learn more about sending an email notification for your Announcement.
---
Email Notification
If you want to send all members an email notifying them of this announcement make sure to click the checkbox next to "Send an e-mail notification about this announcement to members of this product."
Don't want to send an email?
Be sure to deselect "Send an email notification" before clicking "Post Announcement".
Sending an e-mail notification for your Announcement will personalize the Announcement to the Members of the Product to contain:
Members Name;
Announcement Details;
Link to login to their Library.
Your Members can also update their notification settings to choose to continue being notified about Product updates (Announcements) or unsubscribe from Product Announcements.

Note:
If you choose to send an email notification your Members will receive the Product Announcement notification email even if they are not subscribed to marketing emails due to their
Transactional
nature.
---
Kajabi Mobile App Push Notification
Members with the Kajabi Mobile App can receive push notifications notifying them of a Product Announcement.
Within the Kajabi Mobile App, your Members can access their Product Announcements under the Updates tab: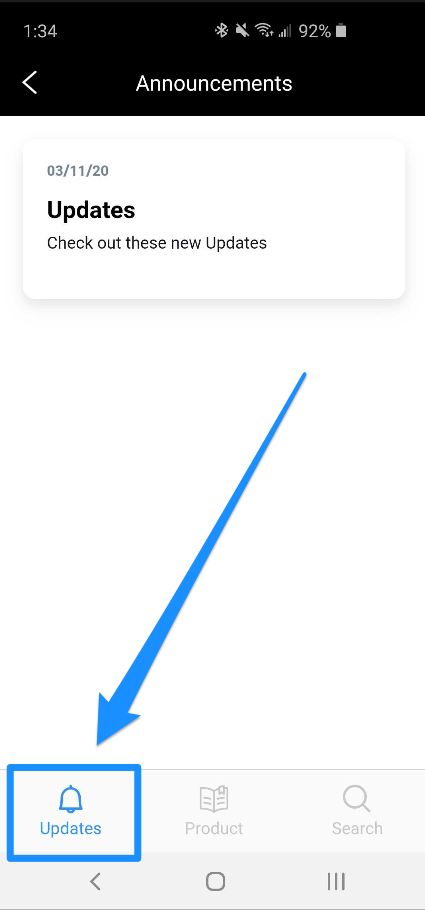 Learn more about the Kajabi Mobile App!