Learn to add a Pricing Options Section to showcase your Products, Services, Pricing Options, and more in your landing pages built with the Legacy Template, Premier.
---
In this article:
---
This article refers to the Premier Legacy Templates, which may be outdated! If you are using the new Kajabi Pages Templates, please refer to the updated guide
here.
Open the

Website

tab from the Dashboard.
Click Pages.
Select the page you wish to customize or create a new page.
Click

Customize

to open the template editor.
Click + Add Section from the sidebar.
Select Pricing Options.
Click Add.
Your newly created Section will generate at the bottom of the page.
Click

Save

to keep your changes:
---
Customizing your Pricing Option Section
Heading and Subheading
Customize the message displayed above your Pricing Options.
Section Appearance
Configure your Section Appearance to change the Background and Text Color, select the Text Alignment, and change the Spacing of the Section.
Add Pricing Option
Add more Pricing Option cards by scrolling to the bottom of the sidebar editor and selecting Add Pricing Option.
Customizing your Pricing Options
Customizing each Pricing Option Block by editing the:
Title
Price
Frequency
Text Content (typically the features included with the specific pricing option)
Most Popular
Select your Most Popular Pricing Option to make it stand out to your customers: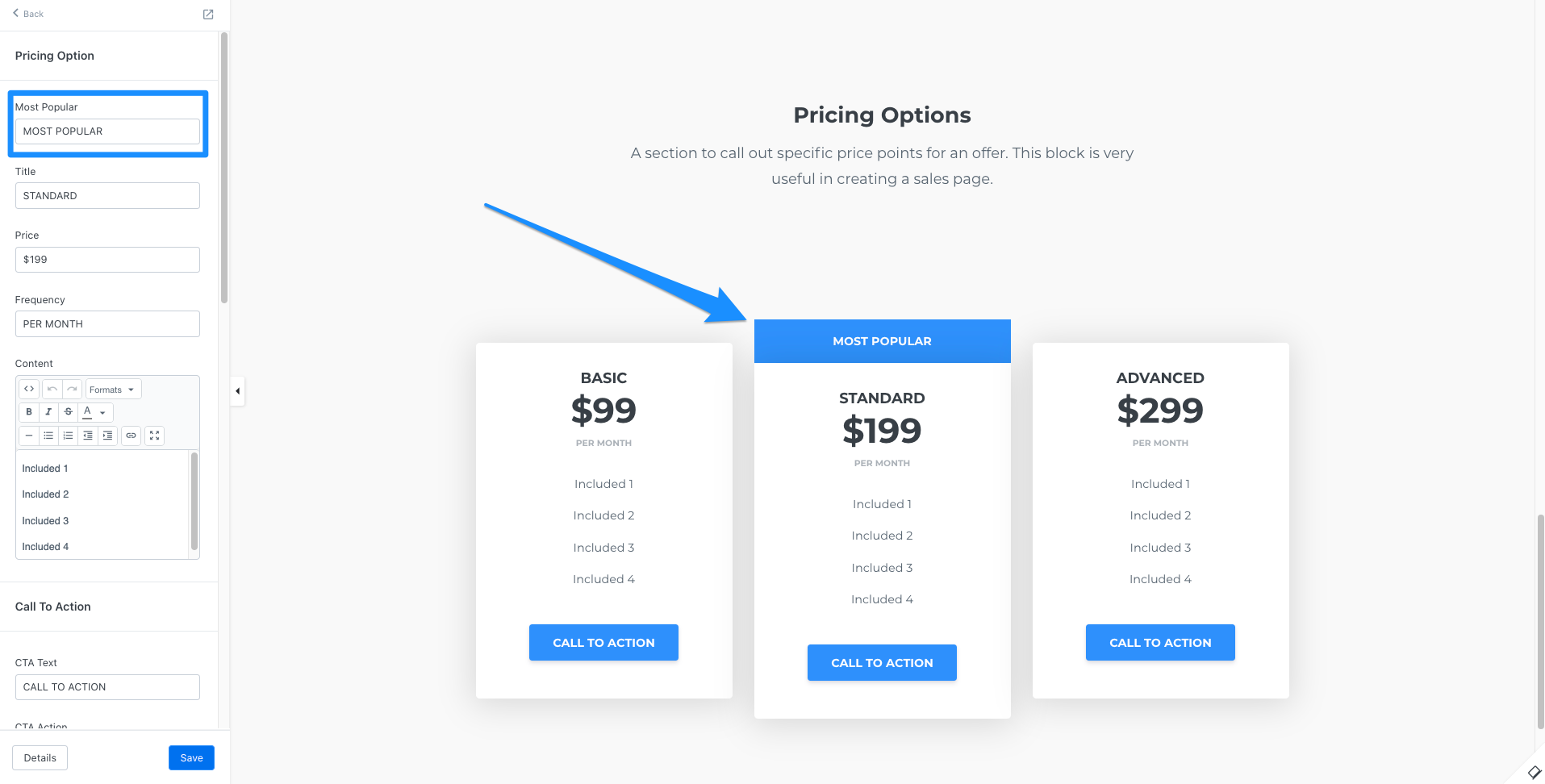 Call to Action
Include a Call to Action button for each Pricing Option for your customers to:
Go to a Landing Page
Go to a Checkout Page
Download a File
Go to a URL
Open two step optin popup
Go to a section on the page
The Call to Action gives you the flexibility to connect your Pricing Options to various locations, whether that be a Sales Page, third-party checkout pages, or more.
Note:
When using the
Go to a URL
action, be sure to enter a full URL (e.g., https://kajabi.com/).
Open in New Window: Choose to open the Offer Checkout Page in a new window/tab when clicked by selecting Open In New Window.
Customize the appearance of your Call to Action with:
CTA Style
CTA Size
Button Width
Button Color
Button Text Color
Learn to use a Call to Action with Premier.
Time Reveal
The Time Reveal Settings reveal your Call to Action (CTA) button in the Feature Block a specified amount of time (Offset) after an Event occurs.
To set up a Time Reveal for your CTA button in the Feature Block:
Select an Event
Enter your Offset value
Specify the Offset Time Period in seconds, minutes, hours, or days
Block Appearance
Customize your overall Block appearance by selecting your colors:
Background Color
Text Color
Accent Color
Popular Color
Each color overrides the default color determined by the Primary Color in your Page Color Scheme.
---
And that's how to add Pricing Options to a page with Premier! Please vote below and let us know if you found this article helpful. We value your feedback. Thanks for being the best part of Kajabi!