Learn to add a Pricing Block to showcase your Products, Services, Pricing Options, and more.
---
In this article:
---
This guide refers to the latest page editor available with the Website Builder and Kajabi Pages. If you are using the Premier Legacy Templates, please refer to the guide
here
.
What is a pricing card?
A Pricing Card is an excellent way to present an Offer by displaying all the features of your Product while encouraging your visitors to purchase with a Call to Action button.
You can use multiple Pricing Cards together in a section to showcase multiple Offers you may have for one Product, such as pricing plans, bundles, and more!
Learn to use multiple Pricing Cards with the Pricing Card Section.
---
Adding a pricing card block
Open the

Website

tab from the Dashboard.
Select the Pages tab.
Open the page editor for your Page. Learn more
Click the Section you want to edit or

create a new Section.
In the sidebar, click

Add Content.
From the list, select

Pricing Card.
Your newly created Pricing Card Block will generate at the bottom of the Section.
Click

Save

to keep your changes:
---
Customizing your pricing card block
In a Pricing Card Block customize the:
Name
Customize the text and color displaying the name of your Pricing Option:
Price
Specify the text and color commonly used to display the Price of the specific Pricing Option: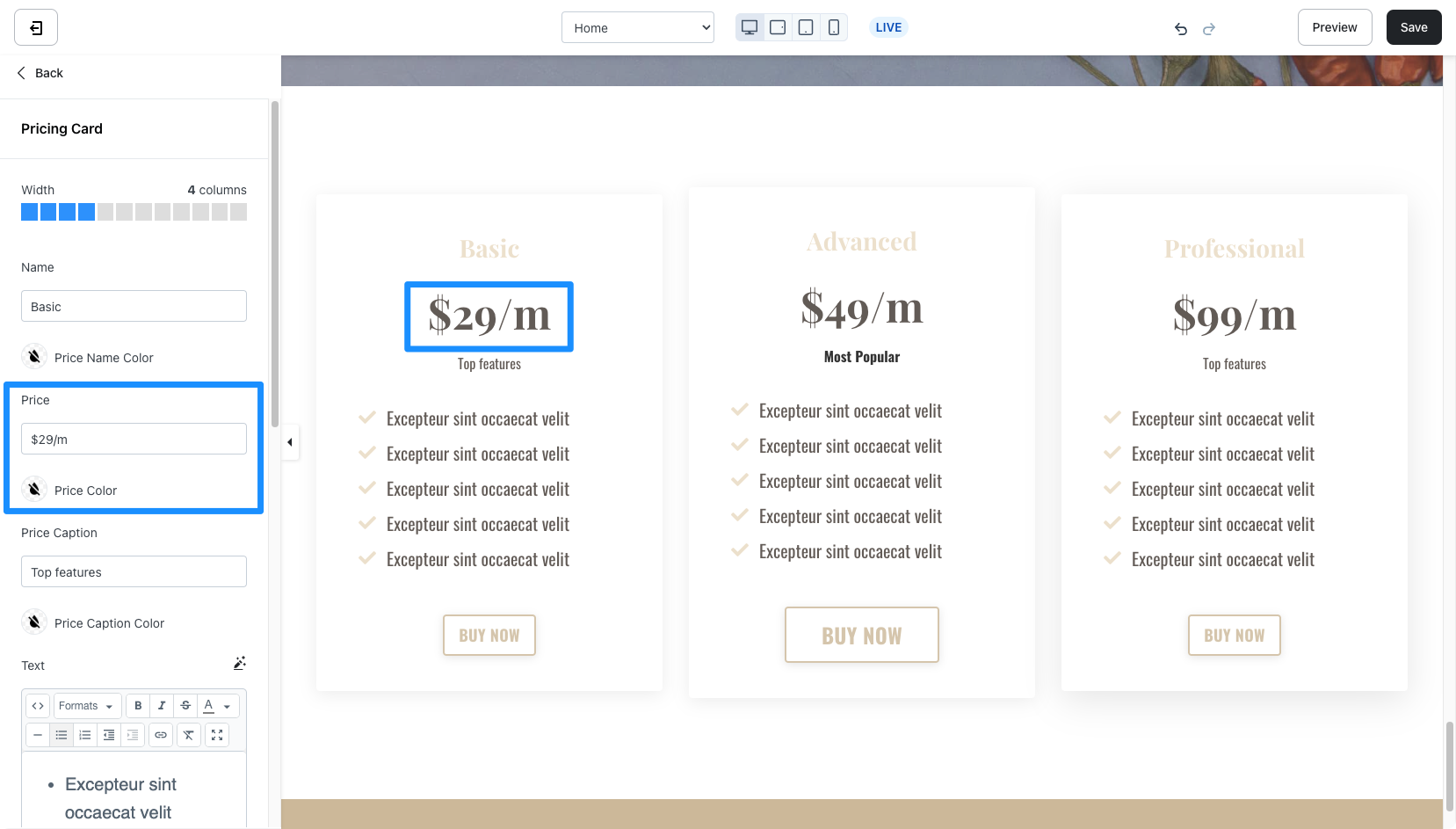 Price Caption
Customize the caption text and caption color directly below the Price: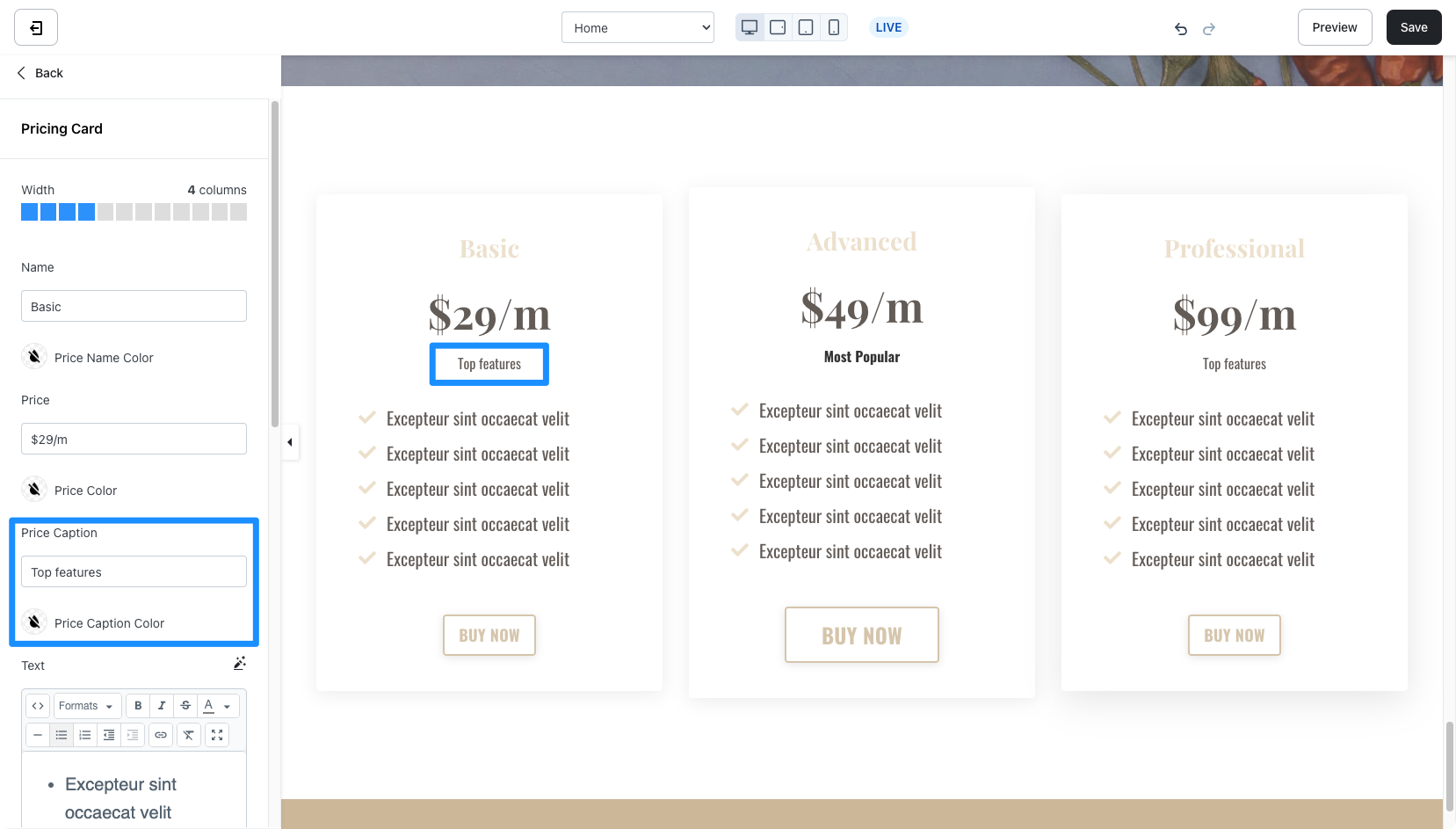 Text
Customize the messaging displaying the Features included with your Offer: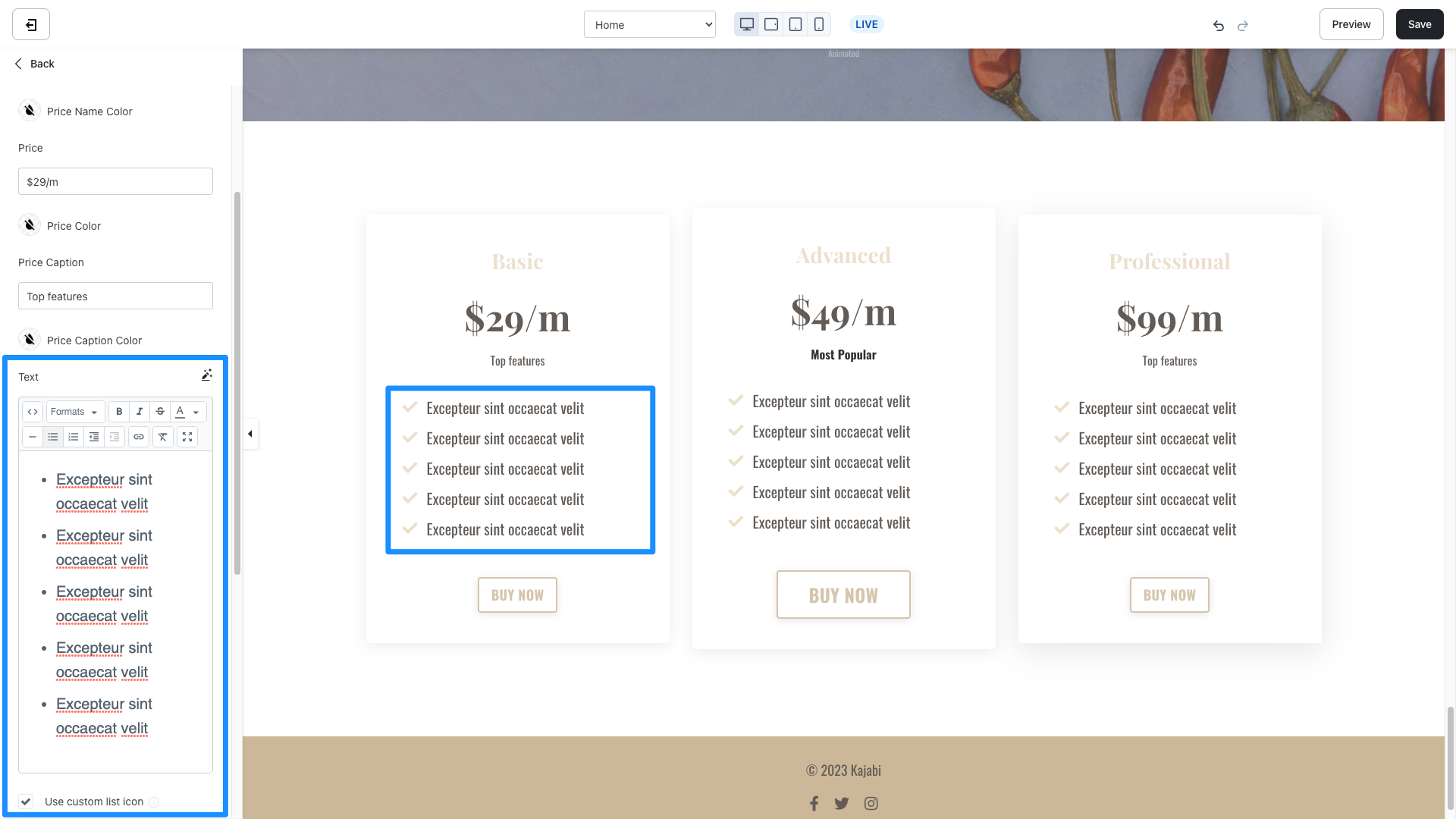 List Icon and Icon Color
Customize the appearance of the List describing the Features by changing the icon to:
and by selecting a color for the icon.
Clicking LIst icon color will open your site color palette.
If you prefer to use a custom color, click the color wheel and then either enter your RGB color code or use the sliders to choose your color.
The

vertical bar

allows you to select the hue.
The

square box

allows you to adjust the saturation and brightness of your color.
The

horizontal bar

allows you to select the transparency of your color.
Block Settings
To adjust the look and feel of the Block, configure your Block Settings by customizing the:
Call To Action
Add and customize the action and appearance of a Call to Action button.
The Call to Action (CTA) button can be used to:
Lead a visitor to a custom Landing Page
Lead to a sale by going to a Checkout Page
Encourage your audience to download a file
Lead to any website page with a URL link
Open a Two-Step Optin Popup
Act as an anchor link to lead to a section of the page
Learn more about customizing the Call to Action Block Settings.
---
And that's how to add Pricing Cards to your page! Please vote below and let us know if you found this article helpful. We value your feedback. Thanks for being the best part of Kajabi!